Randy, Sophia's other half, loves cars and shared that love with her by gifting her a candy blue El Camino which you can see in the photo next to her. That's not the only thing car-related in this plum and rose gold wedding. The groom's cufflinks were Chevrolet logos! And Sophia surprised him with a cake replica of his 1967 Chevrolet Camaro (Nope, this wedding is not sponsored by Chevrolet haha). The thing that got me most were the DIY jams that also went with the motif (how awesome is that?). Oh! And the best part? The sweet bride made them herself and canned them with labels from their invites.
Click image to enlarge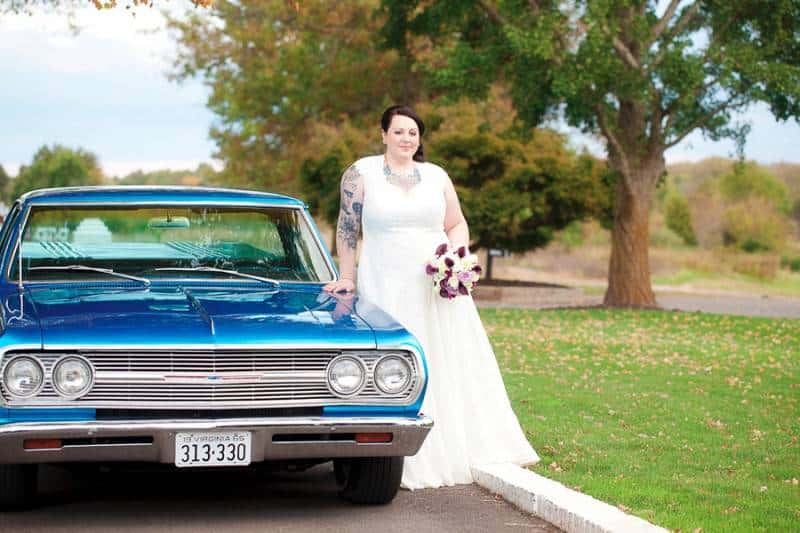 Like. Click to Vote
>
Our Story:
Randy and I were introduced by mutual friends in 2008. I wasn't too sure about him at first, but over time he grew on me. He is a goofball, and always made me laugh. We became great friends; he was always there for me, even when I moved away in 2011 to be with my family in South Carolina. We started talking more and more once I moved, and I finally told him how I felt; lucky for me, the feeling was mutual! Eventually, I decided to move back to Virginia to be with him and to start the rest of our lives together.
We Are Meant For Each Other:
I think we are a perfect match because we communicate, we make each other laugh, and we balance each other out.
The Proposal:
He took me down cruising in Luray, Virginia to see the leaves changing. We stopped to take a stroll in a local park and sat down on the dedication benches by a creek. We talked and laughed for a while, and then he got down on one knee and asked me to be his wife!
The Planning:
We got engaged in October 2013, so we had 12 months to plan. I think it was enough time, but I wouldn't have said no to more of it!
Wedding Expenses:
Putting a limit on the guest list was the biggest money-saver. I also did a lot of DIY crafts instead of buying new or in bulk items. Biggest expense wad definitely the venue – we had the ceremony and reception at the same location.
The Guest List:
We decided early on that we would keep it to close family and friends. We both have large families, and our group of friends is pretty substantial as well, so we had to make some hard choices.
The Songs:
Bridal party procession – The trip to Green Gables by Hagood Hardy
Brides entrance -Tale as old as Time piano instrumental by Jim Brickman
Recessional – How Sweet It Is by James Taylor
First Dance – All of Me by John Legend
Last Dance – Bonfire Heart by James Blunt
The Honeymoon
We are going to wait a few months and then we are headed to Orlando, Florida in February.
We Look Forward To:
Right now, our focus is on renovating our home, but we are looking forward to starting our family in the next couple of years and growing together as partners in life and love.
Advice For the Couples:
Breathe. People will constantly give you the same advice over and over, they will tell you what you should do or how to do it. This is your day, do what you want but keep people's feelings in the back of your mind. Lean on your partner for support. If you are lucky enough to have family involved in the planning process, be open to their opinions but be prepared for disagreements. But most importantly, HAVE FUN!
Favorite Part of The Day:
Our favorite part of the day was sneaking away with the photographer to take sunset photos. We got just to be together and have a quiet moment for it all to sink in.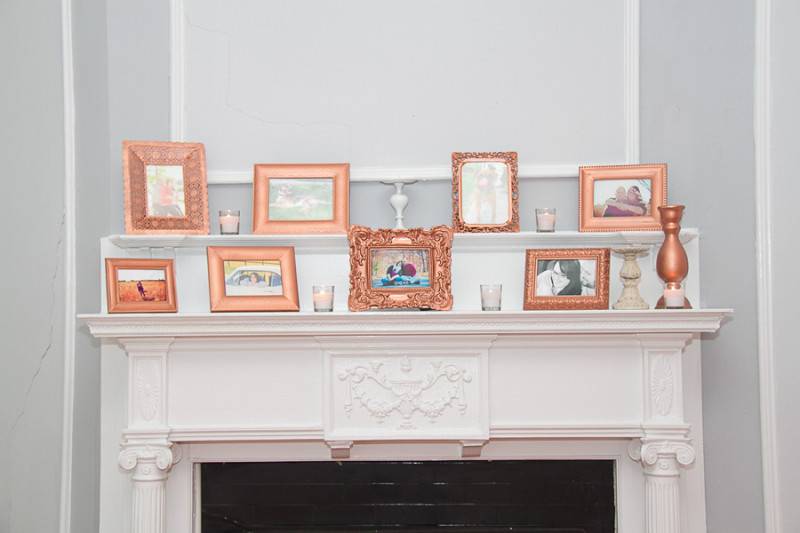 The Do-It-Yourself Projects:
We made four different types of jam (Strawberry Blackberry, White Peach, Peach, and Red Grape) and canned it ourselves
We made custom labels with the logo from the invitations for the jam
We bought old frames and candlestick holders from thrift stores and spray painted them as photo displays and mantel decorations at cocktail hour
We found signs that we painted and customized for our wedding
The Highlights From The Ceremony & Reception:
I wanted to have a completely unplugged wedding but settled for an unplugged ceremony. I really wanted everyone to be emotionally involved. It meant a lot to me to have that carry throughout the majority of the night. I am really thankful for that! We customized our vows to include Randy's love for cars, specifically examples of what he has done to his collection and my love for Harry Potter and our special moments together.
I surprised Randy with a custom groom's cake: a replica of his 1967 Chevrolet Camaro that we also used for our engagement photos. Everyone got to do a Wedding Mad Lib that was specifically customized for the wedding. They were a lot of fun to read! One of my favorite moments was at the very end when Randy and I and our closest friends were dancing in a circle, and people just kept coming into the circle, making it bigger. The last song was Bonfire Heart by James Blunt and the lyrics really resonated with me, and at the moment it seemed like time slowed down. It was beautiful.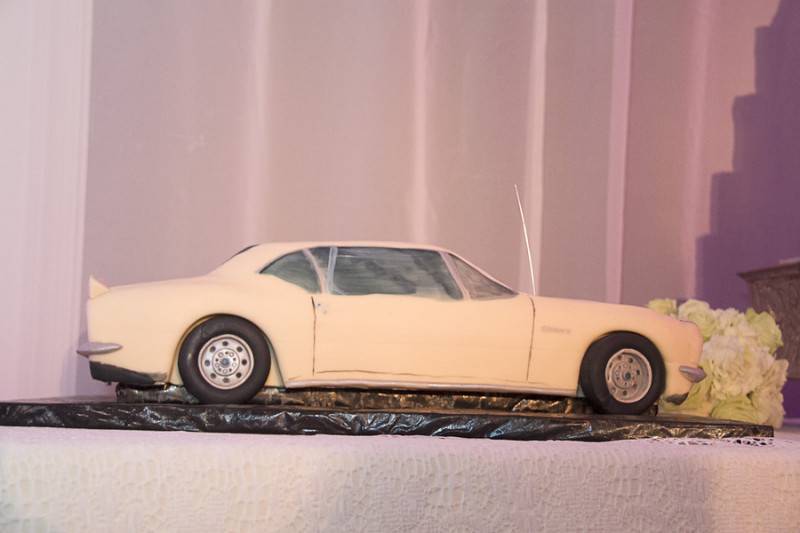 The Theme:
We just tried to keep it romantic and simple. Our colors were Plum, Ivory, and a Gold/Rose Gold color with soft accents.
The Ceremony Highlight:
The most memorable moments to me were when the officiant started on the customized part of our vows–we used specific examples of things Randy has done to his collection, the good and the bad! As soon as she started, I saw all the groomsmen laugh, some shook their heads with smiles on their faces…it was glorious. Another really memorable moment was when we did the blessing of the hands. If you haven't read the blessing, find it. It has such a powerful impact on us as partners.
VENDORS
Photographer: Mollie Tobias Photography
Makeup Artist: Best Face Forward- Skin, Makeup & Hair Artists
Reception Venue: Bristow Manor Golf Club
Officiant: Heart Star Ceremonies
DJ: Hesson Entertainment
Dress Store: Labella Bridal
Cake Designer: market salamander
Tuxedo and Men's Attire: Men's Warehouse
Floral Designer: The Bloomin' Iris