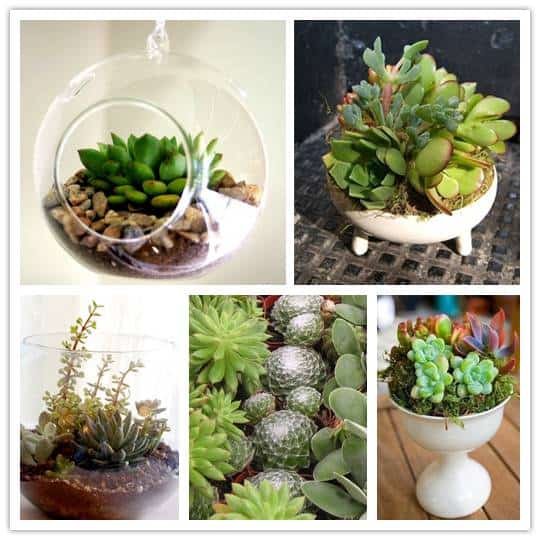 After my article in the most recent Nonpareil Magazine, it shouldn't be a secret that I love the idea of decorating with succulents or incorporating them into the details of a wedding. I am absolutely head over heels for these little plants because of their gorgeous color range, their graphic nature, and the large variety of sizes, shapes, and structures. Here are some great selections from various sellers around the internet if you're interested in buying centerpieces or decor outright, or great inspiration if you're thinking about doing it yourself!
Hanging succulent terrarium that would look gorgeous in multiples hung at different lengths from Monkeys Always Look; a beautiful (and affordable) succulent centerpiece from Greenware Design; a fishbowl terrarium centerpiece from Succulent Love; an example of the bulk varieties available at Succulents Galore if you want to do it yourself or use the succulents as favors; a ceramic pedestal centerpiece, also from Greenware Design.
Images from their Respective Sources.