Andrew and Lizel looked like they were in paradise that was made only for them and what better way to cherish it is by having a picnic! Kudos to Lizel for choosing a wonderful place for their engagement session and hands down to Nicolette, their photographer, for the soft dreamy photos. Everything was beautiful, Andrew and Lizel! May you two have a happy life together as husband and wife. Congratulations!
Click image to enlarge
Like. Click to Vote
>
The Concept:
I wanted an engagement shoot to portray my upcoming wedding with my fiance, Andrew. We took our engagement photos at the same place that we are getting married. We have a laid-back picnic wedding that is supposed to be simple but cute. Both my fiance and I are relaxed when it comes to our style. We try not to overdo anything that was what we were trying to convey through our engagement session.
The Location:
I chose this location because it was unlike any other place in Orange County. It was a former cattle ranch that has now been turned into a beautiful picnic area that attracts many weddings. The best part is that rolling hills surround you with bunnies and squirrels roaming around. When you are there, you don't even feel you are in Orange County. It is its paradise of solitude that is tucked away.
The Outfits:
My fiance and I are simple in terms of style. We like natural colors that reflect nature. Also, I think that our outfits stayed true to the culture of Orange County.
A Hint For The Wedding Day:
Yes. The photos reflect our future wedding. Our wedding will be a picnic theme with a relaxed vibe. Most people at our wedding will be consumed with how beautiful the natural setting is. We wanted our engagement to express our love for one another and how we like to have fun. We are excited to carry that over to our wedding that many will remember as being just that, fun.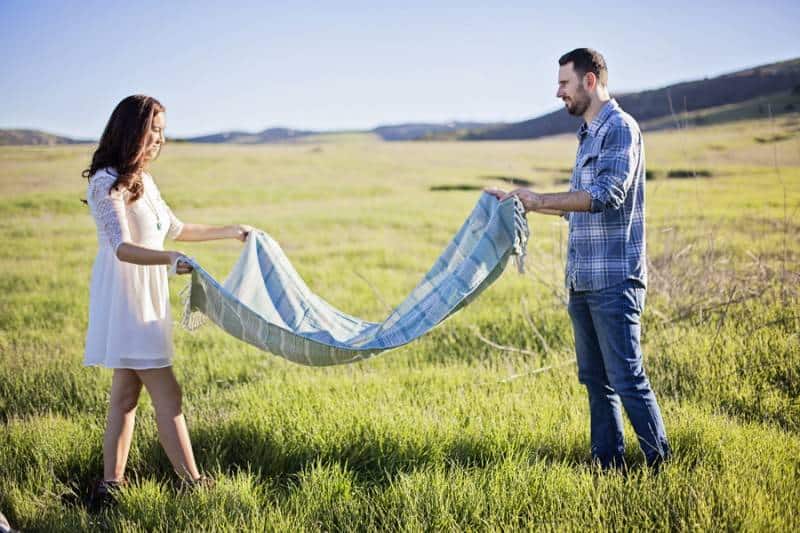 The Photoshoot Experience:
Nicolette was the key to Andrew and I being relaxed while shooting. Normally I just laugh constantly while being photographed. I can't keep a straight face. I think Andrew and I struck gold when we found her because she honestly made a genuine connection with us. When we first met her, our appointment lasted two and a half hours because we mainly were talking about all the restaurants in Southern California to try. Her, Andrew, and myself are all foodies, so before we went to shoot our engagement photos, Andrew and I treated her to one of our favorite lunch spots. Doing that before we even began to shoot our photos helped create a comfort with her. Once we had lunch with her, being in front of the camera was nothing. She told us what poses to do, and it came naturally to us unlike ever before.
VENDORS
Photographer: Nicolette Moku Photography
Event Venue: Bommer Canyon