Usually, after the vows and "I Do's" are said, the bride and groom don't really have time to themselves to take it all in. There's a reception to attend, guests to meet, and all that. So when Lynn and Brett were surprised with their private picnic after the ceremony, they welcomed it with open arms. Lynn said it was her favorite part of the day! It was a lovely time to let the events sink in without having to think about anybody else.
Of course, they had to get back to their guests eventually. While they were enjoying a bottle of bubbly on the grass, their guests were probably seated and munching on appetizers in their beautiful reception venue full of DIY (read about all of them below!). Congratulations, Lynn and Brett! And kudos to the photographer for capturing the whole thing beautifully!
Click image to enlarge
1

Like. Click to Vote
>
Our Story:
Brett and I met over 6 years ago now and it really was a story of being in the right place at the right time. I had just moved to Vancouver and went to the beach to meet a friend for a game of volleyball. Brett and his friend Jules (complete strangers at the time) were walking by and we needed extra people so I asked them if they wanted to join us as they appeared to be looking for a court. Well as it turned out Brett needed female players for a team he was on. The team would always go for drinks together after each game and one night the only two people available after the game was us. We decided to go anyhow, had a great time, he walked me home and the rest is history.
We Are A Perfect Match:
Although we have a lot in common, I think what makes us the perfect match is that we are polar opposites in many ways. He is logical and I am impulsive. He is energetic and I am mellow. He is a math genius and I am artistic. But the best part is we challenge each other and have have grown so much together. I'd like to think we have the perfect balance.
The Proposal:
We went on a surfing/road trip to Oregon which was the first trip we took together 5 years prior and he proposed by a campfire on our last night. It was perfectly "us"!
The Planning Period:
We were engaged for a full year but since I was in school full time I truthfully did most of the planning in the last 3 months with the exception of booking the venue and catering. I thought it was more than enough time. The more time I had, the more I would have changed my mind.
The Best Advice We Received:
The day of the wedding it's too late to make changes. Things will go wrong but no one will remember those tiny things. Breathe, and take it all in!
The Challenges We Faced:
Distance was the hardest. The wedding was in my hometown (Ottawa, Canada) but I live in Vancouver, BC. Luckily, my mom knows me and my style quite well and was a life saver. She helped me throughout the entire process with things like the tastings, looking into flower options etc.
The Theme:
Since the venue was outdoors and incorporated a barn I suppose I ran with the rustic theme. My main decorating choices incorporated wood and copper coloured items which are really just two things I love in my day to day life. I tried not to over think it.
Wedding Décor Inspiration:
I've always been an outdoorsy type person so I knew wood/rustic theme would be prevalent in my decor. I started there and built up with various items and finishes I loved to tie it all together. I have to admit I was on Pinterest weekly looking for inspiration.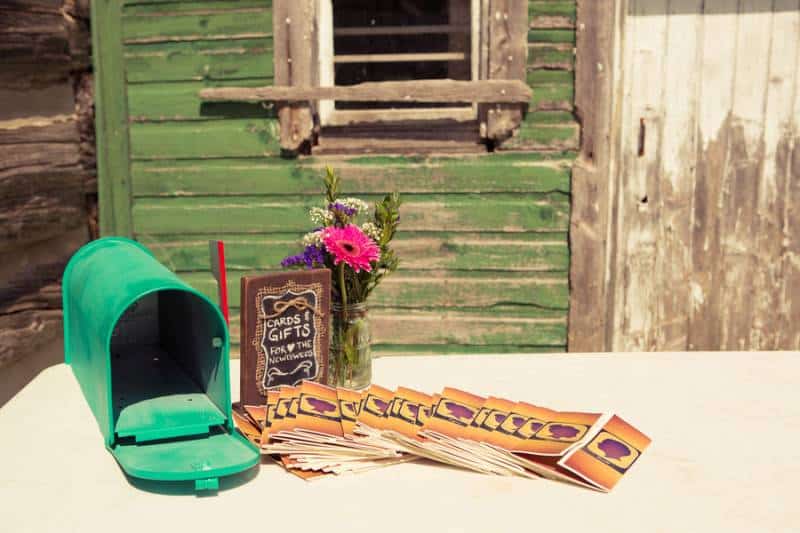 Wedding Outfit Inspiration:
Brett didn't really mind what we chose, but for me it was all about the colours. I had a few colour combinations I liked but when we chose our venue I knew the teal and red was the perfect choice. I think I had a vision of everyone else's outfits before I knew what I wanted for my own dress!
As for my dress, we had decided to go to a small town shop my mom had heard of just outside of Ottawa, CA. We walked in and I immediately pointed to one and told my mom "That's the dress!" My mom thought I was nuts and knows my impulsive nature quite well so didn't hold her breath. I saved it for last and although I never dreamt of what my dress would look like as soon as I had it on I knew. And it was only $399 to top it all off!
Our Do-It-Yourself (DIY) Projects:
Approximately 90% of the decorations were homemade and I only traveled to Ottawa 1 month prior to the wedding to prepare. One of the most important things to me was that the decor be sentimental and personalized. Examples of some of the thought and work that went into the décor:
Name cards. I hand dyed/glued/stamped/wrote out each individual guests' name. Brett cut 100+ tiny pieces of driftwood and turned them into stands for the name cards.
Favours. I purchased packets of flower seeds and placed them in mini mason jars with planting instructions (with hand made burlap tag)
Table numbers. My dad made and stained them from scratch and I stencilled/painted/glued each one
Burlap curtains behind head table. My mom sewed the panels for behind the head table and the pictures are special moments with every one of the bridesmaids and groomsmen.
Antique mannequin seating chart. My mom has an antique bustform which she sewed a burlap dress on and I pinned the handwritten and stamped seating chart to it.
Mr & Mrs banner at head table. My mom and I cut out multiple pieces of burlap and fabric and strung them together for the head table and cake table.
10 painted wine bottles. I labeled the bottles with numbers ranging from our wedding night to 25. People wrote notes on the provided pads of paper and placed it in the bottle of their choice. On the corresponding anniversary we will break the bottle and read the note. Our wedding night ones were hilarious. This will be a fun tradition for the next 25 years to come.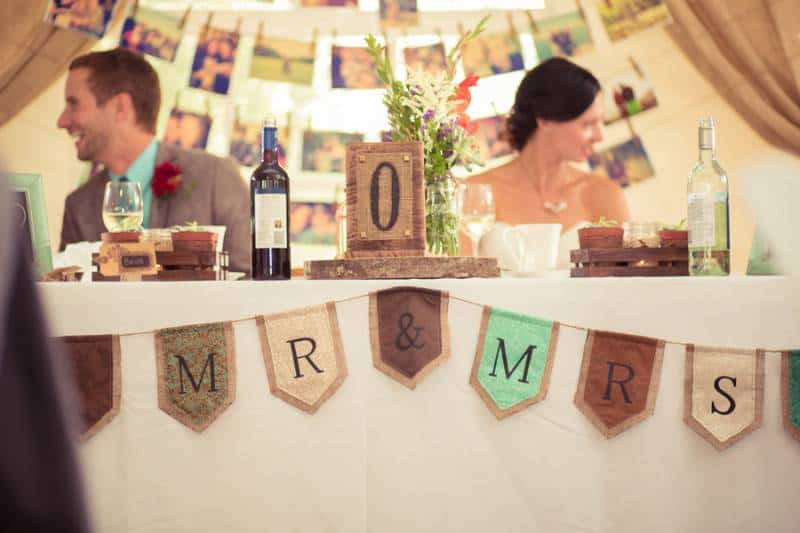 Money Matters:
I was hoping to keep in under $25,000. Since this wedding incorporated approximately 90% handmade decor items I'd have to say that is where we saved the most financially. The venue was by far the most costly part of the wedding BUT well worth the investment and wouldn't have wanted it anywhere else.
The Guest List:
We invited 140 guest and the final count was 107 including 2 photographers. All of our families were invited and since we were trying to keep it around 100 guests we chose to invite only our closest friends.
The Songs:
We used all the traditional wedding music plus a few modern day indie songs by artists such as Phillip Phillips.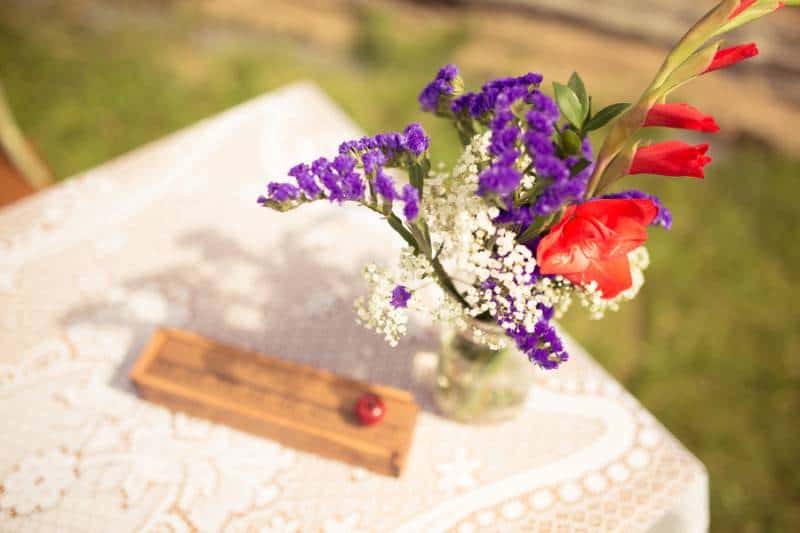 The Honeymoon:
We decided to explore the East Coast of Canada. Brett had never been and I had seen very little of it even though I was born and raised in Canada. We were both lucky enough to be able to honeymoon without a set date back to work so we rented a car and went along camping and staying in bed and breakfasts as we pleased. We started in Ottawa, then made our way to Quebec City. We continued to New Brunswick, followed by Prince Edward Island, then Nova Scotia and ended our trip in Newfoundland before flying back to Ottawa to see my parents and finally returning home to Vancouver.
The Next Step:
Just 3 months ago, Brett and I started a family and had a baby girl. I'm very excited to watch her grow and us become a loving family.

Planning Advice for Couples:
Oh, so many lessons that I learned throughout the planning process!
Go with your gut and don't second guess yourself. For the guest count. For the dress. For the hairdresser. For the cake. Etcetera. You will make so many decisions through the process, but if you trust your instincts and trust your gut, everything will come together perfectly.
DO NOT get caught up on Pinterest. It's so easy to start a board and fill it with a million versions of the same thing and then want to change your mind when you go on the next day/week/month and something else pops up. Stick to your decisions!
Listen to others' opinions and only take the bits and pieces you want without guilt or pressure. It's YOUR day!
If you're like me and a little bit of a control freak, accept the help that is offered or ask for help from those you trust. The biggest lesson I learned was that I couldn't do everything myself and my friends and family genuinely wanted to help me. If I had just communicated what it was I envisioned then the end result would have been the same and I would have put less stress on myself.
On the big day, it's too late to make adjustments or panic. Forget everything else other than to breathe, take it all in and enjoy all your hard work coming together and your first day as newlyweds.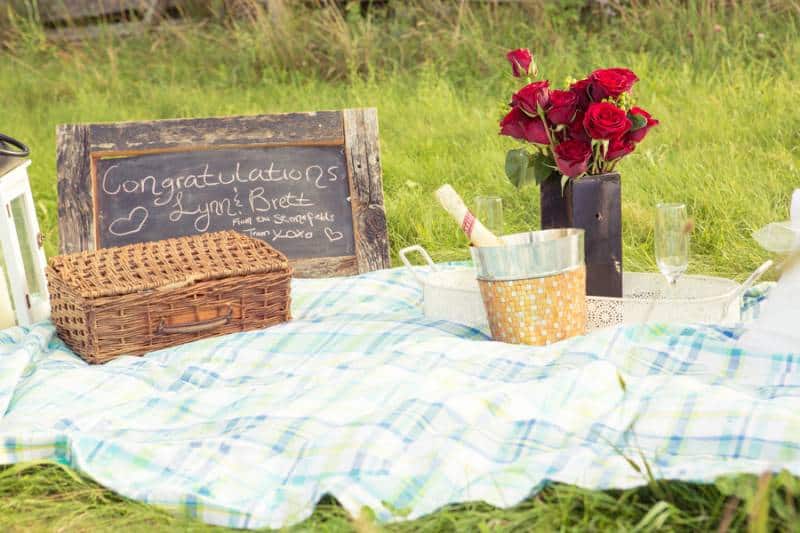 Highlights From the Ceremony and the Reception:
One of the highlights for Brett and I had during our ceremony is that him and I switched positions so we were facing our bridesmaids and groomsmen. I really wanted to see my bridesmaid faces and reaction throughout. Our venue surprised us with a private picnic in a gorgeous field between the ceremony and reception. It included a bottle of bubbly and all the appies being served to our guest during cocktail hour. It was truly special and gave Brett and I a moment to stop and celebrate being officially married. As for the reception, the highlight for Brett and me was simply enjoying (partying) the rest of the evening with our closest family and friends.
A Memorable Moment:
My favorite part of the whole day was the private picnic Brett and I shared – I'll never forget it. And our guests will certainly remember our wedding; we were told they'd never seen a wedding venue as beautiful as Stonefields Heritage Farm.
Our Wedding Video:
VENDORS:
Photographer: Kandid Weddings Photography
Cake Designer: Cakeland Creations
Hair Stylist: Modmop Hairdressing
Officiant: Rev Marriage
Event Venue: Stonefields Heritage Farm
Caterer: Thyme and Again