Mike and Jeanna's faith led them to any couples ultimate destination – marriage. These two wanted to showcase in their engagement shoot their love for Jesus, hence the saying, 'God Gave Me You'. They went for a rustic/country look and the scenery was a perfect match for that. Jeanna went for a boho-chic look that made her ethereal and angelic. I sincerely admire their faith and that they want to influence others positively. I love a shot of them where they were reading the Bible. Remember, a love governed by faith is an everlasting love. Congratulations and God bless your love!
Click image to enlarge
Like. Click to Vote
>

The Concept:
Ultimately, I wanted the love of Jesus to be portrayed in our engagement shoot. We used props such as a "God gave me you" sign and letters from scrabble pieces made by our wonderful photographer. "God gave me you" is our favorite song by Dave Barnes and will be our first dance song. We believe that God brought us together and we aim to lead a Christian relationship that positively influences other couples, families, and friends around us while we are dating and when we are married. We also have some shots of us praying and reading the Bible together, which are important aspects of our relationship, as well.
The Location:
I chose the location with the help of our photographer. We are having a "rustic" wedding and she knew of the locations since it was where she had previously shot and hear her residence. We started off a dirt road near Tampa, FL that was very country and then moved to a local park that had great greenery and lighting. Both fit perfectly with the natural and rustic theme we were going for and were very relaxed and fun, which is what we want our wedding to be!
Engagement Session Outfit Inspiration:
I decided on two outfits each for the shoot. I wanted a light dress to go with my cowgirl boots, as well as have a more casual look. Lace was a big part of the decision as it is in both the white dress and blush tank top, and my entire wedding dress is lace. Blush is also a main color in the wedding so that's where the decision on the top came from. After my outfits were chosen, it was easy to tie in the Groom's outfits to match! He went with a plaid button-up to look more formal with my dress and changed to a forest green v-neck for the more casual outfit. I am also big on shoes matching, so she chose his brown boat shoes to match.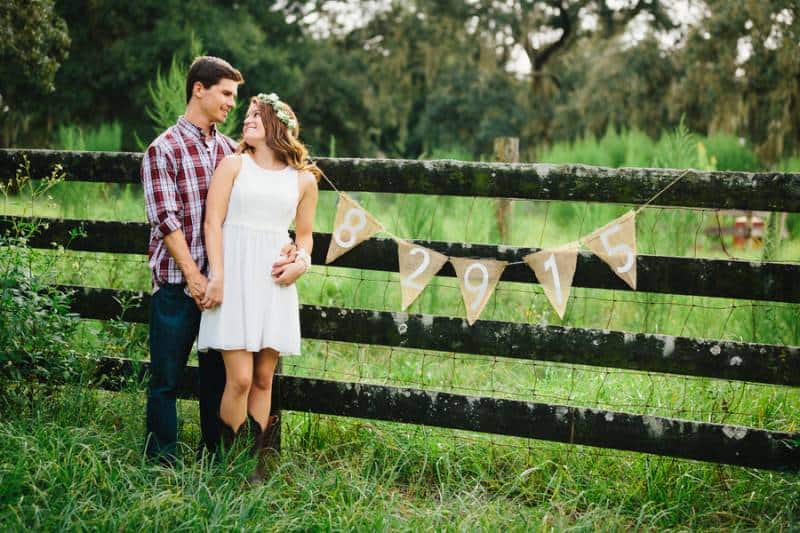 Hint For The Wedding Day:
I definitely believe that the photos give a hint of what will happen on our wedding day. I am wearing my cowgirl boots indicating a country rustic wedding, as well as while I am wearing a flower crown made by my florist. I am even considering wearing another for the wedding day, I just love the way it accents everything! The bridesmaids will also be wearing boots, as well as the flower girls, and any guests who choose to do so. I also wore a blush top which is a main color of the wedding. All pictures indicate the love we have for each other and the how much fun we always have together, which is exactly what they want the guests to experience on our wedding day!
Engagement Session Experience:
I felt at ease with the pose shooting with the help and guidance of our photographer with different poses. She discussed everything ahead of time and guided us the entire time. We also did not feel rushed for time. This was our first time having a professional shoot done and we were both very nervous! I went to Pinterest a lot to get some ideas, but ultimately we wanted our true personalities to shine through.
In Addition:
Recommendations for choosing an engagement/wedding photographer: With experience with my engagement photographer and future wedding photographer, I recommend one that is both cost friendly (within reason because you really get what you pay for). We got lucky because our photographer was both cost friendly and amazing! I also recommend finding a photographer that is 100% committed to you and your groom! Our photographer wanted to know more about us, our story, and our vision for our big day. She helped with outfit options for the engagement shoot and has even given recommendations for wedding details. She is absolutely wonderful! Lastly, choose a photographer that has the same style as you. Since we are having an outdoor wedding, our photographer specializes in outdoor shots using natural lighting and the environment. She was even familiar with our venue so she is already prepared on the best places to shoot, the lighting and knows what to capture on our big day!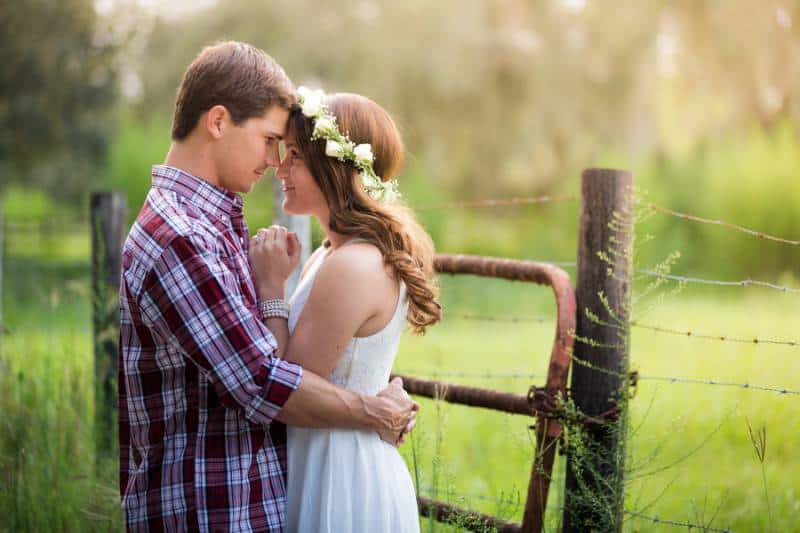 VENDORS
Photographer: Darin Crofton Photography