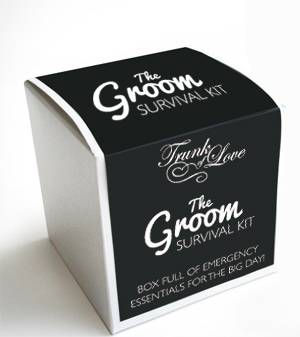 As a bride who may have things in order, you probably already thought of having your maid of honor or your bridesmaid put together an emergency kit for you on the big day. And of course, while it's important to have a kit ready for the bride, it's just as important to have one for the groom. I mean, a wedding is not a wedding without a groom after all. I'm lucky that my husband is an organized guy that had everything under control on the day of our wedding; but for those who needs that extra nudge to get things done or have things in one place without the poor groom running around like a headless chicken, an emergency kit made just for him, might be the solution.
Kits of this sort can be bought online, but where's the fun in that? If you're a bride who likes everything to be detailed (like me) then this is something that you might enjoy putting together for your groom OR if you just want to do something nice to help him out on the big day. Whatever your reason is, this is something that will definitely put a smile on his face and make him look forward to seeing you walk down the aisle more than worrying about the little things.
So what items should you get for that special kit? Below are a list of things that you can put in there, but imagination and creativity is key to make this kit more special for your husband to be.
Mints (for those fresh kisses)
Socks (to keep cold feet away)
A MINI bottle of alcohol (to calm his nerves)
Tide to go stain remover (you just never know)
Razor and shaving cream
Tylenol or advil (just in case)
Hanky (to wipe his tears with)
Lint remover
Comb
Chapstick (For those soft kissable lips)
Whatever you decide to put in your groom's emergency kit, just remember to be creative and have fun! 🙂
Image from: My Wedding Shop