Sometimes, when you've spent hours going through wedding dress photos in an attempt to find the perfect dress, you just need a break. Take a few moments and check out these funny, hilarious and downright crazy wedding dresses.
The Scarecrow
This wedding dress, that we've affectionately coined "the scarecrow" features a bodice that isn't too strange, but below that, things definitely get odd. It has the look of a tiki bar or something you'd put in the garden to scare away birds.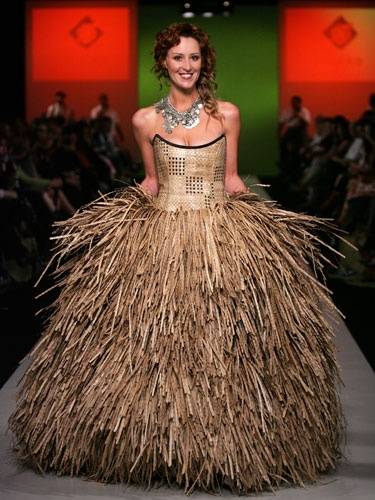 The Newspaper Wedding Dress
Try this one on for size – it's a recycled newspaper wedding dress! Talk about reducing, reusing and recycling. We have to admit – for newspaper, it's really cute. Although, we'd use it more as a party dress than a wedding dress!
The Plastic Bottle Dress
This dress was created using 1,110 plastic water bottle bottoms, 6,512 bottle tops, and 9,440 tags. Although this is definitely one amazing feat, it's probably not going to be your first choice.
The Art Dress
Although we don't know specifically what all this dress is made from, we can see that there are definitely some recycled Styrofoam bowls and plates in there. This charming dress is made from all recycled materials and is definitely eye-catching!
The Octopus Wedding Dress
Well, most women at one time or another wish they had 8 arms, but this may be taking it a little too far. This octopus wedding dress would certainly turn heads at your ceremony!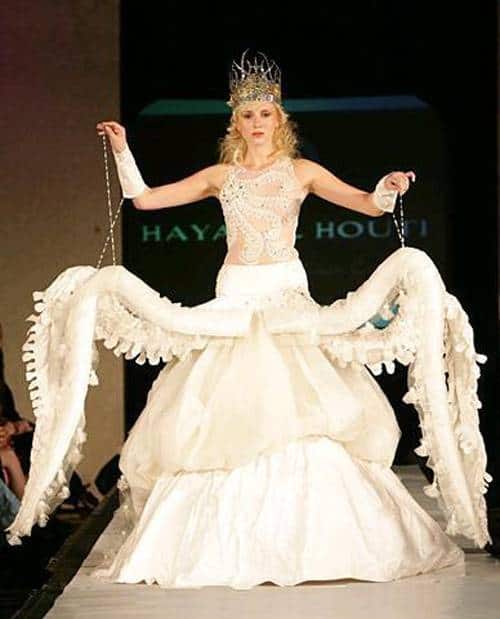 One Sweet Dress
This dress was created by baker Valentyn Shtefano…his materials included 1,500 cream puffs. That's right…it's an edible wedding dress. Weighing 20 pounds, the dress took 2 months to make. And everyone says it's the camera that adds pounds!
Well, one thing's for certain. After looking at these crazy wedding dresses, it will seem a lot easier to find something perfect and beautiful for your own wedding.