While most of a bride's focus is on her gown, there's no doubt she wants her shoes to be just as remarkable. Designer Badgley Mischka is known for creating gorgeous pieces, including wedding shoes that deserve to be worn alongside the perfect dress. Check out these 5 Badgley Mischka wedding shoes and tell us which one is your favorite: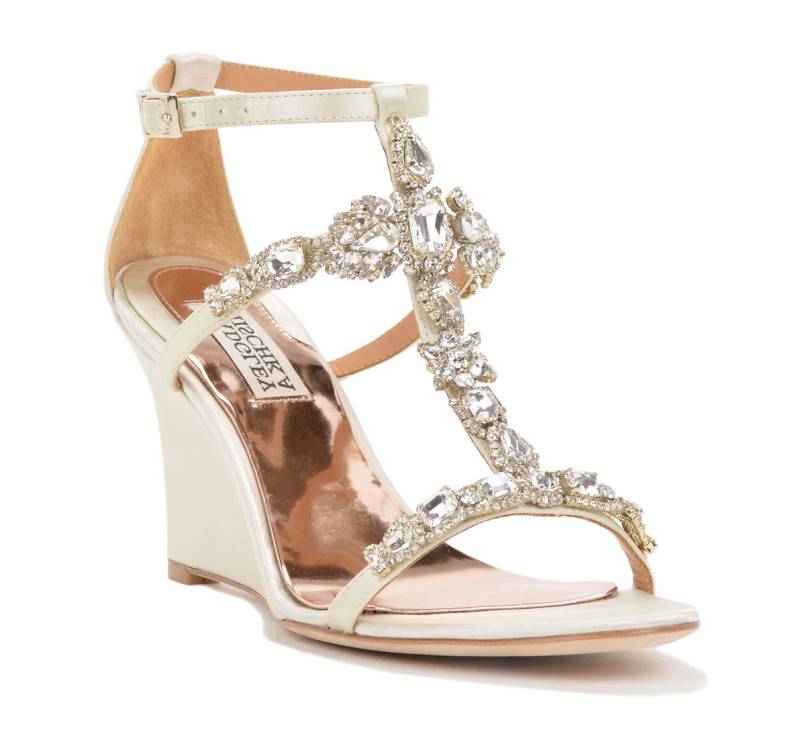 What we love most about this shoe is the elegance it offers. The adjustable ankle strap and manageable 3 and 1⁄4 inch heel provide stability, so you can feel steady when you take your big walk down the aisle. The sparkling crystal embellishments on the t-strap and cross strap catch the light beautifully, and best of all, you can wear these again and again with your favorite evening gowns or cocktail dresses.
Gold and silver are becoming more and more popular as brides add metallic elements to their weddings – from the cakes to the centerpieces. The Hedy-II wedge (available in gold or silver) is a perfect addition to a bride's wedding attire. The shoe offers a stable heel and ankle strap, and the subtle texture makes this shoe stand out and demand attention. It's perfect for the bride who wants to make a statement with her wedding ensemble.
Sometimes, brides need a simple but beautiful shoe, especially when their wedding dress is highly ornamented. The Livia ankle strap pump is the perfect answer – it features an adjustable ankle strap for stability and is a comfortable, subtly gorgeous shoe. Less is definitely more with this shoe, which is available in both ivory and teal, making it a great option for bridesmaids as well.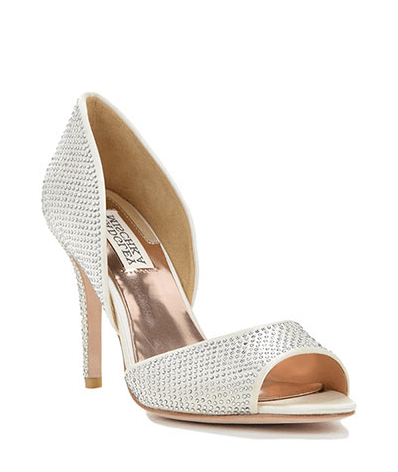 Offering up elegance, this regal shoe is a wonderful bridal shoe. It features a 3 and 1⁄4" heel, as well as a beautiful d'orsay style heel that makes it perfect for a wedding. Small crystals are embedded over the entire shoe, giving it a subtle "bling" that any bride will love.
We think this shoe is an absolute beautiful choice for wedding dresses that are cut anywhere above the ankle. It's the details that make it so stunning: crystals cover the ankle strap, a zipper sits at the back of the heel and it's available in ivory or sapphire. This is a versatile shoe, perfect for simple or very ornate wedding dresses.
There you have it – our 5 top choices for Badgley Mischka wedding shoes. Let us know which one is your favorite in the comments below!
Images © Badgley Mishka
This post is sponsored