If you're not sure what kind of wedding theme you want to feature in your wedding, some special cakes might help you decide! Check out these fun themed wedding cakes to see if they inspire you to create the perfect themed wedding.
The Scrabble Cake
This fun scrabble cake is a great idea for a writer or a board game theme. The larger letter at the top can stand for your last name. You can also choose different board game themes for your wedding, like monopoly, life, etc.
The Beach Cake
This beautiful cake looks just like a sandy beach full of seashells. Use this for your tropical-themed wedding or for your beach wedding. You can also think about other areas that might work as themes, like the rainforest or a tropical island.
The Fall Themed Wedding Cake
If you can't think of another wedding cake, why not go for a seasonal theme? This beautiful fall themed wedding cake is elegant and charming, and screams fall.
The Lace Themed Wedding Cake
This elegantly-designed wedding cake is perfect for a vintage-themed wedding, a black and white wedding, and even a flapper-era wedding. It could work for several different themes!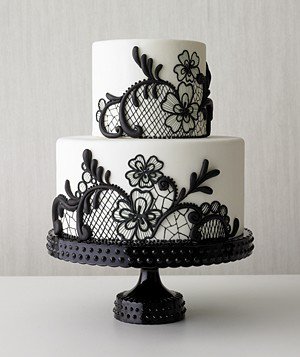 Country Themed Wedding Cake
This country-themed cake is gorgeous and very charming. If you're from a small town, this would work perfectly. It would work perfectly for a barn wedding, a farm wedding or a similar theme.
These beautiful cakes can serve as inspiration for your wedding, and may give you some great ideas for your own cake.