Jade ♥ Charles
This wedding was all about DIY. Being Jade and Charles' first major collaboration, so much inspiration and planning went into their big day. From the first moments after he proposed in the snowy mountains of Colorado, they fantasized about building, making, growing a simply elegant aesthetic that was true to them. This later made them realized that they had been practicing being true partners, through their sharing of beauty and the commitment to build it with each other and for each other. Jade and Charles, our heartfelt congratulations on your marriage! May your bond last forever, and should it ever change, may it change to a firmer and better one.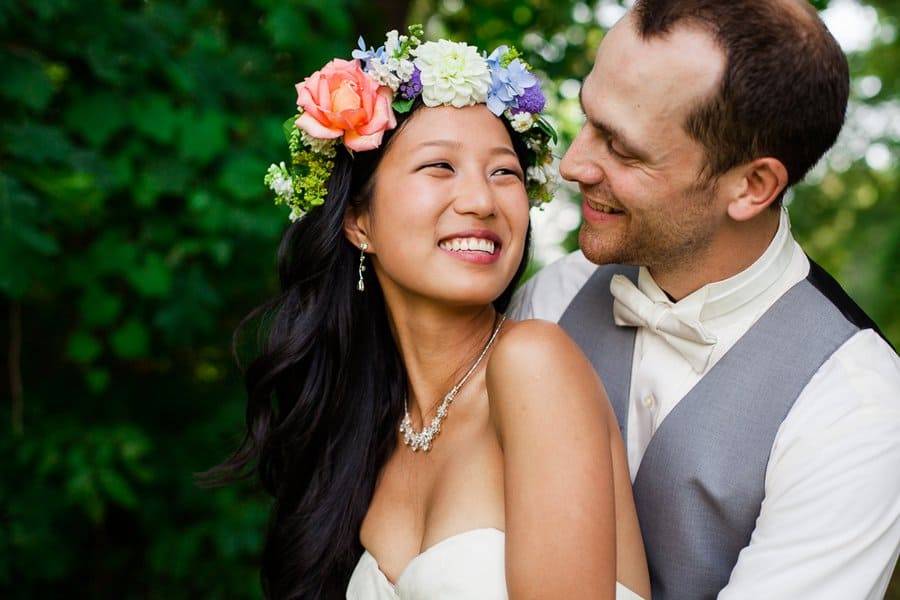 The Happily Ever After
Click image to enlarge
2

Like. Click to Vote
>
Extra Special Details
From the bride:
All to the dance floor! Our friends are still telling us that our wedding had probably the most amount of dancing they had ever seen. What can we say–we have particularly dance-prone, fun, attractive friends!
A special moment. When we went to pick up flowers from Plenty of Posies farm: the lady in charge was literally bottle feeding a baby deer when we drove up. I love Ithaca!
Hundred paper cranes. My mom and I made paper cranes. In Chinese culture, making 1000 cranes for something is a very special gesture of blessing and well wishes. We were too lazy to get to 1000 but it was a fun, year-long DIY project nevertheless, and the cranes turned out so lovely.
Lucky color. In Chinese culture, the bride wears red. I think I ended up falling even more in love with my qipao, which I wore for my reception than with my wedding dress. Kind of goes to show that cost doesn't necessarily correlate with sentimental value.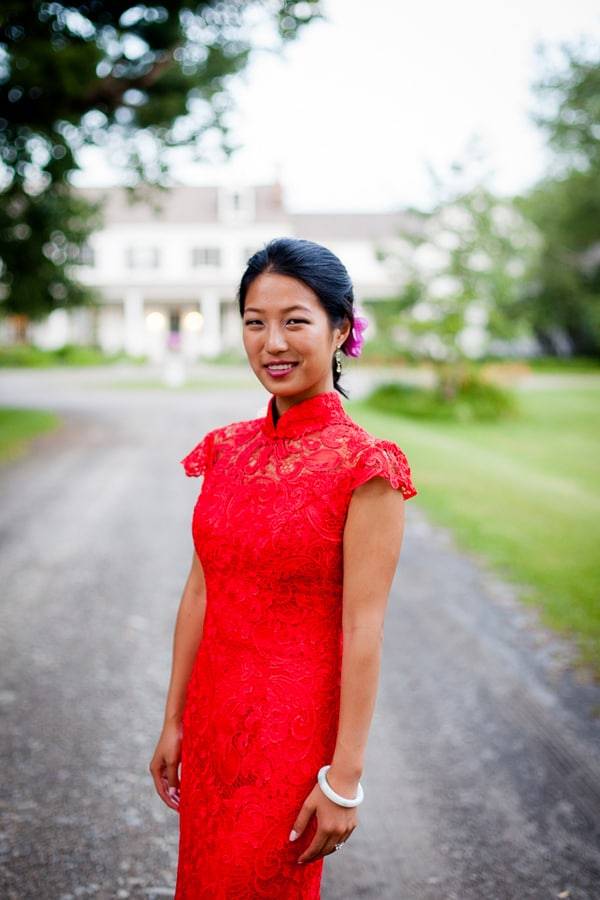 The twist. Instead of having one large wedding cake, Charlie baked a small ceremonial cake. The real dessert was the best 14 pies our guests have ever had, according to many of them almost a year later. Charlie's mom baked all of these by hand. She has a reputation for having a "magic oven," as she has been spoiling her loved ones with an incredible pie per day, every day, for the past 45 years. Imagine fresh, bubbling strawberry rhubarb (or blueberry, or Kentucky nut, or any of the favorites) with a flaky crust and a dollop of French vanilla ice cream…unforgettable.
The Bride's Advice
♥ Try to decide (collaboratively) early on what your "needs" vs. "wants" are. It's so easy to be convinced that you absolutely need a detail (or 5, or 47) when you get into the planning process, but at the end of the day, all you absolutely need are: each other, your favorite guests, food, maybe drink, and a place to hang out.

♥ I highly recommend DIY. There are many crafts you can easily learn to make, and the process is super fun. Not only does it save you money, it is a great excuse to bond with your family, bridesmaids, and even your future spouse.

♥ Fun fact: I bought both wedding dress and reception dress over the Internet and only spent a total of $1000 for both. It sounds scary, but I figured that I would spend hundreds on alterations even for a new dress, so why not just get a previously owned one? I ended up requiring no alterations. — Jade
Money Matters
$10,000 – $20,000
Vendors
 Photographer: Calypso Rae Photography
Event Venue: Fontainebleau inn