Eloping might be simple yet it is very intimate. Probably the reason why most couples do this instead of big weddings. Michelinne and Darren together with their photographer and officiant, decided to elope. Even if they did not insist on having any guests, they made sure that they had a traditional wedding of exchanging vows, saying their I do's and sealing it with a kiss. Romance elaborated with the pretty pink and red roses, a single tier cake, and the bright city lights. Most importantly, they had each other's arms which led them to the voyage on the good ship of matrimony. Wishing you a lifetime of love and happiness, Mich and Darren.
Click image to enlarge
Like. Click to Vote
>
Our Story
I was in university at the time and moved to Ottawa for four months on a work term. I rented the spare room in Darren's condo. We immediately developed a friendship and began spending all of our spare time together. Things progressed from there. I moved home to Winnipeg after my work term was complete and within another four months' time I moved back to Ottawa for good. We have been inseparable ever since.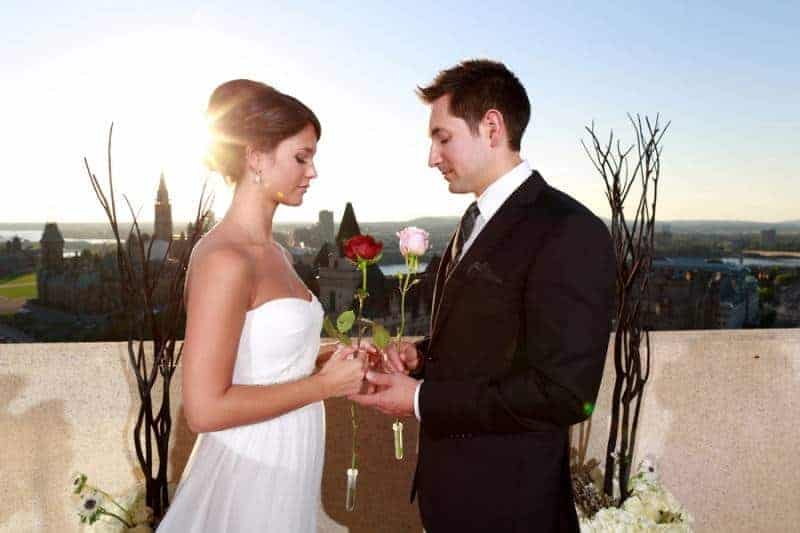 We Are A Perfect Match
We are best friends. Darren and I are very different, but our differences balance out. He is easy-going when I am rigid, and so on. That said, we are similar in how we like to spend our time and we share the same values. We love spending time together. Whether it's travelling or curling up on the couch with a giant bowl of popcorn and a great TV show, I love that Darren is by my side.
The Proposal
Darren proposed on a Friday night over champagne and pizza the day we got the keys to our first home. We spent the day making trips back and forth from Darren's condo, bringing boxes and cleaning the new place. Darren left me alone for a few hours with the task of setting up our dining room table. By the time he came home that evening I was starving. He brought champagne, flowers, and pizza from our favourite restaurant. After rushing me through my first slice, he fumbled though his jacket pocket and knelt down on one knee.
The Planning Process
Darren and I started planning a small wedding a year and a half in advance. After four months of planning we had secured a venue, a photographer, and an officiant. Then, we had a change of heart and decided to elope. Our venue changed and we moved up the wedding date by one year. It took us four months to plan our elopement. We wanted to incorporate some elements of a traditional wedding, like flowers and a cake. I think you can always use more time, but we wanted to keep things as simple as possible, so the shorter timeline kept me from getting too caught up in the details.
The Best Advice We Received
Some of the cautionary tales I heard from friends stood out to me more than any advice. I remember friends saying that they barely spent time with their new spouse on their wedding day because they were too busy entertaining guests. I didn't want our wedding to be that way, which was a huge factor in our decision to elope.
Tips & Tricks For Future Brides
I love wedding blogs and Pinterest for gathering inspiration. I think coming up with a theme or colour palette is a great place to begin when planning a wedding. Etsy is amazing. Without a doubt I highly recommend getting a wedding planner. Despite the fact that we eloped, I had the great pleasure of working with an events coordinator during the planning of our elopement. She knew the venue and had ideas that would have never occurred to me. When I got emotional, she took the pressure off.
The Challenges We Faced
A self-imposed tight timeline and lack of research were our biggest challenges. We took four months to plan our elopement. Most of our planning was done over the summer, the height of wedding season, and some of the vendors we were interested in working with were already booked. We had to be flexible and not get too emotionally attached. My husband and I are not from Ottawa and none of our friends had weddings in the city, so we had limited knowledge about vendors in the area. Our photographer, officiant and wedding planner were fantastic sources of inspiration and guidance throughout the process. We leaned on them when we felt lost.
Wedding Decor Inspiration
We kept the details to a minimum for our wedding. My style is very monochromatic, so I knew right away that I wanted to keep our wedding colours neutral, classic, and elegant. Both Darren and I were dressed in black and white. Our flowers were ivory, our candles were white, and we hung white lights and white lanterns in the trees at our outdoor reception. Otherwise we let the venue speak for itself.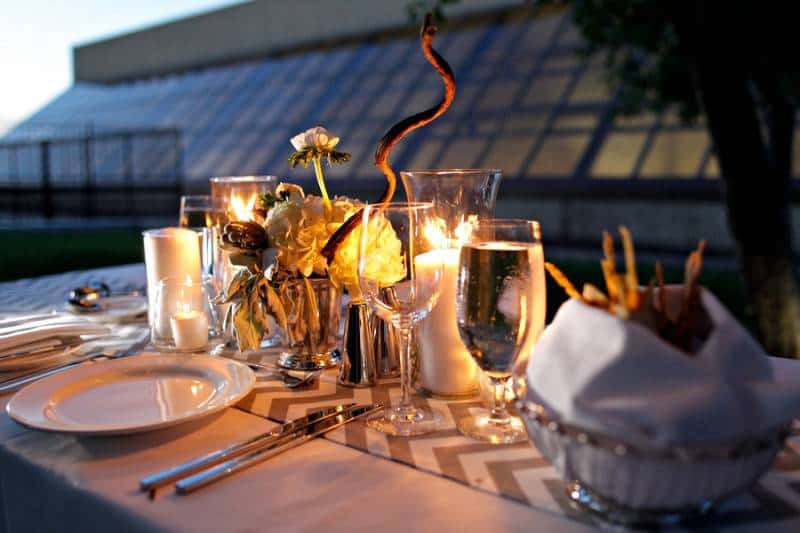 Wedding Outfit Inspiration
Our style is very monochromatic and classic. We knew from the beginning that we wanted to wear black and white. Given the intimate, and perhaps, more casual nature of our wedding, I chose a simple, inexpensive white gown and added some glitz with a pair of Jimmy Choos and a beaded belt. The second, shorter dress that I wore was a dress I had purchased a few years earlier and had never worn. I suppose I was saving it for a special occasion. Darren chose to invest in an elegant, black suit, an ensemble that could be worn again and again. He chose subtle gray accents for his tie and pocket square, in keeping with our chosen color palette.
Our Do-It-Yourself (DIY) Projects
The custom hangers I ordered on Etsy were designed by me in collaboration with the vendor. I created a ring box for our wedding bands, and a sign to stick in the ground near our picnic table for the reception.
Money Matters
Our budget was $10,000, but a good portion of that budget was allocated to my wedding band.
Darren and I made a list of the things that were most important to us and we allocated budget to those items first. The fact that we had no guests at our wedding made it easy to eliminate a lot of details. We used the white linens supplied by the venue, which worked perfectly with our chosen colour scheme. I made our wedding music playlist myself, which we played via a wireless speaker that we already owned. Because of the casual and intimate nature of our wedding, I chose to purchase a simple, inexpensive white dress, but I splurged on a pair of Jimmy Choos, which I wear now on extra special occasions.
We spent the most on my wedding band and our photographer. Both were absolutely worth it.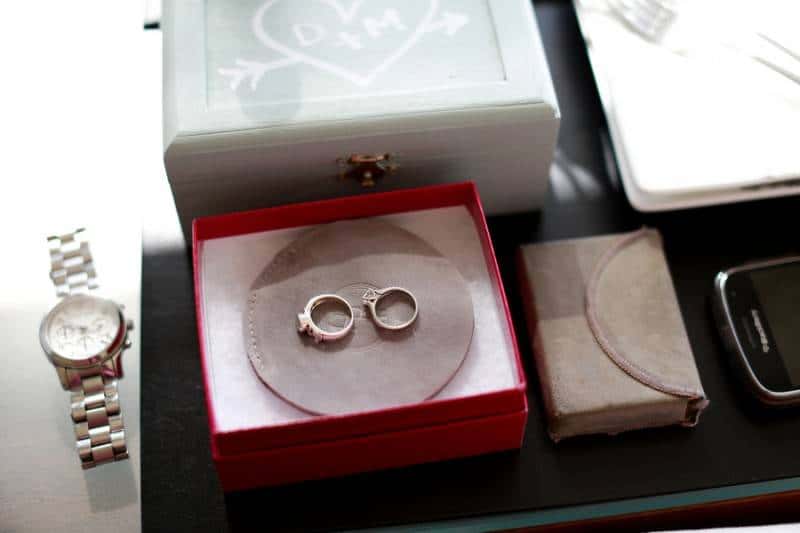 The Songs
I didn't walk down the aisle to any music, but the song we listed to right before our ceremony began was an acoustic version of Stolen by Dashboard Confessional.
Our first dance song was Green Eyes by Coldplay.
I made two playlists of our favorite songs for our wedding day. One for getting ready and the second for dinner.
The Honeymoon
We went to France and Spain. We rented a car and drove from Paris to Barcelona and visited a number of cities in between. We spent longer planning our honeymoon than our wedding. We researched hotels, restaurants and attractions in every city that we visited. We had so much fun that we planned a second honeymoon the following year. We are currently in the midst of planning our third honeymoon. I suppose at this point it is just a trip, but "honeymoon" sounds a little extra special.
The Next Step
Everything. No matter what life holds, I have my partner and best friend by my side.
Planning Advice For Couples
Listen to your heart, prioritize, and do what feels right. There are endless options for your wedding and everyone has an opinion. Make a list of the details or elements that hold the most meaning to you and make those items a priority. If in the end your budget or timeline allows for more, then great. You can't please everybody. And remember, the wedding is so much more than one day. This is but one of many celebrations you will be sharing and planning together.
The Album Story
Our wedding day was meant to feel like a Saturday, not unlike the kind we may experience numerous times throughout our lives together- even if our wedding did take place on a Thursday afternoon. We listened to music and laughed. Darren ironed his shirt while I fussed over my makeup. Darren zipped up my dress and I straightened his tie. It was just the two of us celebrating our love, our way.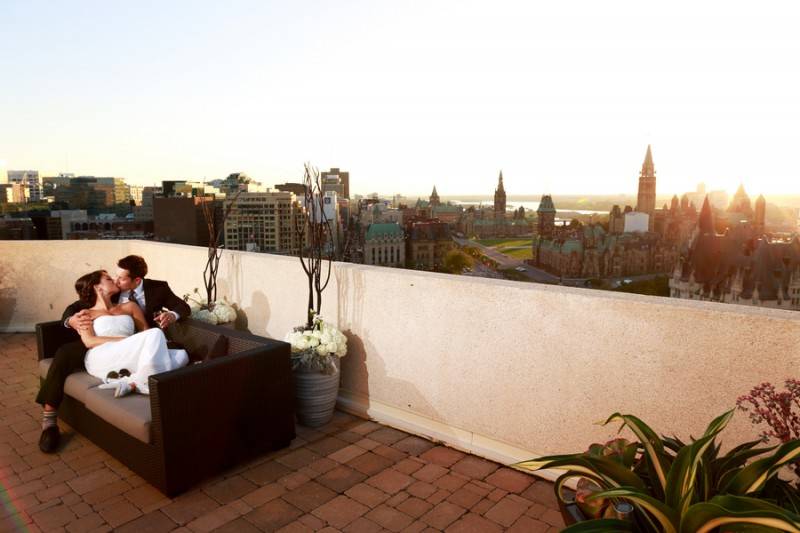 Favorite Part of the Day
Our favourite part of the day was getting ready together. More specifically, having Darren zip up my wedding dress. It is not common for the groom to help the bride into her dress, and as such, it felt like we were sharing a unique and very special moment.
Highlights from the Ceremony and the Reception
Saying our vows. Darren and I wrote our own vows separately, so it was a surprise to each of us when we said our vows for the first time on our wedding day.
Given that we did not have any guests, the wedding ceremony itself becomes quite short. We worked with our officiant to add some details to the ceremony to elongate it and make it feel special. We added the handfasting and rose ceremonies.
The setting of the ceremony is a definite highlight. The view from the terrace is extraordinary and we were blessed with fantastic weather that day.
Dinner under the stars. Snacking on wine and cheese, 100% focused on each other, present in the moment and attentive to one another. We laughed, ate cake, and danced under the moonlight.
A Memorable Moment
Two weeks after our wedding, our families flew to Ottawa and we surprised them with our news. We held a small and casual get together for our parents, brothers and closest friends at our home. We recreated our wedding ceremony in our living room and our photographer took photos of the event. We ate pizza and sipped champagne and celebrated all over again. It was so special to be able to share in our happiness with the ones we love the most.
VENDORS
Photographer:  Blair Gable Photography
Officiant: All Seasons
Dress Store: BCBG
Ring Designer: Birks
Floral Designer: Full Bloom
Cake Designer: The Cake Whisperer
Hair Stylist: The Loft
Reception Venue: The Westin Ottawa