The earthy colors Paul and Mary picked for their rustic wedding were on point. The twigs, twine, burlap, branches and leaves went well together with the motif. Innovative brides are always appreciated here on the blog, and Mary is not an exception. She DIYed a lot of things for her wedding, and you'll see the list and how she did it down below. May her wedding be of help in planning your dream rustic wedding. Good luck!
Click image to enlarge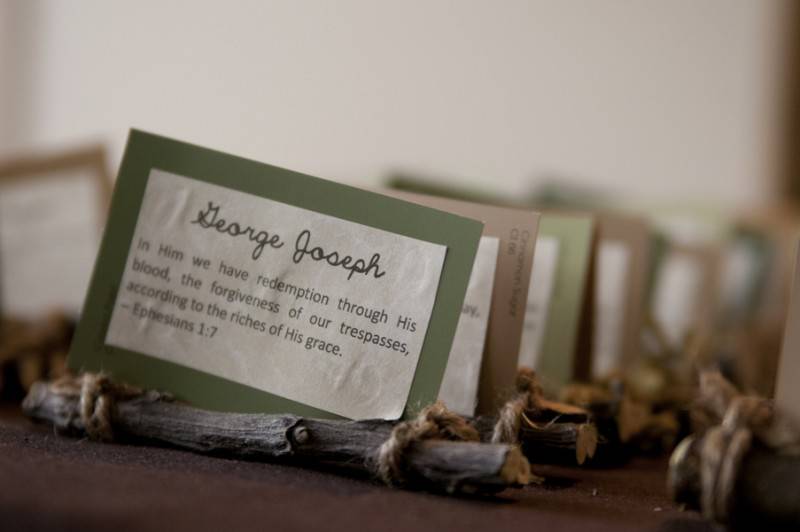 2

Like. Click to Vote
>
Our Story:
Paul and I were both single and not looking. I started attending a new church and ended up at a young adult Bible study one night. That evening the leader of the group, Laura, led the group in prayer for someone named Paul, who was having a difficult time and hadn't been coming to church lately. I felt led to pray out loud for this man who I did not know. Two weeks later he showed up, and I couldn't help but talk to him, even though he had no interest in talking back. Come to find out that although we had different personalities, we had a common interest.
I ended up spending more time with him through group activities, not wanting to make the first "move." One day he invited me over to his house to watch a hockey game and, for the first time, it was just the two of us. We had an amazing Saturday together watching hockey and then playing Nintendo 64. Pretty soon after that we started dating. Three days after Paul asked me to be his girlfriend, I knew I was going to marry him when we had a very open, honest conversation about our faults, flaws, and pasts– particularly mine. He had nothing negative to say to me in response; he didn't get mad at me, he just said, "God cares more about where you're going than where you've been, and so do I."
We  Are A Perfect Match:
Our personalities are different, but complimentary. He is 100% introvert; I am more of a balance between introvert and extrovert. He is everything I need- a follower of Jesus, a leader, a kind and gentle man. I don't know if I am everything he needs, but he says that he likes my sense of adventure and how I get him out of the house. We also have a lot of hobbies in common. We love watching hockey, particularly Red Wings hockey, and we love playing games, all types of games. Our beliefs are perfectly in sync. We both like organization– although he succeeds at it way more than I do. We just always seem to balance one another out.
The Proposal:
I spent the summer working on Mackinac Island at Seabiscuit Cafe, a 4 1/2 hour drive from where we live. After I had been there about a month, Paul came up for his first visit. He asked me to take him to the most beautiful spot on the island. I thought that was a ridiculous question, and said something to that effect. The whole island is beautiful!! But once I thought about it, there was one spot over another that I thought he would like.
I took him to Anne's Tablet. A spot in the woods, accessible only by a footpath that overlooks the island's marina, park, and downtown area. There, Paul dropped to his knee and asked me to marry him with "Hold Us Together" by Matt Maher playing on his phone. I was speechless at the sight of the ring; I had no idea this was coming! But I quickly recovered and said "Yes!" As we exited the woods, right next to the path was a newlywed couple getting their post-wedding pictures taken. So right after we got engaged, we had our picture taken with a newly wed couple.
The Outfit Inspiration:
We went for really classic looks. I was dead set on a dress with sleeves, not added on sleeves either, but a dress specifically made with sleeves. And since we had nine kids participating in the wedding, all under the age of 7, we wanted them to be adorable! The five boys wore white button-up shirts with tan pants and custom made green suspenders and bowed ties. The goal to make them cute totally worked. Also, it was crucial for Paul to wear all white. It is a representation of our purity that we both took very seriously.
The Do-It-Yourself (DIY) Projects:
Oh gosh, this is a bit of an overwhelming question. We did SO many DIY projects!
We made our programs, which came out way better than expected! We folded them in half and tied a bow of twine around the folded bit as an extra touch.
Our table numbers were pictures of our puppy with a white sheet of paper around her neck that we photoshopped numbers on too. My mom made our burlap table runners. We made our centerpieces– each table had three glass bottles, one tall, one medium, one short, wrapped in different colors of twine, one green, one brown, one tan. Those were a LOT of work but came out looking incredible.
Paul and I collected flowers- hydrangeas and wildflowers- from neighbors right before winter came, and the flowers all died. We dried them all winter and put them in the bottles. And then we wrapped the three bottles together with burlap, lace on top of the burlap, and a bow of twine around the center of the lace. We set all that on a cream colored square of burlap that very nicely matched our green burlap table runners. And then we scattered California acorns around the tables.
My mom DIY'd our cake table and our sweetheart table.
The other main DIY thing we did was our name cards. We spent the winter collecting dried twigs and sticks, and we cut them all about 4-5″. We tied them together with twine on both ends. Those were our place card holders.
For the name cards, we collected paint chips of varying shades of brown and green and then cut up extra invitations that we had and glued them to the paint chips so that the paint chip colors bordered the colors of the invitations.
Then on the invitations we printed every name with an individualized, hand-picked Bible verse. We did even more DIY than all that, but those are the highlights.
The Wedding Décor Inspiration:
Our wedding decor was inspired by our favorite colors, green and brown. Green and brown represent nature, earth, and growth. We realize that we won't always be the same people we were the day we got married, but that our hope and prayer is that we grow and change together. Our wedding decor was centered around green and brown and incorporated burlap, twine, wine bottles, vines, branches, leaves, etc.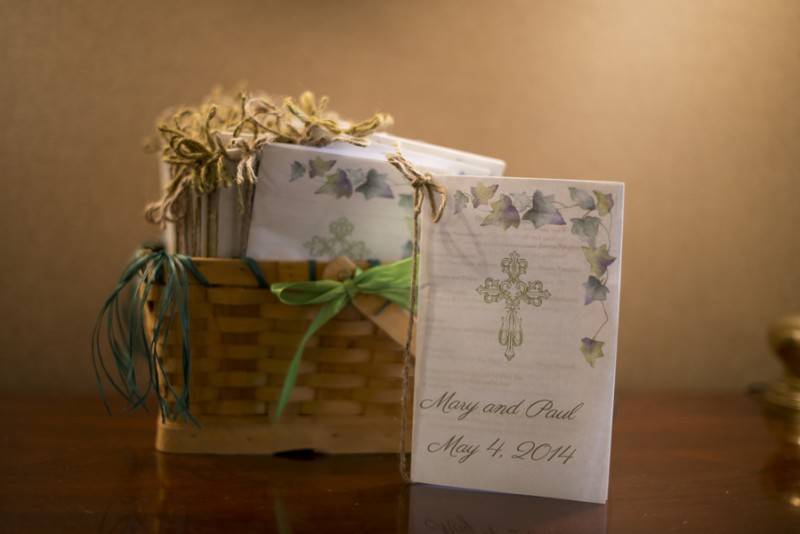 The Planning Process:
We were engaged for 11 months. I had to wait until I got home from Mackinac Island for the serious planning to begin so overall the planning process probably took nine months. At the time, it seemed like too much time, looking back, I wish it had been more time so overall, I think it was the perfect amount of time. Any more time and I would have been too stressed to function!
The Best Advice We Received:
Just like anything else in life, the person who pays for the wedding gets to make the decisions about the wedding. We were very blessed that my parents were so understanding and willing to go along with our decisions even though they contributed half of our budget, but not everyone will get that. So if you want to be in control of the decisions, be willing to put forth the money for it. Find the balance between DIY and buying what you want. Don't take on so much that you go crazy, but take on enough that you can save money, add amazing personal touches to your wedding, and more greatly enjoy the outcome! Look for inspiration everywhere! Paul and I were visiting family in California, and we loved the shape of the elongated California acorns, so we packed up a bunch and used them as table decor!
Tips & Tricks For Future Brides:
DIY can often save you money. Use coupons!!! The possibilities with wine bottles are endless- visit your local bar/restaurant and ask if you can collect their extras for a few weeks. Don't skimp on breakfast. Have a wing-lady who you trust to take care of things on your wedding day. So many people came up to me with questions on the wedding day, and I would direct them to my bridesmaid or mom for their answers. Your only responsibility on the day of your wedding should be to say, "I do!"
The Challenges We Faced:
Planning a wedding is ridiculously stressful. Stress stress was a huge problem. Paul and I would have "no wedding" days where we did not talk about our wedding, with each other or anyone else. I think our moms had the biggest problem with that, but we gave them notice. There was also a family drama, but there always is. Don't feel obligated to do anything you don't want to do or think you should do. That was probably the most challenging thing because we are invested in our families, and it was difficult to say no, even when we felt confident that we should say no.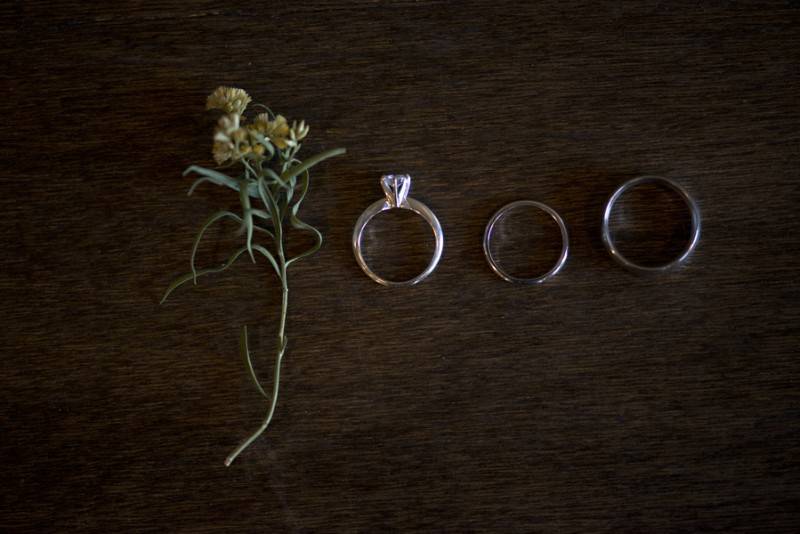 Money Matters:
$10,000 was the budget
We saved the most money on a DJ and flowers. We had an uncompromising budget amount set in mind for each, and we did a lot of legwork emailing different companies and seeing who would be willing to work with our resources. Our budgets were small enough that a lot of people weren't, willing to work with it, but we got to interview 2-4 who were ready to work with us and both, especially the flowers, came out great!
The biggest expense was food and venue, followed by the photographer.
The Guest List:
About 185-190 were invited, and our final count was 115.
We also had a set budget for our guest list. We did something a little unusual here. We did not want to go over our budget, which included 120 guests, so we sent out our invites in waves. Our preliminary round was about four months in advance and went out to all our family. Once we found out how many of them couldn't attend, we sent out a second round of friends, and we even went to a third round. It was complicated, but something magical happened, we somehow came out of the exact amount we had budgeted for.
The Songs:
The processional was a Pachelbel Canon in D because it is my mother-in-law's absolute favorite.
The bride's entrance was a musical version of "Come Thou Fount of Every Blessing."
We sang "Amazing Grace (My Chains Are Gone)" by Chris Tomlin and "Nothing but the Blood of Jesus."
The interlude was "Oceans (Where Feet May Fail)" by Hillsong United.
Our recessional was supposed to be Handel, Messiah- Alleluia Chorus, but I think our DJ fell asleep or something because he totally missed that! Nevertheless, we walked out glowing with joy.
Our Honeymoon:
We went to a small out island of the Bahamas called Eleuthera. It was incredible! Paul wanted an all-inclusive resort, but I wanted an island adventure! We eventually decided on an island adventure because two weeks was more important than an all-inclusive resort, and we couldn't spend two weeks at an all-inclusive resort and still have it fit in our budget. We went snorkeling, crab hunting, did some mission work with Haitian children, and did some mega-relaxing on top of it all, along with phenomenal food and drinks (Goombay punch!!).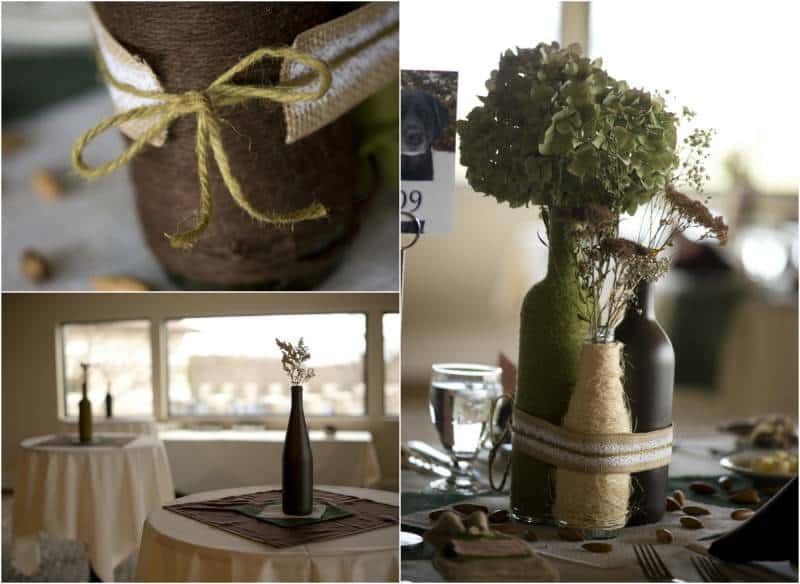 Excited About:
Just living life together. Although, we are looking forward to our kids that we don't have yet growing up and moving out of the house!! Then we'll do some traveling!
Planning Advice For Couples:
Figure out your budget first and foremost. Suck it up and ask both sets of parents what they can contribute– the bride's side paying for the wedding is obsolete. And take a no-wedding day about 45 days out from the wedding!
The Highlights of The Ceremony & Reception:
I hear that the highlight of the ceremony was the focus on Jesus. Since we weren't in a church, my dad built us a wooden cross that my mom decorated with vines that we got married near. We were also supposed to do Communion as a married couple, but Communion got left behind on accident–oops! We improvised, though. Paul and I knelt by the cross and had a private moment of prayer during that time. The highlight of the reception was getting all the compliments on the ceremony, the clothing, the decorations. We put so much into the reception; it was awesome to hear so many enjoy it!
Most Memorable Moment:
Our guests were aware that the kiss at our wedding was our first kiss. I think that was particularly memorable. That doesn't happen so much nowadays. Also memorable when was when my 82-year-old Bama was dancing with the rest of my family to the "Wobble" song! The day we got married was particularly special too. My grandfather, Papa, passed away in, August of 2012. May 4th, 2014, the day we got married, would have been Bama and Papa's 57th wedding anniversary. I was the first grandchild to get married since he went home, so it was my way of having him at our wedding. We also used for our cake topper, Kewpie dolls that have been topping cakes in my mom's side of the family since 1926. It was on my mom's cake, my sisters' cakes, my grandma's cake, my great-grandma's cake. And our ring pillow was made out of Paul's grandmother's wedding dress.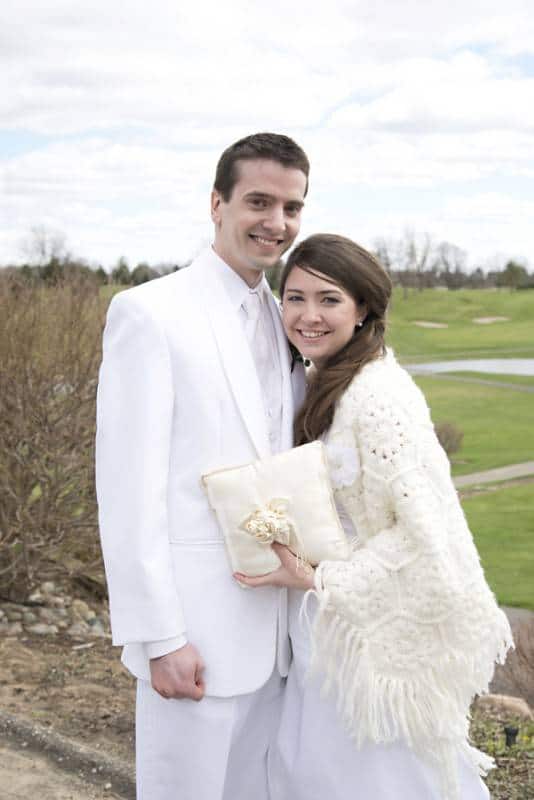 VENDORS
Photographer: Daniele Carol Photography
Dress Designer: Brides by Demetrios Troy Mi
Hair Stylist: Caidy Marie Beauty
Ring Designer: Koueiter Jewelers
Tuxedo and Mens Attire: Men's Warehouse
Event Venue: Paint Creek Country Club
Invitation Designer: Vista Print
Floral Designer: Viviano Flower Shop