Click image to enlarge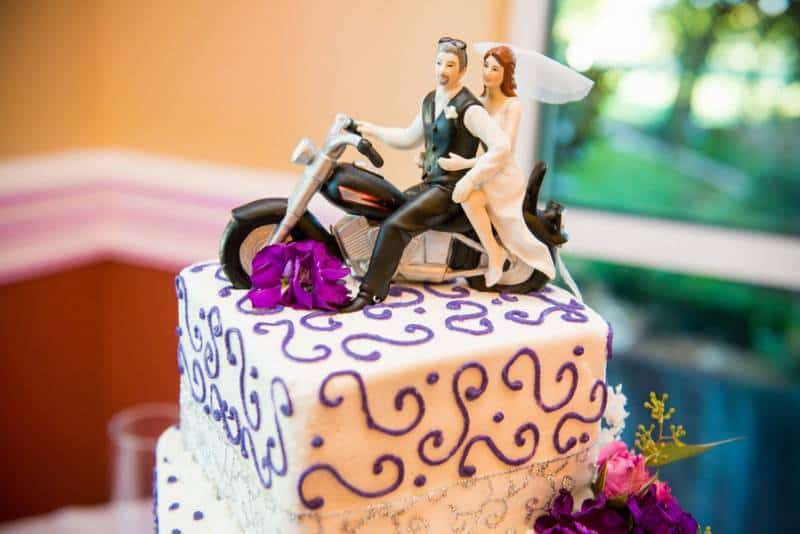 Like. Click to Vote
>
Bride
When I decided to go on a motorcycle ride with my dad back in 2009, I wasn't expecting to meet the love of my life. But as I began chatting with Marcus, one of our fellow riders, my expectations began to change.
In the days following that first ride, Marcus and I kept in touch online, and eventually decided to go on a date. We had an amazing time as we bonded over ice cream, people-watching and, of course, more motorcycle riding! But the best part of that date was what it led to four wonderful years later—a very sweet proposal at the same place we first shared our ice cream.
We decided to hold our wedding at Wedgewood Brentwood, and the entire experience—from planning the day to the final moments of our reception—was a dream come true.
One thing we particularly enjoyed was making DIY goody bags for our guests. The bags were purple, with our wedding date and names printed on them in silver, in keeping with our beautiful wedding colors. We filled each bag with snacks and water bottles, which our out-of-town guests really appreciated!
I also couldn't have been happier with our wedding décor. The purple flowers, silver linens and gorgeous candles made the room truly romantic and unforgettable. And our cake topper, a bride and groom riding a motorcycle, suited us perfectly.
The day was filled with so many wonderful memories, but I would have to say my favorite moment was our grand entrance at the reception. We put on our motorcycle-riding sunglasses and walked into the room as Motley Crue's "Primal Scream" blasted from the speakers!
Our wedding really was a perfect fit for us as a couple, and it was a great start to many more exciting years of riding motorcycles together.

Vendors
Photographer:  A Perfect Impression
Floral Designer: Paula's Family Florist
Cake Designer: TLCakes
Caterer: Wedgewood Wedding & Banquet Center
Reception Venue: Wedgewood Wedding & Banquet Centers