At Avery and Shaun's wedding, a lot of kraft paper was used from decors to favors. Avery, the bride, even bought wooden utensils to match everything. She and her bridesmaid made little tags with sayings and quotes to attach to some of the decors. It was wonderful altogether that it made for a boho-vintage wedding. Going through their photos made me feel like I was looking at an enchanted forest wedding. Best wishes to you both, Avery and Shaun!
Click image to enlarge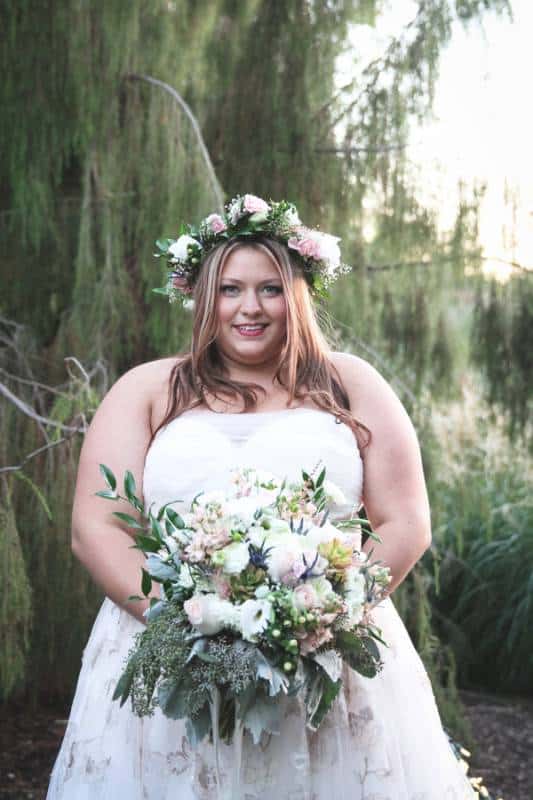 Like. Click to Vote
>

What is the overall story for this album?
"This wedding took place at the world's largest Creation Museum. Avery handmade so many of the details, and the rose/sage/gold colors fit her theme and her personality perfectly. The gardens of The Creation Museum proved to be a beautiful, natural backdrop to this wedding. I think the best way to tag this day is as "boho glam" – very vintage and charming, but also very bohemian and natural. However, aside from being these things, the day was absolutely romantic!" – Meagan White (Photographer)
What inspired the wedding day outfits?
The first time I went to try on wedding dresses was a disaster! Everything my family liked, I didn't and the dresses I thought were close to what I wanted they said they didn't look good for me. I felt so much pressure from the salespeople to make a snap decision and I was completely stressed out. I decided to go back with just 2 of my bridesmaids to pick out their dresses and I saw a new dress on the rack at the store. Even from that distance, I knew it was my dress. I asked one of the workers if I could try it on and I fell in love with it. It is completely non-traditional in a really classic way. I wish I could wear it all the time! I have always been plus sized and many times felt uncomfortable in certain clothes that didn't look good on my body type. I knew I wanted to give my bridesmaids the freedom to pick a dress that they felt amazing in. I gave them some guidelines, long flowing dresses in pink, gold or nude. I love that you can see their personality in each of their dresses. They looked amazing!
What was your favorite part of the day?
I was stressed out the entire day, rushing to set up at the venue, rushing home to get ready, rushing to get back to the venue. And then I got to see Shaun. I started walking toward him and all the stress I had been feeling went away and I finally felt completely excited. Shaun takes away all my anxiety.. I wish I knew how he did that! Another favorite part was right after the ceremony taking some "just married" pictures and we kept smiling and saying "Oh my gosh! We are MARRIED!" It was perfect!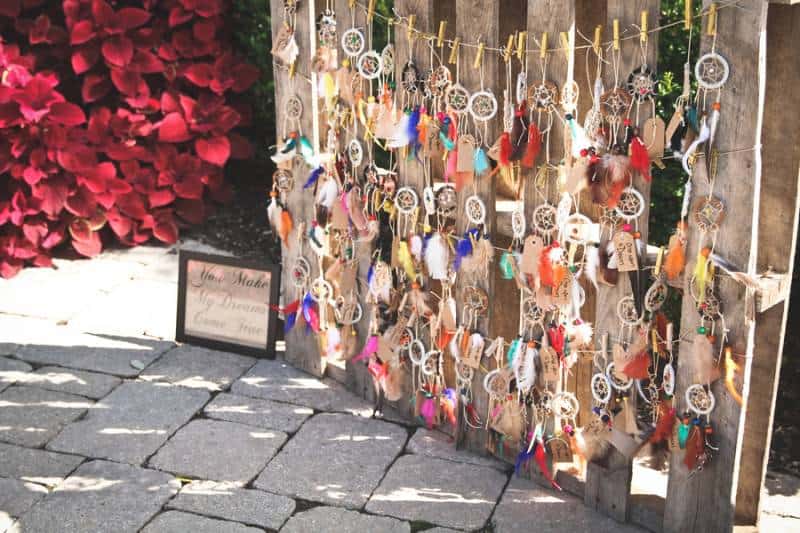 Was there any Do it Yourself (DIY) projects? If so, can you describe them in detail?
Dream Catcher Favors:
With lots of help from family and bridesmaids, we made small dream catchers to give as favors. We attached a tag to them that said "Once Upon a Dream" and hung them from a pallet with gold clothespins. We made the sign next to them that said "You make my dreams come true" Cake Toppers and Props: My best friend and bridesmaid has a Cricut that we used to make the cake toppers and photo booth props.
Banners:
I bought yards of white cotton and dip dyed it ombre pink to use as the photo booth back drop. We also made two for the trails through the gardens. One said " Avery and Shaun: This way" The other said "Friends of the groom, friends of the bride, we're all family, pick a seat not a side"
Feathers:
My sister and bridesmaid helped me spray paint 1000 white feathers gold and tie them to fish line connected to an ornament hook. We hung each one individually from the ceiling at the reception. They looked so beautiful.
Utensils and cups:
I purchased disposable wooden utensils in bulk online and my bridesmaids and I hand painted each one with puns. They were so cute! "Yum and Only" "Tried and Chew" "At first Bite" "Forever and Always" I also ordered 200 10 oz white disposable coffee cups and my sister and I spent a night painting with water color pink designs on them. They were adorable!
Ceremony:
We made pendant banners out of kraft paper, hemp, and gold glitter and hung them in the ceremony site. I got white tulle for free left over from a wedding and I dyed it a blush pink and used it to hang as a backdrop for the ceremony. Each guest got a small candle for our passing the light ceremony when they walked in with a drip guard made from kraft paper that said "Where you go I'll go, Where you stay I'll stay"
What were the highlights from the ceremony & reception?
Shaun reading his vows to me. His voice was shaking and he was squeezing my hands so tight. I will never forget it.
What part of the ceremonies do you think was the most memorable for the bride and groom?
The Passing the Flame Ceremony: Our moms lit their candles at the beginning of the ceremony and when it was time for the unity candle, our dads lit their candles from our moms and walked to the back of the aisle. They lit the candle on the end of every row until everyone's candle was lit- up through our bridal party so that Shaun and I could light our individual candles and then a single one. It was explained that each person sitting in front of us has had a significant part in our relationship and the passing the light was a symbol of that. I loved it so much!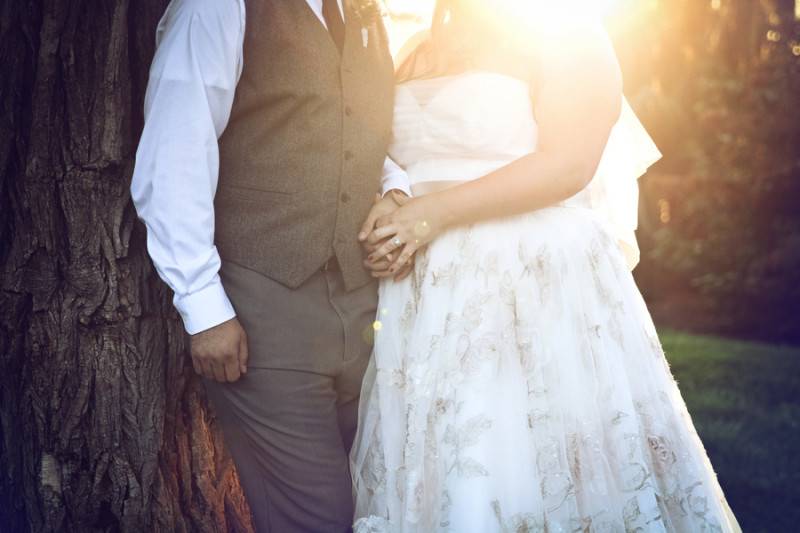 VENDORS:
Photographer: Meagan White Photo
Shoes: DSW
Museum: The Creation Museum