A lifetime days of summer for Jessica and Sayeed. Jam-packed with vibrant and whimsical details, their wedding happened to be just as eclectic and blissful as they wanted it to be. I am just so impressed with their loud and frolic color scheme choice — marigold, orange, magenta, teal, and red. But, what I liked best on their decors was the arty-crafty ribbon backdrop sweetened with a little bit of real flowers. Ahh, beautiful! Everyone wrapped up the day with a smokey sparkler send-off whilst the couple walked down the aisle to start their happily ever after. Let the sparks last forever, Jess and Sayeed!
Click image to enlarge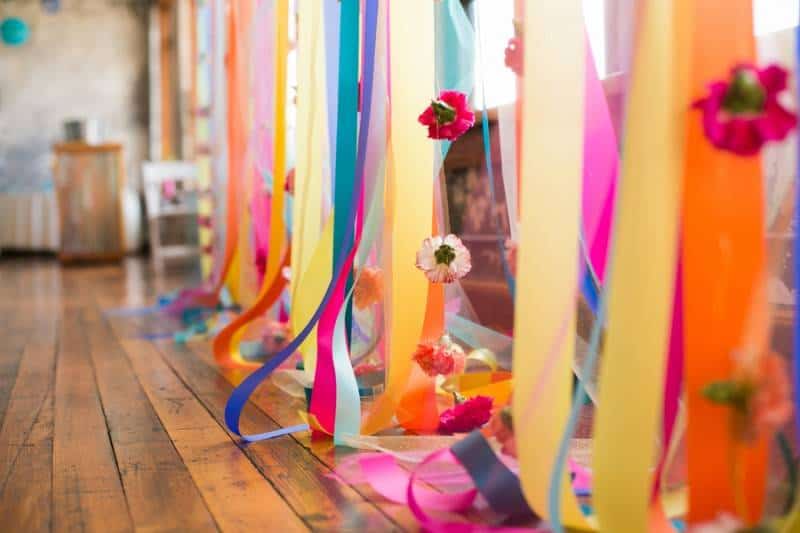 1

Like. Click to Vote
>
Our Story
Sayeed and I met through friends our freshman year of college at the University of Missouri. We hung out alone for the first time one weekend when most of our friends had gone home and ended up talking late into the night about our families. He told me about living in India until he was 6 and moving here, his parents' very traditional marriage — they didn't meet each other until their wedding day — how they had grown to love each other over the years, and how they had sacrificed so much for he and his three older brothers to succeed. At that point, he got pretty emotional. It was such an intimate, special experience for him to open up to me like that.
After that night, he and I became pretty much inseparable. There was never a time when I felt awkward or unable to share my feelings with Sayeed. He and I had many more conversations in the hallways of our dorms about life and our hopes for our futures, his struggles trying to fit into two different cultures, my struggles with self-esteem and independence. We spent the entire summer talking on the phone.
Then one day we were watching the Mizzou football game in my dorm room. For some reason we both stopped paying attention to the game at the same moment and looked at each other. This is going to sound cheesy, but we still talk to this day about how something in the air changed. We knew we weren't just friends anymore; it went way beyond that.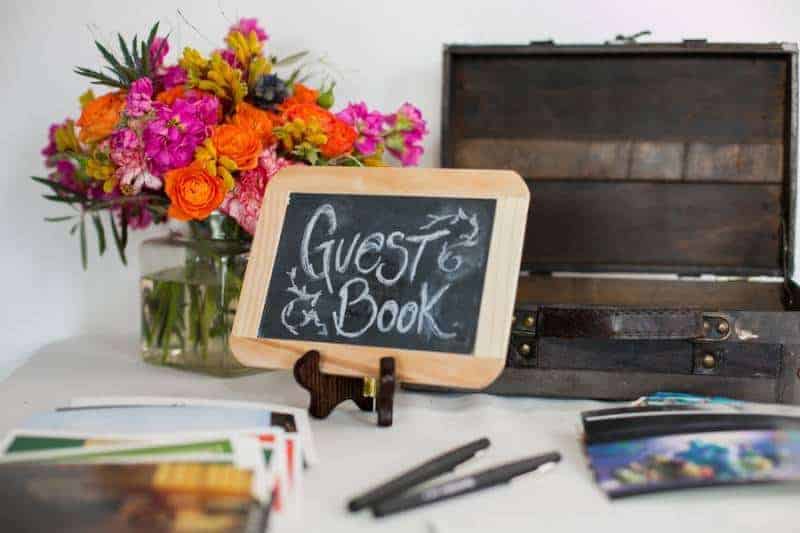 We Are A Perfect Match
I used to hate it when people talked about finding their "soulmate" because I don't like to think there is just one person for everyone. I believe you have to work hard at relationships to make them work, and Sayeed and I have had our fair share of difficulties and obstacles over the years. Because we come from such different backgrounds, we've had to discuss every little detail of our future together. We asked all the hard questions years before we even started discussing the idea of marriage. But no matter how you cut it, he's my best friend, and my soulmate, and I can say that without any sense of irony.
The Proposal
We took a trip to the St. Louis Zoo (his favorite place in the world), and he pulled me off to the side of the path on our way to see the elephants, got down on one knee, looked at me and said, "Jessi, I'm bad at this," while holding out the ring. We both started laughing and I answered, "Of course I'll marry you."
The Planning Process
We had about a year to get everything squared away, which was the perfect amount of time.
The Best Advice We Received
Stop caring about what you're "supposed" to do. Do what fits you as a couple.
Tips & Tricks For Future Brides
Delegate! You can't take on everything by yourself. If you can afford it, hire a day-of coordinator. It will make your wedding day so much less stressful. Ours was invaluable!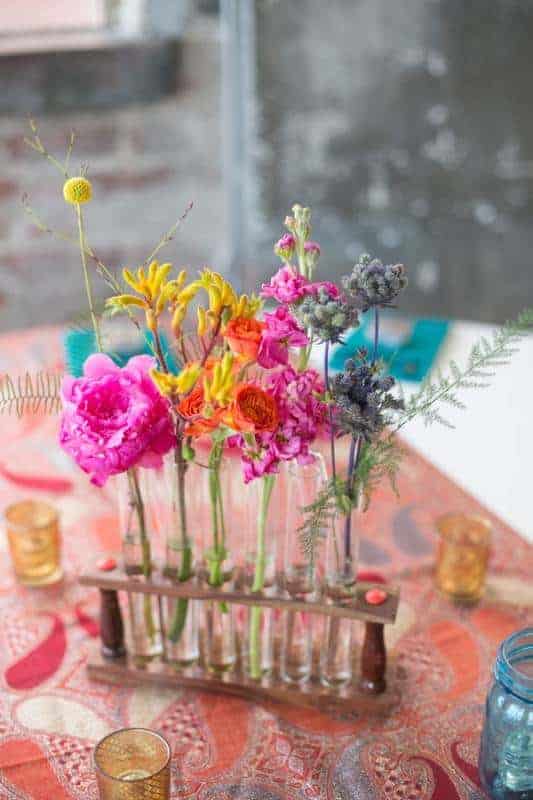 The Challenges We Faced
Sayeed's family is Muslim and mine isn't, so both sides had expectations based on their own traditions. To keep it from being an "us" versus "them" scenario, we decided to have the wedding where we were living in Kansas City instead of in either of our hometowns.
His family wanted me to wear a traditional Indian wedding dress, but I always imagined wearing white on my wedding day. After trying to order clothes from India with a lot of issues, Sayeed and I decided to go to a bridal boutique and find my dream dress. A wedding is a one-time thing, I didn't want to regret the decision later, and in the end, I only rocked the boat a little. I wore henna designs on my hands, arms and feet to match the gown, and it looked beautiful.
We also incorporated some Indian traditions into the ceremony. For example, we each walked down the aisle under a canopy held by our parents and wedding party. We also made sure to include a blessing at the top of our programs and provided a space to pray later in the evening. Overall, I think the wedding ended up being a nice balance.
Wedding Decor Inspiration
We went for an eclectic, multicultural, hipstery vibe. For the centerpieces, we imagined stumbling into some quirky traveler's room of collectibles. The paisley scarves we used for table runners brought in an Indian element.
Our main colors were teal and gold, but we told our florist to go nuts with color for the arrangements; she also designed our ribbon backdrop for the ceremony. We didn't want to overshadow the space because the venue was so beautiful on its own, so we tried to choose elements that complemented it.
Wedding Outfit Inspiration
I always imagined a form-fitting wedding dress with lace, and I ended up buying the second dress I tried on. The flowers in my henna matched the patterns on the gown. I've never been a veil person, so I ordered a hand-made headpiece from Etsy to match Sayeed's bowtie and wore bangles to keep with the Indian theme. My aunt made my amazing earrings, and my sandals (so comfortable!) are from Modcloth.
Sayeed is obsessed with bowties, so he knew right away he and his groomsmen would be wearing them. He found his on Etsy as well. When he first brought up the idea of wearing jeans on our wedding day, I panicked, but he won me over by choosing a dressy, dark pair of Levi's that ended up looking great. He also loves Fossil watches and bought a fancier one for the ceremony.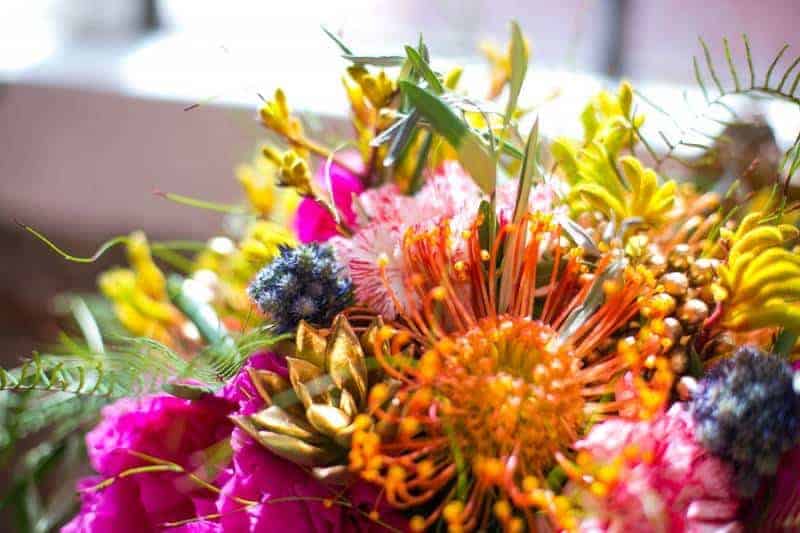 Our Do-It-Yourself (DIY) Projects
Ping pong paddle table numbers – I ordered plain wooden paddles online, painted the faces to go with our colors, then used washi tape to make the numbers and wrap the handles. My bridesmaids and I had a little Mod Podge party the week before the wedding to finish them up.
Bertie Bott's Every Flavor Bean favor boxes – These were my dad's idea. He ordered small, square tins online and filled them with jelly beans, then designed a custom label to wrap around them.
String lanterns – In addition to the lanterns we ordered from the Paper Lantern Store, we decided to make a few DIY string lanterns. We blew up several balloons (not too big, since we wanted them to look round), coated them with petroleum jelly, then wrapped them with white yarn dipped in a combination of corn starch, water and school glue. We hung them to dry overnight, popped and removed the balloons and spray painted some of them clear and some blue. It was pretty time-consuming!
Cake bunting – I took two thin dowel rods and tied two white strings (left over from the lanterns) between them, then cut diamonds out of colorful craft paper to fold and glue around the string to create the pennants. I wrote our initials on two of the flags, and Sayeed cut out the golden snitch using an X-ACTO knife before gluing it to the middle pennant.
Escort cards – I bought two burlap canvases, enough cream colored tags for all of our guests, and chevron scrapbook stickers to line the bottoms. After coming up with the seating chart, I wrote each guest's name and table number on a tag and pinned it alphabetically to one of the boards.
Postcard guest book – We ordered Pixar and Penguin book cover postcards online and asked our guests to write advice and wishes on them for our guest book.
Programs – My best friend and maid of honor is great at graphic design, so we asked her to create our invitations and programs. She did such a wonderful job! We had them printed at Kinkos on paper we purchased at a specialty store in Kansas City.
Money Matters
$25,000 was the wedding budget. We saved the most money on the venue. We reserved our day at The Bauer when they were still doing renovations and got a huge discount. We also booked our event on a Sunday, which cut down on the cost.
We spent the most on food. Because we designed our own Zabihah, Indian-Thai fusion menu with our caterers, it was a little pricey, but so, so worth it. At the same time, we didn't serve alcohol, so we were able to splurge more on the dinner.
The Guest List
We sent out around 150 invites. A little over 100 came. We didn't invite any acquaintances, just family and close friends. Plus, my family is very small and his (though huge) is spread out around the country and abroad, so we knew we probably wouldn't need to trim our list based on those who wouldn't be able to travel to Kansas City for the wedding anyway.
The Songs
Processional (both bride and groom) – "Latika's Theme" from Slumdog Millionaire
Interlude (sung by my sister) – "La Vie en Rose"
Recessional – "Best Day Of My Life" by American Authors
The Honeymoon
Sayeed had to take his Step 1 board exams for medical school right after the wedding, so we haven't gone on our honeymoon yet. But we're planning a trip to the Adirondacks this summer!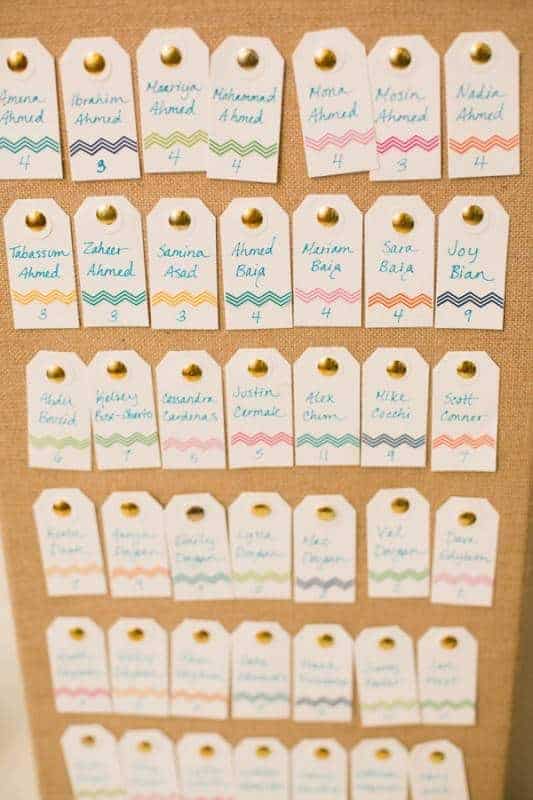 The Next Step
Having kids. We're so ready to add to our little family — we can't wait!
Planning Advice For Couples
When I first started planning, I read the book A Practical Wedding by Meg Keene and found it incredibly helpful. It encouraged me to focus on the parts of our big day that mattered most to us as a couple and let everything else go. Breathe and remember that this day is about you. When you get stressed out, and you will, remind yourselves why you're planning a wedding in the first place: each other.
The Album Story
Tying the knot, all while being true to our quirky selves.
Highlights from the Ceremony and the Reception
Us walking down the aisle under the canopies, the vows we wrote and me basically bawling through them, our amazing officiant, who we worked with to craft our ceremony, which included readings from the Qur' an and literature, Sayeed's brother Azmath, who emcee'd the whole reception like a champ, my dad's amazing speech, our funky photo booth, the delicious food and mango lassis, getting to catch up with all of our favorite people in one place, and the smoky sparkler send-off!
Favorite Part of the Day
Our hug and exit at the end of our vows. It felt so freeing to finally be married and to get to celebrate the moment with all of the most important people in our lives.
A Memorable Moment
I think our vows were most memorable. We spent a lot of time writing them to make sure they captured exactly how we felt (and still feel) about each other. It was our first opportunity to really show both our families how much thought and time we put into our relationship, what it means for us to be best friends before anything else, and the promises we intend to keep throughout our lives.
VENDORS
Photographer:  M and E Photo Studio
Event Designer: Hitched Planning and Floral
Event Venue: The Bauer Event Space