Beautiful table settings give you an inkling of how  detailed a wedding is. Evan and Anya's reception was beautiful beyond words. The brown interior of the barn complemented with the white furniture that made for an elegant classic look. They wanted to have a modern and alternative type of wedding, which how exactly it went.
The part I liked about their wedding is the Yichud, a religious law that gave the couple time to be together alone. I think the Yichud would be a great idea to have at any wedding. To have a secluded, alone time with your husband is romantic and calming before facing the guests again. Mazzal tov, Evan and Anya!
Click image to enlarge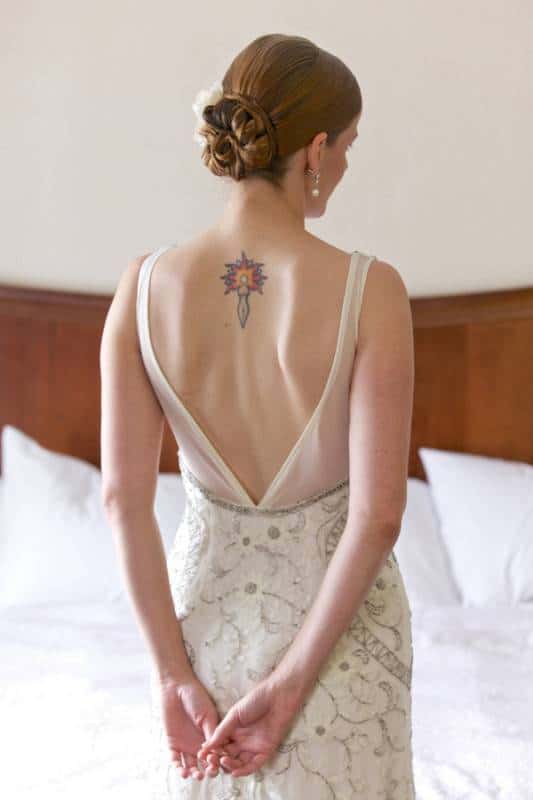 Like. Click to Vote
>
The Story:
"We wanted to have a simple, relaxed summer wedding with a focus on love, family, and friends. Our wedding was on a Sunday afternoon in August so that our nieces, nephews and friends' children could share the day with us. We found a beautiful barn in Western Mass which was perfect for what we wanted: after our outdoor ceremony beneath an old oak tree, our guests could enjoy the gorgeous Pioneer Valley scenery outside or the party inside. The barn itself had a warm, rustic feel, so we kept our decorations simple with hanging plants, gorgeous wildflowers in mason jars, and framed photos of my hubby and me. My hubby and I wanted our guests to feel like they were part of this important step in our lives and not just observers. We started our wedding with Jewish traditions before the actual wedding ceremony and included all of our guests. This gave us time to welcome guests before the ceremony, and to share the experience with them more fully. During the ceremony, we included Jewish traditions that were meaningful to us. One of our favorite moments of the wedding was immediately after the ceremony when my new hubby and I had a private picnic in a nearby field. This gave us a chance to spend 15 minutes alone together as husband and wife before returning to celebrate and dance with all of our guests through the afternoon and into the evening. It was a day filled with love and joy."
– Anya, The Bride
Wedding Day Outfit Inspiration:
Anya is a tall and slim bride, and she wanted something sheer and alternative which is exactly what she found.
Favorite Part Of The Day:
I enjoyed the ceremony. A Jewish wedding ceremony is always fantastic, but to have it outdoors in a field next to an amazing tree and with so many great details, it was just fantastic. They had great musicians, and their emotion was so evident during the ceremony.
The Do-It-Yourself (DIY) Projects:
DIY was the building of the Chuppa and some details inside the reception including their hilarious cutouts of themselves.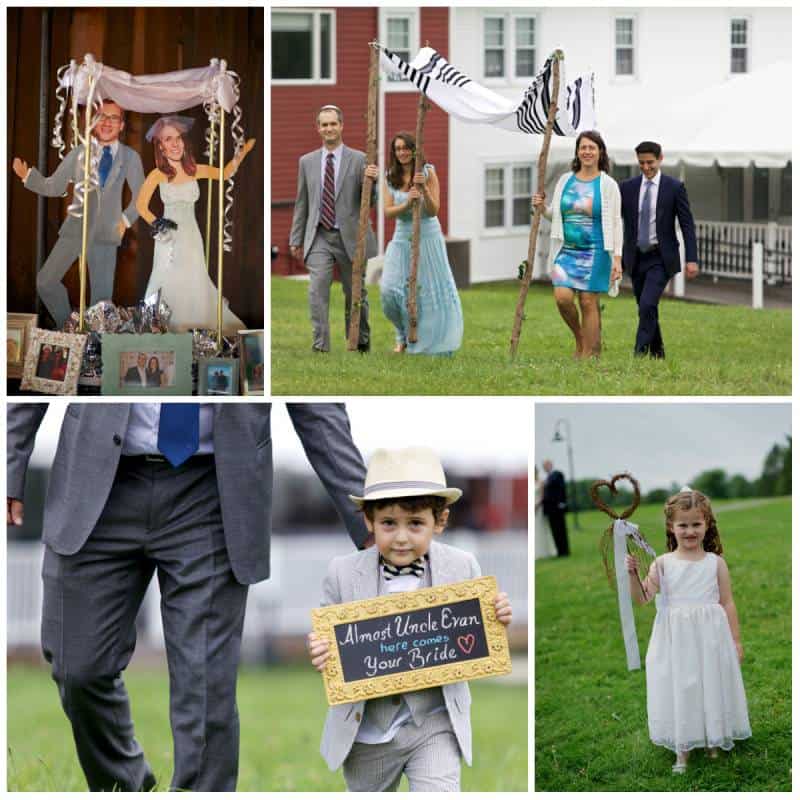 The Highlights From The Ceremony & Reception:
They had a really modern Ketuba made from someone on Etsy, and it was really wonderful for their signing ceremony. They also had some great nieces and nephews involved which made for some fantastic images; such as the nephew with the sign that he carried down the aisle. The carrying of the Chuppa up the hill by their brothers and sisters was wonderful as well. There were all these great hand detail shots that occurred due to instruments, holding the Chuppa, signing the Ketubah, etc.
The Theme:
The theme was simply modern fresh and alternative for a Jewish wedding. All the key components were there, but it was fun and relaxed.
Most Memorable Moment:
I think they loved their alone time (Yichud) after the ceremony. They put out a blanket, had some champagne and some snacks for 15 minutes. I love this part of the Jewish wedding ceremonies, especially if it is done in an alternative fashion.
VENDORS
Photographer: LoveDays Photography
Floral Designer: Atkins Farm Flower Shop
Musicians: Bow & Cello
Band: Groove Authority
Caterer and Reception Venue: Hampshire college