Simple and laid-back with a country and rustic feels is what Ashlyn and Seth had in mind for their wedding. Of course, everything earned wings in every detail — from the burlaps, the logs, and the fresh flowers, and to the barn where they took vows. Even the outfit of the whole entourage had that distinct country-chic sway. In a nutshell, everyone did a great job in honing this one remarkable wedding. Read more, and feel the butterflies in your stomach go wild with their story and in every photo you see!
Click image to enlarge
3

Like. Click to Vote
>
Our Story
He was my passenger and I was his flight attendant! It was a very empty flight and he got most of the back to himself. His "pick up" line was, "I hear a slight twang in your voice, do you listen to country music?" I thought to myself, "Oh goodness, is this the line he's going to use?" After the service was finished, I had some extra time (which never happens!) and went to the back to go sit for a few minutes. He stopped me again and asked if I wanted to watch Duck Dynasty with him. I love that show, so of course I said yes.
I sat down, we half watched the episode while we chatted and immediately clicked. Twenty minutes later he had a date set to take me out. Two weeks later he drove two hours to my house to pick me up and take me out. After that, I was reeled in. He's amazing! We dated for 8 months, and he proposed to me in the middle of a lake on a sandbar. It was just he and I and the moment was absolutely perfect. We didn't want to waste too much time. When you want to spend the rest of your life with someone, you want the rest of your life to start as soon as possible, right?! We planned for a 7 month engagement and got to work planning!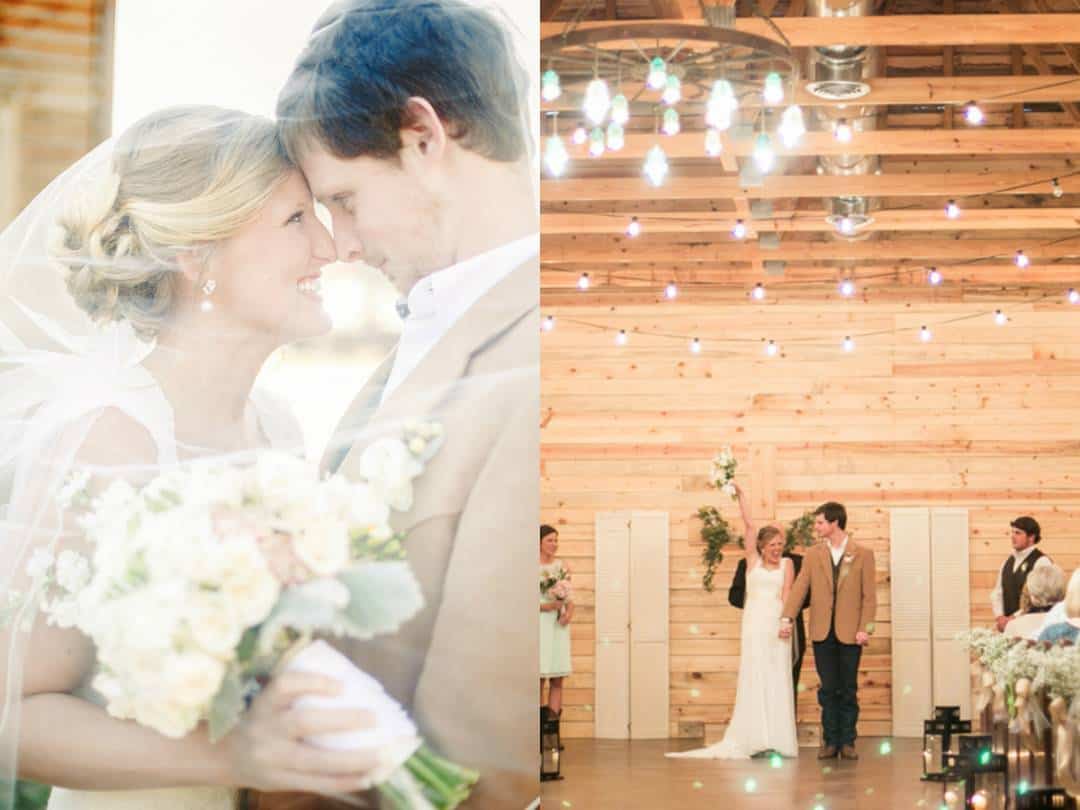 We Are A Perfect Match
We are both stubborn individuals. This is a good thing for us simply because we never give up on the other. He continually pushes me to be a better woman, and likewise I push him to become a better man. We encourage one another, where I am not so great in certain areas, he excels, and vice versa for me. We are alike in various ways, but then we are also extremely different. We balance one another out perfectly. I couldn't have found a more perfect match for me. 🙂
The Proposal
We dated for 8 months, and he proposed to me in the middle of a lake on a sandbar. It was just he and I and the moment was absolutely perfect. We didn't want to waste too much time… when you want to spend the rest of your life with someone, you want the rest of your life to start as soon as possible, right?! We planned for a 7 month engagement and got to work planning!
The Planning Process
7 months, and it was the perfect amount of time! Just enough time to get everything done that was needed to be done, and not too long as to want to keep adding more into what was already a perfect day!
The Best Advice We Received
"Make sure that your marriage is ten times more beautiful than your wedding."
Tips & Tricks For Future Brides
Don't stress. Don't stress. DO NOT STRESS! There is no need!
On the day of the wedding, everything just simply falls into placed. Sure, something bad WILL happen. Like, your flowers freezing in the fridge the night before! Hahaha. But that's why you have a day of coordinator. Mine was amazing and the day would not have gone so smoothly without her. Have fun planning! My mama and I had the time of our lives planning my wedding. We put so many of our own touches into it.
We saved a ton of money by doing a lot of little things ourselves. For example- the logs we used as centerpieces, my daddy and I chopped down the week of the wedding. Those probably would have cost us a couple of thousand dollars. But, not only did I get precious daddy-daughter time the week of my wedding, we got free logs for decoration! Have fun with it. Those 7 months spent planning our wedding were some that I will forever hold dear to my heart. And know that at the end of the day, whatever happens or goes wrong, you will be married to the person that you want to spend your life with. And that, in and of itself, is the most beautiful part of it all!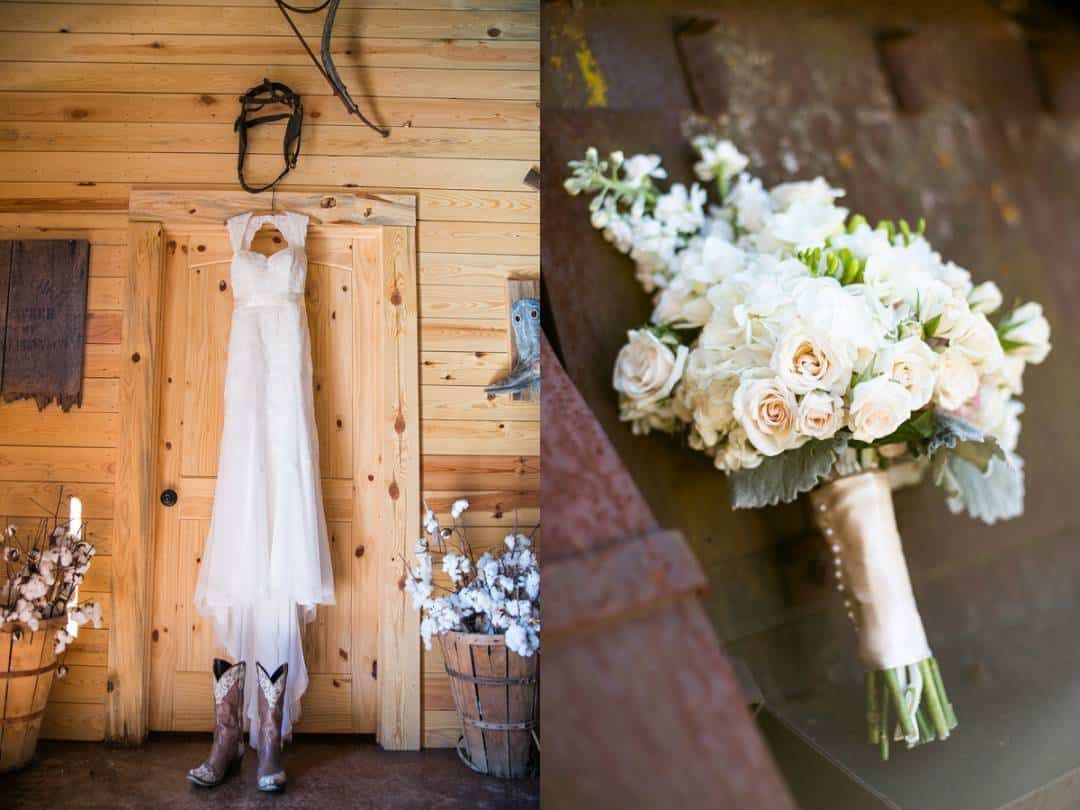 The Challenges We Faced
My mama and I disagreed about a few little tiny details, but we hashed it out and came to agreements. Otherwise, there were no challenges. I couldn't have asked for a smoother planning process.
The Theme
Country, rustic!
Wedding Decor Inspiration
We both have a laid back, country, simple lifestyle. We love boots, he works at a boot store, so we knew that boots were a must. He loves coke, (I don't!), so we knew that coke must be displayed. And the pictures were incredible! I hate wedding cake, and love cookie cake. So, instead of a wedding cake, my mom's sweet friend made me a beautiful cookie cake as a gift to us! It was absolutely delicious! Our simple touches were all over the decorations, which is what I think made it so sweet and inviting.
Wedding Outfit Inspiration
We wanted a relaxed feel, so the groomsmen wore jeans with boots. I wanted my bridesmaids to have an option of what to wear, so I let them choose the type of dress. Which, by the way, we got our bridesmaids dresses at Target- $50 a piece! Yes, Target has bridesmaids dresses. Super cute ones at that!
Our Do-It-Yourself (DIY) Projects
Chopping logs with my daddy for the centerpieces. My sister put together the flowers on the tables. My daddy and my husband built the cross that went in front where we took our vows. My sister painted all of the signs that were made for the day of the wedding. Pretty much any of the decorations that you see in the pictures, we did ourselves.
Money Matters
We kept it right around $10K. And to say that we had over 200 people there, I think that we did a really good job with the amount of money that we had. Some may say that's too much to spend, some may say how did you do it for that little? Just do all the extra touches yourself. Not only does it make you feel as though you had a hand in the day, but it saves you money! For those of you that say that's too much money to spend on a 4 hour event? I disagree. Our wedding was perfect, all I've ever imagined. It was a very important time for us, which calls for celebration! Marriage is a celebration! 🙂
We saved a lot of expenses in the little touches. The logs we cut down ourselves. The cake was a gift to us. We found many things on sale and grabbed them while they were on sale. Also, some of our vendors had incredibly affordable prices. They are out there- you just have to do a little hunting 🙂 I wouldn't trade anyone that helped in our special day. All of our vendors did such a fabulous job!
The venue itself was the biggest expense. And honestly, I may have had it somewhere else had I given the choice again. It was a bit of a drive for most of our guests, we had to get a place to stay for the weekend which cost us more. However, it was a mini vacation for everyone in the wedding party. We turned it into a whole weekend rather than just a day. I may have chosen to have it more centrally located, but then again, I wouldn't ever trade those special memories of spending lots of time with those I hold closest to me.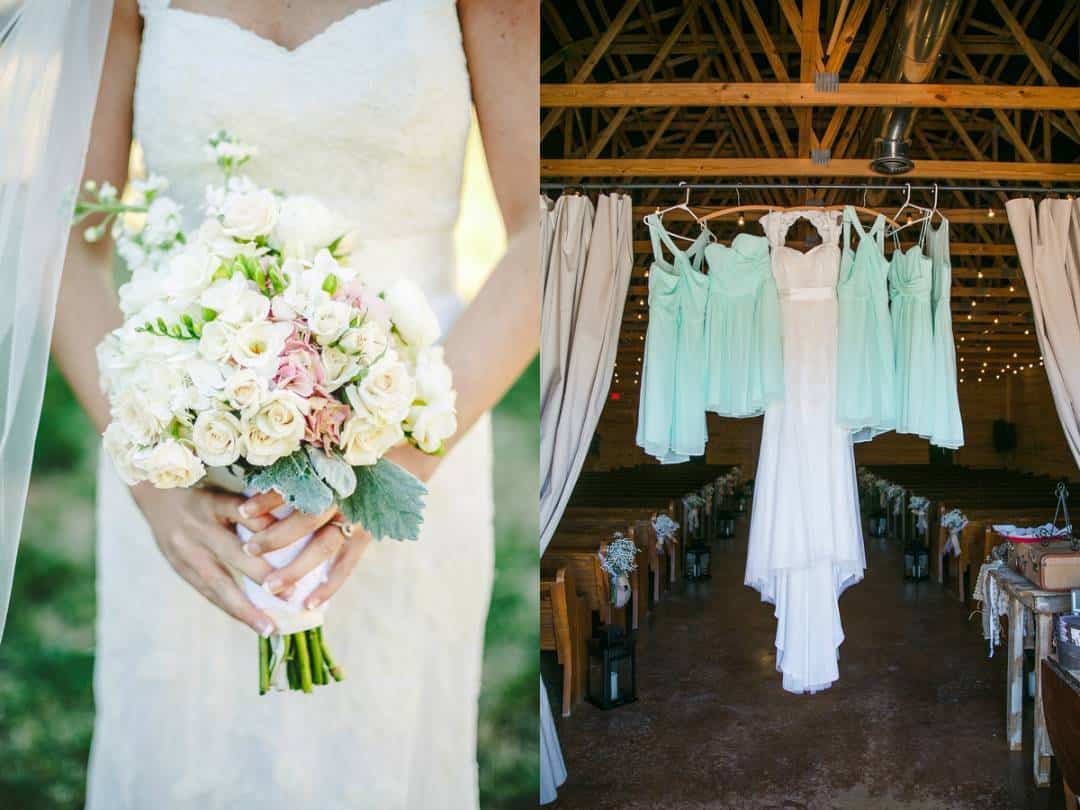 The Guest List
We invited close to 280. And I would say that the final count was right around 200.
Believe it or not, we still had many people we wanted to invite! But, we didn't have any mutual friends because we are from two completely different areas. We both have huge families, so that already put the guest list close to 100. Then, which friends to pick? We have so many we hold so dear! We finally had to think of it like this: Who has impacted us as a couple over the past year and a half? Those are the people we want there on our special day. People who have invested into both of us together. It was difficult, narrowing down the list. Probably the most difficult part of the whole process.
The Songs
The Honeymoon
Jackson Hole, Wyoming. It was absolutely beautiful!
The Next Step
Just doing life together. Having kids together, learning together, making mistakes together, and growing old together.
Planning Advice For Couples
Take a breath and enjoy every second. Especially the last month leading up to the wedding. I was trying to rush it, wanting the day to get here so badly. Poof! Now it's gone and I want to relive every single second of that day! Soak it ALL in. Don't rush a minute of it. And enjoy. It's such a beautiful, fun, and happy time of life.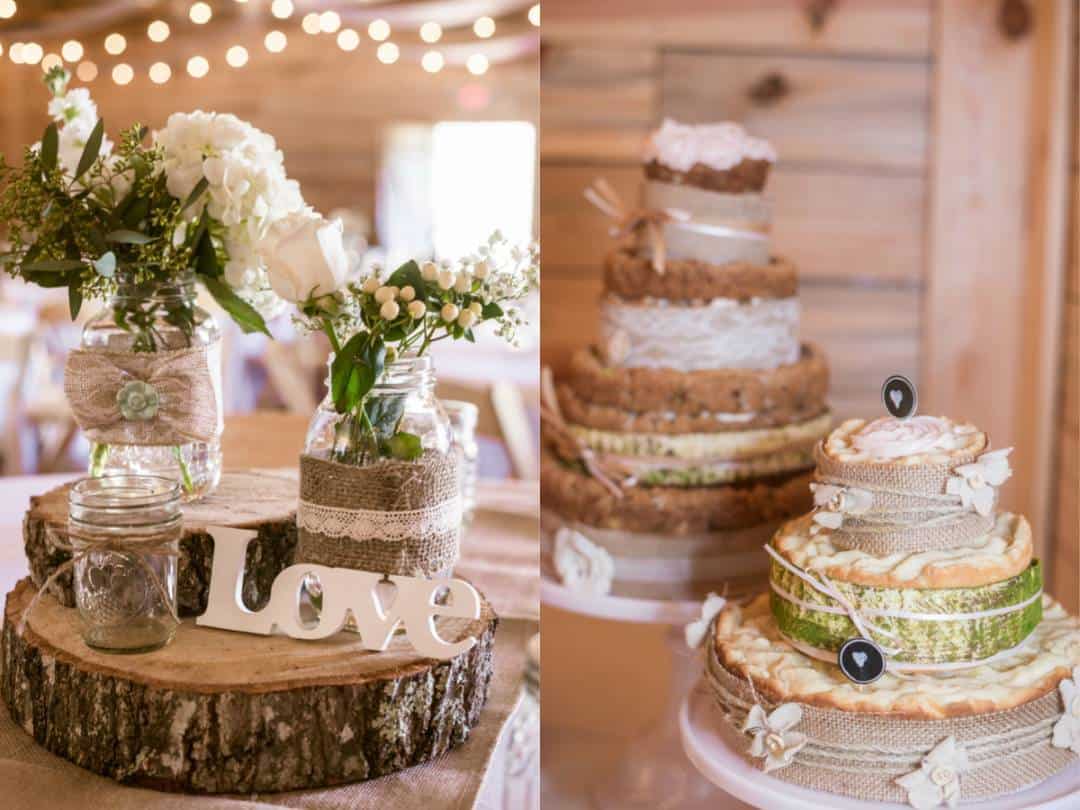 The Album Story
The story of our wedding day. Our love. Our interests. Our goofiness. Our photographer did a phenomenal job of capturing our personalities so well in the pictures.
Highlights from the Ceremony and the Reception
The ceremony was honestly quite a blur. But instead of having a unity candle, we chose to have our parents come pray over us. That was such a sweet moment for all of us. Probably my highlight from the ceremony.
The reception was also a blur! The whole day was! Haha! But I just enjoyed looking around the room and seeing so many people I hold so dear to my heart all gathered in one room to celebrate us. So beautiful! We are so blessed with so many great friendships and family.
Favorite Part of the Day
The few minutes my husband got to see me before the ceremony started. Having those few minutes together was priceless. Also, my daddy got to see me before my husband, and I shared a few sweet moments with my parents as well. I'd have to say both of those moments I will cherish forever.
A Memorable Moment
Everyone has told me they just felt at ease and comfortable at our wedding. That the food was delicious, the dancing was fun, and it was simply enjoyable. I wanted everyone to feel like they were at my home for the evening. That they could sit back and just relax. And I truly feel as though everyone did.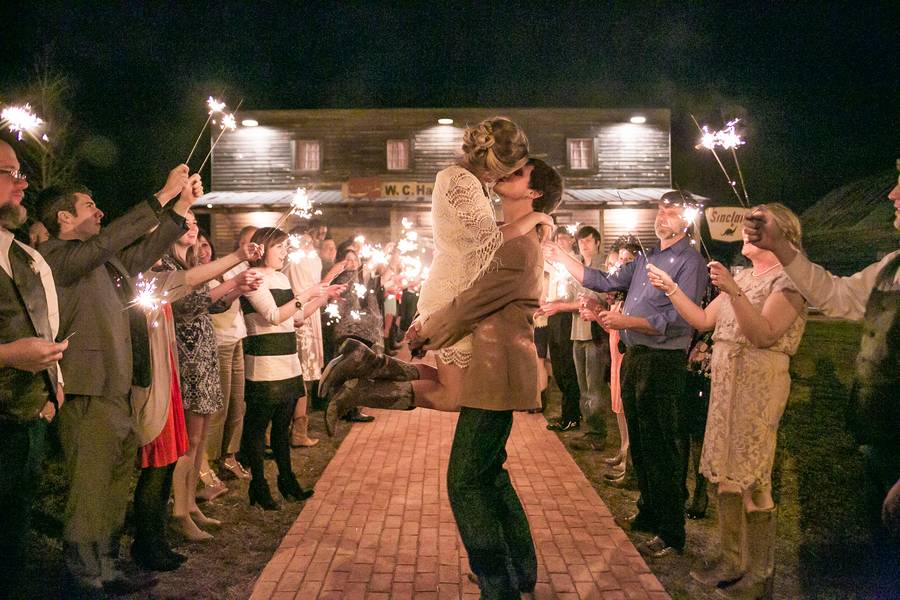 VENDORS
Photographer:  Brandy Angel Photography
Event Planner: Ansley Ellington
Reception Venue: Antique Acres
Officiant: Craig McAdams
Dress Store: David's Bridal
Hair Stylist: Hailey Bridges
Cake Designer: McEntyre's Bakery
DJ: Nice Guys DJ
Floral Designer: Robin Hoover & Susan Rudder
Design and Decor: Target
Caterer: The Master's Table
Cake Designer: Tracy Luther