Being romantically fun is one of the relationship goals of Claire and Kevin. So, to balance the fun and romance, they both settled with classic summer wedding full of whites – from the flower decors, bridal bouquet, even the wedding car, which signifies the purity of their love for each other. The best thing I like about their wedding is that you can feel how laid-back everyone is, which shows that both families are happy to have a new member! Cheers to Claire and Kevin's happy life ahead!
Click image to enlarge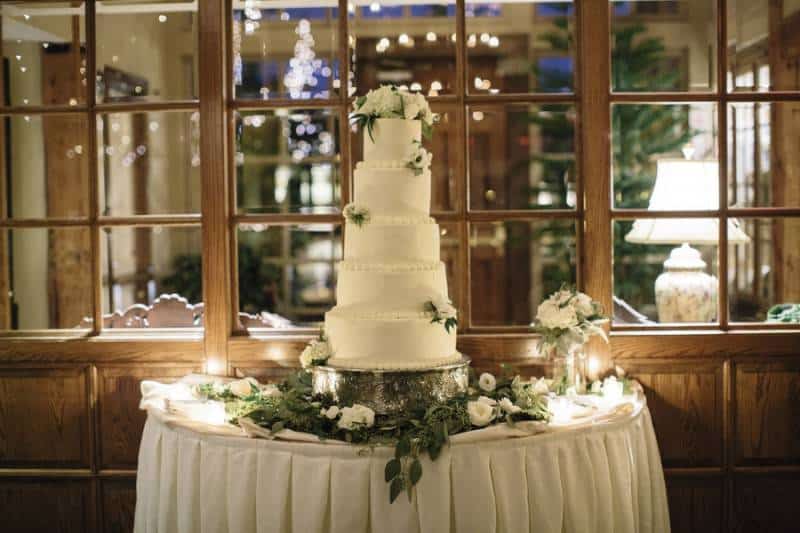 Like. Click to Vote
>
 

Our Story
Kevin and I were lucky to meet at a young age, I was only twelve! While I grew up on Long Island and he grew up in New Hampshire, we stayed in touch and reconnected after college. Our first date was the best date either of us had ever been on, and from that night on we pretty much knew we were meant to be together.
We Are A Perfect Match
We're a great match because while we balance each other out, we are also really similar. We have the best time together.
The Proposal
Kevin proposed to me on the first day of summer in our building's garden. We live in Manhattan and our garden has a view of the Empire State Building so it was a romantic setting special to us. We celebrated with champagne at the St. Regis and drinks at the bar where we had our first date.
The Planning Process
We planned our wedding in 14 months, it was definitely enough time although in the end I really could've used just one more week!
The Best Advice We Received
Stay true to yourself and what you want, whether it's a special detail or a member of the guest list. Also, Pinterest is one of the biggest tools you can have in your arsenal.
Tips & Tricks For Future Brides
Again, Pinterest all the way! It really helped me narrow down the look and feel I was going for, and provides a wealth of information from napkin folds to etiquette. If you're looking for it, it is likely to be found there! Also, reading reviews of vendors on The Knot and Wedding Wire was helpful during the selection process. When you get stressed out just think of your honeymoon!
The Challenges We Faced
One of the larger are more stressful challenges was the budget and managing expectations versus cost. To address these I faced them head on and created a Google doc of our budget that I invited the appropriate parties to and sent out email updates so everyone felt like they were on the same page.
The Theme
We opted to settle with classic, rustic, summer wedding as a theme for our wedding.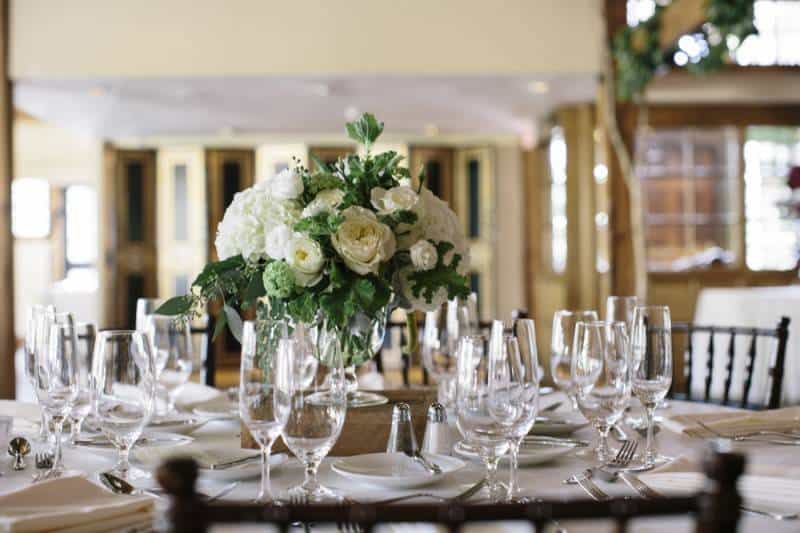 Wedding Decor Inspiration
Our venue really inspired our wedding decor, I wanted a clean and classic aesthetic, but decided to embrace a lot of the rustic elements of our venue (country inn). To enhance this, I had the beams and chandeliers of the space wrapped in green garlands- I loved how fresh this looked for a late summer wedding and felt like we brought the outside in.
Wedding Outfit Inspiration
Overall we wanted a classic and formal look. I wanted to steer clear of anything too trendy to be sure our look maintained a sense of timelessness. That brought us to classic tuxes for the guys, and long navy gowns for the girls. To be honest, I had the hardest time choosing a wedding dress! There are just so many gorgeous options out there, and I knew I wanted something unique. I loved that my dress had lace (an element I really wanted), but that it was in a stunning floral pattern rather than a traditional lace design. I was nervous about a sheath gown holding up to the big space of our church, but once a tulle over-skirt was added I knew we had a winner.
Our Do-It-Yourself (DIY) Projects
I have to admit I'm not the craftiest person, we did DIY our welcome bags which was fun. We stenciled our initials in navy on white bags (in-line with our wedding colors) and stuffed them with itineraries, water, snacks, and wine.
Money Matters
Honestly, I can't say where we ended up, probably somewhere $65-$75000.
The good thing is that my amazing mother-in-law did our invitation calligraphy, which was cost-effective as well as sweetly sentimental. Probably, we spent most on our photographer and our venue/catering.My strategy was so splurge on the things really important to me (photographer, food) and save on things that were less so.
The Guest List
We invited 150 and ended up with 130. Narrowing down our guest list was so hard, Kevin is from a really large family so we kept it to immediate aunts and uncles, and cousins who graduated college and older. While it was hard to put a cap on it, it was really special and intimate celebrating with our most near and dear.
The Songs
Processional: Ava Maria, Pachabel's Canon
Bride's Entrance: Handel's Water
Music Recessional: Beethoven's Ode to Joy
The Honeymoon
We went to Hawaii- and stayed on Maui and Kauai. It was nothing short of amazing!
The Next Step
We are both excited to travel together around the world and finally start our own family.
Planning Advice For Couples
Be there for each other (especially for the bride, it is so stressful and a little help goes a long way). Also, a priest who did our PreCana said this and it really stuck with us- there is so much planning and stress involved with planning a wedding, and while those details are great do not lose sight of what the day actual means and is about. Your wedding is a day, but a marriage is the rest of your life together.
The Album Story
This album captures one of the best days of our lives, and all the details and people who made it special.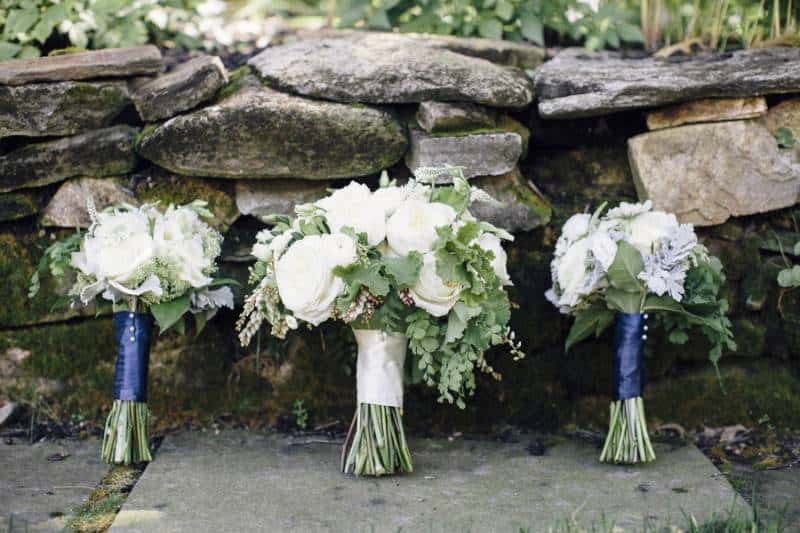 Favorite Part Of The Day
It's so hard to choose a favorite part of such an amazing day! To narrow it down to a few: early morning before getting ready hanging with my bridesmaids around a fire in our suite, the car ride with my dad over to the church, saying our vows, and once the reception was over eating lobster mac & cheese in my wedding dress with friends and family.
Highlights from the Ceremony and the Reception
The highlight of our ceremony was definitely saying our vows, there's nothing like declaring a lifetime of love to your favorite person in the whole world! Our priest is a family member so his speech in our ceremony was a really lovely personal touch. The highlight of our reception for me at least was our first dance, although we'd barely practiced it went well and was a lot of fun. The speeches were also a high point, our MOH and Best Man did a fantastic job. Other than that- hitting the dance floor!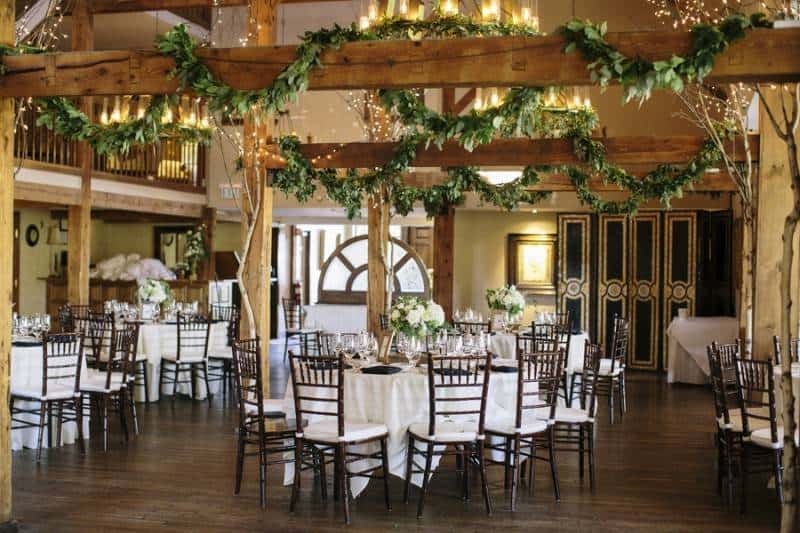 A Memorable Moment
I think most people saw the bond and love that Kevin and I have in a way they hadn't before. Because of this I really felt a genuine happiness from all our guests, everyone let loose and had an incredible time. Also, our band was phenomenal.
VENDORS
Photographer:  Kate Preftakes Photography
Bridesmaid Dresses: Amsale bridesmaid
Floral Designer: Apotheca Flowers
Band: Brandy
Tuxedo and Mens Attire: Classic Tuxedo
Dress Store: Ever After Bridal
Invitation Designer: Gus and Ruby
Shoes: Jimmy Choo
Ceremony Location: Saint Anselm Abbey
Caterer: The Bedford Village Inn
Event Venue: The Bedford Village Inn
Dress Designer: Vera Wang