Nathan had a special hook in his tackle box that he had for Brittney — an engagement ring! On their engagement session, the couple wanted to recreate Nathan's proposal. It was something that was genuinely them. They were casual but romantic as they posed near water — an essential element to the both of them. Congratulations, Nathan and Brittney. Your love for each other is indeed a great catch!
Click image to enlarge
1

Like. Click to Vote
>
The Concept:
Nathan and I wanted to portray our love for the water, nature, and how he proposed (out of a tackle box!). We are two pretty simple people and wanted to show our love for one another, plain and simple.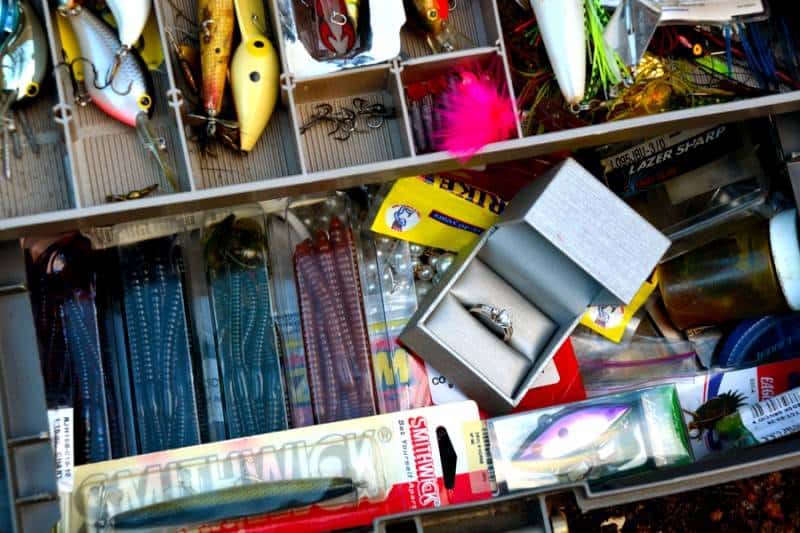 The Location:
We chose this place because we were looking for a space that showed the beauty of Lake Austin – this lake was where we had our first date, many dates in between, and where he proposed at 3 in the morning! We knew we wanted to find somewhere where we could recreate parts of his creative proposal, and our photographer Simone recommended Red Bud Isle, which was a perfect fit for what we had in mind.
The Outfit Inspiration:
I went through a variety of outfit options before the engagement session, from lace dresses to brand new clothes – I ended up wearing a pair of jeans jazzed up with a new pair of shoes, and Nathan found something out of his closet the day of to match! We decided that we just wanted to be ourselves, and wore what we would on a normal day out on the water.
A Hint For The Wedding Day:
The photos do not give too much of a hint of what will happen on our wedding day – we will be having blue as one of our colors, and I have a ton of lace accents, but other than that the only other hint is our love of beautiful views, which the wedding venue definitely has!
The Engagement Session Experience:
The posed shooting was a little hard at first – Simone even teased Nathan at one point early on and said that he looked like the American Gothic farmer with the pitchfork! I would say that the best way to relax is just to talk to one another – the photographer will set up the shots, but a genuine smile brought out by something your soon to be bride or groom is what will actually make the photos shine – above all, be yourself! Even if you have looked at pictures of other people, don't try to recreate them exactly – put your spin on it, and make new pictures that show your uniqueness and creativity.
The Wedding:
Our wedding has occurred, 10 days ago! The wedding was held at a country club in Lakeway, TX with amazing floor to ceiling glass windows of their beautiful grounds (including a small waterfall!) Our colors were royal blue, gold, and lots of ivory lace accents. Our wedding emphasized our faith in God, and we had a lot of really fun small details, like having the Corinthians bible verse written on our cake, having a bible where guests could mark their favorite scripture for us, and more! I think the most fun part of the ceremony (from what I can see in the awesome photos!) was when our bridesmaids and groomsmen danced down the aisle – it took away the nervousness Nathan had waiting for me, and left all of our guests smiling and laughing.
Anything else you would like to add ?
For your engagement session, please remember that the most important thing is having a blast with your soon-to-be spouse. The engagement will fly by before you know it, and having memories of times when you could laugh and spend quality time together during all of the wedding planning stress is essential – just have fun, and your photos will turn out amazing. 🙂
VENDORS
Photographer: Simone Epiphany Photography
Other Location: Red Bud Isle