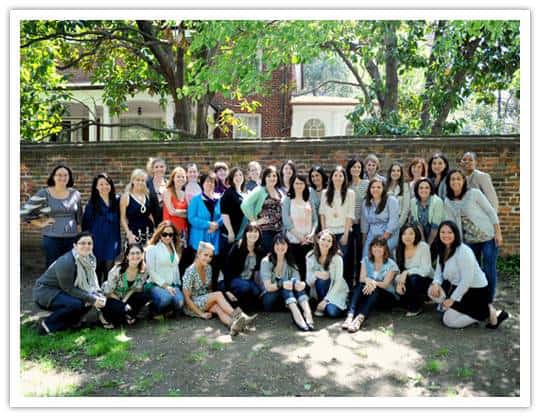 From left to right:
Back Row: Harmony from Bridal Bar, Ami from Elizabeth Anne Designs, me (Maddy), Lara and Kelly from So You're EnGAYged, Lyla from Globetrotting Bride, Amanda from 100 Layer Cake, Courtney from Little White Book, Amanda from Ruffled, Dana from Broke-Ass Bride, Anne-Marie from Perfect Bound, and Janice from Bridal Wishlist.
Middle Row: Kelly from Santa Barbara Chic, Grace from The Cinderella Project, Jackie from Merci New York, Emily from Once Wed, Karol and Meredith from Dallas Wedding Planner, Cyd from The Sweetest Occasion, Nole from Oh So Beautiful Paper, Jen from Green Wedding Shoes, Jessica from Budget Savvy Bride, and Kelly and Maria from Ritzy Bee.
Front Row: Vane from Brooklyn Bride, Anne from From I Will to I Do, Vanessa and Cortnie from Lolliblog, Liene from Think Splendid, Christy from What Junebug Loves, Justine from The Unbride, Jillian and Jennifer from 100 Layer Cake, and Cathie from Weddingbee.
• • ♥ • •
While there's less to talk about after the fabulous cocktail party because a lot of it relates to the conference itself which is confidential, I figured I'd give you some quick highlights that I can share. Before I do go on, I want to thank WEtv, Design Cuisine, Smock, and Melangerie, all of whom were sponsors of the conference itself and made everything I learned possible.
After an incredibly informative morning,we broke for lunch and we were surprised with one of the most gorgeously presented boxed lunches I've ever seen. The rigid boxes, provided by Smock, were beautifully patterned. Design Cuisine provided the incredibly tasty lunch inside that was perfectly packaged with bamboo utensils and lovely linen napkins that we were all afraid to use.
Before leaving on Sunday, Williams-Sonoma was kind enough to invite us to a brunch and demo at their local store. We were all swooning over this OXO herb mincer – not to mention, of course, the fancy cookware, but apparently we all like fun toys.
This ends my quick recap of the second half of the B List. I can't wait for next year!
Images from Kate Headley.