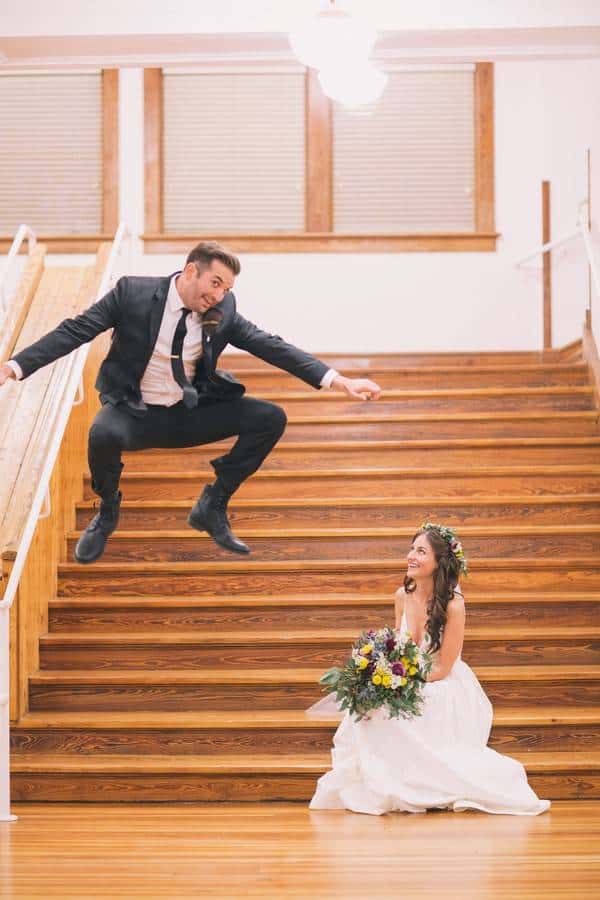 Tessa & Daniel took a nontraditional route into planning their wedding. They did things differently that would definitely showcase who they really were as individuals & as two people sharing one love with their family & friends. They chose to have a "whiskey ceremony" which Tessa took as an idea from the wine ceremonies that people do nowadays. The couple's friend who also officiated the wedding did a very meaningful speech during their ceremony & actually incorporated how whiskey is made, taste, & gets better in time into what marriage was. Their wedding theme revolved around Old Florida which was visually evident on the details they decided to include –  from the wildflowers, whitetail deer antlers, Osceola turkey feather boutineers to the homemade jams, oranges, frog legs and swamp cabbage at the reception.
What is your story as a couple, how did you meet & fall in love?
We met 5 years ago as we started working together at a new wine bar in town. We were just work associates for the first year knowing each other. Daniel was this tattooed bass player with the longest beard I'd ever seen, that in fact I thought he hated me that first year because I could never see him smiling thru that beard! One day he shaved it off and I found myself hanging around his work station more and more. What seemed like overnight, we fell in love and started planning our future together.
What makes the two of you a perfect match?
We're no perfect match. But the fact that we work hard at trying to be as good as we can individually and together keeps us close and always growing to be the best husband and wife we can. We make each other laugh, have our own inside jokes and strive for the same thing and have the same passions is a bond we've never experienced with anyone else.
What was the best advice you received when you were planning your wedding?
Keep the guest list small! I ignored this advice for the first couple months and then after realizing the amount of stress planning a massive wedding was just too much. Cutting the guest list to 50 people ended up being the BEST decision we made planning wise.
What inspired your wedding decor? Why did you choose the things that you did?
We were really inspired by old Florida. Our venue was an old school house that was restored not too long ago. The details in the auditorium really gave us the vintage feel we were looking for. We wanted to go with OUR style. We wanted to go the rustic Americana route but with more of the simple classic retro style to it. Everything was Florida authentic. From the wildflowers, whitetail deer antlers, Osceola turkey feather boutineers to the homemade jams, oranges, frog legs and swamp cabbage at the reception. We really made it our own and all our family and friends really felt that thru it all.
Where did you save the most money?
We paid for our wedding ourselves, so figuring what was important and what really wasn't was the hard part. It's so easy to say "it's our wedding! we only plan on getting married once!" and get carried away but at the end of the day there's so much more we'd rather do with our money. We did a lot of DIY projects but even better our friends and family really stepped up and helped us a lot! They all chipped in one way or another to make our day. From wedding favors, invitations, wedding bouquets to even our cakes. I wouldn't have changed a thing.
Was it difficult to narrow down your guest list?
At first it was! The original guest list was 200! But we quickly realized how silly that was for us and narrowed it down to parents, siblings, grandparents and our wedding party. Truly that's all you really see and hang out with at the reception. We had a big barbeque some time after the wedding for the friends and family who wanted to celebrate with us.
What songs did you use during the ceremony?
A great local band played instrumental of Johnny Cash "Rose of My heart" for the family and wedding party to walk down to while I walked down to Elvis Presley "Can't Help Falling In Love". Our first dance was to John Prine "Inspite of Ourselves". As you can tell we're very nontraditional.
What were the highlights from the ceremony & reception?
We are very nontraditional and also didn't want to do a very religious ceremony so we made up our own. We decided to do a "whiskey ceremony". Basically I took the idea from the wine ceremonies people do now. Our very close friend who married us wrote our ceremony and did a great job incorporating how whiskey is made, taste and get better in time into marriage. It flowed perfectly and every year we will open up our specially picked whiskey and enjoy a glass on our anniversary. Also, we decided not to write our own vows but to write letters  to each other and in a year read them and continue writing new letters to one another recollecting our growth, memories and struggles we've overcome to let us never forget how strong our love is.
Vendors
Photographer:  Black & Hue Photography
Event Designer: Heather Horwitz Design