Click image to enlarge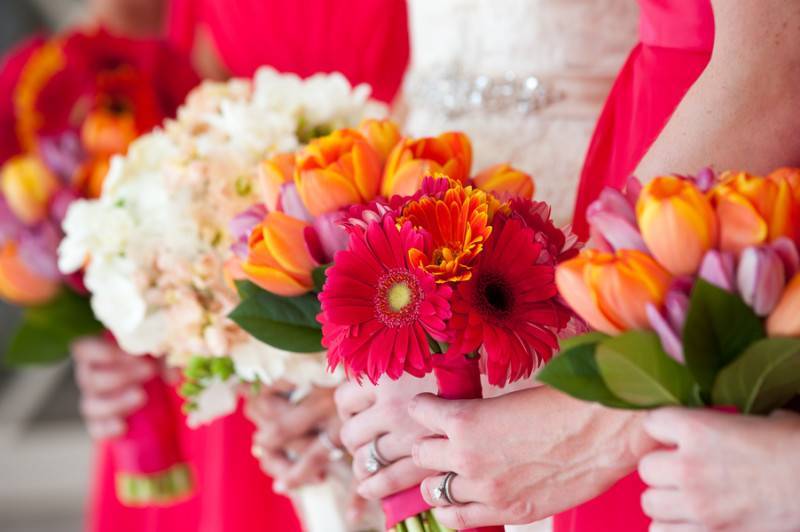 Like. Click to Vote
>
Usually, for something to stand out we put it among a simple backdrop or a sea of white or black. But in this wedding, I love how it's the other way around. The bridesmaids wore striking colors of red with matching colorful bouquets (which we super love). Then, it was our bride who stood out in her glowing simplicity. Wearing a white gown with beige sash and carrying a beautiful white bouquet, she proved that importance is not given just because striking but because you deserve it. Their wedding was an epitome of this too. It was filled with elegant and simple details, all of which, created such a beautiful event. I specially loved their wedding cake! It looked like a big gift that's just waiting to be opened (or eaten). Congratulations Suzanne & Evan!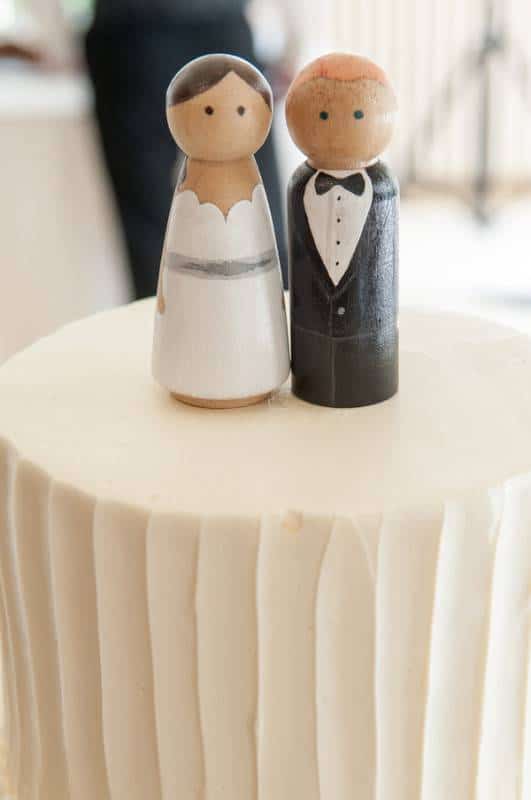 Bride
What is your story as a couple, how did you meet & fall in love?
Evan and I met while attending college at Texas A&M University. We both were involved in Greek Life (he was a Fiji and I was a Kappa Kappa Gamma) and had several mutual friends. Through our mutual friends, we started
hanging out. We also were both business majors and would often see each other in the Business School Library on campus. After several months of just being friends, Evan took me on our first date to my favorite restaurant in
College Station. We have been together ever since!
What makes the two of you a perfect match?
We both have similar interests, but we are also opposites in a few things. Evan likes to do things on a whim, and I'm very much the planner. Evan is such an optimistic person and I tend to think very rationally. I think we are a
good balance to each other!
How did he (or you) propose?
Evan and I planned a trip to Napa Valley, which is a place we had always wanted to visit. On our second day of visiting the local wineries, our last stop was Castello di Amorosa, which was a beautiful castle. Our group tour
ended and our tour guide announced that Evan we had won and extra tour around the castle. We were taken to the top of the castle where we were alone to enjoy the gorgeous view of the vineyards. When I turned around,
Evan was on one knee and proposed! There was a table set up with sparkling wine, cheese, and dessert to enjoy. After about 30 minutes together enjoying the moment, three of my best girlfriends walked in. I was shocked!
Evan had coordinated for several weeks for my friends to come celebrate with us. Seeing my friends was an even better surprise than the ring!
How long was the planning process? Did you think it was enough time?
We had an eight month engagement. I think this was a perfect amount of time. Evan and I had dated for a few years so we both wanted a shorter engagement. The wedding is a fun and exciting time but the best part is
marriage!
What was the best advice you received when you were planning your wedding?
The best piece of advice was to take some time during the actual wedding and reception and actually soak in the experience. During our reception dinner, I was able to look at all of the hard work my Mom and I had done and
see our guests having a fun time.
What tips & tricks (can we use "hacks"?) can you share future brides that you yourself have learned during and after your wedding?
The best decision my mom and I made was to hire a wedding coordinator. You can usually order "a la carte" services to cut down on expenses. For example, we hired our coordinator to give suggestions on vendors and to
help during the day of the wedding. You can usually hire the coordinator for as many or as few services you need for your wedding.
What were some challenges you faced while planning your wedding & what did you do to address them?
I wanted my mom to be involved in almost all of the wedding planning. Because we live in different cities, we had to coordinate weeks in advance different vendor meetings. By organizing our schedules and planning in
advance, we were able to lessen the stress.
What inspired your wedding décor? Why did you choose the things that you did?
Our venue was outdoors and there were several beautiful gardens. I wanted to keep the decor to a minimum since our venue was so pretty. The table centerpieces were simple floral arrangements. The bridesmaids carried
tulips and sunflowers.
What was the wedding budget?
We went over double what our wedding budget was!
Where did you save the most money?
We were able to share the cost of the tent with the bride who was getting married at our venue the day after us.
What was the biggest expense?
The biggest expense was the catering, but well worth it! Many of our guests told me that the food was the best food they had ever had at a wedding.

How many guests were invited in your wedding and what was the final guest count?
We invited 200 guests and probably 160 were in attendance at the wedding.
How did you narrow down your list?
We decided to invite 200 guests so my husband and I, my parents, and my in laws all separated the list evenly.
What songs did you use during the ceremony?
We had a string quartet to play our music.
Seating of the Family – Air on the G String
Processional
Canon in D Major – Wedding Party
Jesu, Joy of Man's Desiring – Bride
During the ceremony, as a congregation, we sang my favorite hymn which is Come, Thou Fount of Every Blessing
Recessional – La Rejouissance
Where did you go on your honeymoon?
We went to Excellence Playa Mujeres which is a 5 star all inclusive resort outside of Cancun, Mexico. It was amazing!
What are you most excited about for the future?
I'm excited that I get to go through life's journey with my husband at my side.
Do you have advice for couples still in the planning process?
We went through pre-marriage counseling at our church during our engagement. I would highly recommend this! Remembering that the end result is a successful marriage helps you stress less about planning the wedding.
What do you think is the overall story for this album?
The overall story was 2 families joining together and friends and family celebrating our wedding day.
What inspired the wedding day outfits?
Our wedding was in the spring so I wanted bright colors. The bridesmaids had springtime flowers as well as the groomsmen. Even the food was colorful!
What was your favorite part of the day?
The favorite part of the day was having fun dancing on the dance floor!
Was there any Do it Yourself (DIY) projects?
If so, can you describe them in detail? We had pictures displayed of my parents' wedding, my in-laws wedding, as well as all of our grandparent's and great grandparents' wedding. In the middle, we had our engagement picture. We were trying to show how strong marriages can effect generations to come.
What were the highlights from the ceremony & reception?
My husband's cousin is an ordained minister so it was special he was able to officiate our wedding. I enjoyed getting to hear the Matron of Honor, who is my best friend, and the best man's, who is my husband's brother, speech. Everything was very personal to us.
What part of the ceremonies do you think was the most memorable for you? Your guests?
The most memorable part of the ceremony was the view. Our ceremony overlooked Lake Austin and the setting was a gorgeous, spring day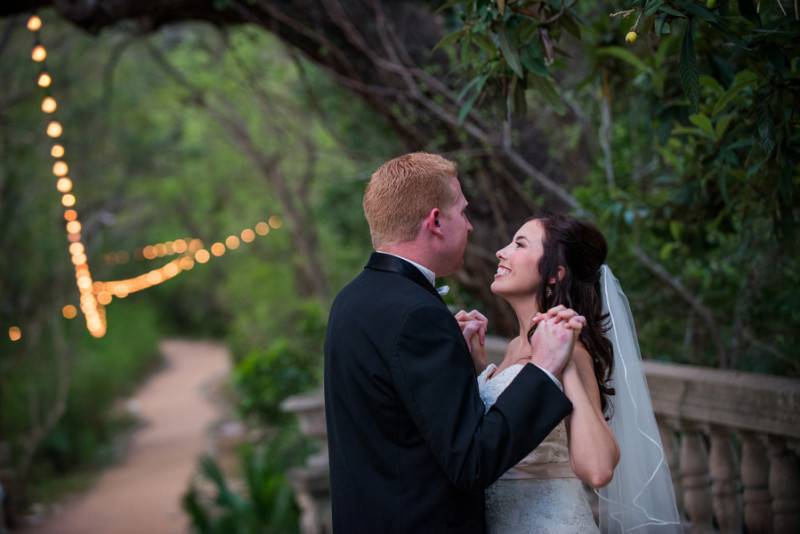 Vendors
Photographer:  Debra Gulbas Photography
Caterer:  Austin Catering
Reception Venue:  AMOA Laguna Gloria
DJ:  ATX DJ
Event Planner:  Austin Wedding Planners
Transportation:  Central Texas Valet
Cake Designer:  Michelle's Patisserie
Floral Designer:  The Florist Studio
Hair Stylist:  Urban Betty Salon