Today I'm excited to announce a giveaway from one of my favorite stores to spend an hour in, Williams-Sonoma. They've generously offered one lucky reader a $150 gift certificate to shop their store for the item (or items!) you're most lusting after.
If it were me, you can bet that gift certificate would be gone in minutes! I've compiled together a list of my top items under $150 that I'd be putting the prize towards. Hopefully, it will give you some great ideas for your own registry!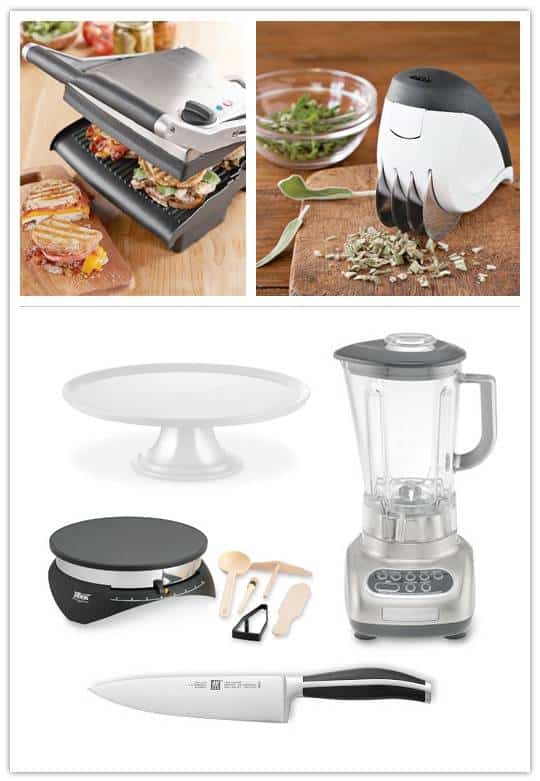 BREVILLE PANINI PRESS: Paninis are awesome, and a great press should be a staple in every house. Enough said!
OXO ROLLING HERB MINCER: You expected me to stick lots of heavy duty electrics on this list and are rather surprised to see a gadget on here instead, right? Well, this mincer is something I'm currently coveting. I've been to a total of three free weekend demos at Williams Sonoma, and they use this tool every time – it's amazing (skeptics, try it out yourself)! It cuts down fresh herbs in seconds rather than having to finely chop it all with a knife, and for someone who cooks frequently, that's time you could be saving doing something else. Plus, it just looks like a lot of fun to use in general.
PILLIVUYT PORCELAIN CAKE STAND: A gorgeous, classic white cake stand is great for presentation and will never go out of style. I don't just use mine for cakes – I've used them for the base of centerpieces, and I've put other serving plates on top of it to add elevation to the dinner table.
KITCHENAID 5-SPEED BLENDER IN BRUSHED NICKEL: KitchenAid is the maker of a lot of my personal appliances. To say I love them is an understatement, and the L-word is one I try to avoid using on this blog so that it doesn't lose its impact. The quality is great, it's easy to use. If they need to be left out because you've bought too many things for your kitchen like I have (you can buy too many things?!), they're well designed look great on the counter. I'm in desperate need of a blender, and I've got my eyes on this one. Brushed metal never goes out of style, so it'll look great for as long as it will last me.
ZWILLING J.A. HENCKELS CUISINE 8" CHEF'S KNIFE: My Henckels knives were the best thing I put on my registry, to be totally honest. Prior to these knives, I'd only used my mother's "haven't been sharpened since they were purchased 20 years ago" knives and some not-so-great college era Ikea ones. Once slice with the Henckels, and suddenly the light bulb went off. Needless to say, I won't be looking back.
TIBOS ELECTRIC CREPE MAKER: The hubby and I love brunch, so when I wish I thought a little more strategically when I was registering and bought a crepe maker. Of course, we could also use it for dinner or dessert crepes (Nutella and strawberries crepes sound really good about now). It also looks like one of the most fun electrics to use because really, who hasn't thought it would be fun to use the little spreader (apparently called a rabot!).
• • ♥ • •
Now for the good part: how you can enter to win. Register with Williams-Sonoma if you haven't already. Leave a comment letting us know that you've registered, and tell us all about your favorite item you've added to your list.
If you're already registered with Williams-Sonoma, great! Add another item to your registry to enter, and let us know about what you added and why in the comments.
I'll be choosing a winner at random on September 1st at noon Central Time. Get in before then to be eligible, and good luck!
Images from Williams-Sonoma.