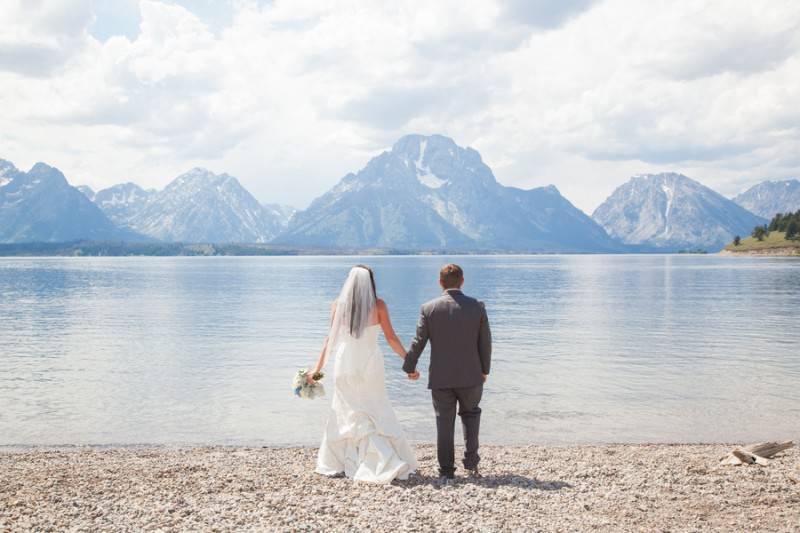 Shannon & Chris' fondness of nature meant that they had to share their special day with it and so they chose the beauty and majesty of the Teton Range to adorn their wedding. The pictures already establish that the view is just breathtaking and I cannot imagine how much more exquisite the feeling is to actually be there in person. But the greatness lies within our couple's love story that led to such a inspirational wedding. Mountains are not made overnight and so is the journey of Shannon & Chris to matrimony. But in the end, we are introduced to  something that symbolizes solidity and passion. Congratulations to our happy couple! May your love and marriage be as strong as the mountains.
What is your story as a couple, how did you meet & fall in love?
Chris and I are both from Fort Collins, Colorado. Our story began in high school… Chris had just graduated from Fort Collins high school and I just was starting that next school year. Chris was friends with my older brother Travis, which is how we met. At first it was nothing other than a friendship. But by the end of the summer I had the hots for older Chris who was getting ready to head off to college in Tacoma, Washington. We both shared a very brief crush that, due to bad timing, didn't lead to anything but friendship. We lost touch for a few years.
I was living in Milan, Italy in 2008 as a nanny and I reconnected with Chris on Facebook. The two of us began to chat online about what we have been up to over the years and what we were up to currently. They hit it off right away. For four months we had daily Skype dates which really created the rock solid basis for our relationship and the foundation for the mutual communication they share today. I started to become home sick. I really missed my family and dogs. But also I really wanted to see if the relationship with Chris would go somewhere.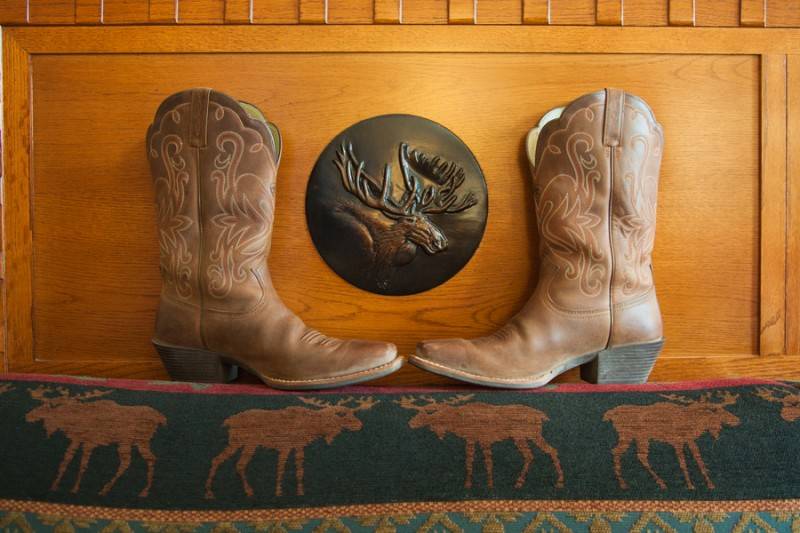 Two days after being back in the US, Chris drove down from his house in Silverthorne to have our first face to face date. We were nervous even though we had been talking for so long. It was the first time we would see each other since high school! I had prepared a huge home cooked meal and had planned out every detail. While the meal didn't turn out so great, Chris had two servings so as not to hurt my feelings. From that day on we spent every chance we had together.
How did he propose to you?
We took a week long trip for Chris's 30th birthday! What a perfect trip. We went to the beach, snorkeling, scuba diving, boating, horse back riding, volcano day, luau… you name it. Little did I know, Chris had a plan of his own. It was our last day in Hawaii. Chris took me to the best beach we had found while on their trip. As we relaxed in the sand and soaked up the last of the sun before we flew home, the big moment happened! It was so magical with the surroundings, it was so romantic. Chris spoke of our love and the amazing adventures in life we had shared and how he wanted to share times like this with me for the rest of his life. He then asked me to be his wife! I, of course, said yes. We are as happy as can be and excited to start a new chapter in life together.

What makes the two of you a perfect match?
How well we know and understand each other
What was the best advice you received when you were planning your wedding?
Enjoy it and have fun

What tips & tricks (can we use "hacks"?) can you share future brides that you yourself have learned during and after your wedding?
Research everything well and read reviews. I always contacted at least three vendors for each category and made decisions as I went.
What were some challenges you faced while planning your wedding & what did you do to address
them?
Every thing in a wedding is so expensive. It is important to plan ahead to not overpay on shipping ect. We made a lot of stuff on our own and paid for the things that were most important.

What inspired your wedding décor? Why did you choose the things that you did?
We are both from Colorado and love the outdoors we knew we needed to be doing a mountain wedding and have the events inspired by nature most of the wedding decorations we made with materials from the mountains and worked for a year putting everything together

What was the wedding budget?
$30,000
Where did you save the most money?
DYI stuff
How many guests were invited in your wedding and what was the final guest count?
208 invited and 128 attended including kids. Destination wedding made it hard for some guest to attend.
What songs did you use during the ceremony?
Canon in D
Bridal march from lohengrin (here comes the bride)
Wedding march
Where did you go on your honeymoon?
Going to Mexico soon!
What are you most excited about for the future?
Our lives together, building a family and having more amazing memories. Life is hard so it is so important to have someone by your side to help make things great. The little things are the big things in life.

Do you have advice for couples still in the planning process?
Don't stress allow lots of time to plan and don't wait start early on everything so things fall into place
What do you think is the overall story for this album?
True love, Colorado couple saying I do in the national forest. We chose the Grand Teton national park at the Jackson lake lodge due to my great grandmother. I would take my family there over the years and it became a special family spot. My great grandmother was a great role model and very dear to me. Chris and I would go to the Teton and Yellowstone every year to camp and enjoy the outdoors. One year they took my  mom also and had a great camping trip. This became our spot and seemed right for our special day.
What inspired the wedding day outfits?
For my wedding day outfit, I wanted it to be comfortable but cute. I loved the buttons down the back and all the detail. The men wore Vera Wang suits, I loved the charcoal.
Navy blue J crew dresses for my bridesmaids. I wanted the girls to be able to wear them again and be classy and sexy at the same time.
What was your favorite part of the day?
Seeing my groom for the first time and taking pictures with the horses. That seemed to be a special time with the two of us time was still unlike the rest of the day which seemed to be a blur.
Was there any Do it Yourself (DIY) projects? If so, can you describe them in detail?
-Chair picks made for the back of each chair in the bows on the chair covers. made from pine cones collected in Colorado and a plastic christmas pine needle sprig wrapped blue and write ribbons for bows.
– Centerpieces, wood rounds for platform one centerpice was three mason jars with raffia tied in a bow around the top of the jar filled with flowers. candles and pine cones around the bottoms. The second centerpiece was also on a wood round but had three vases from walmart and did three ivory candles inside. Flower springs
=around the bottom.
– Wedding signs off of etsy
– Pew bows burlap and lace off of etsy
– Instagram sign on wood round
– I made a custom guest book on shutterfly with pictures of Chris and I and all pictures we took over the years
– Pen holder wooden with our names and date burned into wood.
– Wine barrels purchased at rocky mountain barrel company and we drove them to the wedding for the alter and now have them at home as a table base.
What were the highlights from the ceremony & reception?
For the ceremony we had our dogs which was awesome. We wrote our own vows and that really was a special bonding
moment. The reception was amazing so fun we had lots of speeches, a song, and a photo booth. We also played a slide show of Chris and I growing up and over the years.
Was there a theme for the ceremony and reception?
Mountain rustic wedding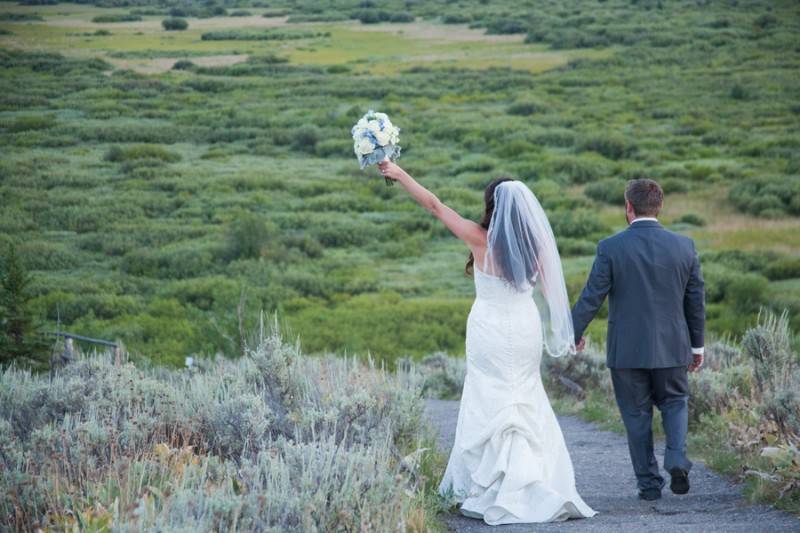 Here are some social media photos from the wedding using the hashtag #Hittesdorfwedding
Here we go! #hittesdorfwedding
#love these two #congrats!! @hittesdo @shannonjdoran #hittesdorfwedding #bestweddingever
Vendors
Photographer:  Heather Erson Photography
DJ:  A&B Productions
Musicians:  Jackson Hole Harp
Cinema and Video:  Moonstone Productions
Floral Designer:  The Briar Rose
Officiant:  Tom Jordan
Event Venue:  Jackson Lake Lodge
Makeup Artist:  Leslee Anne