Putting your guest list together can be both fun and stressful. But if you think that's the hardest part, wait till you get to actually putting your seating chart together. I enjoyed every moment of planning my wedding so the "horror" stories about seating charts didn't really affect me that much, but for someone who enjoyed it, I still did find it challenging. But don't let it get you down. After all, just as you want to be creative with the other aspects of your wedding, the seating chart is another way for you to have fun and be creative. Once you've figured out where your guests will sit that is.
Below are some ideas that will hopefully inspire you and make you look forward to putting your seating chart together.
Leaf Escort Cards
If you're having manzanita branches as your centerpiece, having it at the lobby with leaves that reveal your guests names and table numbers will be a perfect way to incorporate your seating chart with your whole decor. Don't get me wrong, this idea is not limited to just having manzanita branches as your centerpiece. You can definitely use this idea for your outdoor reception as well.
Table Napkin Name Tags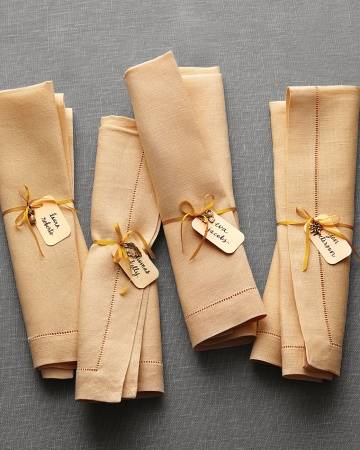 Take the simple white napkin and dress it up with a customized name tag bearing your guest's name and wrap it with a ribbon that matches your wedding colors.
Bird Escort Cards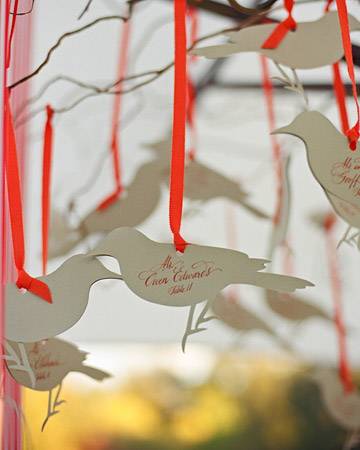 Tie those cutout birds with a colorful ribbon on branches and you have yourself an eye catching and fun seating chart.
On A Journey Seating Chart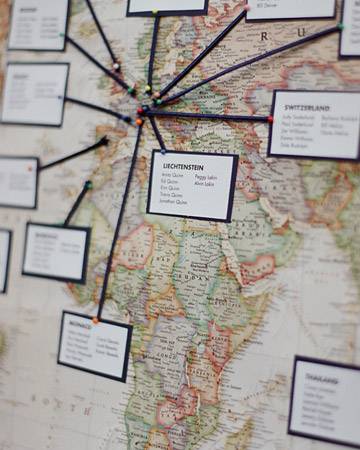 If you opted for your favorite destinations to replace the traditional table numbers, then your guests would definitely enjoy going on a journey with you with this map inspired seating chart.
Vintage Escort Cards
If you're having a vintage themed wedding, then these vintage escort cards will be perfect. Dress up the table with vintage paper, envelopes, stamps and of course an old typewriter and you have sent your guests back in time with these escort cards.
 Images from: Martha Stewart Weddings