Click image to enlarge
Like. Click to Vote
>
Deep reds and oranges adorned this beautiful fall wedding of Tyler and Jenny. Our bride was really excited to have their special day in autumn  and she just had to incorporate the palette of this rich season within the details. What they ended up having was an elegant wedding with complementing pops of colors. The bouquet and the boutonniere looked gorgeous on our bride and groom. The apple red dresses was a refreshing look for bridesmaids ensembles. And the red and gold of the table setting made the reception really fancy and lovely. Congratulations on such an amazing wedding, Tyler & Jenny!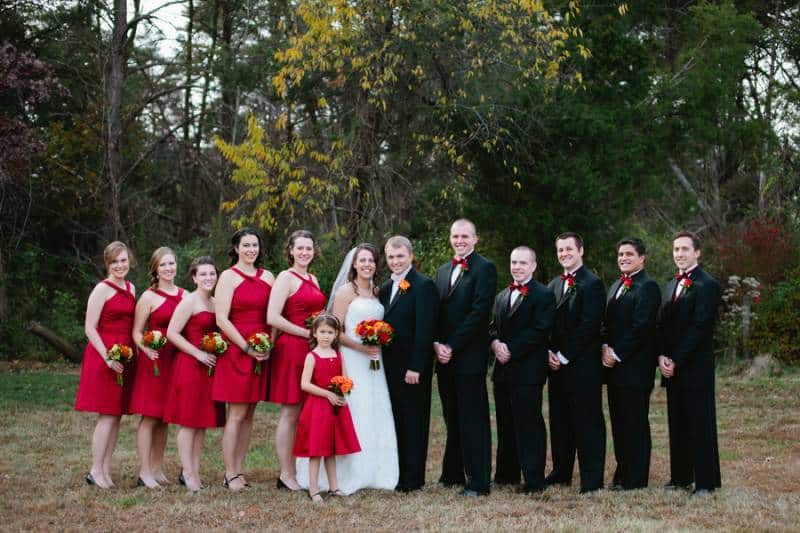 Bride
What is your story as a couple, how did you meet & fall in love?
Tyler and I like to say we met in a marriage class, but the story is a little longer than that. We met at a Young Adult Church in Northern Virginia; our guy and girl small groups met one night to play putt putt and get ice cream. I thought Tyler was one of the most fascinating people I'd even met, and I guess he thought I was cute? We did end up in the same "marriage class" through church, but our friendship really took a turn for romance when Tyler helped me move. He was so helpful, considerate, respectful, and funny that I knew there was something different about him. From there, we were finding any excuse to spend time together and it wasn't long before we were falling in love!
What makes the two of you a perfect match?
It's pretty amazing how God pairs people together. Our personalities are pretty different — Tyler is a thinker, analytical, and so funny. I'm a feeler, sensitive, and not very funny. But our differences compliment each other in such a way that we just work. There are moments when the differences drive us crazy, but our mantra has become: it's a good thing that we're different! Tyler's strong where I'm weak, and vice versa. He's a great match for me!
How did he (or you) propose?
He completely surprised me with the proposal! Tyler had insisted that he needed to go to Ohio to ask my dad for my hand in person. Tyler had just started a new job and didn't have any time off, so I was trying to be really patient  and not push him about a proposal, since I knew he was under a lot of stress. We went out to dinner one rainy March evening and had planned to go for a walk after dinner. Tyler and I had several interactions that raised my suspicions that night, but I dismissed them all, thinking he hadn't had a chance to travel to Ohio yet. We pressed on for our walk and took a detour onto a dock overlooking a nearby lake. On the dock, Tyler opened with, "So, I've been lying to you…" and proceeded to tell me that he had snuck up to Ohio and talked to my dad a few weeks previous. At this point he dropped to one knee, said some really sweet things, and asked me to marry him! I gasped when he opened the ring box (he did a great job!) and said yes.
How long was the planning process? Did you think it was enough time?
Our engagement was just over seven months, and it was plenty of time! Once you have the first few major decisions made (venue, date, photographer), the planning process really does slow down. I felt like I waited forever to be able to send out our save the dates and invitations!
What was the best advice you received when you were planning your wedding?
The only advice I really remember was: "At the end of the day, you'll be married, and that's what makes a wedding a success." I don't remember it being super helpful at the time, but it's true and I did think about that a few times in the stressful moments of planning!
What tips & tricks (can we use "hacks"?) can you share future brides that you yourself have learned during and after your wedding?
Don't reinvent the wheel!! One of my friends had recently gotten married, and she let me use her program as a template to design ours, which was SO much easier! I also found that simpler was better for us as a couple, so I would recommend keeping as many details and plans as simple as possible. Also — one simple tip — if you're going to have children attending your wedding, go buy inexpensive coloring books and crayons. We wrote each child's name on a coloring book and asked our program attendants to hand out the coloring books with the programs. Our guests loved this and it kept the kids quiet during the ceremony! Ultimately, my biggest tip for any bride is to make choices that fit her and her fiance. This is YOUR wedding, so it's ok to make it feel like you and your future husband. Don't feel pressure to fit a trend or do what everyone else is doing!
What were some challenges you faced while planning your wedding & what did you do to address them?
One of the big challenges was making the venue fit in our budget. Once I'd fallen in love with Bristor Manor, I couldn't envision our reception taking place anywhere else. The event planner at Bristow Manor was really great and helped us customize our event to be able to afford the venue. We chose a buffet dinner with affordable options and went with a set budget on the open bar to make it work.
What inspired your wedding décor? Why did you choose the things that you did?
I was so excited to get married in the fall! I didn't necessarily want a "fall themed" wedding, but I love the rich autumn reds and oranges, so I couldn't wait to incorporate those elements into our wedding. The bridesmaids wore Apple Red dresses from David's Bridal, which set the tone to use red accents. We wove little touches of deep red into our ceremony programs, our place settings, and our favor cards. Honestly, I chose the pieces and elements that fit us — I loved that our wedding felt like it was OURS, especially after having attended so many weddings over the last few years!
What was the wedding budget?
Our budget for the wedding was $17,000.
Where did you save the most money?
We saved the most money on our DJ and cake. We asked a friend to DJ the wedding using a playlist that I put together on iTunes ahead of time. I chose this route because I would've been really picky about which songs were and weren't allowed to be played at the reception (not a big fan of the Chicken Dance and Celebrate), so this felt easier. A friend's dad made our cake for us and it was a great deal!
What was the biggest expense?
We spent the most on our venue and photographer. I had fallen in love with Bristow Manor, so holding our reception there was worth it to us! We also figured that the photos last forever, so we wanted to invest money in hiring the photographer that we trusted to capture our wedding day.

How many guests were invited in your wedding and what was the final guest count?
We invited about 150 people with hopes that closer to 125 would attend. We ended up with about 110 attendeeson the wedding day.
How did you narrow down your list?
It wasn't difficult to identify our "must invite" people for the guest list, which comprised the majority of our list. From there, we filled in the list with people that our families had requested be invited, along with people that were on our "if there's room" list.
What songs did you use during the ceremony?
Seating of Mothers: "Jesu, Joy of Man's Desiring" J.S.Bach
Wedding Party Processional: "Canon in D" J.Pachelbel
Bridal Processional: "Clair De Lune" C. Debussy
Lighting of Unity Candle and Prayer: "Great is Thy Faithfulness" T. Chisholm/W. Runyan
Recessional: "Trumpet Voluntary" J.Clarke
Where did you go on your honeymoon?
We were given a week at a time share for our honeymoon, which we spent in Hilton Head!
What are you most excited about for the future?
I'm excited to grow and learn with Tyler. The first two years of marriage have been more fun and more challenging than I imagined, and I've learned so much about him and how much better life is when we're in it together. Marriage has really hard moments, but there's a depth that comes with working through those moments that is so valuable!
Do you have advice for couples still in the planning process?
Enjoy it as much as you can!! I know planning can be really stressful, but it really is a season that you'll only have once! Try to slow down and take time to spend with your fiance — it's a unique time. Make it a priority to invest in your future marriage relationship, because that's what will last past the actual wedding day!
What is the overall story for this album?
Celebrating the love that God's given us in a wedding day that is uniquely ours!
What inspired the wedding day outfits?
We didn't have any big inspiration between the wedding outfits. I simply fell in love with my dress — I found it on my first trip out, it was the third dress I tried on and I knew it was it. It looked and felt like me! Tyler picked the details of his tuxedo and designed the outfit that he felt best wearing. It was pretty simple!
What was your favorite part of the day?
Goodness, it's hard to pick one! I think one of my top parts of the day was walking around with my new husband and taking pictures around the grounds at Bristow Manor. It was so fun to be together, to be finally married, and to be enjoying the beauty of the reception site! It was also fun to have an excuse to kiss a lot for the photos.
Was there any Do it Yourself (DIY) projects? If so, can you describe them in detail?
I made all of our print materials for the ceremony — I created a simple program and direction cards to the reception and had them printed at Staples. My sister and I made pew bows out of off-white tulle to mark the family pews. We just found a youtube video and followed the instructions! I made guest bags to deliver to the hotel for our out-of-town guests. I went to Michaels, bought some gift bags, wrote a simple welcome message on the bag with a red pen, and filled the bags with bottled water, snacks, and candy. I tried to think of items that I wish I had in a hotel room and provide those items for our guests. I think that's it! There were several elements of our wedding that weren't DIY, but were do as simply as possible!
What were the highlights from the ceremony & reception?
I loved our first look — that was a highlight for both of us!! Tyler's dad read scripture during our ceremony, which was a sweet moment. He was emotional, and we both felt his love and support in our marriage. I also lovedbeing presented as husband and wife at the end of the ceremony! My friends are really FUN dancers, so I loved dancing with them during the reception! Our matron of honor and best man also gave really sweet toasts.
Was there a theme for the ceremony and reception?
Our ceremony theme was focused on how God's work in our lives had brought us to this point. We really celebrated how He's rescued us and made this marriage possible! The reception was all about the dancing!
What part of the ceremonies do you think was the most memorable for you? (& your guests?)
I hope our guests remember the dancing!

Vendors
Photographer:  Sarah Bradshaw Photography
Reception Venue:  Bristow Manor Golf Club
Floral Designer:  Twinbrook Florist
Ceremony Site:  Centreville Baptist Church
Cake: Friend's Dad
Dress: Jeanette's Bride and Boutique
Tuxes and Bridesmaid Dresses: Men's Warehouse & David's Bridal