First, let me start by apologizing for not having a post yesterday. I thought I had covered my entire trip but I just realized I hadn't scheduled anything for my "travel home" day. It was a whirlwind long weekend (more on that on Wedding Chicks later) and it apparently went beyond my notice. Woops. I'm going to post twice today to make up for it, though!
Anyway, my wedding is definitely feeling the pinch of our "fantastic" economy right now, so I completely sympathized with kalikiana on Elizabeth Anne Designs' forums when she wrote about her quest to find a dress that fit her smaller budget. After helping her out, I had an ah-hah moment, knowing a lot more brides out there are needing to find options that work for them considering what we're facing today. Trimming the cost doesn't always have to mean sacrificing style or quality, so let's start today off by looking at some budget-conscious options.
For this first post, we're taking a look at Jenny Yoo's incredible new line of wedding alternatives, a low-cost, high-style collection that's a fantastic resource for any bride given its range from simple and classic to more edgy and modern.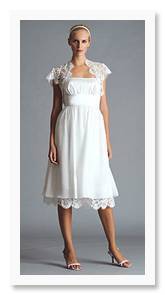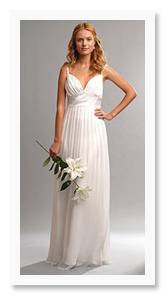 From top left: Audrey, $450; Bianca, $117; Drew, $725; Felicity, $725; Juliet, $700; Sasha, $700.
Images from Jenny Yoo.