Time for Meridith and Colin's breathtaking reception! Here's some insight about it from Meridith:
I hired Mimi Palmer of Enjoy Celebrations in California to bounce ideas off and help bring my vision of the day to fruition. Mimi also provided "day of" coordination which was probably the best decision I made in the whole planning process. She provided the wonderful hanging "words" in the doorway of the Cask Room. Given that we were having our wedding at a winery, we opted to let the winery decor speak for itself without adding kitchsy "wine-theme" elements but rather wanted to bring earthy, organic, yet elegant elements to compliment the venue – so we chose shades of moss and sage green, chocolate and ivory.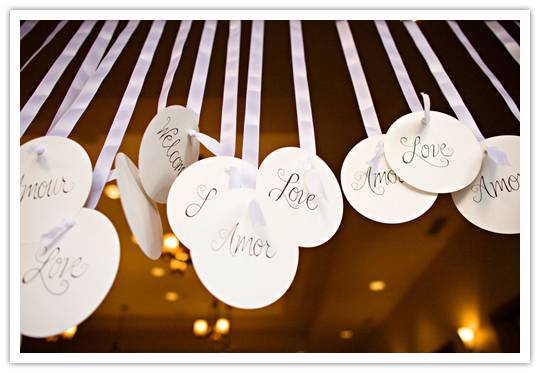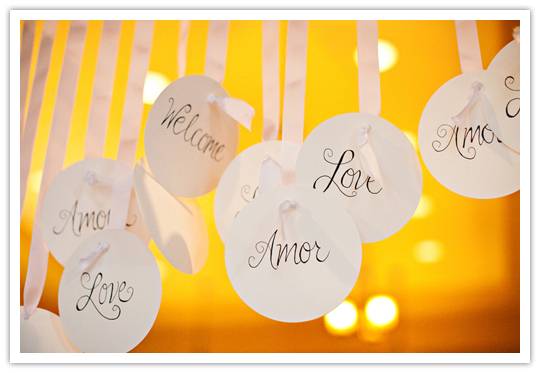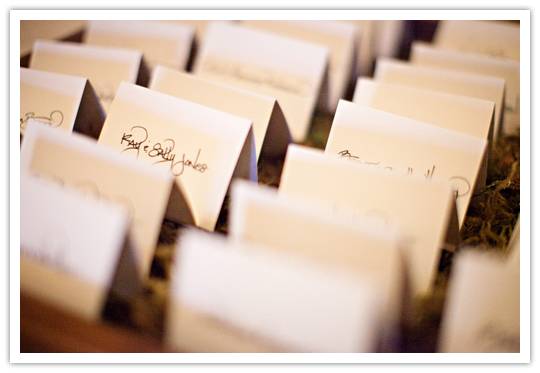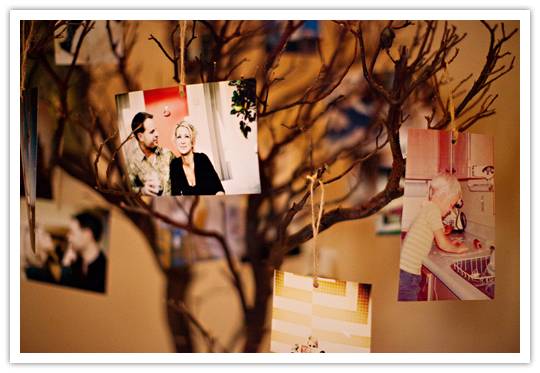 The details were a labor of love for me and my family. My father constructed a giant chalkboard from scratch for our reception menu (tried to be a little more eco-friendly by saving paper), recycled wooden signs directing guests to our wedding, the cold drink stand at the ceremony and the moss box that held the guest dinner seating assignment cards. I handcrafted the paddle programs and included the gorgeous graphic design from the custom boxed letterpress invitations created by the talented Janet Maples at Izzy Girl. My mother, my daughter and I created our favor boxes but wrapping them in green grosgrain ribbons with handcrafted thank you tags – with personalized M&Ms inside in green, brown and ivory.
We poured over hundreds of photos – from old times and new – to choose about 30 or so to hang on one of the manzanita trees with twine and shaved down the bottom of 75 champagne corks (collected over the years) to make holders for the lovely calligraphed placecards created by Mimi at each placesetting. We opted not to have a traditional guestbook but rather provided stone-like ceramic tiles for our guests to sign and write messages to us on. We plan to inlay these tiles in a tabletop for our wine cellar. We also wanted to have some whimsical elements so we had ivory 36″ helium balloons, ivory paper parasols (our ceremony was just before sunset and the guests were facing west so they came in handy), and 3-foot sparklers to play with once it got dark. We also had mustaches-on-a-stick floating around. We started the mustache traditional last Christmas holiday when one of the cousins received a gag gift containing stick on mustaches and everyone ended up wearing one.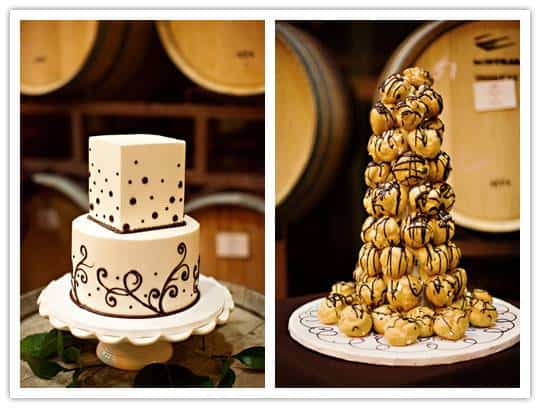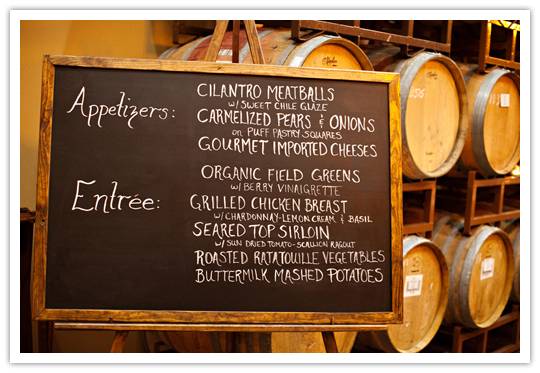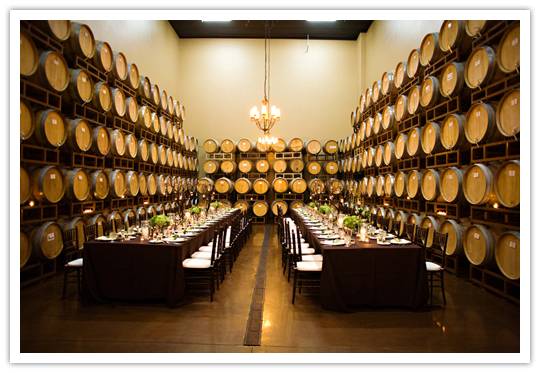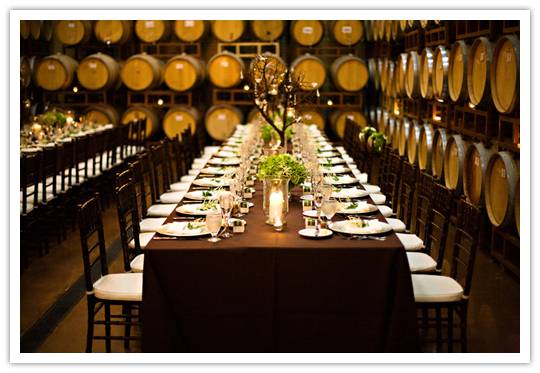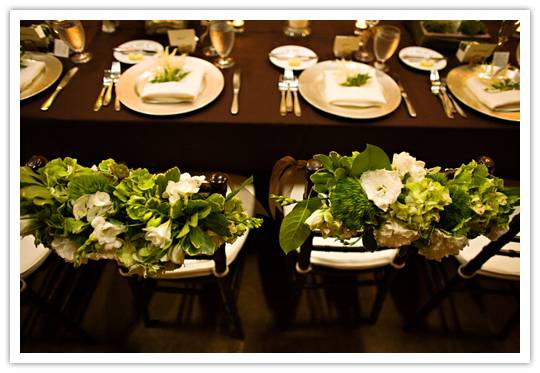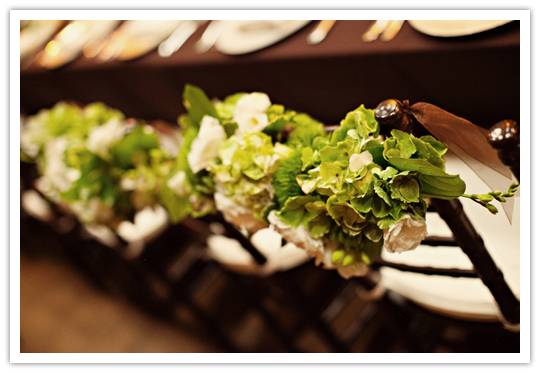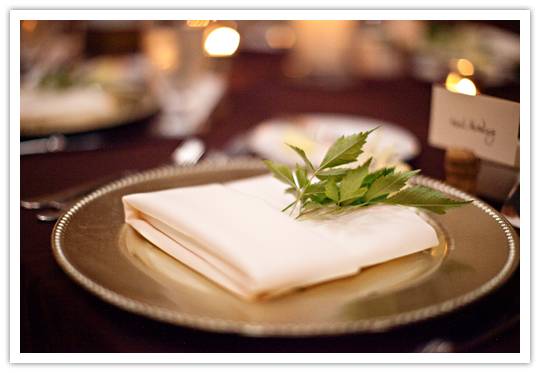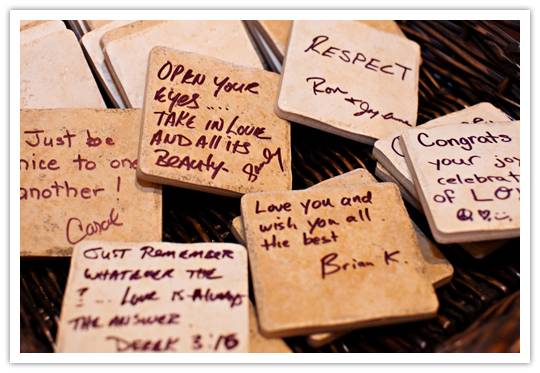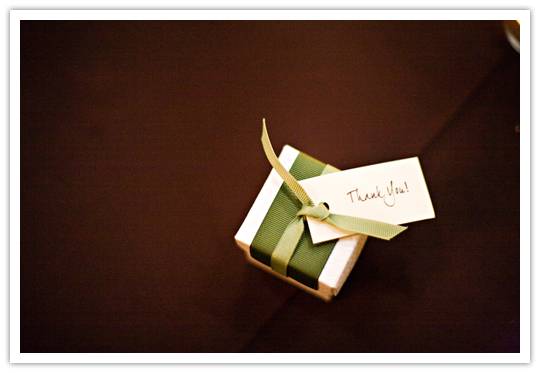 Thanks again to Leigh Miller and the bride, Meridith, for all their images and insight about this stunning wedding. Congratulations, Meridith and Colin!