Hello there, ladies! Spring is here and everything is getting lush and vibrant so clear up those winter tones and together let's welcome today's post with warm embrace. This featured wedding will surely inspire those who want to have that zesty fun filled wedding but with a vintage country side undertone. This jewel-toned palette of Brent and Eliza's rustic wedding is the perfect pairing for the couple who wants their wedding to look sophisticated but not stuffy. The best part about these colors is how surprisingly translatable they are. Pushing the limits of deeper purple tones with the light kiss of pink in a washed over magenta colored barn. What are you waiting for? Journey through these photos taken by Dreamlove Photography and enjoy this rustic wedding inspiration!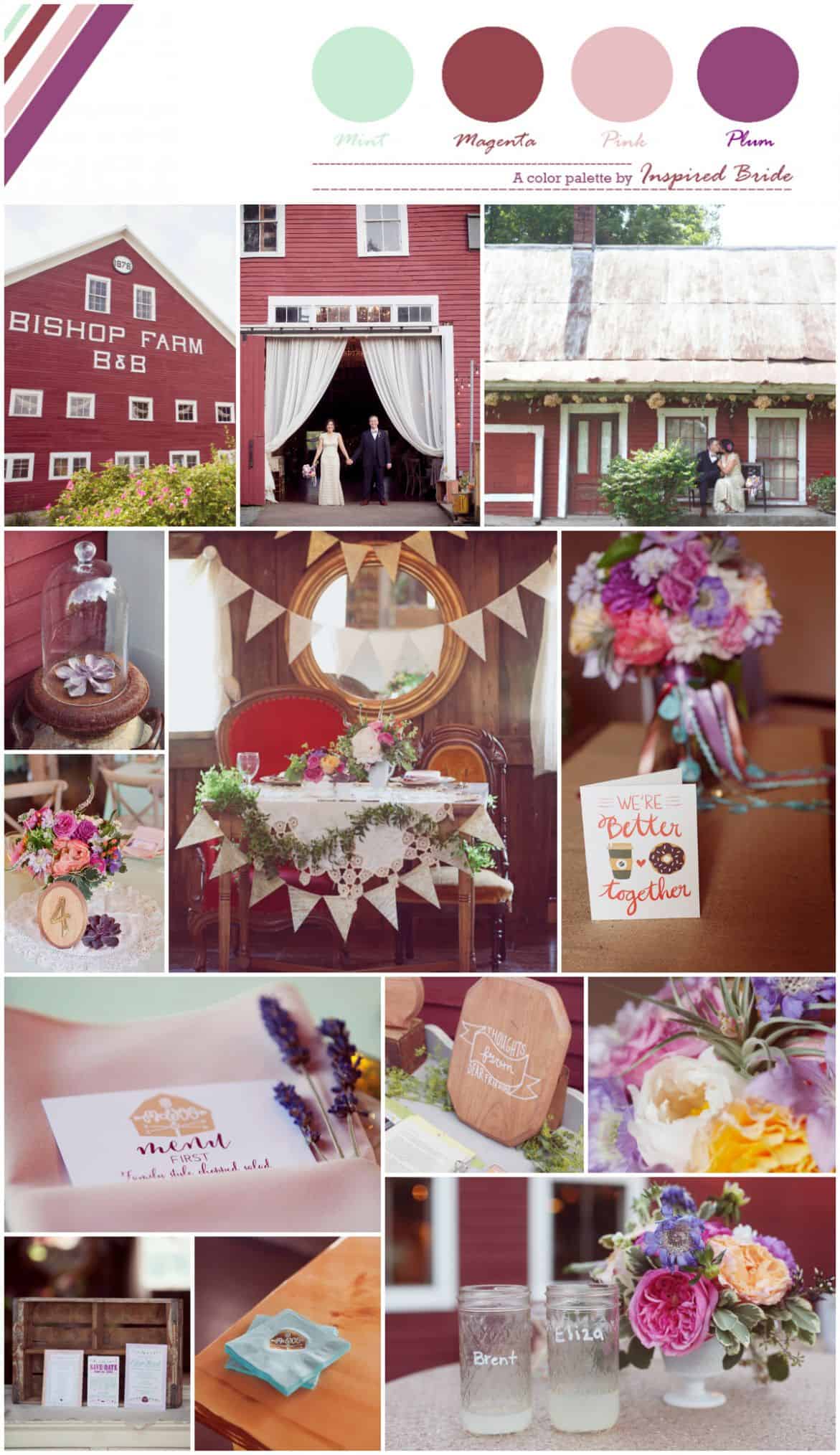 The Wardrobe
Eliza is wearing an ivory sheath wedding dress decorated with embroidered laces that complements her fair complexion paired with her bronze glazed closed toe heels. On her hair is a pink rosette by Emily B. that is perfect for this rustic themed wedding.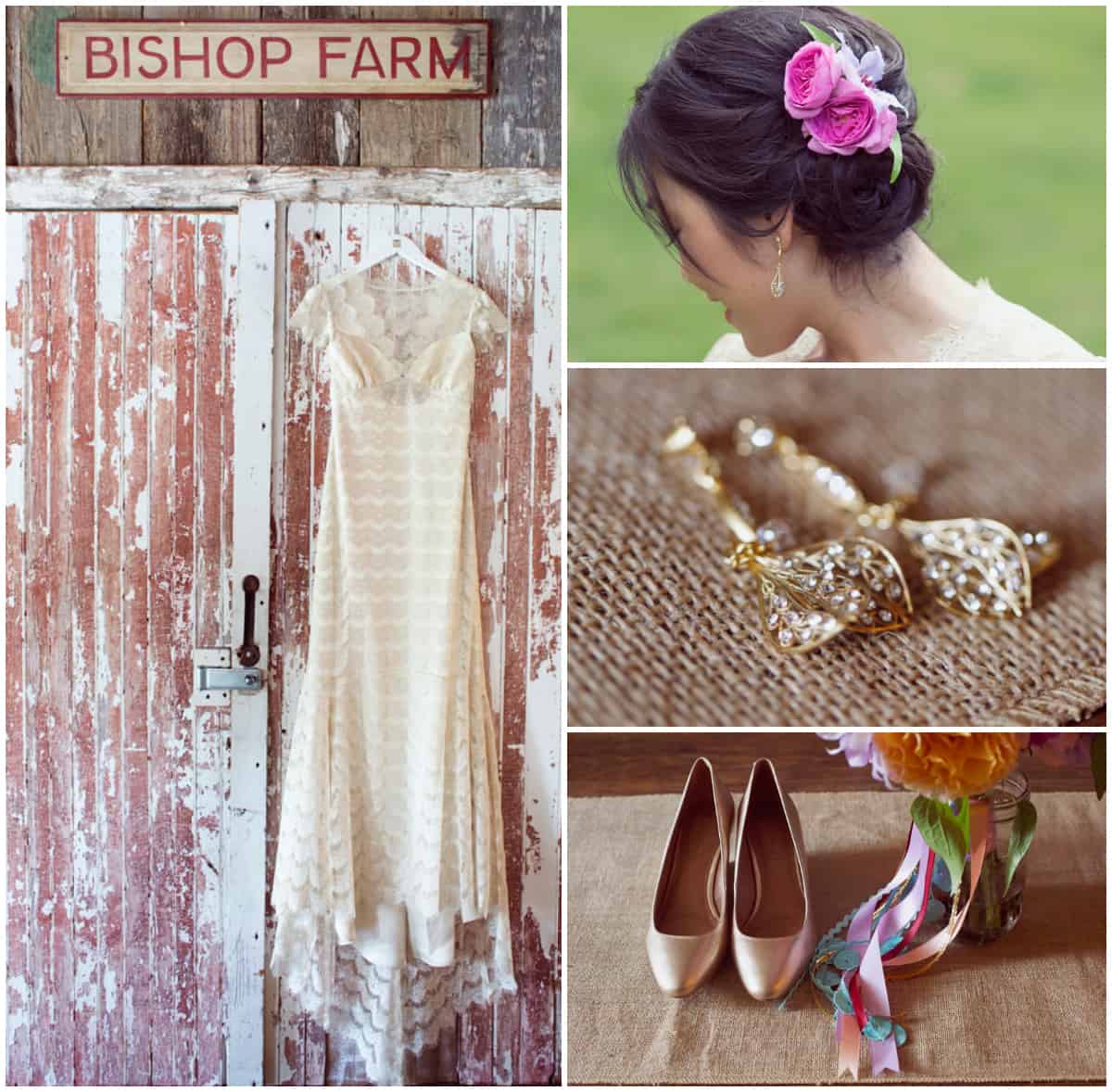 Brent on the other hand is wearing a beautiful purple tuxedo from Attire:J. Crew with his fancy bowtie from Forage Haberdashery and a gorgeous boutonniere that balances the overall theme and style.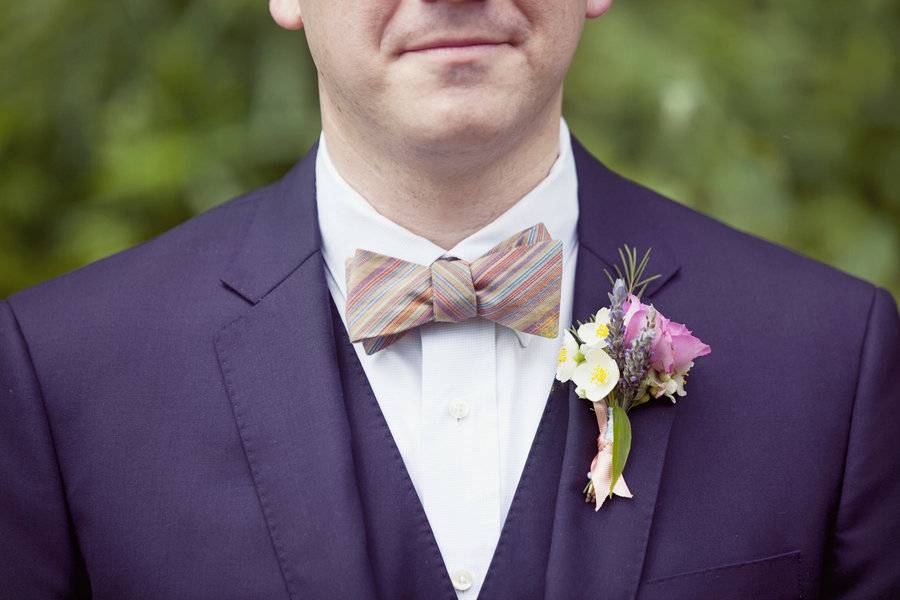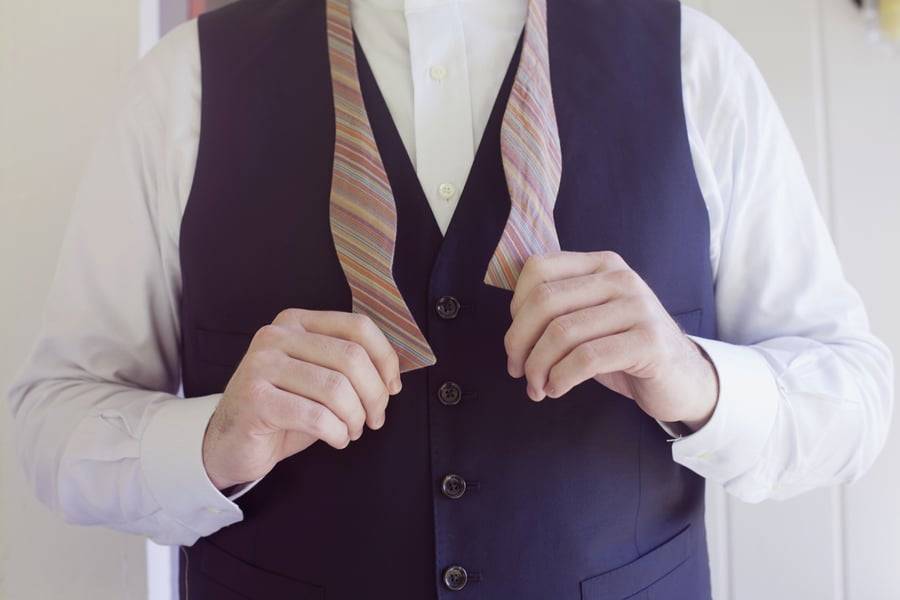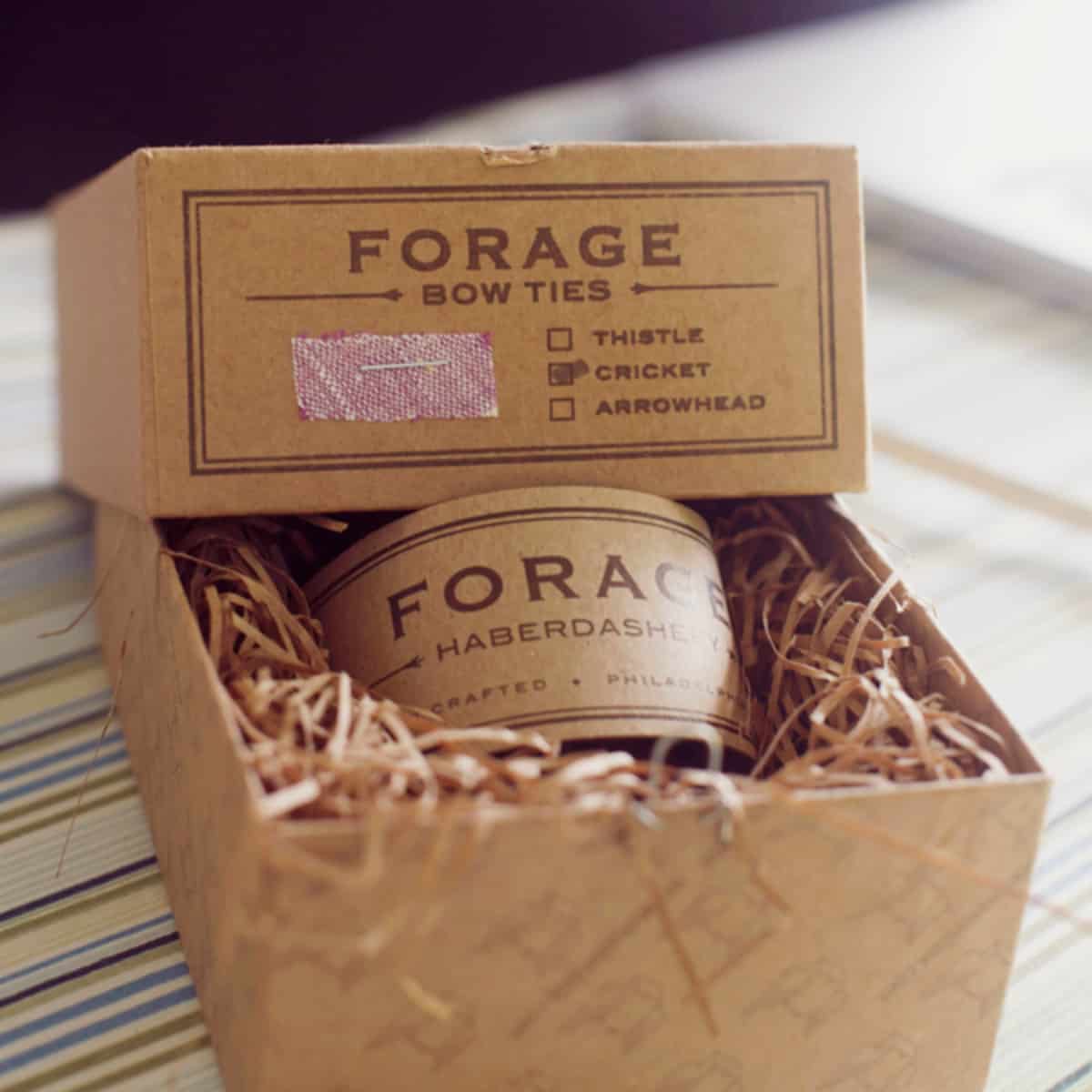 The Farm Site
Held at The Bishop Farm B&B located at New Hampshire, this place is awesome. The entire barn is wash painted with magenta and everything look aesthtically gorgeous. A perfect place for your dream rustic wedding.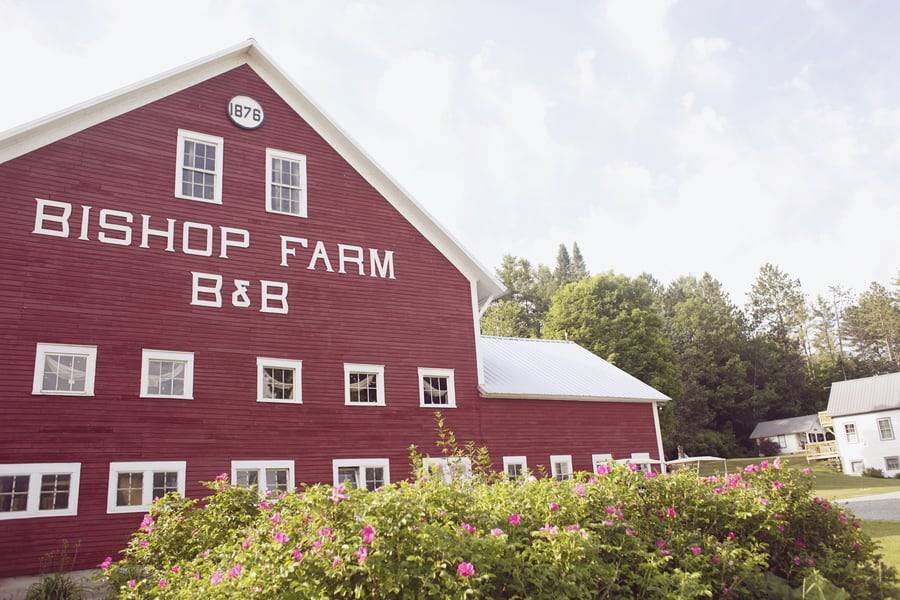 The Bouquet
This vibrant floral bouquet from Emily B. looks stunning. A round floral posy of assorted tropical flowers that fits perfectly with the purple kissed color pallete.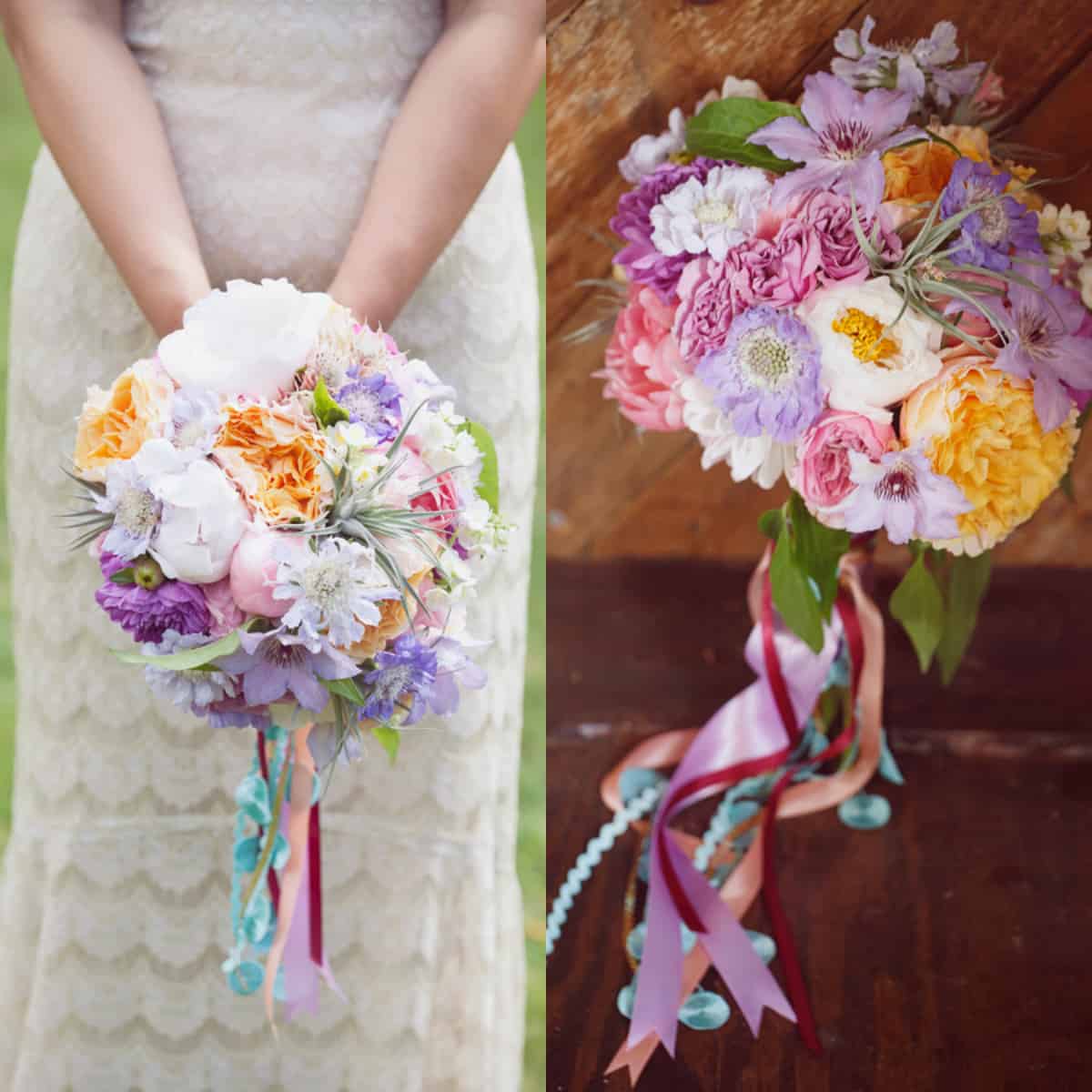 The Decor
The favors showcased in this wedding will totally instigate those who desire a vibrant yet traditional approach to a rustic theme. Table markers made from rusty old keys presented in a wooden crate and labeled planks would really inspire those do-it-yourself enthusiasts out there. These decorations not only adds beauty to the place but displays the classic elements of that barn themed aesthetic.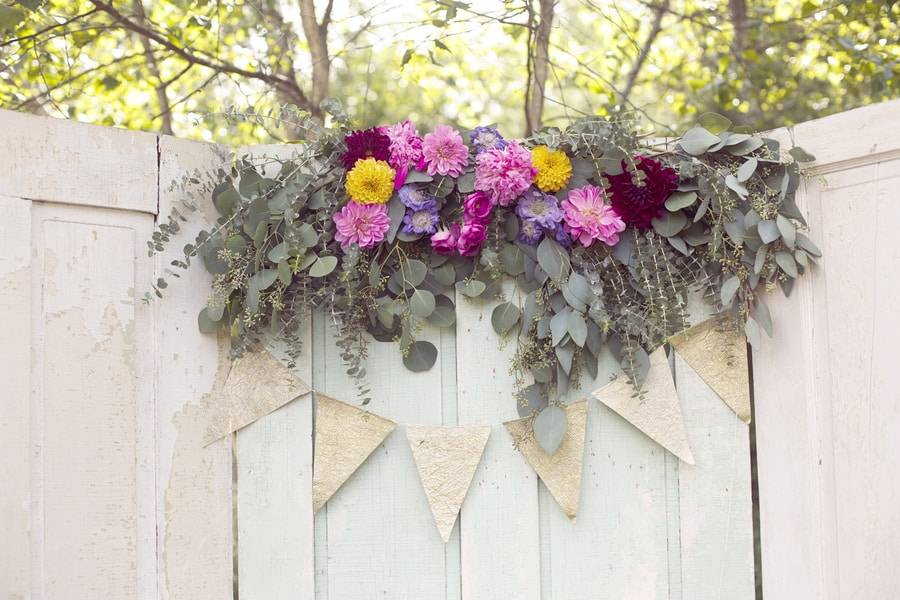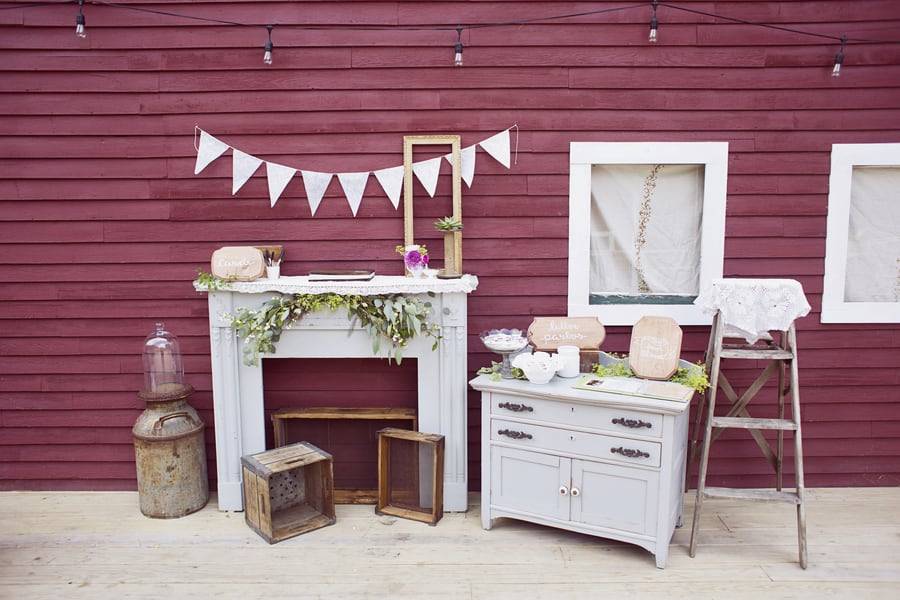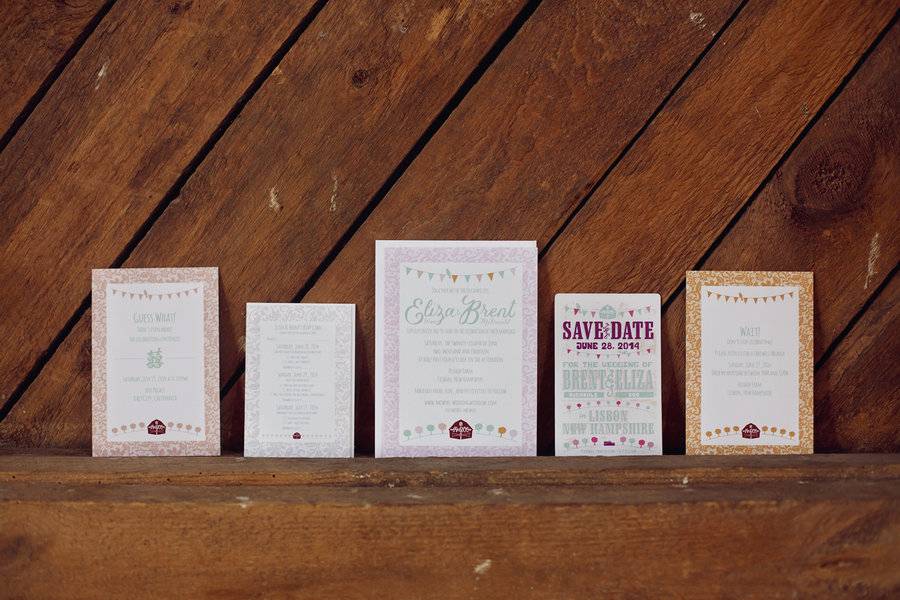 The Table Arrangements
Fancy yet traditional, this table presentation looks awesome with the bronze utensils and printed porcelain plates on top of mint table cloth. Every detail pops-out without overpowering the rustic ambiance.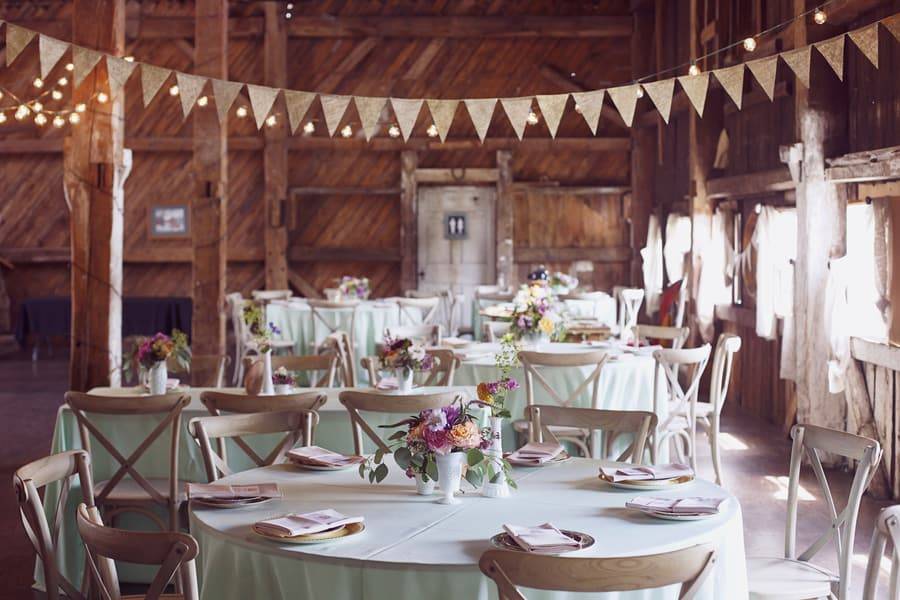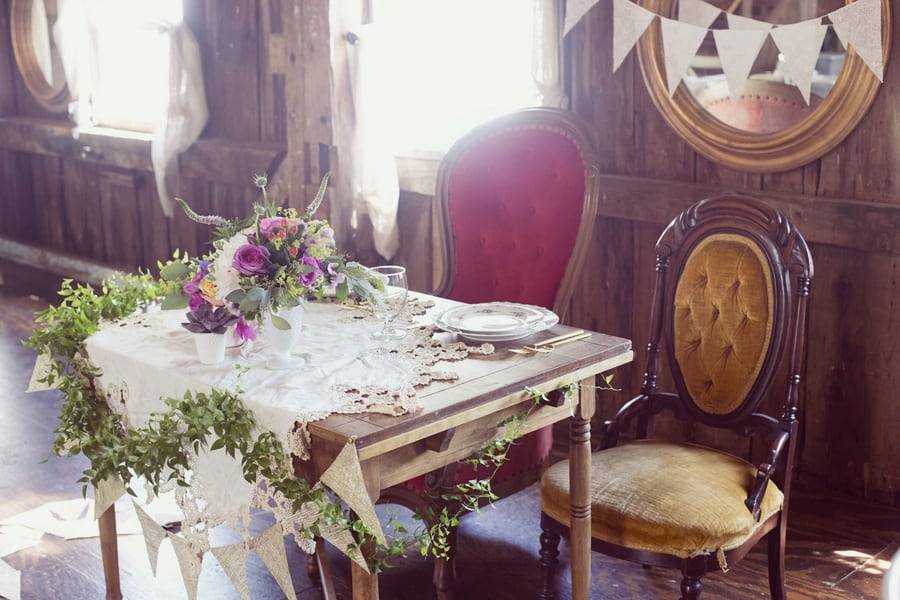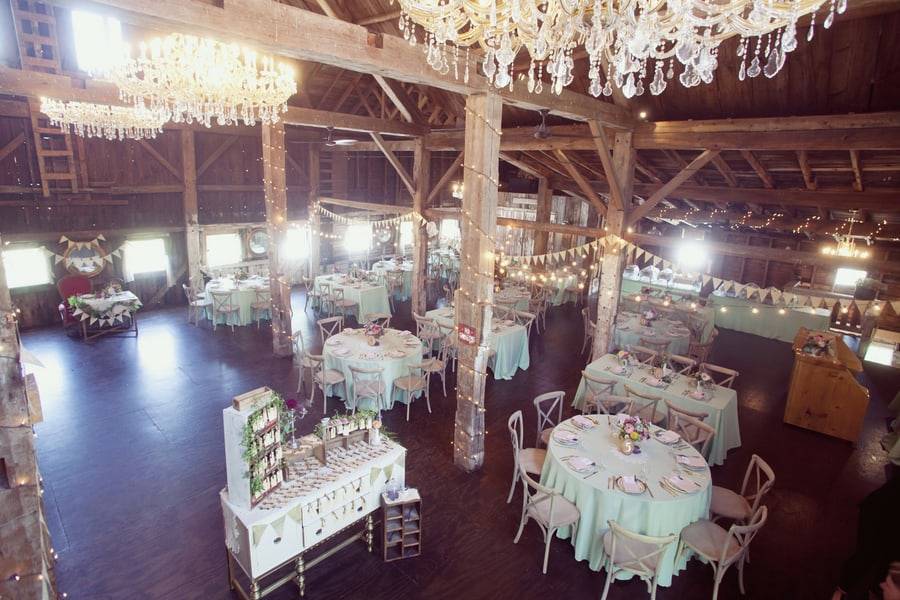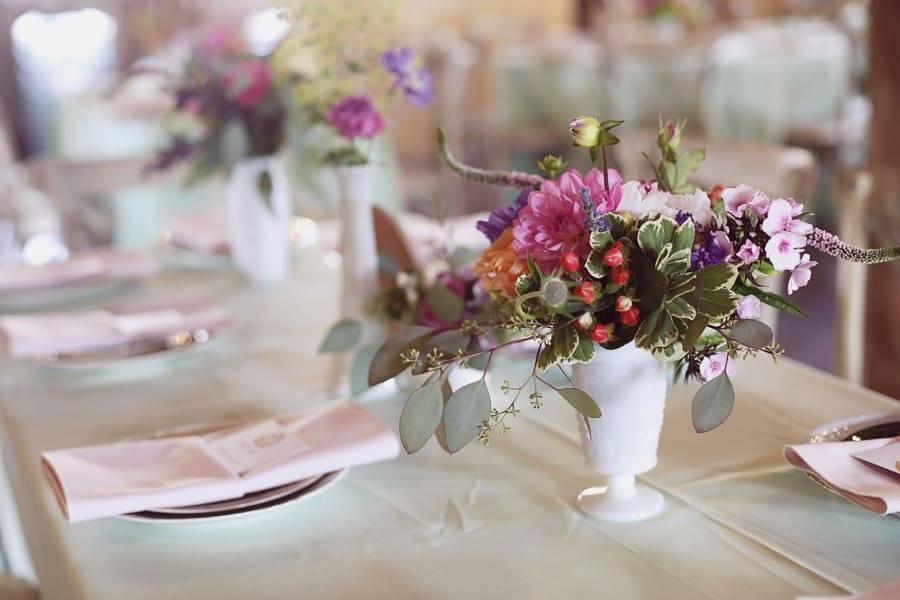 From the Photographers
Eliza and Brent traveled all the way from San Francisco to host their eco-friendly wedding in the rural green hills of New Hampshire. Bishop Farm was the perfect venue for these two, with it's rustic New England charm, and environmentally friendly amenities like solar-powered cabins! Our favorite details were the antique furniture, provided by the lovely By Emily B. design team, and the bright and artful flowers everywhere! Eliza's bouquet had air plants that were actually blooming! Eliza had the genius idea of having guests use ball jars for their drinks during cocktail hour, and write their names on the glasses so they could keep using them all night! From the donut cake to the handwritten escort card messages to each guest, this wedding was overflowing with personal touches, making in an incredibly unique event.
From the Bride
Our favorite memory of the day is how it all felt — throughout the day, we were completely overwhelmed by all the love, support, and laughter surrounding us. If we had to pick one moment that showed this, it was during the second to last song of the night. The Lumineers' Ho Hey was playing and although the groom and I started dancing with each other, everyone spontaneously worked themselves into a swaying circle to which we, ourselves, could not resist being a part of! By the end of the song, there wasn't a guest sitting at their table or anyone standing outside the barn — every single person was swaying, together, in a huge circle on the dance floor. At some point, I remember looking at my now-husband and I knew we were thinking the same thing: We are seriously the luckiest people in the world to have so many wonderful people in our lives!
Heed this Advice
Our advice would be to carefully pick and choose what is most important to you and what represents you and to not sweat the rest. To us, we saw our wedding as a community event, a celebration of not just us, but also of the love and support our dearest friends and families have given us. As such, we spent a lot of time working on things that would reflect this: From planning weekend events to maximize time spent with everyone to writing fun, personalized notes for every guest on the back of their escort card, we wanted to thank all of our guests for joining in on the celebration and for being, well, awesome! That said, we also had the luxury of having an amazing set of vendors, each of whom we could entirely trust to take our general ideas to the next level, while ensuring that the specific details that we did choose to spend time on to be carried out flawlessly. Have fun with it and everyone else will too! ~ Eliza Woo & Brent McDonald/Couple
Vendors
Photographer:  Dreamlove Photography
DJ: Aaron Denny
Tuxedo and Mens Attire:Allen Edmonds
Bridesmaid Dresses:Banana Republic
Event Designer: By Emily B.
Paper Props:By Emily B
Floral Designer:By Emily B.
Dress Designer: Claire Pettibone
Shoes:Corso Como
Caterer: Delicata Catering
Tuxedo and Mens Attire:Forage Haberdashery
Makeup Artist:Fresh Salon & Day Spa
Tuxedo and Mens Attire:J. Crew
Jewelry:Lang Antique & Estate Jewelry
Specialty Foods:Lou's Bakery
Veils and headpieces:Marina Morrison Bridal Salon
Etsy Designer:Our Wedding Invites
Event Venue: The Bishop Farm B&B
Bakery:The Dessert Goddess
Jewelry: Tiffany & Co.
Invitation Designer:Wayland Chew