Rob and Marian got to know each other through her best friend, Sarah, who was dating Rob's roommate and fraternity brother at the time. The four of them would hang out a lot, so these two grew pretty close. They became best friends before they ever started dating. Sarah and her boyfriend were going to a brother date and she really wanted the four of them to go together. That was probably the first time Marian realized that they could be more than just friends. Fast forward to today, let's look at how these two took the plunge to their engagement!
Click image to enlarge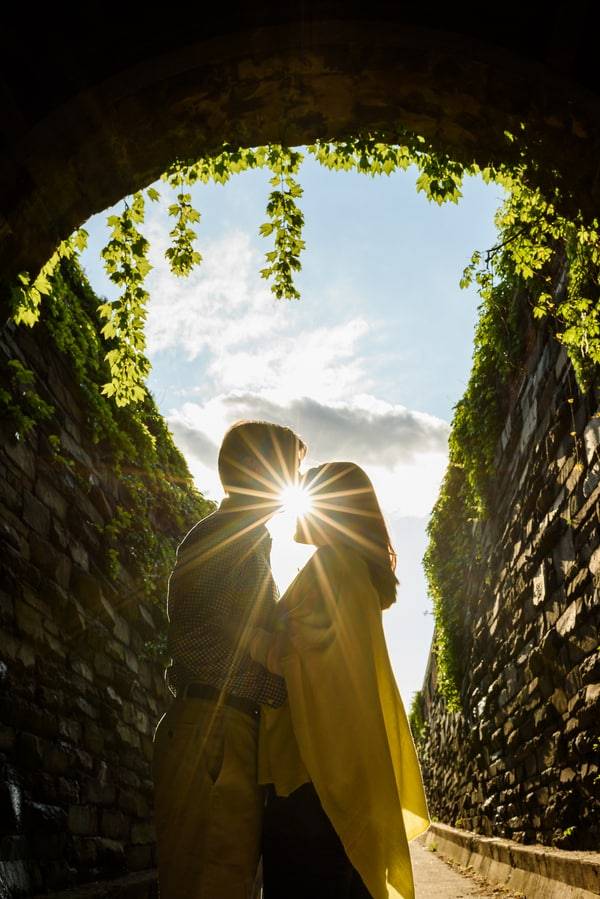 Like. Click to Vote
>
What They Love About Each Other
Marian has many great characteristics. She's very thoughtful and considerate of others, always taking other people's opinions into account. She has strong goals and works hard to reach them, which is probably my favorite part about her. I would also have to say that she has the best red hair. — Rob

My favorite characteristic of Rob is that he is always so calm. I can get frustrated, upset, angry, and he is always there to calm me down. In the end, he's my rock and he's really the only person that I have ever met who can keep so calm in stressful situations. If I make a mistake, misunderstand something, or just generally mess up, he always says something along the lines of "it's okay, we'll figure it out, we always do." I also have to add that I love how hardworking and kind Rob is. He's worked hard for everything in his life, he has extremely strong values, and doesn't take any of it for granted. — Marian
Special Engagement Shoot Details
As the future bride shares,
The locations. We chose two locations for our engagement photos because they are both truly special to us. Rob and I thought a lot about where we wanted our engagement photos to be taken. Rob immediately said that he wanted to do it at the National Arboretum because his father used to take him there all the time when he was a kid. This was our first location. He loved playing in the Arboretum and to this day he can't get enough of being out doors! He gets a bit antsy being inside too long or not being active enough, so it was never a question that we were going to be taking our photos at the Arboretum. Rob was also the first person to ever take me to there and now I can't even count how many times we've been together!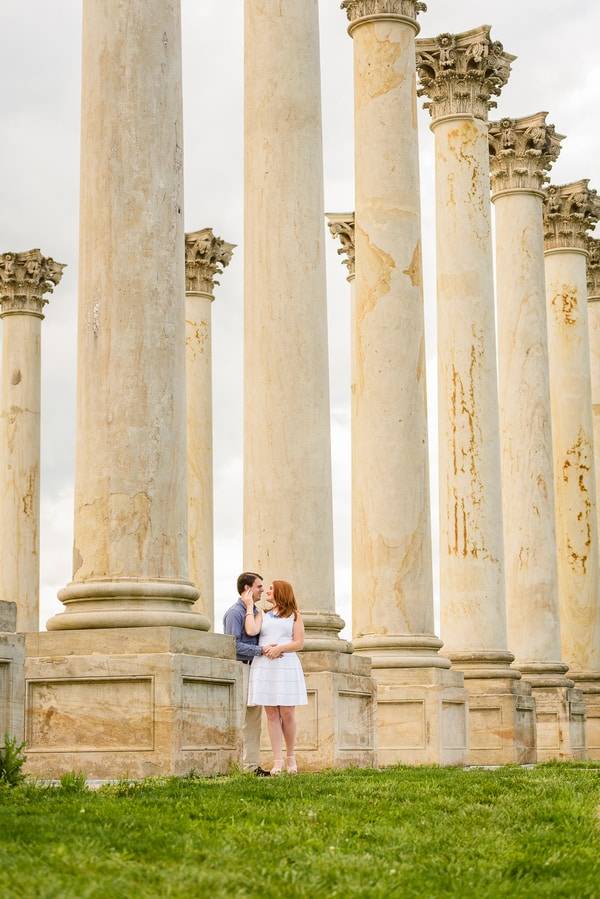 Our second location was in Old Town, Alexandria, which is pretty much the middle point between where my parents and his mother live. When we first started dating Rob would pick me up from my summer job- I worked at a local boutique called 3 Sisters- and we would walk around or hang out at the waterfront for a while. We were also around Old Town a lot because Rob's mom owns the Dairy Godmother in nearby Del Rey, so he would work for her sometimes in the summer or run errands around town to help out. It was definitely a bit symbolic to return and take some fun photos in the area!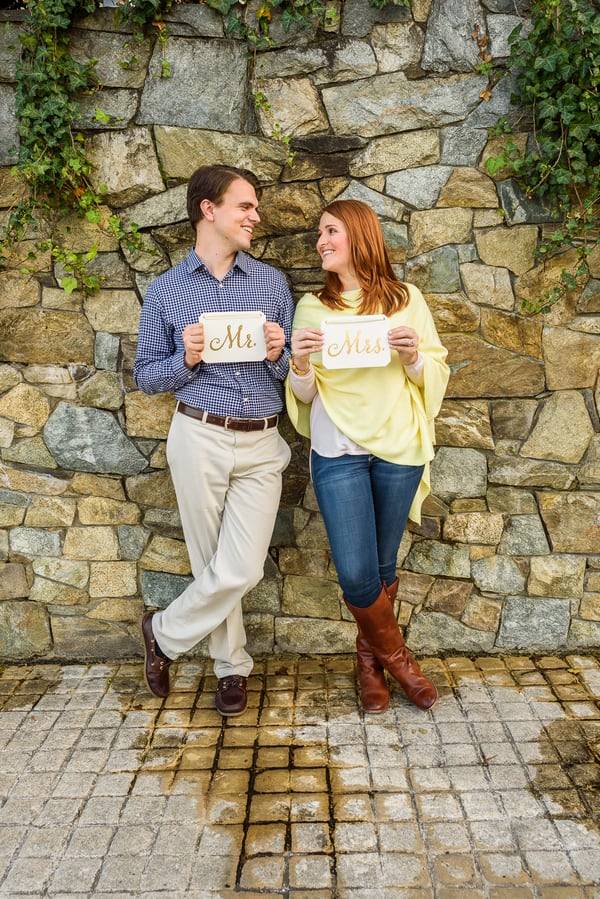 The DIY Project. I wanted to do something pinterest-esque, so I decided to incorporate a little sign with our initial on it. I'm not very good at being crafty, but I thought this would be easy enough, so I bought a little white wooden sign from the sale bin at Michael's and used my friend's navy blue paint to write a cursive "L" on it. It ended up looking more like an "F" so I had to have my friend Abbey McKinney help me repaint the sign and morph the "F" into an "L." We had quite a laugh! In the end, it all worked out and the sign is now hanging on the front door of our new apartment!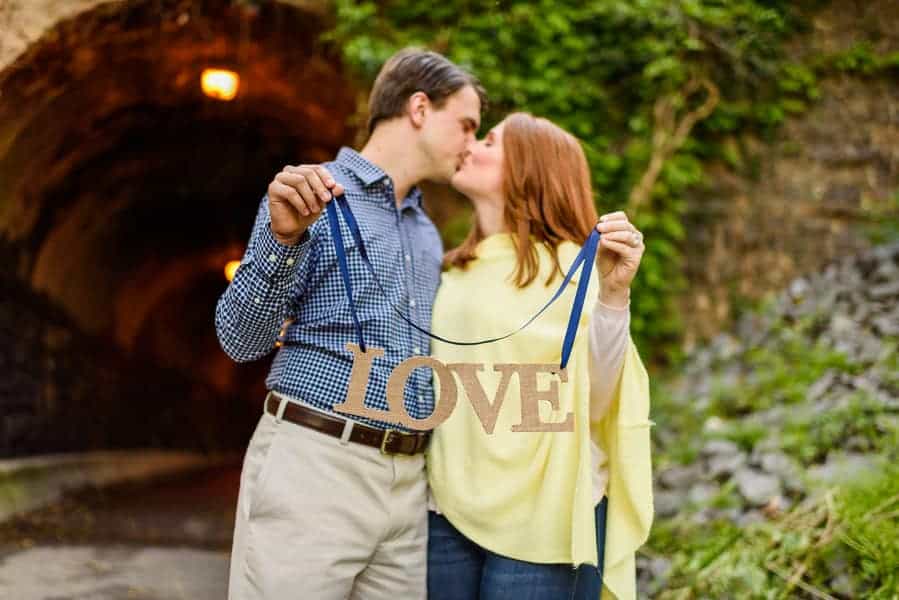 The challenge. We met Jonathan and Ruth in the early afternoon for our engagement shoot. We had decided the day before that we were going to go ahead and brave the weather because the chance of rain went down to about 30 percent and in the morning it was beautiful and sunny. Rob and I got there early so we had some time to walk around and hang out before the shoot, but shortly after we started walking we saw the most ominous cloud roll overhead. Then it began to rain.
Tips From The Couple
My advice would be to not take people's comments too seriously. There are a lot of people who haven't gone through the wedding planning process and even those who have don't always share the same thoughts and opinions. You have to be comfortable and at peace with your decisions and know that in the end, it all works out and you will do what you always dreamed of- marry the love of your life. — Marian

Don't get so bogged down in the details. The first few months of planning were unbelievably stressful for us, but we had to learn to let go of some things. You want everything to be perfect, but if you love and trust those who are helping you plan, then give them freedom to surprise you with some parts of your wedding that you yourself would have never thought of. — Rob
Tips From The Photographer
♥ Allow more time than you think is needed to get ready! It's better to be safe than RUSHED! If possible, try to have all bridal details together before the photographer arrives. (Dress, jewelry, shoes, bouquet, garter, veil, etc.) This will make the detail shots more efficient!

♥ We fully believe that the most important part of a wedding day are the vows you make to each other before friends and family. A wedding day does NOT revolve around the photos. However, the ceremony is often the shortest part of the day and a couple pays a lot of money to have their wedding given the attention it deserves. In order to capture your once-in-a-lifetime creative moments, it's always worth budgeting as much time as possible for special images together.

♥ Relish moments with friends and family! It's time to celebrate!
Money Matters
Wedding Budget: $20,000 – $45,000
VENDORS
Photographer: Gonzalez J. Photography & Design Studio
Other Location: U.S. National Arboretum