While lots of people hire a professional to do their hair for them on their big day, for others, there may not be the budget available for this. Alternatively, you may prefer to handle your hair yourself so that you have more control over your look.
If you're keen to tame your own tresses for your wedding, there are a few things you need to keep in mind to achieve your perfect look. Read on for some tips you can follow for a hairstyle that you'll love to see in wedding photos for years to come.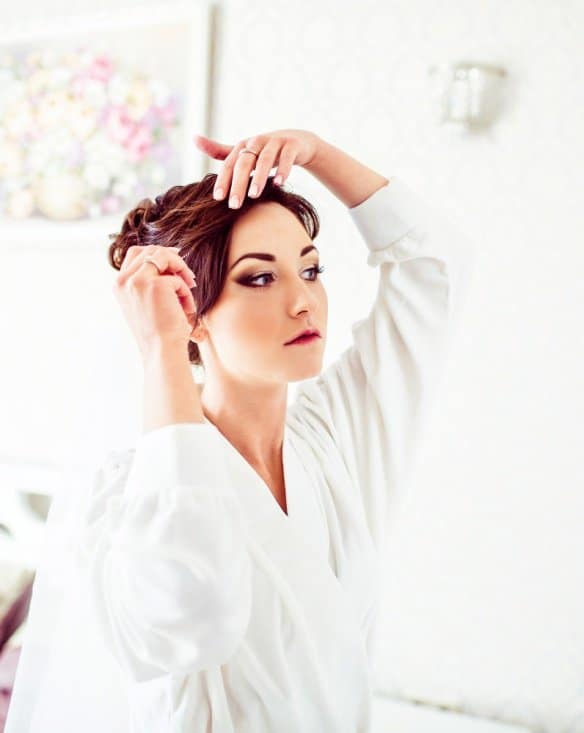 Make a Plan and Have Plenty of Trial Runs
The first thing to do to ensure your hair looks just how you envisaged on your big day is make a plan. Don't leave thinking about your hairstyle until the last minute just because you'll be doing it yourself; after all, while you might have a particular option in mind, when you try it you could find that it's not comfortable enough, too hard for you to do, or just doesn't suit your face or hair length. As such, it's important to put just as much planning in for your locks as you do other elements of your look.
The best idea is to have many trial runs. Try out numerous styles, not just one, so that you can decide which looks best and will wear well over many hours. Once you've decided on a look, practice it over and over again until you feel comfortable recreating it on your wedding day without stress.
If you want to utilize hair extensions that clip in or change the cut or color of your hair, this needs to be organized well before your wedding too, so that you don't end up with a look that you just don't love but cannot change.
Keep in mind too that some hairstyles (such as soft waves) can look beautiful when you first do them, but may fall out and potentially start to appear messy by the end of the night. It is worthwhile having a second style then that you can turn to later; something that you can pull off with just a few minutes spent in the bathroom looking at a small mirror.
If you plan to have your hair down for the ceremony but then want to pin it up during the reception so you can party without getting too hot, don't forget to plan out the accessories you will need for this and pop them in your handbag or wedding kit.
Match Your Hairstyle to Your Dress
Next, it is also important to find a hairstyle that not only suits your face and the length and volume of your hair, but that also complements your dress, rather than competing with it. For instance, if you will be wearing a dress that is quite extravagant, with lots of details such as sequins, bows, crystals, beading, or the like, you may look best with your hair down but unadorned, or with a very simple, elegant up-do. Conversely, if your dress is beautiful in its simplicity, then you can get away with a more dramatic hairstyle.
It is also wise to consider the design of your dress and the accessories you want to wear. For example, if your dress has a "wow-factor" open back or an intricately-detailed design on the back, an up-do or side ponytail or braid would allow this feature to stand out. Alternatively, if you want to wear some statement jewelry on the day (like large earrings, a tiara, or a necklace), then you need to ensure your hairstyle doesn't cover up these items or take away from the effect of them.
Think About the Style of the Event
Apart from matching your hairstyle to your outfit, it is also wise to think about the style you're going for on the day when it comes to the theme of your wedding. When flicking through magazines and scrolling websites you might find a number of hair options that you love, but they might not actually correlate to where you're getting married, how you're decorating the reception, and so on.
For example, a beach wedding will typically mean you want to convey a low-key, casual look, perhaps with some simple beachy waves. On the other hand, a wedding themed around something like a certain era or a favorite book or movie will require you to choose a hairstyle that is relevant to that particular "story."
Consider the Likely Weather
Lastly, another consideration to make when deciding on a hairstyle is the likely weather on the day you get married. If, for instance, you plan to have your wedding during a cooler part of the year, or have it take place inside a venue, you can usually opt for pretty much any type of hairstyle, from cascading curls to intricate up-dos.
However, if you're going to be married outdoors in a hot, humid climate, or somewhere that could be very windy, you really should think about selecting a more put-together hairstyle that won't make you hotter, turn frizzy, go limp, or stick to your back. An up-do such as a bun or braid can be perfect for this type of environment.