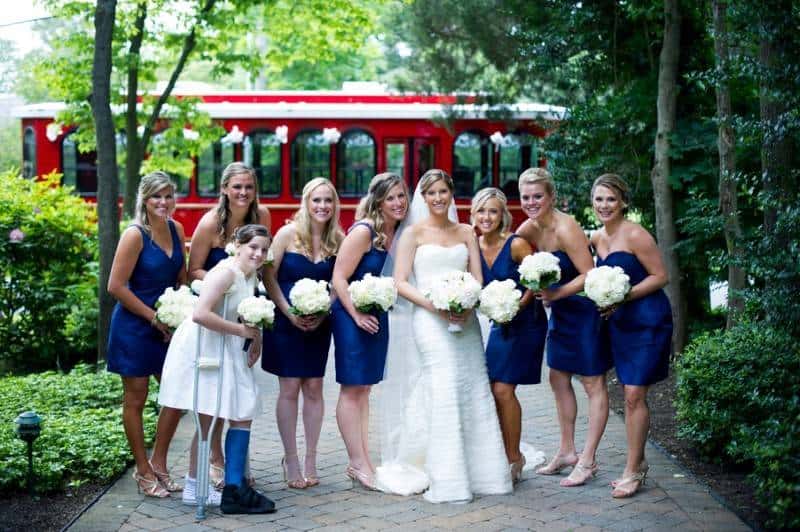 Hey everyone, it's midweek already! How's your week going? Well, we will give you a little treat for today with Meghan & Denis's wedding feature. Navy blue was the chosen theme color for this couple's special day. And navy blue with the richness of its color gives you that touch of simple elegance which is exactly the perfect definition of this two's wedding. The bride was able to give us a scoop about certain details on the preparations for this very memorable day of her life.
What is your story as a couple, how did you meet & fall in love?
Denis and I met in Hoboken, NJ just outside of New York City. We were both living there with friends and that's where our story began.
What inspired your wedding decor? Why did you choose the things that you did?
We were lucky that Clark's Landing was such a stunning venue in itself. The sunset view from the ballroom was really the star of the decor show. I did want to add personal touches to the event, such as our frame displays. I had the "Mr. and Mrs." sign for the sweetheart table, a special "Thank You" to family and friends and a display of loved ones who are no longer with us. Denis and I also created a slideshow of old and new pictures of us, family and friends that played in the background of the cocktail hour.
Do you have advice for couples still in the planning process?
If you are feeling overly stressed about specific aspect of your wedding (hotel gift bags, wedding favors, cake flavors), think back to weddings you've been to and ask yourself if you even remember these details. I felt like I was getting very caught up in the little decisions to be made and now looking back, I realize most of them really weren't that important!
Where did you go on your honeymoon?
We went to 2 islands in Hawaii – Maui and Kauai.
How many guests were invited in your wedding and what was the final guest count? Was it difficult to narrow down your guest list?
We invited 220 guests and we had about 185 attend the wedding. Denis and I both have large families and many friends so we had a large guest list to begin with. Every guest at our wedding was special to us and had a part in making the day as amazing as it was.
What songs did you use during the ceremony?
The bridesmaids walked down the isle to "Bridal Chorus" and I walked to "Canon in D"
What would you say, the overall story for this album?
This day was a celebration of us with our family and friends. It was a long and somewhat stressful planning process leading up to the wedding, but the album really tells the story of how it all came together…perfectly.
What inspired the wedding day outfits?
Denis suggested khaki suits for him and his groomsmen and I loved the idea of them looking a little bit more casual than the standard black suit or tuxedo. It worked really well with the season and the outdoor scenery. I chose two different style J.Crew dresses for the bridesmaids and I went with a navy-ish color. I love these dresses because they are casual, classy and will always be in style.
What was your favorite part of the day?
Aside from all the dancing with friends and family, Denis and I really enjoyed the moment after all the introductions, first dances and speeches when we could sit down at our own table and share how special this day was to us. We kept saying that we didn't feel overwhelmed or stressed and that this was better than we ever thought it would be.
What were the highlights from the ceremony & reception?
For me, the highlight of the ceremony was the fact that I held myself together and didn't cry like a baby! I get very emotional at weddings but at my own, I was relaxed and just so happy that the day had finally come. Highlights of the reception were the amazing food at cocktail hour, best band ever and all our family and friends dancing the night away.
Vendors
Photographer:  Off BEET Productions
Event Venue: Clarks Landing Yatch Club