Earthy, Vintage with a hint of glam! Today's featured styled shoot brought to us by Inspired Eye Photography is definitely an eye candy! Everything about this set is styled towards a rustic wedding inspiration that showcases vintage elements and a few modern integrations that makes this fancy dated design scheme a fresh exciting wedding theme innovation. After planning, these creative set of vendors began to search for the perfect venue and found the perfect garden. Something off the beaten Chicago wedding path with nooks and crannies that would provide plenty of opportunities to be creative. Blumen Gardens was just that place. Built in the 1829 and currently home to a husband and wife team that have renovated and reinvigorated the space over the last 25 years to support their retail garden and landscaping business and event venue. And so began our journey in the beautiful garden!
We're All About the Details!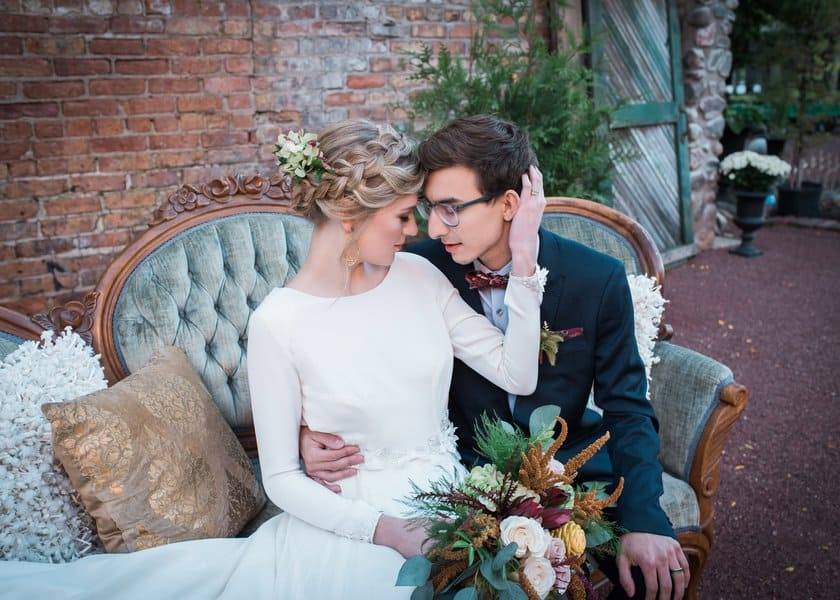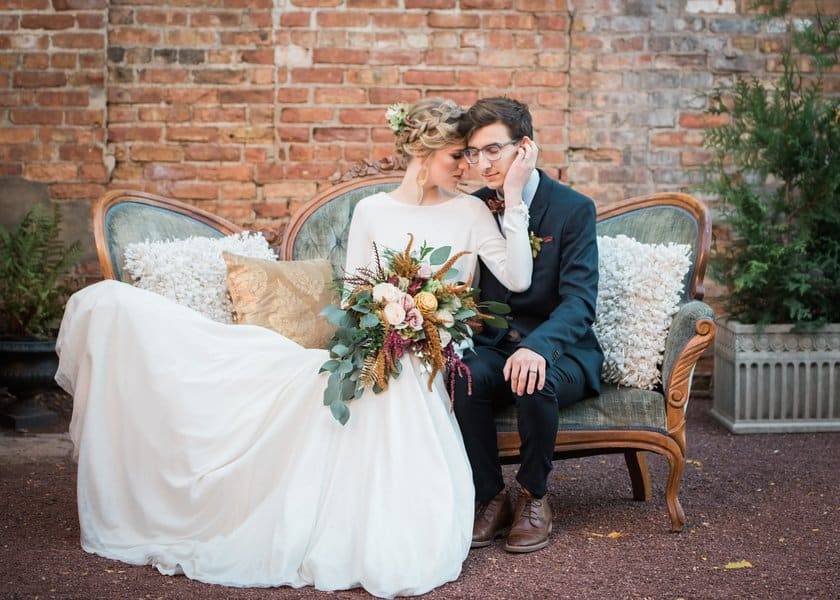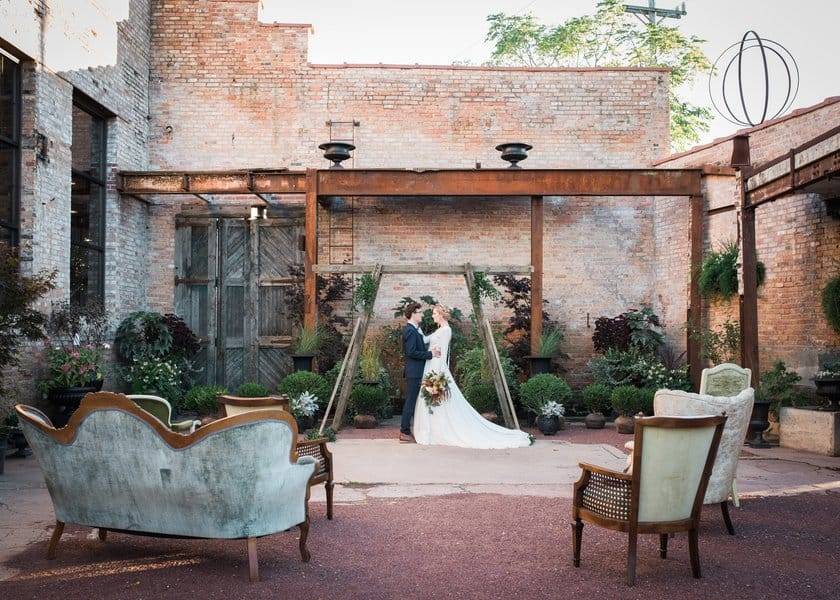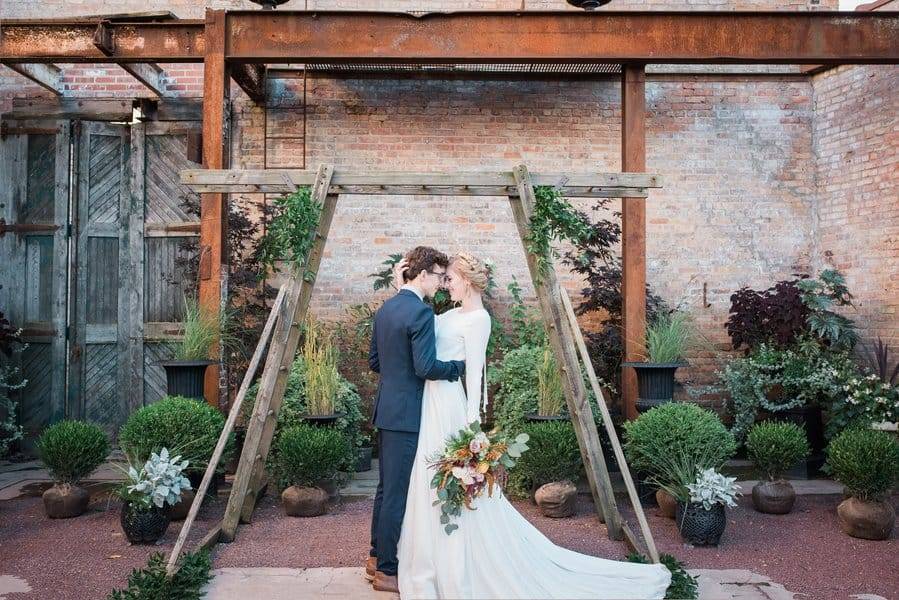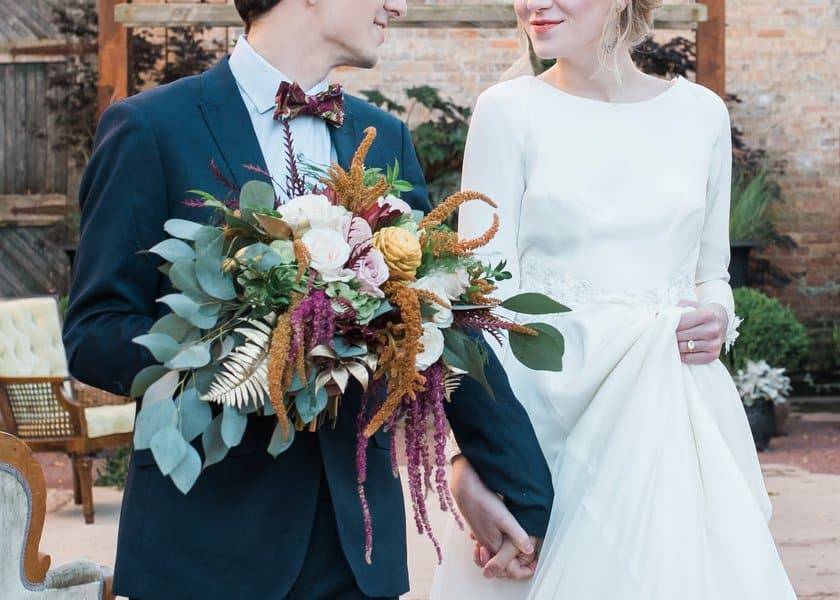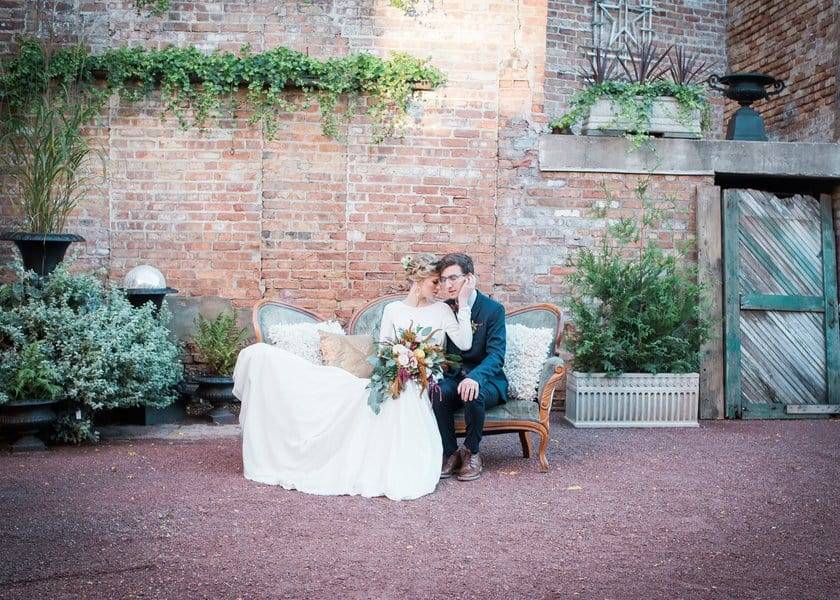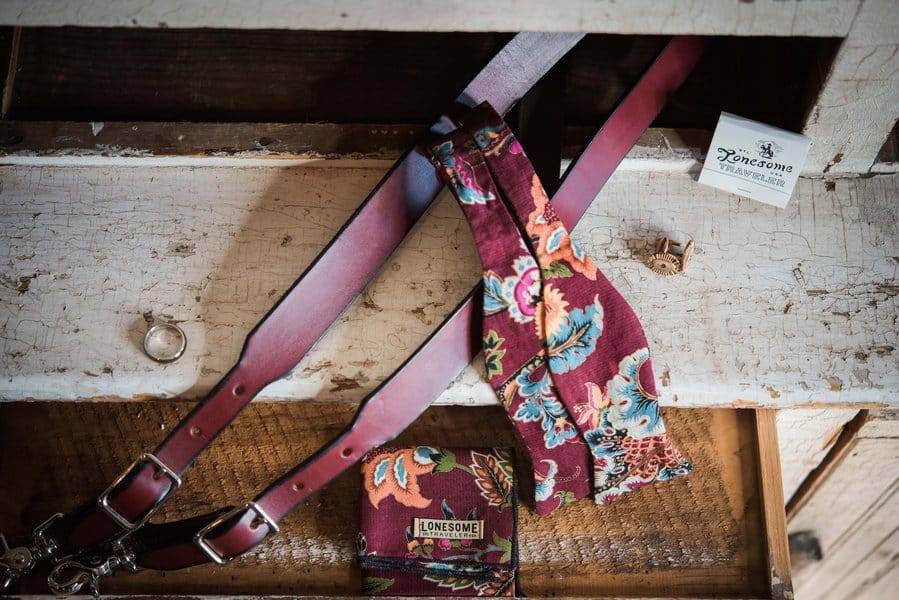 Now for the hint of glam…
Sticking with an incredible fall color palette of navy, gold, cream and burgundy, this creative team got to work on identifying details and designs that would inspire future couples. Their love for all things hand crafted, contrasting textures, warm colors and greenery stimulated their vision and ultimately lead them to all these talented vendors.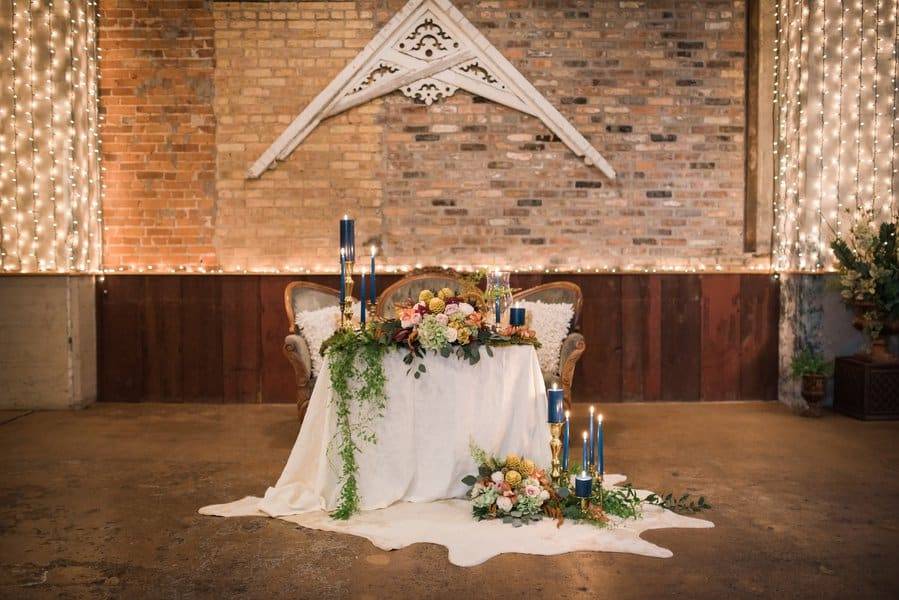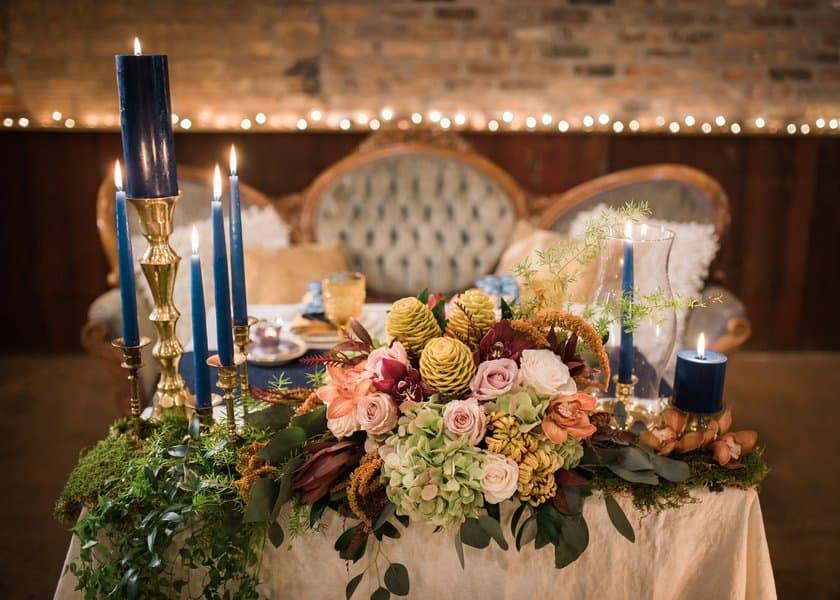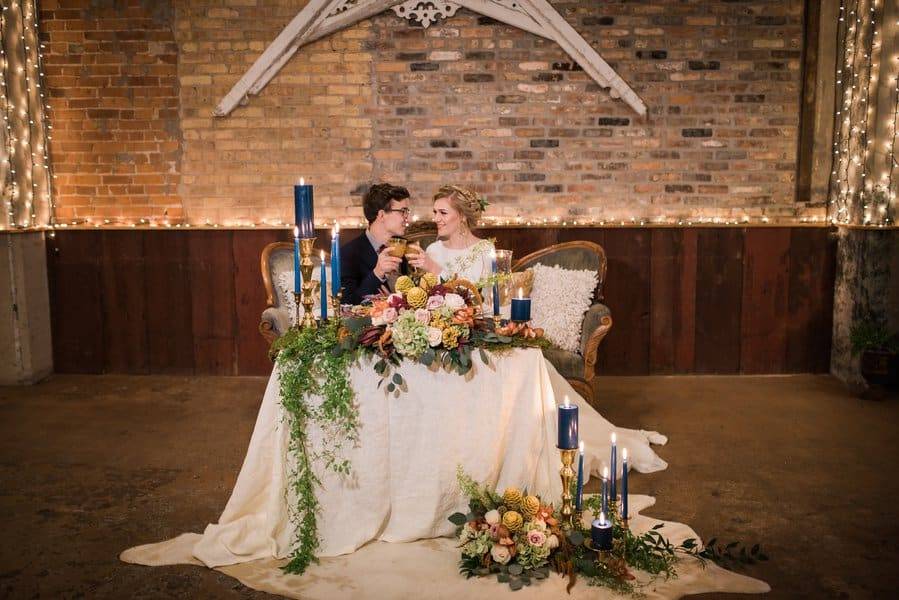 The bride is adorned in a uniquely designed open back gown with perfect floral details to fit a fall garden scene was complemented by a pop of coral lipstick, shimmering rose gold glow, a romantically braided up-do, hand designed shaved diamond earring and an estate ring with a green amethyst stone and gold to stretch what can be consider as a wedding ring. The details of the bride's look were to convey an earthy and effortless beauty by highlighting all her distinctive features.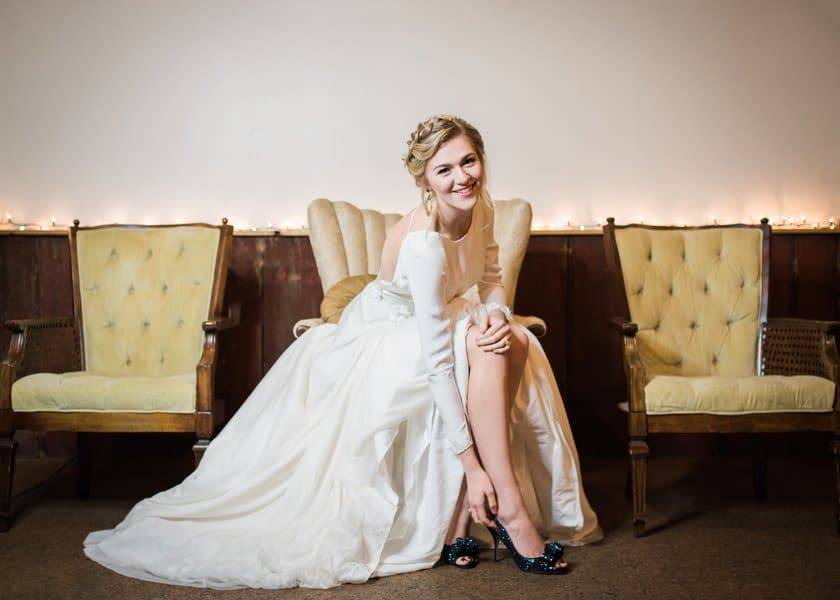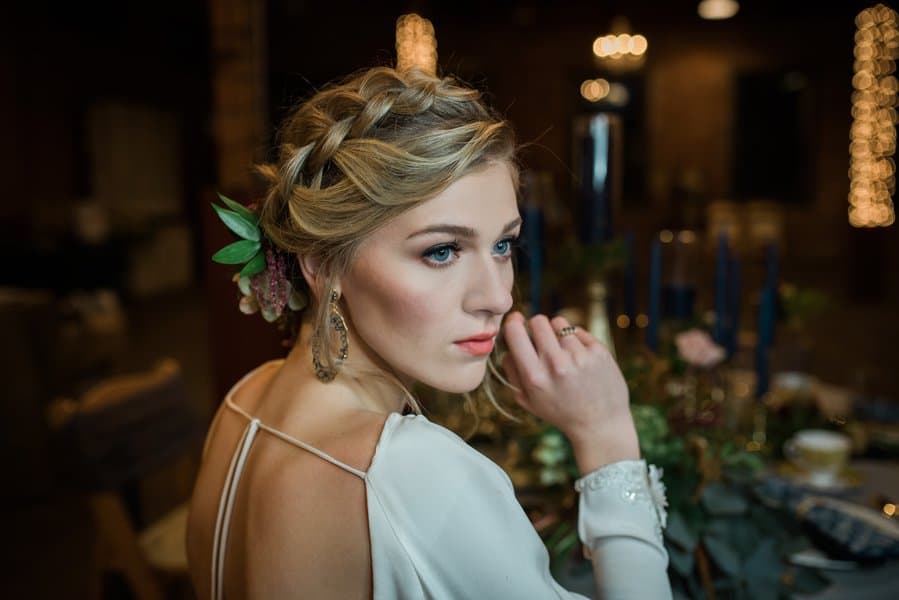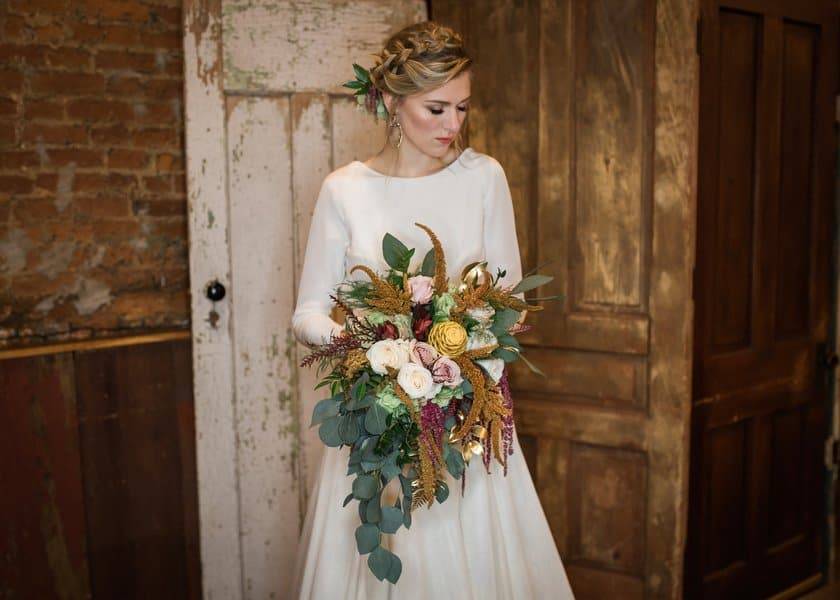 The groom is styled in a navy suit, handmade burgundy leather suspenders and a floral inspired bow tie and pocket square with a mood ring wedding band, was the perfect match for our bride.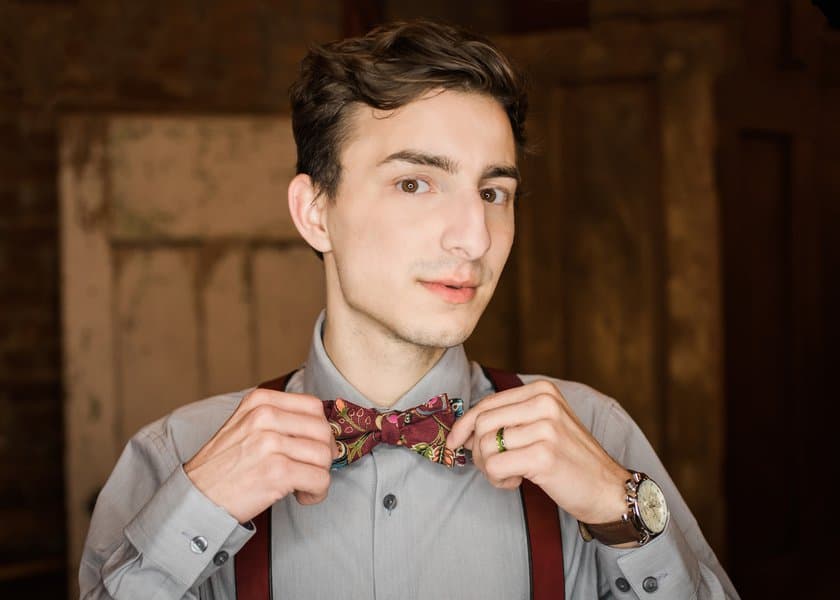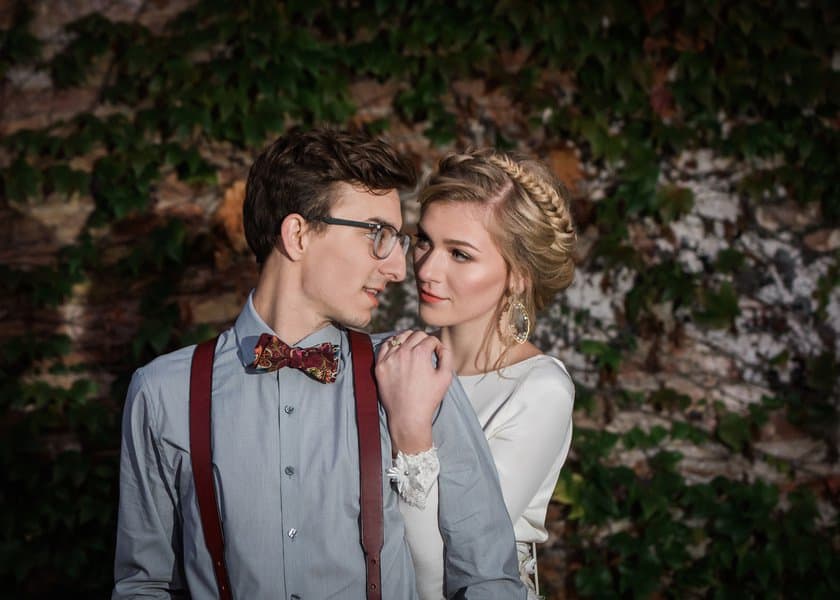 The earthy, vintage touches were threaded throughout the wardrobe, handmade water painted stationary, stunning table design and venue. The florals selected not only fully supported the fall color palette but also added meaning to the design. Ginger and orchids are a symbol of strength, love and beauty, while the amaranthus is considered a symbol of immortality as its Greek name means "unfading".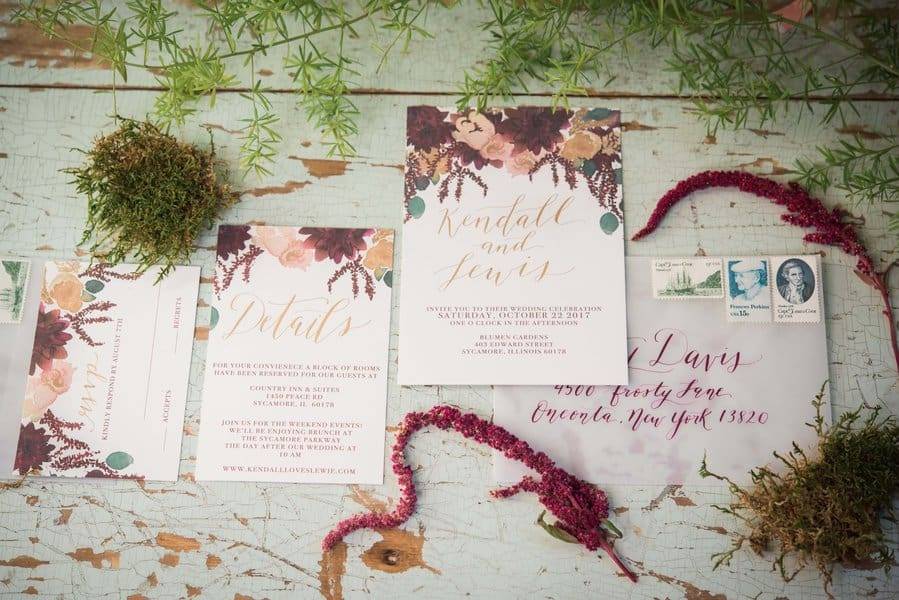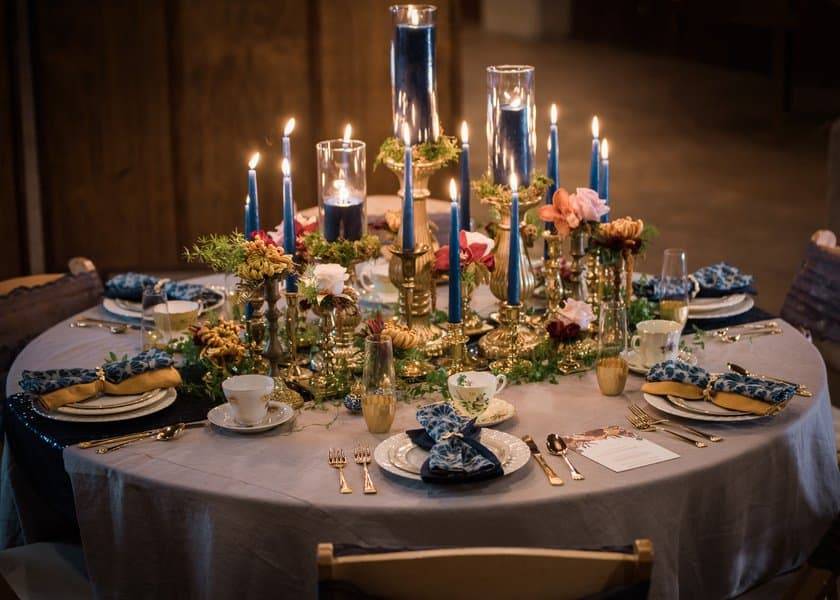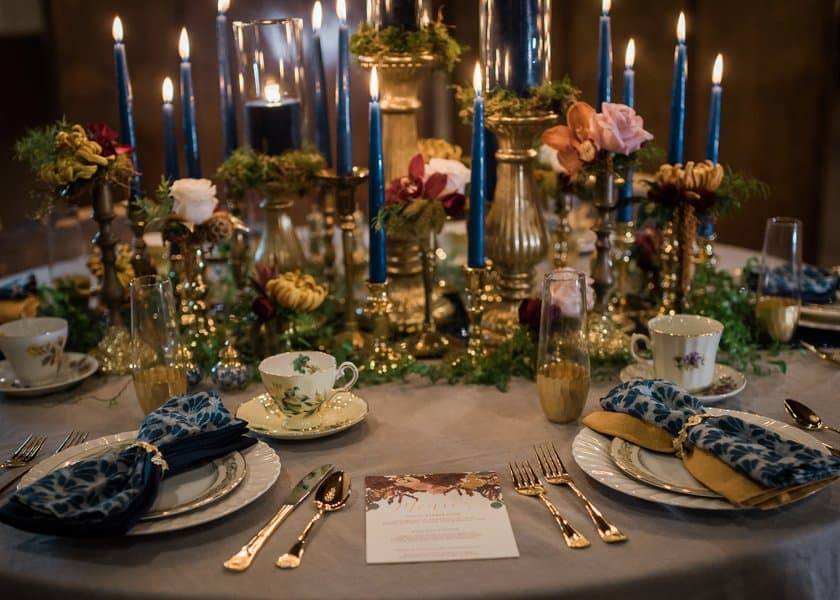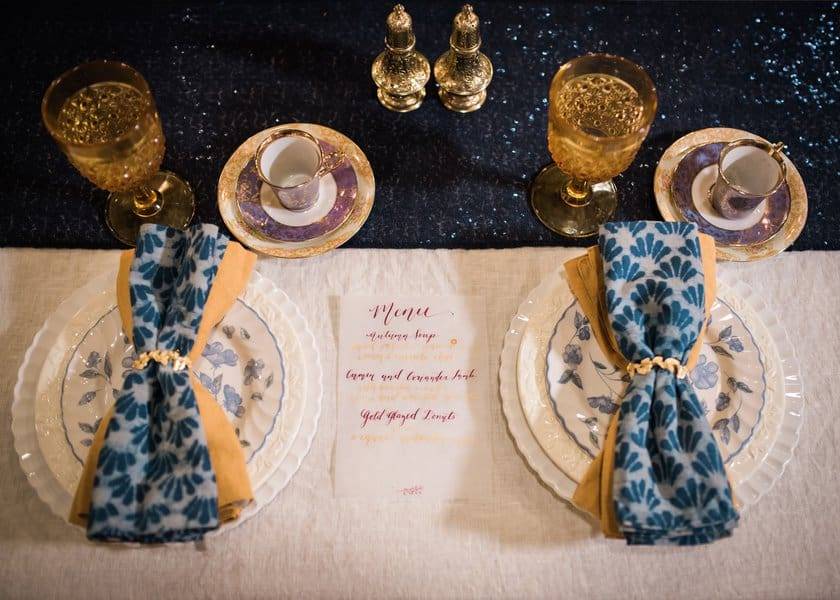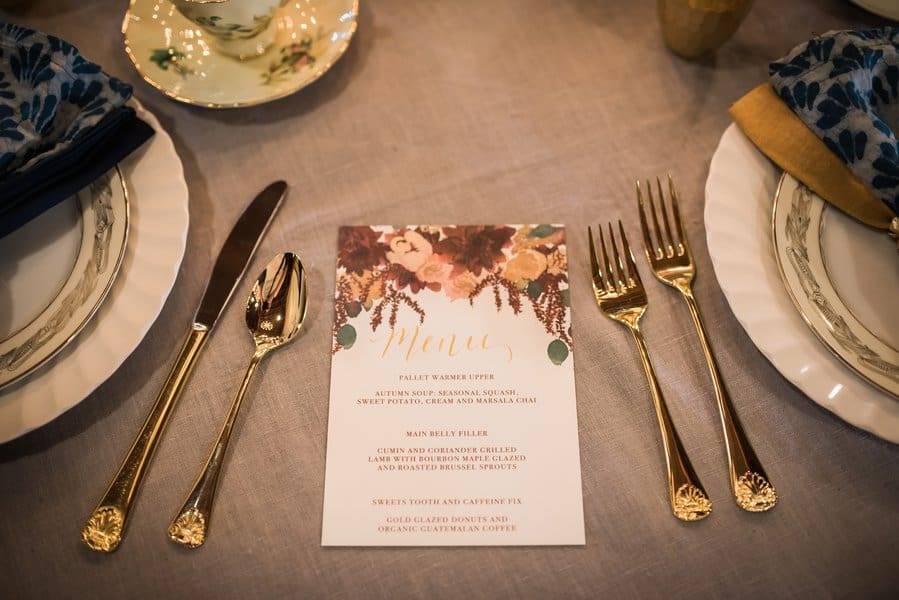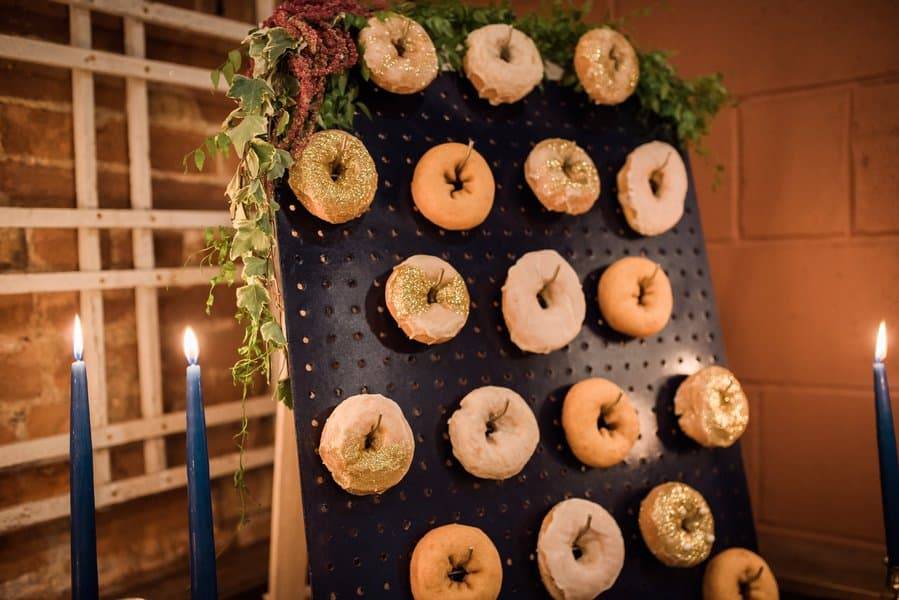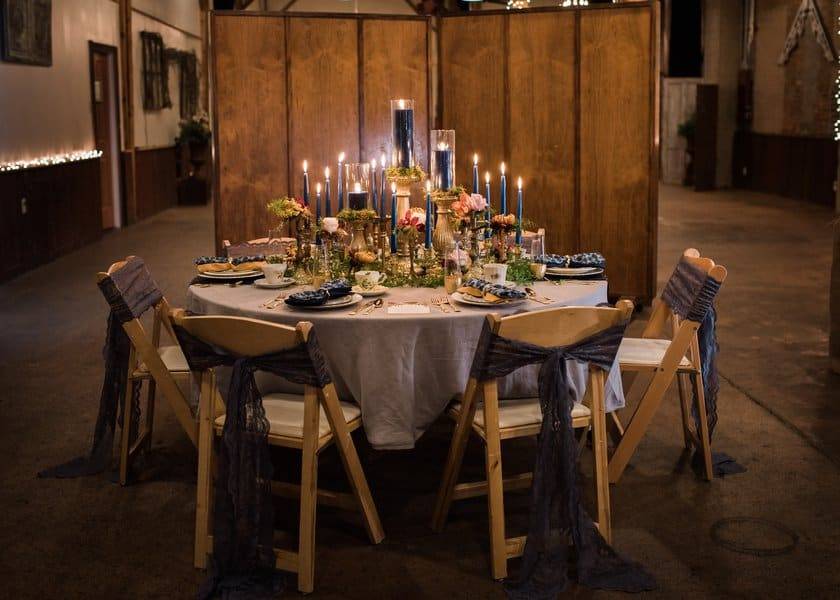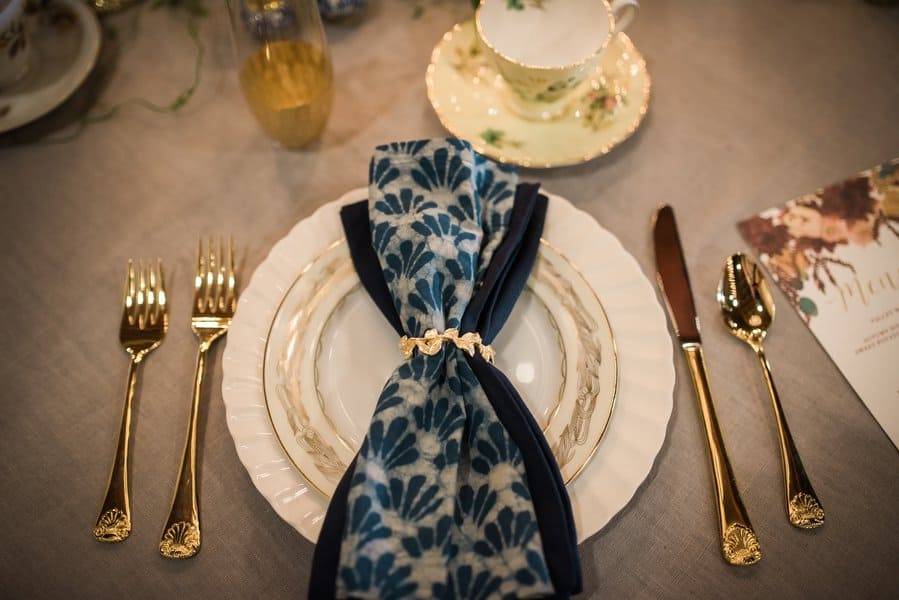 Take this Advice
Always meet with your vendors. I love connecting with clients and I think it is so important for couples to connect with their vendors on a personal level. They are going help take stress off you during the big day if they professional, thoughtful and experienced. Your photographer is extremely important, especially since you have to hang out with them the majority of the day! If you are feeling stuck on decor inspiration, lean on your florist. If you have picked a creative one, they can design something magical. Meet with them and talk through your ideas and budget. Breathe! Pick the things that are important to you and focus on those. No one will remember if you had or didn't have that Pinterest worthy party favor. If you love good food and music – get a kickass band and a great caterer. If you are having fun, so will your guests. ~Sarah DiPasquale/Photographer
About the Photographer
I am a perfectionist and a realist at the same time. I want to get things right without sacrificing the realness of the moment. I strive to provide a comfortable environment for my clients so they can almost forget the camera is around, allowing me to capture those magical moments that become wall worthy art. I am inspired by those candid, authentic and emotional interactions between people that portray the connection that couples have for each other. ​Inspired Eye Photography captures what inspires you. Your Life. Your Love. Your Family. Wedding Photography services for the Chicago-land area and beyond! Contact me via my website anytime!
Vendors
Photographer: Inspired Eye Photography
Model: Lewie Oehler
Model: Subalew
Tuxedo and Mens Attire: NoSlip Suspenders
Groomsman Attire: Lonesome Traveler
Etsy Designer: Market Linen
Equipment Rentals: Key To Your Heart
Invitation Designer: Paper Love Club
Jewelry: Stella Blue Designs
Apparel: Edith Elan
Floral Designer: Stemming From Love
Makeup Artist: Sophia Bella Bridal
Event Venue: Blumen Gardens