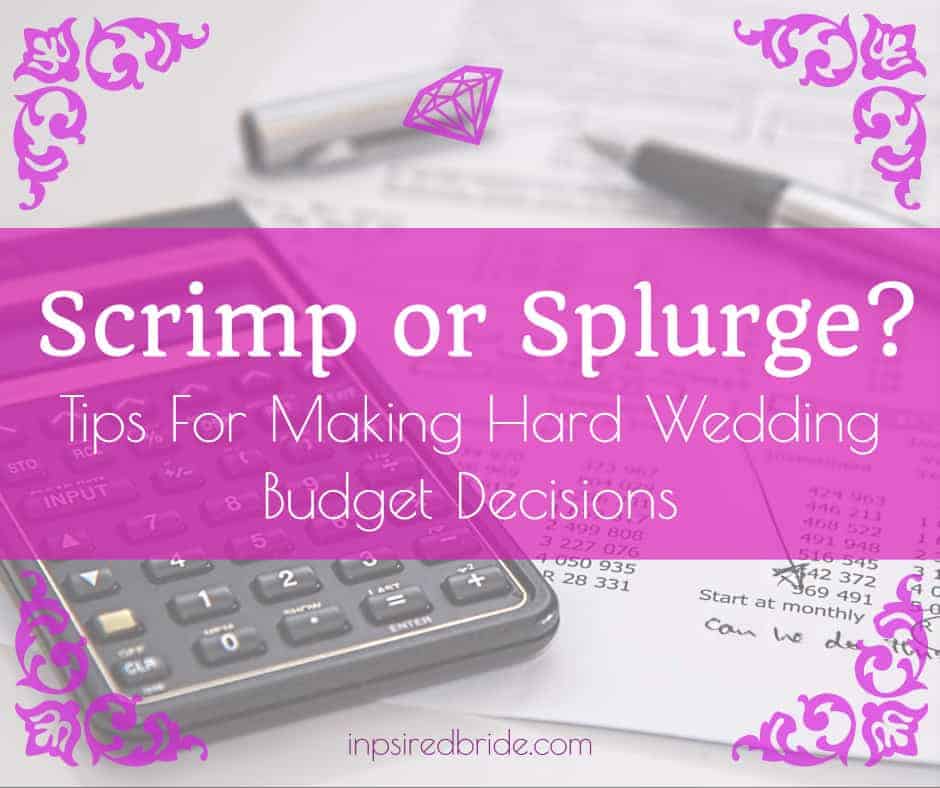 Budgets are very right-brained things. They are black and white, and they are based on numbers and facts. Once a budget is set, we feel like we have to stick to it no matter what, and when we start to go over-budget it feels like we are failing. The trouble with this is that weddings are very emotional events. How can you use a numbers based budget system when you are dealing with things like memories, time with family, love, and sentimental value? It becomes very tricky! Luckily, there are some tips that will help you easily fit all of those yummy emotional feelings in with your budgeting decisions.
Fifty Years Down The Road
When you are faced with a tough wedding decision, say to yourself, "fifty years down the road, how will I feel about going with the smaller, less expensive venue?" or "fifty years down the road… how will I feel about my designer dress?" Weddings are important events in your individual timeline, and should be treated with a big picture view. This will help you get clear on what has lasting importance and what is just a passing desire with no significant impact. Splurge on items that have lasting impact no matter what. Don't cut corners on something that you will regret later on.
Do A Gut Check
You don't have to separate your budget and your emotions! Feel emotional when you work on your budget decisions; don't try to separate the two. Emotions can guide you towards decisions that are true to you. Scrimp on items that are not truly resonating with you. So what if you think your grandmother will look down on your D.I.Y. floral arrangements? The day is about you, not anyone else's fleeting criticism.
Assign An Emotional Value On A Scale Of 1 to 10
Giving an item in your wedding an emotional value number is a helpful way to make emotions real and measurable. Everyone has different values. Some value friendship and family over beauty, while for others aesthetic beauty might top the charts. Splurge on the items that you really, truly value, not the things that you think you should value.
Giving an item an emotional value number also helps when it comes to discussing with your partner. You might say, "the hot air balloon ride is coming in at a 3 for me", while your husband, who values adventure, gives it a 7. This opens up great discussion! You should always give weight to your husbands' input. It is an outdated belief that weddings are all about the bride. Once you ask your guy's opinion, you have to work with it!
Making money decisions about love, experience, and sentimental value is tricky, but with the right approach you can do it.  Don't discount your emotions. A wedding day is all about feelings! It is impossible to try to make wedding decisions without taking a big picture view, checking in with your gut, and thinking about what you value. Once you do these things, decisions become much easier to manage!