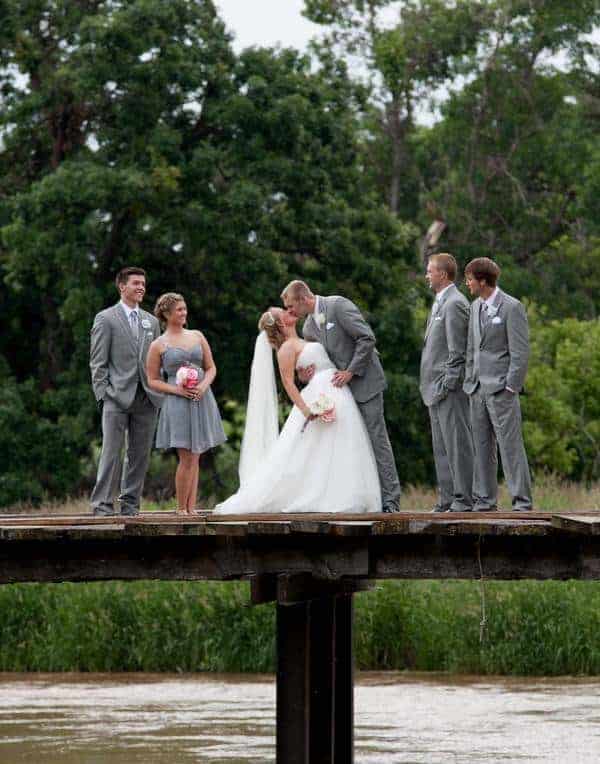 Mackenzi and Patrick proved that nothing could ever ruin their special day – not even an hour-long downpour of rain. It was the perfect intimate affair centered around family and friends. What made this day extra special was how each one helped to fulfill Mackenzi's dream of having a memorable wedding ceremony in a matter of 40 minutes after the rain stopped. That's a definite tearjerker right there and something that Mackenzi and Patrick will forever cherish. Cheers to a lifetime of love to this beautiful couple!
What is your story as a couple, how did you meet & fall in love?
Patrick and I met our junior year of high school when he transferred from a smaller school nearby to the highschool that I was attending. Being new and shy, Patrick was early to class and sitting alone. When I walked passed him, I noticed that he was staring at me so I decided to sit next to him and make small talk before class began. We hit it off right away and sat together for the remainder of the semester. One day after class, Patrick walked me up to my car and shyly asked me to be his girlfriend. Of course, I said yes. We have been inseparable ever since! Two years later, we both decided to go to the same college where he is now studying to be a Physical Education and Health Teacher and I am a Pre-Medical Student. Soon, Patrick bought a ring. However, because Iwas holding a Rodeo Queen title and running for the Miss Rodeo South Dakota title, I was unable to get engaged. Patrick patiently waited for my reign to end and was secretly very excited when I only received first-runner up in the Miss Rodeo South Dakota pageant. Two weeks later, Patrick proposed at Roughlock Falls with "Marry Me" written out in candles. Nearly five years after that first English class, Patrick and I are still learning about each other and falling farther in love.
What was the best advice you received when you were planning your wedding?
"You have to have rain to appreciate the sunshine." In our case, this was literal. It was beautiful all week but the day of the wedding it was a downpour. We took pictures during breaks in the rain and my panic set in about 30 minutes before our ceremony start time when it was coming down harder than it had all day. But, 10 minutes before the wedding the clouds split and I had the wedding of my dreams. That rain made me appreciate the sunshine so much more (and we got GREAT pictures because of it!). So, the point: rain or any other drama leading up to your day might not be so bad. Take a deep breath. After all, at the end of the day you still are married your best friend!

What makes the two of you a perfect match?
We are perfectly imperfect. We are both able to accept each other's flaws and differences and love the other even more for them. Though we are different, we are able to blend these differences into something that works. It takes a lot of give and take!
What inspired your wedding decor? Why did you choose the things that you did?
The wedding décor evolved so much throughout the planning process. I knew that I wanted glitter, glamour, and bling and I went from there. But, as soon as we picked the beautiful venue, I decided simpler was better. Besler's Cadillac Ranch was so rustic and pretty all on its own and I didn't want to lose its character with too much tulle, glitter, and bling. With that, we went for less over the top glamour and bling and more silver glitter and white lights to accent rather than cover the beauty that was already there. Additionally, I like to do DIY projects and I love cheesy sayings and signs so all of our décor evolved as I tried different projects and incorporated different signs into the plan. I also have wonderful family who showed up the day before to help decorate. I had a lot of decorations but struggled with the vision of how to place the them so it was great to have people with a vision to take the reigns and ease my stress in that area. The décor actually turned out much different (and better) than I had in my head!
Do you have advice for couples still in the planning process?
Take a step back from the craziness, slow down, and take a minute to enjoy every little bit of the wedding process. As important as those place settings and bows seem, you are the only one who will know if something isn't done (and honestly, there WILL be something that doesn't go perfectly or doesn't get done and that's ok! It makes a good story!). This is a day to celebrate you as a couple – enjoy it, take your time, and take it in – every second.
What were some challenges you faced planning your wedding & what would you have done differently to avoid them?
Choosing the wedding party was very difficult. I have several young girl cousins so fairly picking flower girls impossible. Just choose. Also, Patrick and I share many of the same friends so his guy friends far out number my female friends. I didn't want to ask random people to stand up with me so we chose to make the wedding party unique. I had a maid of honor and a man of honor while he had a best man and a groomsman. The rest of his guys were ushers. Ultimately, it is your choice who is in your wedding party. You don't have to ask everyone you know. It is you and your groom's day.
What was the wedding budget?
We did not have a set wedding budget but the goal was to keep the cost as low as possible. It IS possible to plan a beautiful wedding on a low budget but you have to be prepared to do the work yourself and have people who can help. It's all about what is important to you. I am not a big flower person so we picked wild flowers and wheat for some areas and had silk flowers for the bouquets. I was in love with the venue so we spent a bit more on that. I asked family who are experienced to help in as many areas as possible (cake, hair, food, décor, videography, etc.) to help lower the cost.
Was there any Do it Yourself (DIY) projects? If so, can you describe them in detail?
Nearly everything for our special day was DIY!
Guests were able to be refreshed with water bottles wrapped in a custom label at the ceremony.
Our programs were made in Microsoft Word and included our love story on the back.
The centerpieces for the table consisted of wine bottles spray painted silver complete with a twine bow and sparkly silver sticks.
The cake stand was made by my dad out of a tree cut by a chainsaw and stacked.
My mother made my cathedral length veil out of a light tulle and hair clip.
I made the bouquets and boutonnieres out silk flowers and added sentimental pieces to each of them.
Signs throughout the ceremony and reception venue were made out of old barn wood with sayings painted on
Mason Jars filled with candles, wild flowers, and wheat were placed on chunks of logs that lined the aisle.
A memorial to our late loved ones was made from an old wooden pallet with wire strung across the bottom to hold photos of these special people.
The cake topper was made from wooden letters that were covered in glitter and sealed with a top coat.
The buttercream mints were made in advance by my family and frozen until the wedding day.
Our guest book was created on Shutterfly out of pictures and stories about Patrick & I.
Not only did this add a very sentimental & personal touch to the wedding, but it also greatly reduced our budget without reducing the quality of the wedding (it was fun to get involved too!).
Where did you save the most money?
We saved the most money on the food. Rather than having a sit down dinner for all of our guests, we chose to have a cocktail reception with hors d'oeuvres, a Taco Bar, and dessert bar. The guests seemed to like the freedom of choosing when they wanted to eat. This also allowed the party to begin right away.
What was your favorite part of the day?
I'm not sure how to pick one favorite moment because it was the best day ever. However, one of my most touching moments was after soon the rain stopped. Our immediate family hurried out to take some extra pictures before the ceremony started but while taking pictures, the ushers hurried out and wiped off all of the ceremony chairs, family set up the decorations that were blown away by the wind, and people came out of the wood work to help make sure that in that 40 minute span of sunshine, I was able to have the ceremony that I have always dreamt of. It was so special to see everyone come together like that. You could feel the love in the air and that is the moment that it truly hit me that it was my wedding day. It gives me chills still today.
Can you share some tips or tricks that you learned along the way leading up to the wedding or after?
You will get opinions and advice from everyone you talk to leading up to the wedding. Some of these people will not like your ideas or your plans and many will think they are a wedding planning expert. Take the advice you like and smile as the rest goes in one ear and out the other. No one knows your perfect wedding better than you.
What inspired the wedding day outfits?
The tuxes and dresses were inspired by my love for all things that glitter. The Calvin Klein grey tuxedos from Men's Wearhouse were the perfect shade of grey to pop out of the lush green ceremony background. The Maid of Honor Dress added the touch of bling that I was hoping for but also was flowy to blow in the wind and good for dancing. The flower girl dresses were my favorite. I searched for a long time for the perfect sequin dress that would be fun for the girls to wear and wouldn't be blinding in the sun. In my searching, I found a sequin/tulle dress on Etsy. It was also flowy and the girls loved wearing it. When I walked into the fitting for my dress, I had a fit and flare lace dress in mind to fit the rustic feel of the venue. I found one that was perfect for this but my mom nor I cried when I put it on. I am a crier, as is my mom, so this made me question whether it was really right. My mom decided I needed to try a simple ball gown without any beading, bling, or lace. Despite my hesitation, as soon as I stepped out of the fitting room, the tears started. It was exactly what I thought I didn't want but it turned out to be the perfect dress for my day. I added some sparkle to the dress with a silver belt with rhinestones, a sparkly headband, and simple earrings, necklace, and bracelet.
Where did you go on your honeymoon?
We went to Cancun for 9 days. We didn't leave until 1 week after our wedding. This was very nice because we had time to open gifts and relax the days following the wedding and didn't have to worry about packing until the wedding was completed. During our stay, we spent a lot of time relaxing on the beach, visited the Mayan ruins, sailed a catamaran to Isla de Mujeres, and went to Xplor where we zip-lined and explored caves. It was a beautiful honeymoon destination filled with the perfect balance of adventure and relaxation.
What are you most excited about for the future?
Everything!!! It's all new and exciting because we are doing it together.
What were the highlights from the ceremony & reception?
We were very blessed to have a ceremony that was very centered around family. The ceremony music, officiate, and most of the wedding party was all family. Patrick and I both agreed that our favorite part of the ceremony was receiving the support and blessings of our family and friends in our marriage. For me, another highlight was riding up to the aisle on my beautiful palomino horse, "Buddie", something I have dreamed of for many years. The highlight of the reception was dancing into the wee hours of the morning. Because our venue included a large camping area that was also rented to us for the entire night, our guests had the option to bring a tent or camper to the wedding which allowed guests to celebrate with us without worrying about getting back home. You could truly feel the love in the "party barn" as we danced the night away.
How many guests were invited in your wedding and what was the final guest count?
We invited 410 guests, received 250 positive RSVPs, and had about 300 guests attend.
Was it difficult to narrow down your guest list?
I have a very large extended family so we had a lot of people that it was important to both of us be invited. Our first draft list was very long. However, after a lot of discussing with each other we finally were able to widdle the list down to those who we agreed were most important to invite. However, this was probably the most difficult and tension filled part of planning the wedding.
Was there a theme for the ceremony and reception?
The "theme" for our day was glitter. I love all things that sparkle so all of our decisions were based on that. However, I didn't want to go too overboard so we chose the main color to be silver with a light pink accent. When it all came together, the ceremony and reception could be best described as a rustic elegance.
What songs did you use during the ceremony?
Processional: There's No Feeling Like This (Roy Todd)
Brides Entrance: Radiant as a Bride (Roy Todd)
Interlude: Marry Me (Train), All of Me (John Legend), I Do (Jessie James Decker)
Recessional: Ever Ever After (Carrie Underwood)
Crazy Little Thing Called Love instrumental
What would you say, the overall story for this album?
When rodeo queens marry their high school sweetheart you know it's going to be a special day. Despite the hour long rain delay, it turned out to be the best day ever as the sun "glittered" through the clouds to light the ceremony.
Vendors:
Photographer:  Cadey Reisner Weddings
Event Venue: Besler's Cadillac Ranch
DJ: Complete Music