Here on InspiredBride we especially commend brides that are into DIY, and Taylor is certainly one of those brides. Taylor and Jordan's wedding was a DIY treasure — the rustic vintage theme and the neutral and lavender motif went well with all the decors she did. Don't worry brides-to-be because Taylor gave us the specifics on all of the DIYs. What a lovely wedding Jordan and Taylor, Congratulations!
Click image to enlarge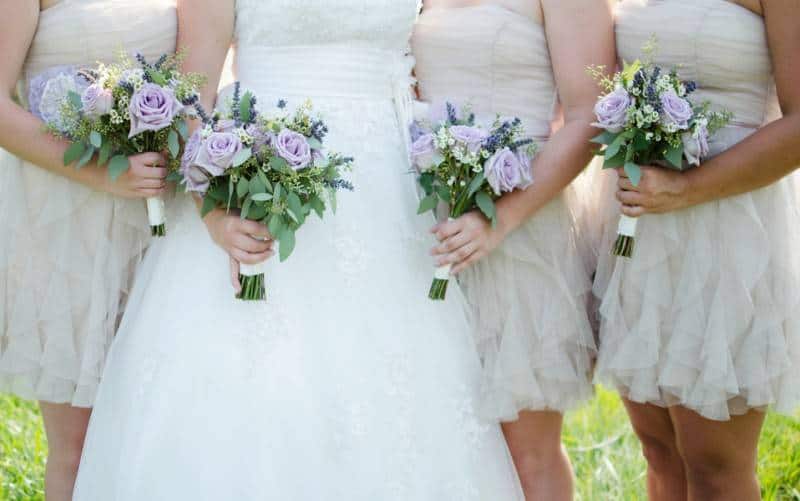 7

Like. Click to Vote
>
Our Story:
Jordan and I met at a bonfire. It was a friends birthday, and I didn't want to bother going out. My other friend wanted me to go with her, and so I ended up getting convinced. We ended up meeting up with a big group and driving out together up Postil Lake road. We spent the evening as complete strangers brought together by mutual friends. After that evening, our friends encouraged us to get together. We spent the summer getting to know each other with lots of late night walks, ice cream, trips to the bird sanctuary, drive in movies and mini golf.
We Are A Perfect Match:
We can be ourselves with each other. We love one another unconditionally and are supportive.
The Proposal:
I don't like surprises. I had an idea that he would be proposing as he had asked about rings, and there was a discussion on marriage. I was always fishing about wondering what day he would do it, or if he had the ring. I had anticipated him to ask me on a particular date but started wondering if he may do it earlier. The day he picked was a beautiful day (August 10), and it celebrated the anniversary of our first date. He told me to pack a bag for later in the evening with beautiful clothes and not to ask too many questions. During the day, we went mini golfing which was our first real date, and I wore the same outfit as the year prior.
We then got changed and headed downtown, where he took me to a nice restaurant. He told me to pick whatever I wanted off the menu. Naturally, I decided to get an odd meal, a twice baked potato and french onion soup. We then went to Moolix, an ice cream parlour that we both like. We shared a sundae and walked the boardwalk to the bird sanctuary so that we could feed the ducks. Now, Jordan had been carrying around this backpack all day with a change of clothes, so I grew more and more suspicious as he was looking pretty nervous. He got down on one knee, and he asked me to marry him at the sanctuary. The rest is history. He asked my dad, my stepdad and my mom for permission!
The Outfit Inspiration:
I wanted a full wedding dress, ideally with lace. I wanted it to be feminine and fit into the vintage theme. I picked out my dress much earlier than most so that I could go shopping with my maid of honour before she went to New Zealand for a year on an exchange. The dress was being discontinued, and I decided on this dress in particular because my dad liked it. Jordan wanted a grey suit, and I think it fit in well with the look we were going for. He had it altered so that it was a more fitted style that he would be able to wear again if he wanted. It would also be a lot cooler than a black suit, as our wedding day was one of the hottest all summer. We have lavender incorporated into almost all of the outfits and in the overall theme of the wedding because it was one of my great grandmothers favourite flowers.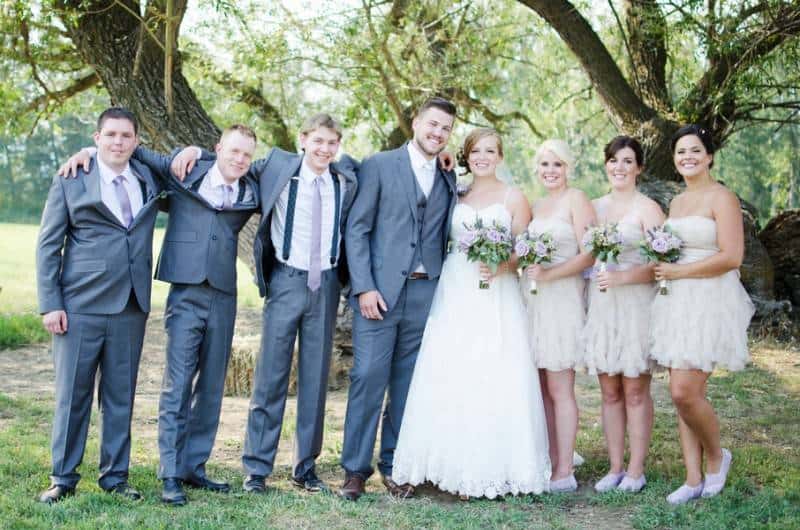 The Wedding Décor Inspiration:
I like the vintage look. My parents property is where we chose to have the reception. We also had the ceremony at a local farm. So naturally it was a bit more rustic. I wouldn't say that I wanted a fancy wedding, but I wanted it to be unique and memorable. It was important for our wedding to reflect what Jordan and myself enjoyed.
The Do-It-Yourself (DIY) Projects:
We had a lot of DIY.
Our favours– They were vintage teacups that I collected over the course of a year. Over 150 teacups from local thrift stores and one woman that was kind enough to give me about 50 of them. I put hen and chick succulents in them that I was given from another woman. This woman happened to be behind me in the lineup at the gardening centre, and she told me not to buy any plants but to come to her house and raid her garden. These were a labor of love, and my mother and a best friend and bridesmaid Shannon helped me put them all together.
Photo Booth– We wanted to have a photo booth but didn't want it to be too serious. I bought a bunch of decorations following Halloween and used a bench that my grandfather has created as a seat. We bought ourselves a new camera and set it up on a tripod for guests to take pictures for us. We had strings of paper hearts that my aunt cut out for us attached to the fishing wire for the background against a white upright stand.
Barn– My parents built a barn structure, it was impossible to find one locally so my stepdad said to me "We will just build one then" This was a labor of love. Once it was up, I bought out all the string lights at the local target and my step dad and dad strung them all up around the yard. I wanted a dance floor, and so my stepdad and his close friend used plywood and we painted it to get a proper floor.
Candy bar– We wanted a candy bar for our guests to munch on throughout the evening. I purchased various sized containers to put candy in, and about a week before the wedding I went to the local bulk store to stock up on our favourite sweets. We purchased small brown bags from a local market and using a stamp from Micheals stamped an "M" for Miller on the bags. Doilies and Wooden
Rounds – Every centrepiece had these two pieces. Again, I collected over 100 doilies from local thrift stores, my mother and grandmother helped this effort. My father in law surprised me with wooden rounds; the wedding was quite close, and I thought that idea would not be possible. But he showed up with his wood planer and made it happen!
Centrepiece vases – My grandmother offered all her large mason jars for this project. Her hand wrapped rattan around all of them. My mother's friend offered all of the centrepiece flowers from her garden. My bridesmaids and mother helped put together all of the flowers. My mom also spends the spring and summer making the gardens beautiful for the wedding.
Photo tree – My poor parents. They wanted to remove this tree for the wedding to make more space in the yard. I insisted that they keep it for a project. One of my many projects. I printed off a bunch of pictures of myself and Jordan throughout our relationship and had my maid of honour attached them to a fishing wire with laundry clips and hang them at various lengths on tree branches.
Head table back-drop – I can take no credit for the LOVE letters, they were rented from a friend through Jordans work. They were put together especially for their wedding, and they were kind enough to let us use them for ours.
Seating Chart – I printed off all our guests names and attached them to my moms old chicken coop door to use as a seating chart. My sister in law attached all of them with handmade burlap hearts and wooden laundry clips.
Cupcake stands – I created the cupcake stands at various heights with thrift china plates and candle holders. These were glued and prepared by my bridesmaids and myself!
Just Married sign/Heart signs – This was a last minute project. I wanted my dad to save this old piece of wood for the wedding, and I ran out of time to finish it. My aunt surprised me, and she painted our sign. The heart signs were loaned to us by a family friend and repainted.
Save the Date/Invitations – The wedding invitations were designed by a wonderful woman named Heather that operates out of a store called Remember November on Etsy. I asked for specific designs (The lavender and the map) and then had them printed locally at rapid printing.
Bridesmaid Flower Sashes – My maid of honour and myself created these. We took inspiration online and went to purchase scrap material and accessories from the local fabric store. We spent hours and went through lots of wine to make these. Burning ourselves with the hot glue gun more than I would like to think about.
Aisle decorations – My mother in law and all the groomsmen were in charge of setting up the ceremony location in the morning before the wedding! They put together the flowers for there as well as the seating chart I preprepared with chalkboard paint.
The Planning Process:
We had a long engagement while I was finishing up my Bachelors Degree. The plan was to work for a year after finishing school and then get married. I ended up getting accepted into graduate school, and we still got married at the same time we planned (two years from the proposal date). I appreciated the longer engagement; we were able to book all the vendors we wanted and did not have to compromise.
The Best Advice We Received:
When thinking about invitations we had to be realistic. We both have huge families and a lot of friends to consider. I was not interested in having a huge wedding, and so we had to be more precise on our list. I can't remember who mentioned it to me, but the question they said to ask yourself when considering a guest was something along the lines of "Would you take this person out for a $100 meal right now?" Because whether or not this person is 5 or 50 years old, with your food, rentals, decor that is how much their seat at your wedding would cost you.
Planning Advice For Couples:
Breathe. It all comes together one way or another, even when you think it won't!
Tips & Tricks For Future Brides:
Ask for help, don't try to do it all on your own. I did this, and it became quite overwhelming because I had so much DIY. Sometimes having more hands on board just creates something more beautiful than what you expect.
Money Matters:
We saved money with the DIY projects. We had a lot of people interested in helping. I also love thrift shopping, and a lot of the neat little decor pieces were thrift.
Catering was the most significant cost, that and the barn structure that my parents built for the wedding. But honestly, all the little things add up at the end of the day.
The Guest List:
We invited approximately 150 people. We had about 130 people at our wedding.
The Song:
My uncle played his guitar, and he wrote a song for us. This was one of the most special parts of the ceremony.
Our Honeymoon:
Jordans busy season at work is during the summer, so we were unable to get a lot of time off. We rented a cabin at a nearby lake so that we would still be able to come back into town and see ours out of town guests. We plan to go on a bigger trip following my graduation.
Favorite Part of The Day:
I enjoyed looking at all our guests from the head table. There was a lot of love put into our wedding. I also liked the little moments that Jordan and I were able to have with one another as MR and MRS.
Most Memorable Moment:
Our vows were memorable, as I cried the entire time. We wrote our own, so they were more heartfelt. It was also unique that I had both my dads walk me down the aisle.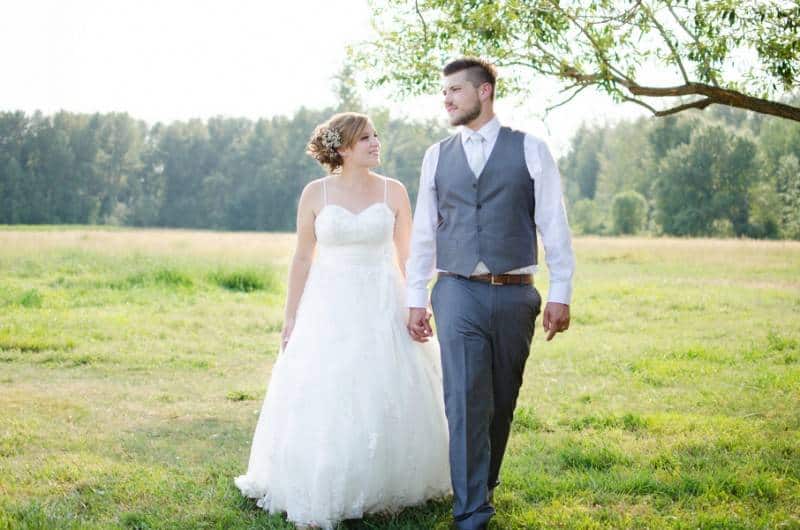 VENDORS
Photographer: Diane Blank Photography