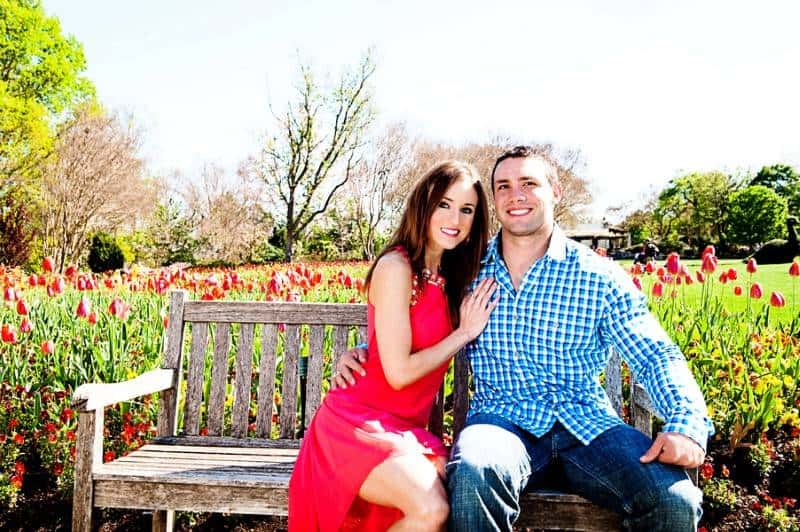 Lauren was introduced to Patrick by a common friend who knew exactly what they were both looking for in a relationship. Both were taking their Ph.D's so they basically needed someone who completely understood their life's goals. Who knew it was going to be love at first sight — for both parties! Lauren was somewhat skeptical at first if she wanted to date Patrick at that time. But she couldn't really resist his sweetness & endless efforts of getting to know her. Until one day, she texted him, asking him if he could possibly fix her broken iPhone. And of course, being the genius electrical engineer that he was, he agreed. So she came to his house that night & noticed that Patrick was super nervous. It actually took him a good 5 hours to fix Lauren's phone. But later on admitted that it should have only taken 30 minutes. You know, there are just those little crazy things you do for love. And for Patrick, it was getting her to stay a little longer than she should. And look at them now, planning their wedding to be together for the rest of their lives. Destiny certainly works in magical ways. Congratulations Lauren & Patrick!
What is your story as a couple, how did you meet & fall in love?
We met in September of 2012. His friend told him that I was a Ph.D student, and it was love at first sight for both of us :). He is also working on his Ph.D and we had both told our friends how important it was for us to meet someone who understood the process we were going through. At the time, I wasn't sure if I wanted to date, but he was so sweet and continued to make every effort to get to know me. One day, I texted him and asked if he could fix my iPhone (he is an electrical engineer) and he agreed. I went over to his house that night to let him fix my phone and I could tell he was super nervous. It took him about 5 hours to fix my phone which he later admitted, should have only taken 30 minutes.
What makes the two of you a perfect match?
We are both logical and we understand the importance of working to achieve our goals.
What was the best advice you received when you were planning your wedding?
Plan ahead, be creative, and do not let others influence your wedding choices.
What inspired your wedding decor? Why did you choose the things that you did?
I love Kate Spade and bright colors! I really wanted a spring wedding which necessitates bright and fun colors! Everyone close to me knows how much I love to wear coral and mint (together or separate) so these colors were a perfect palette for our wedding! I chose an outdoor reception by the lake because I love nature and being outside. My personality is outgoing and vivacious and I wanted our wedding to reflect that!
Do you have advice for couples still in the planning process?
Have fun and share the tasks! Patrick has been so wonderful and fun to plan a wedding with. He loves doing the registry and fine-tuning certain details of our wedding in order to make sure things run smoothly. I loved choosing the fun aspects of our wedding and he has enjoyed working on the logistics. I could not have asked for a better partner.
What were some challenges you faced planning your wedding & what would you have done differently to avoid them?
There is no way to avoid this, but it has been difficult coordinating with the band, photographer, bakery, caterers, etc because I am in Lubbock and everyone else is in Dallas! Everyone has been super understanding and has made this process easy for me. I am lucky!
What was the wedding budget?
$45,000.
Vendors
Photographer:  Shawna Hinkel Photography
Reception Venue: Dallas Arboretum