With its impressive visuals, inspiring narrative, and remarkable music, La La Land easily earned its place as the very best film of last year. A lovely movie full of dreams, romantic fantasy, and energy, the scenes left me clapping with joy. But if you haven't already fallen for this cheerful romp through the city of Angels at this point, take a peek at this La La Land inspired shoot by The Right Moments Photography. The set is just gorgeous, like a flip-book made of dreamy vintage elements! What are you waiting for? Dance your way to romance now!
A Toasty Splash of Colors
The team used a colorful palette: red, blue, green, purple and yellow etc. It is evident in the flower arrangements as well as the stationery set and the cake.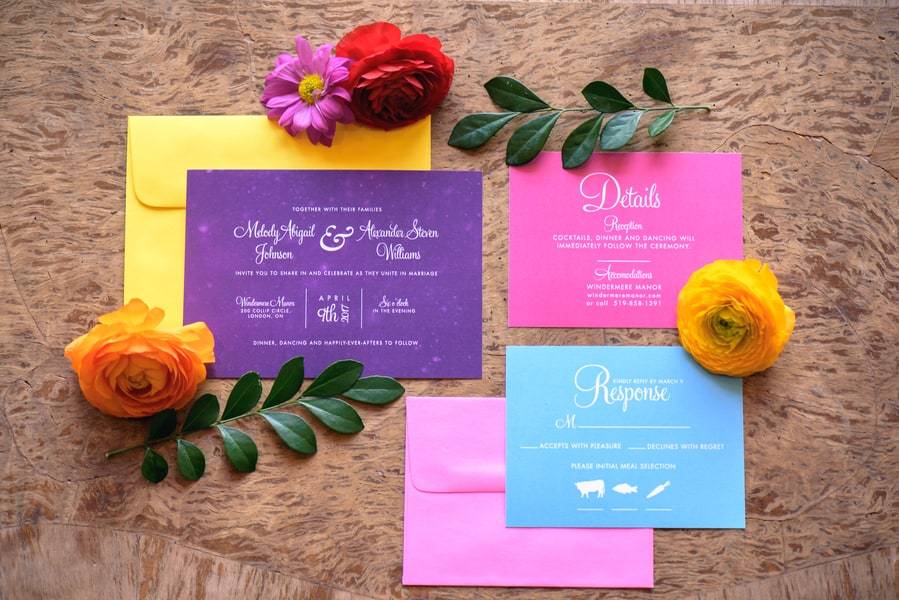 In addition, they wanted to combine "night" and "day" time colors such as dark blue and purple with bright and pop colors like yellow and orange.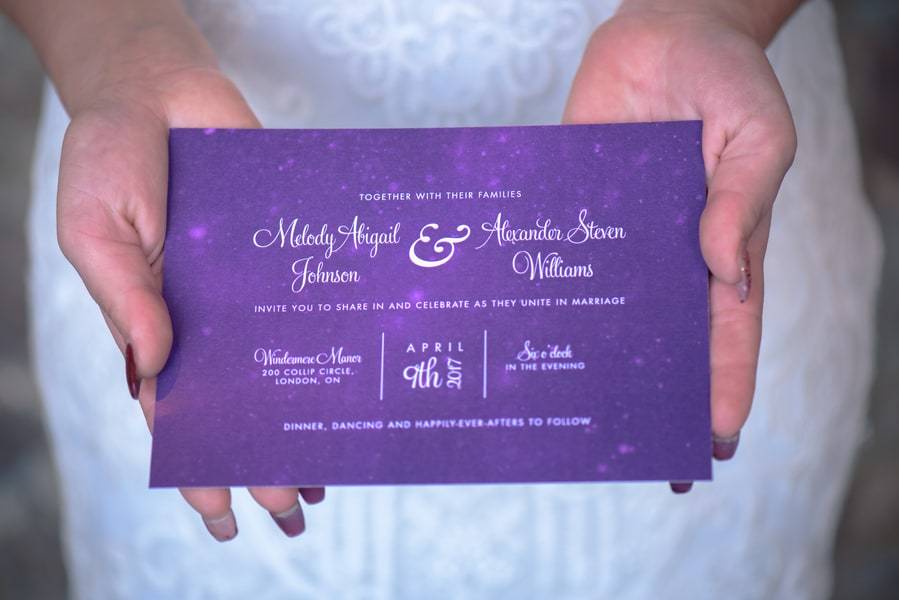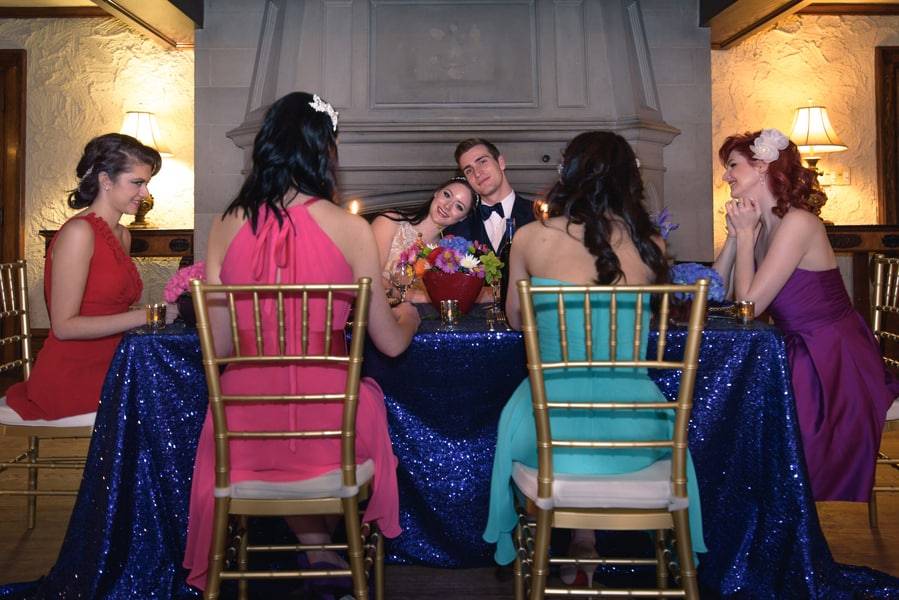 The Dinner Table
Find the dark blue sparkly linen, purple napkin, decorated by colorful arrangements. The cake itself has ombre colors that matches the palette.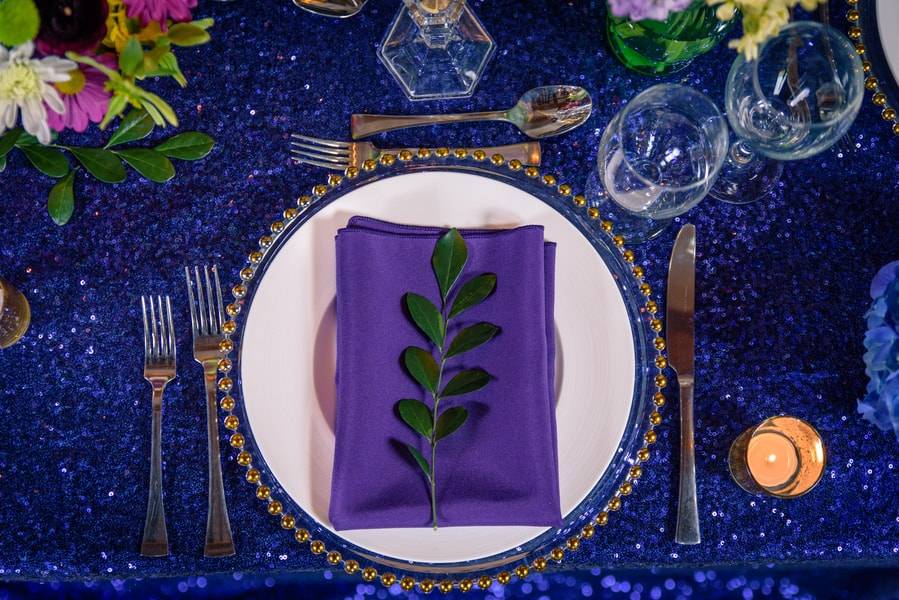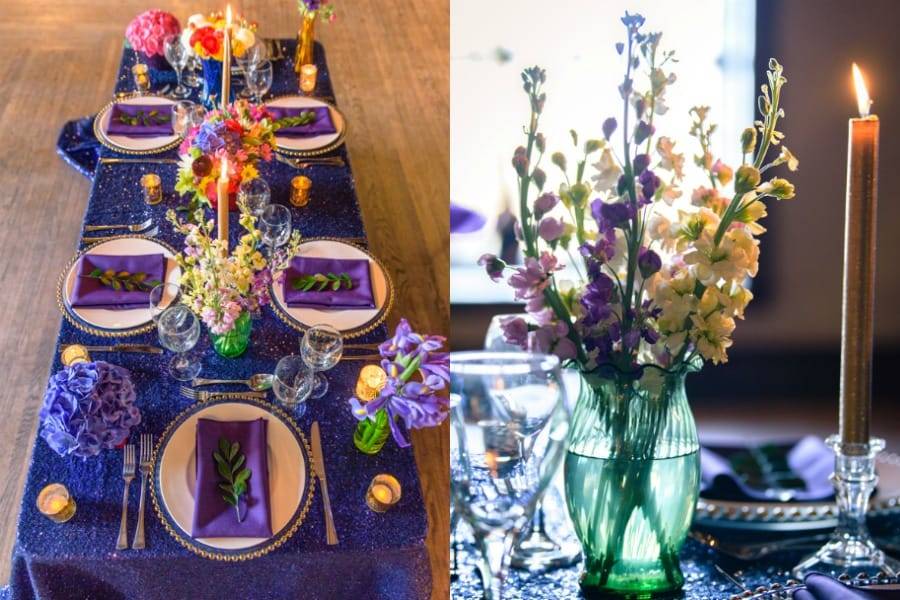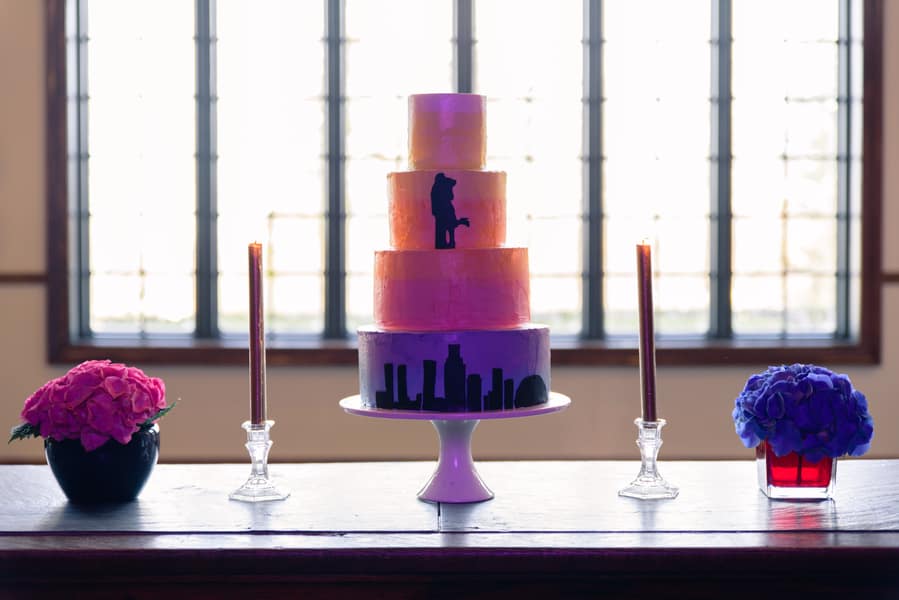 The Outfits
Since the bridesmaid dresses are colorful, their bouquets have less colors, primarily yellow and white. The bridal bouquet on the other hand is more colorful.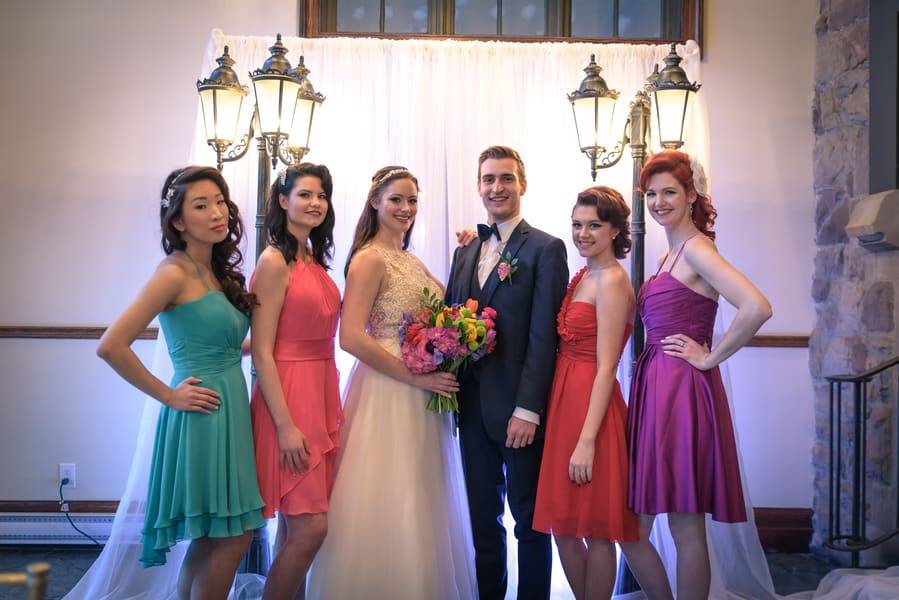 The Ceremony
Lamp posts as props with purple lighting were used for the ceremony.  What's more, as La La Land is different than the usual fairy-tale happy-ending movie,they purposely used a group of models instead of just a couple for this shoot. It showed that everyone can have their own unique stories.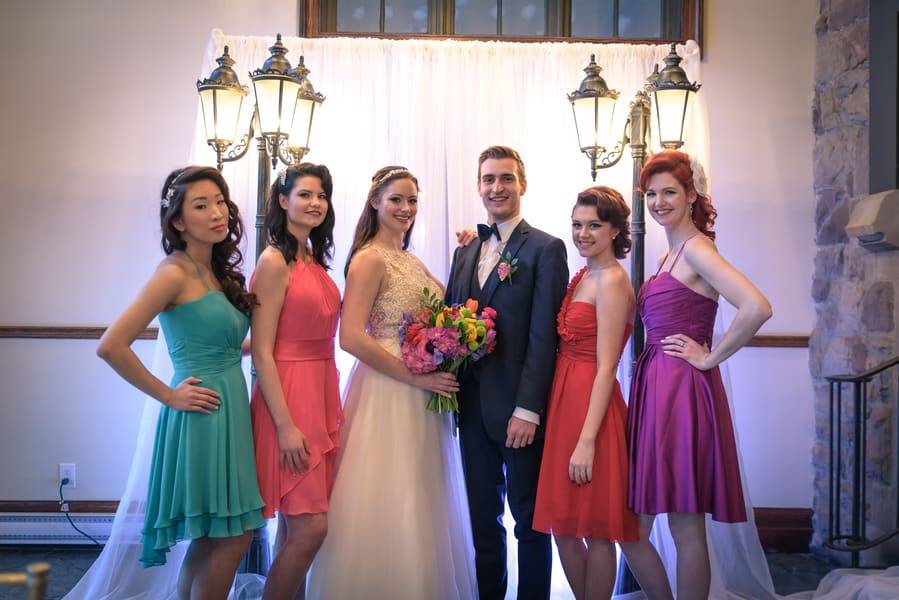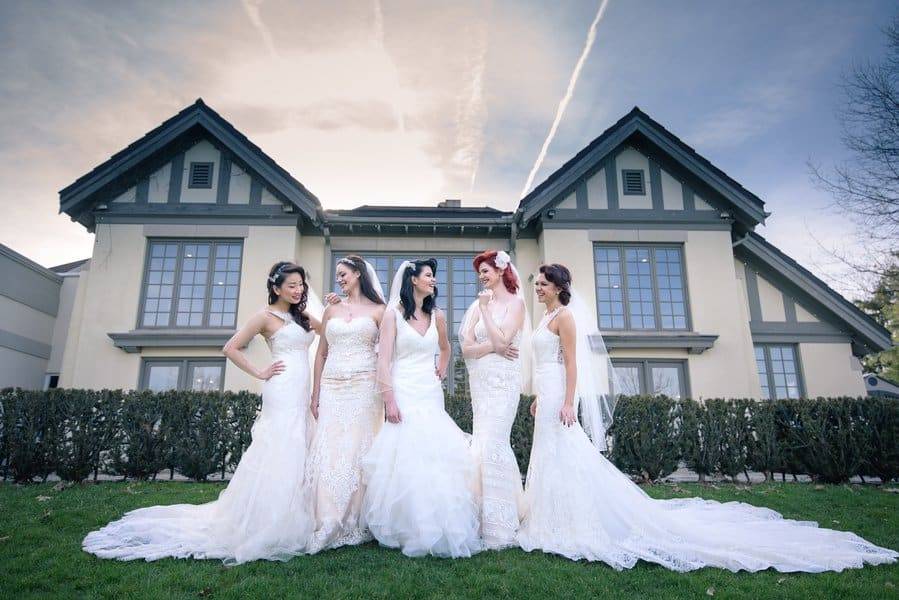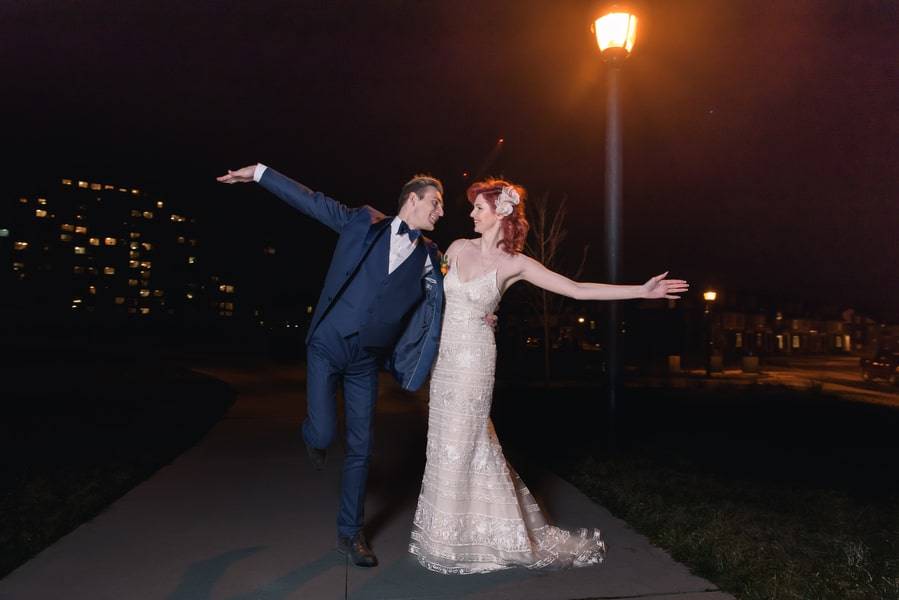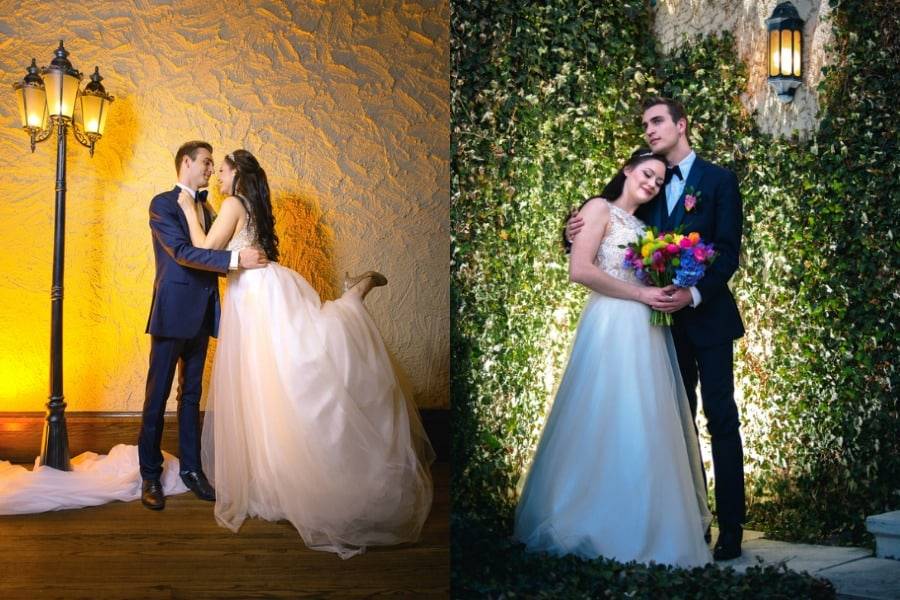 The Photographer's Advice
Plan ahead and take one step at a time in planning. Consider what is the most important aspect for you and choose that vendor first. Enjoy the planning process. It can be very stressful but it does not have to be. At the end of the day, you will marry the love of your life and it will be a wonderful day. – Justin Hon
About the Photographer
We are wedding and portrait photographers based in Ontario, Canada. We love to travel to capture couples' special moments. For us, every couple is unique and we want to be able to tell those unique stories through our creative vision. We believe in not just creating great photos but also providing the superior customer service . Our service begins with initial questionnaire and meetup to learn about our couples' love stories and photography needs in order to provide appropriate recommendations. After that, we provide ongoing support such as suggesting themes for their engagement session that is uniquely them and the creation of itinerary of the wedding day. We would love to get a note from potential clients at www.therightmoments.com. Thank you and we look forward to hearing from you!

Vendors
Photographer: The Right Moments Photography
Dress Store: Balletts Bridal
Makeup Artist: Beauty by Mallory
Makeup Artist: Blush
Event Planner: Bonafide Events Studio
Cake Designer: Bright Eyes Cake Design
Invitation Designer: Chic Darling Paperie
Tuxedo and Mens Attire: Collins Formal Wear
Event Designer: Devine Wedding Design
Floral Designer: Harris Flower Farm and Pastured Pork
Reception Venue: The Windermere Manor