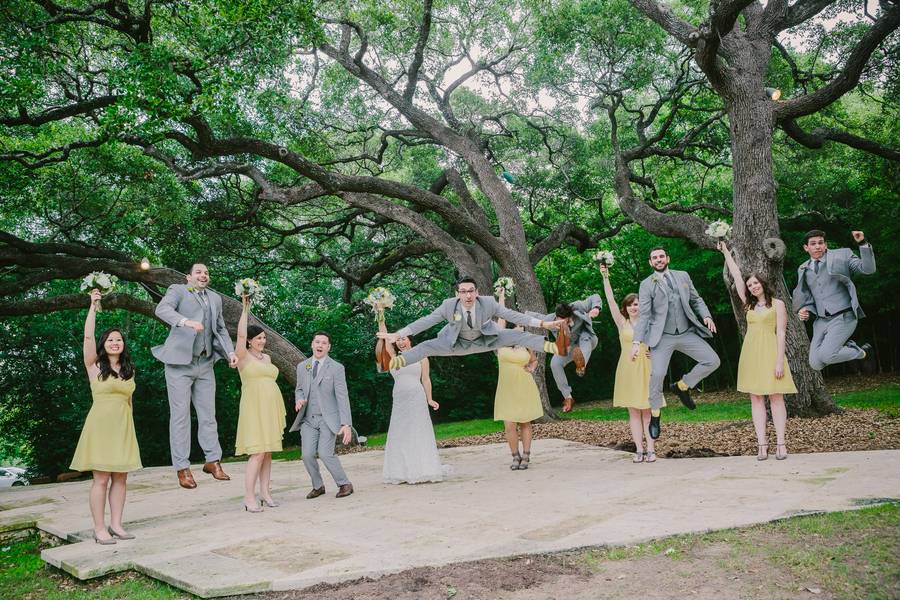 We know it's Monday & most of you might still have the weekend hangover. Why don't you mellow down while reading on today's very yellow wedding? Kerry & Mike are a spark of happiness together. Being both designers, they share a lot of common interests. They actually designed most of what's in their wedding. This amazing set provided by William Herrington will certainly brighten up your day with loads of this awesome twosome's crazy happy wedding day with a lot  of wacky poses from the couple. It was definitely one fun-filled day! And don't forget to take a sneak peek into their one-minute wedding trailer — it will leave you gushing all over! Cheers to Kerry & Mike!
What is your story as a couple, how did you meet & fall in love?
Mike and I met in grad school our first year. We fell in love over late nights in our design studios and our man coffee breaks. After we moved to California for work, he proposed after 4.5 years of dating!
What makes the two of you a perfect match?
We are the perfect match because…. Mike likes to do the planning, the research, the mock-ups, the comparisons, the tasting, etc… And I get to do the choosing after he narrows down to the top 3 choices!
What was the best advice you received when you were planning your wedding?
Best advice for wedding planning is to really prioritize the 3 most important things to you about the wedding. Ours were: Venue, Photographer, and Food!
What inspired your wedding decor? Why did you choose the things that you did?
We're designers so we designed almost everything, from the save the dates, invitations, website to the table menus, signs, and Photo Booth room! We decided on a very simple, modern look with a little touch of vintage.
Do you have advice for couples still in the planning process?
Try to have fun! It's super stressful but you'll remember all pie tasting, registry making, and late nights after work, long after your wedding. And it is both of you that will make your wedding amazing and so special!
What were some challenges you faced planning your wedding & what would you have done differently to avoid them?
We were too critical of everything we made. We made it a lot harder on ourselves! Now we know that it doesn't have to be perfect an d people aren't going to judge us if our kearning wasn't right!
What are you most excited about for the future?
No more planning! Relaxing and enjoying life and using our awesome new registry gifts!
Where did you go on your honeymoon?
3 weeks in Europe! Mostly southern France.
How many guests were invited in your wedding and what was the final guest count?
150 guests were invited, about 110 was the final guest count. Mostly people from out of town couldn't make it.
What inspired the wedding day outfits?
Mike and his groomsmen got custom-made gray suits with dark gray ties, which matched with the bridesmaids that were glowing in yellow.
What was your favorite part of the day?
The personal vows and the toasts from us, the MOH, best man and the two fathers.
What songs did you use during the ceremony?
A lot of Beatles' songs.
Bride's Entrance – Wonderful Tonight, Eric Clapton.
From string quartet.
What was the wedding budget?
40K.

Vendors
Photographer:  PhotoHouse Films
Event Planner: DNA Events – Austin
DJ: Greenbelt DJ Productions
Makeup Artist: LucieMarie
Reception Venue: Mercury Hall
Floral Designer: STEMS Floral Design
Bakery: Tiny Pies
Band: Will Taylor & Strings Attached