We are absolutely mesmerized by Kelli's cotton candy colored wedding gown! It certainly exudes that look of simple elegance, romance & a soft touch of sexy-ness. The bride looked undeniably stunning! And we definitely can't get over about how the reception area was beautifully decorated in soft pink, white, & silver. It was the complete romantic package! You can't help but gaze upon the lovely little details of their wedding over & over again. Thank you A. Blake Photography for this wonderful, wonderful submission! And congratulations again to such a perfect couple – Kelli & Nick!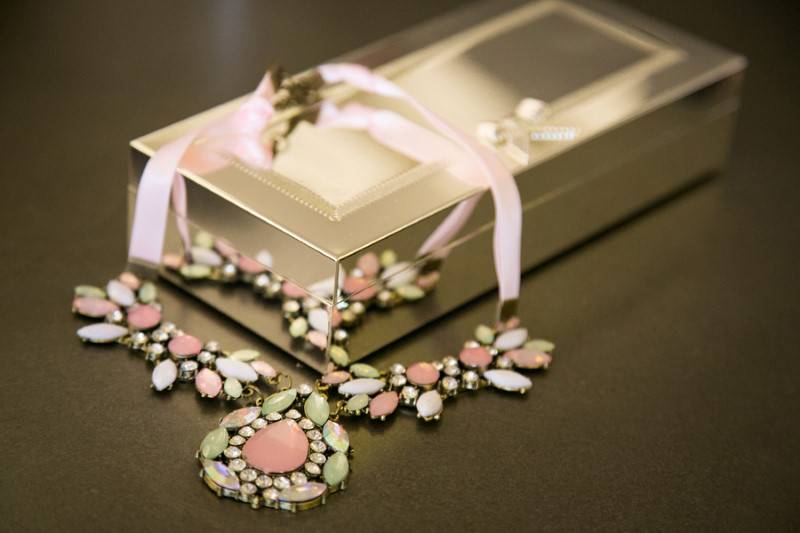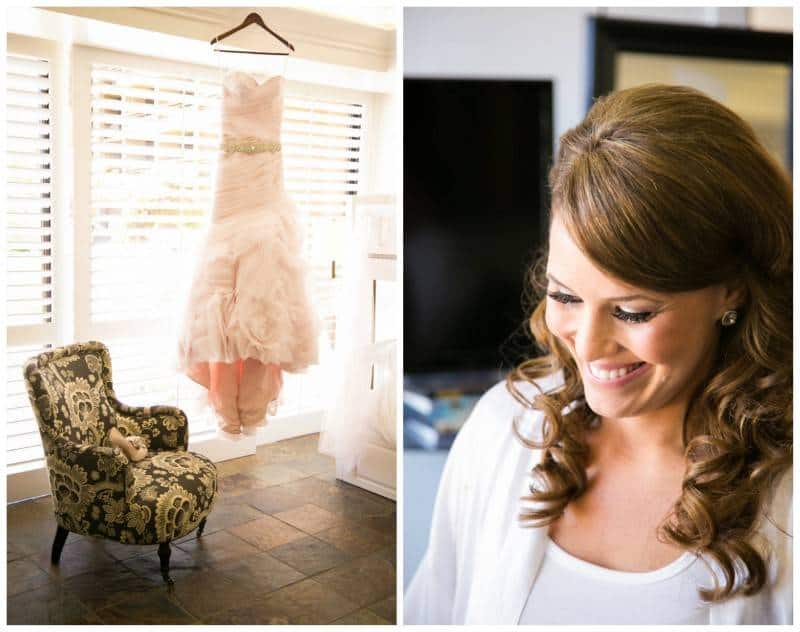 What makes the two of you a perfect match?
Our ability to love unconditionally and have a great time together. It's hard not to laugh at most situations with Nick and he has an amazing ability to make people laugh. We provide each other the right amount of a balance. We love sports and truly have a great time together as we are best friends.
What was the best advice you received when you were planning your wedding?
Budgeting for a videographer was really good advice. So many moments you miss as a bride and now I get to see my bridesmaids come down the aisle cocktail hour and everyone dancing at the reception while we were taking sunset photos. This is a mini-movie we will always have and be able to share with our children and people that couldn't attend the wedding.
What inspired your wedding decor? Why did you choose the things that you did?
Nick and I are big kids and love desserts and treats. Every little detail mattered to us. We wanted our guests to look at everything and think, "wow thats so Kelli and Nick." I'm a pink girl hence the wedding dress, cotton candy, and bubble gum machines. We love junk-food- late night grilled cheese sandwiches and tomato soup, cotton candy ice cream cones. Nick and I love baseball/softball. I played at San Jose State and Nick played in college as well. The tables were named after MLB teams and we got baseball cufflinks for the groomsmen. I have always wanted each person to have their very own mini wedding cake. We bought the twinkles and sparkles from the UK as they are food safe glitter. We wanted everything to feel romantic and soft. White, silver, cream and light pink.
Do you have advice for couples still in the planning process?
Get a wedding planner!! They help you stay on track- it's very difficult to have a job and plan a wedding. Don't wait until the last minute to do little things because you think you have time for it. Cake topper, seating chart, jewelry, favors etc.
What were some challenges you faced planning your wedding & what would you have done differently to avoid them?
Miscommunication.  Cannot be avoided even with emails and phone conversations. Get everything in writing. Just because you know what you mean, doesn't mean your vendor understands clearly. Geography was a challenge as Pismo is three hours away from home and made it difficult to make decisions on things.
Where did you save the most money?
Having the Cliffs do our cake on-sight. Bringing in as many items as they would allow: napkin rings, table overlays etc. Handing our programs can be about 3$ per person and they really just toss them or leave them at their seat. Make a giant one and have it framed sitting on an easel as people arrive. Attending the vendor shows.
Can you share some tips or tricks that you learned along the way leading up to the wedding or after?
We didn't hand out a program to each person we just made one giant one and framed it helping save on cost. Attend the wedding shows, it gave us promotional offers and allowed us to gain exposure to many different vendors in a small amount of time.
Where did you go on your honeymoon?
We are going in November to Italy/Paris.
What are you most excited about for the future?
Experiencing new things together, traveling to new destinations and really finding out more about each other. Nick and I are having a great time fixing up our home, having family over for holidays and making babies.
How many guests were invited in your wedding and what was the final guest count?
215 were invited and 156 was the final guest count.
Was it difficult to narrow down your guest list?
Very difficult. Both sides wanted to invite more family and friends and Nick and I wanted a few more friends invited. We drew the line at co-workers.
What songs did you use during the ceremony?
A Thousand Years- we had Jennifer Eckerman singing it live as a surprise to Nicky.
The wedding march in Canon in D
Grease soundtrack – "We Go Together"
What was your favorite part of the day?
The favorite part of our day was seeing the joy and excitement on our guests faces when they saw everything we had been planning for months. From the flowers and ballroom to decor, to the individual mini cakes and bride/groom signature cocktails, it all was so fun to experience with them.
Was there any Do it Yourself (DIY) projects? If so, can you describe them in detail?
Really, the only DIY project we ventured into was the fact that we painted our table stands so match the decor of the ballroom. We had the hardest time finding everything that would "flow" so we wanted to get involved a bit.
Was there a theme for the ceremony and reception?
The event was more of a "glamour" theme. White, Silver, and Pink were our colors. The flowers were pink Dahlias, Garden Roses, and Peonies. There was an abundance of crystals and rhinestones all around. The ballroom was draped white from wall-to-wall to give it a softer energy. And of course for the wedding favors, a very nice frame for our guests to take home their very own formal photo to remember the great time they had.
What were the highlights from the ceremony & reception?
Highlights of the ceremony were seeing each other for that first time. Kelli looked gorgeous and Nick had a "James Bond-esque" look to him with his formal black and white tuxedo complete with bow tie. It was just so fun to see each other in the attire we had picked out months before. The reception highlights had to do with the dancing. We danced the waltz for our first dance to "All of Me" by John Legend. What made it so special was that we had taken dance lessons to create a moment to remember and be proud of forever. We also had a very lively bunch and it made for a great time throughout the night.
Vendors
Photographer:  A. Blake Photograph
Floral Designer: Jenny McNiece Flowers
Event Venue: The Cliffs Resort