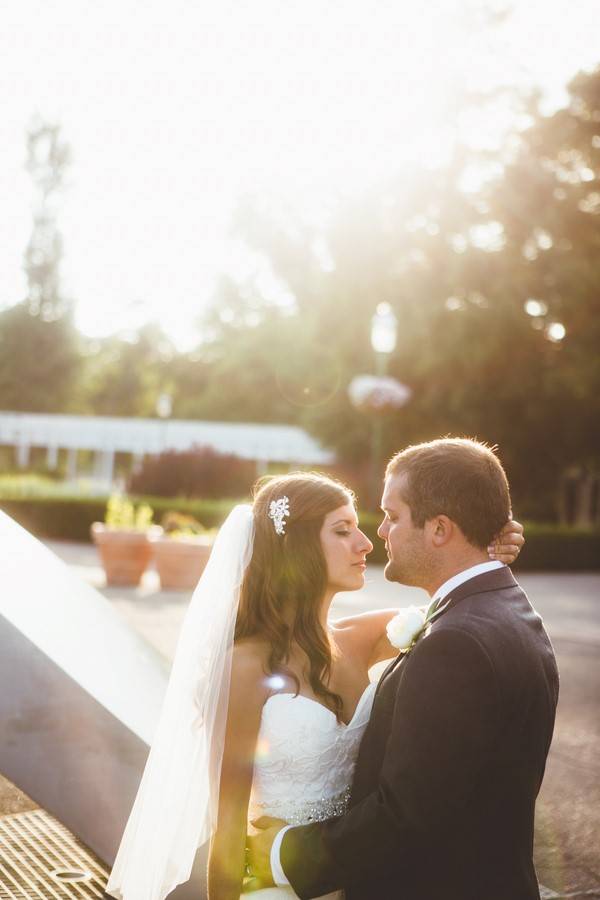 We're ending July with today's first feature — Jessica & Chris' garden wedding, delightfully shared with us by Katherine Horgan. Jessica & Chris are a perfect example of the famous saying "Opposites attract". Jessica is more feisty, stubborn & a perfectionist while Chris is more relaxed and calm. Their personalities compliment each other which makes them a perfect fit for the perfect lifetime commitment. And even with their differences, they still agreed on similar interests — they like things clean, fresh & pretty. Their wedding theme was centered around the Franklin Park Conservatory which served as the wedding venue. Being able to choose the venue right away helped them in envisioning the entire theme of their wedding – they wanted light, neutral airy colors which is why they chose whites, light/dark gray, accents of light link and green.
What is your story as a couple, how did you meet & fall in love?
Our story is pretty funny actually, which is completely indicative of our entire relationship and our relaxed nature together. We both attended the same college, Ohio University, but never met while there. It was the year after graduating that we finally met through friends. Neither of us had wanted anything serious, nor were we looking for a relationship, so it was a long, slow process to realize we were meant to be together. We had a lot of time to grow together and really fall in love, both as friends and as a couple, without any pressure, which was amazing for both of us. We just knew, and finally committed to each other – the rest is history.
What makes the two of you a perfect match?
We are very different in a lot of ways, which really helps to balance each other out. I'm feisty, stubborn and a perfectionist, and Chris helps make me laugh, relax and not sweat the small stuff. We both have said that in past relationships, we didn't really like to be around the other person all of the time, but our relationship is so different from that. We love to be together, whether watching TV, going to eat, etc. – which was different for both of us. Chris said it was how he knew he wanted to marry me right away…we just love spending time together. Plus, we are always making each other laugh!
What was the best advice you received when you were planning your wedding?
Not to stress! Let's face it, wedding planning can be stressful, and it definitely can be a huge test to your relationship. I wasn't a bride that dreamt of my wedding since I was little, so it took a little time to figure out what we wanted. Luckily for us, we have similar tastes and agreed on most things. Chris wanted some input, but he trusted me to take the reigns. I also think that having great vendors helps a lot – they are professionals, so let them do what they need to do! Ours were fantastic and helped make our wedding planning that much more enjoyable.
What inspired your wedding decor? Why did you choose the things that you did?
Like I said previously, I wasn't a bride that had dreamed of my bride since I was little, nor was Chris, so we got to start fresh. We both have similar styles, we like things clean, fresh and pretty. We had discussed getting married on the beach originally in Naples, Florida where we got engaged, but quickly decided we wanted our families and friends to have easier access to join in our big day. We loved the idea of still doing an outdoor wedding, although risky in Ohio, and planned around that. Franklin Park Conservatory was our first and only venue appointment, and we decided on the venue immediately. It helped us envision the light, neutral, airy colors we chose – whites, light / dark gray, accents of light link and greenery. The silver touches helped add in a little something and we really just loved how it came together. Nothing too stark, still warm, but still us.
Do you have advice for couples still in the planning process?
It will all come together! Choose great vendors, have an idea of what you want, but also be able to adapt and change. I had an idea of what I wanted our flowers to look like, and we completely changed it by the end of the process. I went from something more formal to something more natural and airy, and we loved the results! Remember, everything will come together! But great vendors help! Also, make sure you and your bride/groom are both involved – remember it's both of your days!
What were some challenges you faced planning your wedding & what would you have done differently to avoid them?
Everything is expensive – much more so than we had expected! Stick to your budget and prioritize what matters most to you. It's easy to go crazy with details, but we just chose the ones that meant the most to us and let the rest fall into place.
What was the wedding budget? And where did you save the most money?
It kind of went back and forth, as we were very blessed to have our families pay (bride's parents gave a budget that we were under for the wedding, groom's parents paid for open bar), but we kept it under budget. Chris and I also paid for a portion of extra vendor costs, but overall, it was under our expected budget. That was very important to us. We saved most on money by limiting our guest list to family and friends most close to us. This was extremely hard, but we ended up having a smaller, great garden style wedding (115 total) with the people that mattered the most to us. We didn't want to cut back in food, drinks or flowers, so it's really what matters to you! We also didn't spend frivolously on extra decorations such as lighted initials, limos, etc but that just wasn't our style. Additionally, I made a lot of the details myself – the menu and thank you cards, programs, etc. We didn't do many DIY projects, but these few things helped with final detail costs.
Where did you go on your honeymoon?
Hawaii for two weeks! Oahu for one week, Maui for another week 🙂
Mahalo!
What are you most excited about for the future?
We are both very excited to start a family together! We are extremely family oriented, and I think just keeping a great relationship and planning for a family together are the most important things for us!
Was it difficult to narrow down your guest list?
Yes!!! Remember that people understand…and if they don't, they may not be the right guest for you anyway.
What would you say, the overall story for this album?
I'd like to think of it as an intimate, elegant garden soirée! It was very intimate and Chris and I knew everyone there – which was exactly what we wanted! Such a loving, warm day for us!
What inspired the wedding day outfits?
We wanted something that complimented our colors and style, instead of sticking out. The light grey bridesmaid dresses (Donna Morgan – Nordstrom) were actually chosen by my bridesmaids, but ended up fitting perfectly. We went shopping together and they liked those the best. The color was very complimentary and helped pull together the grey touches throughout. They looked great! Chris had complete freedom choosing his suits (he chose suits VS tuxes – wanted to be comfortable and wanted his guys to be able to wear them again), and also went shopping with his groomsmen to choose them. He liked the clean and traditional look of the charcoal fitted suit, crisp white shirt and modern black ties. I loved it too! I am very petite, so I knew I wouldn't have anything too voluminous for my dress. I actually took my sister, mom and one of my bridesmaids shopping with me for the dress and told them to pick out their favorites. The first dress I tried on (my sister picked out) was the dress I bought! I love how she knows me so well that she knew the lace and sweetheart neckline would be it. We all loved it and that was it for my shopping!
What was your favorite part of the day?
Walking down the aisle with my dad, and seeing Chris for the first time! We were traditional and didn't see each other before the wedding. It was just a very surreal moment! Also, getting ready at the hotel with my mom, sister, grandma, bridesmaids, future sister in law, mother in law, and grandmother in law was so fun! We did mimosas, snacks, danced around in matching robes and got ready together. It was a blast and not stressful at all!
Was there any Do it Yourself (DIY) projects? If so, can you describe them in detail?
The only DIY projects we ended up doing were paper related….I am a Marketing Manager and love graphic design, so I wanted these little touches to be personal. I designed and created the menu/thank you cards at each place setting, as well as the programs for the ceremony. My mom and I put the programs together and had a lot of fun!
What were the highlights from the ceremony & reception?
I loved walking down the aisle with my dad, knowing he was giving me away. I also loved seeing Chris – we both were so happy that we didn't end up seeing each other before the ceremony. Chris choked up during the ceremony which was so special, and our vows (we rewrote them) meant a lot to us. During the reception, the speeches were so amazing and meaningful. It meant so much to us that everyone was there for us and helped celebrate with us. We also had great first dances together and with our mom/dad. Special time to just spend with them! And during the reception – dancing! We had a blast, thanks to our DJ, Pete!
Was there a theme for the ceremony and reception?
Just a nice garden themed, intimate wedding ceremony and reception. They was a lot of love at both, and we could really feel it. And fun!
Vendors
Photographer:  Greybird Galleries, LLC
Ceremony Location: Franklin Park Conservatory
Event Venue: Franklin Park Conservatory and Botanical Garden
Other: Franklin Park Conservatory Events and Catering
DJ: Midwest DJ Pro
Makeup Artist: Robbie Banks – Onsite Makeup Artisty
Floral Designer: rose bredl