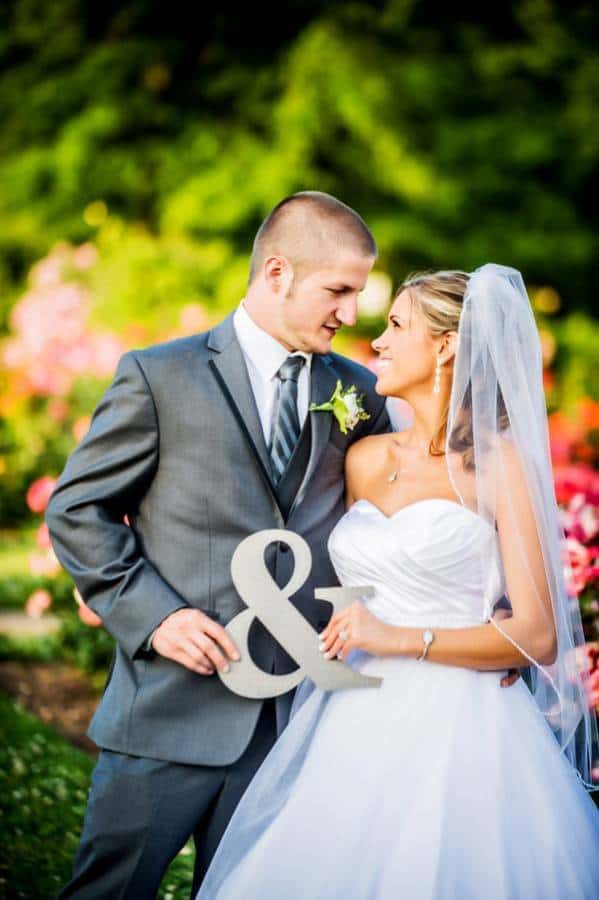 Yellow, silver and a little touch of green is the main theme for today's featured wedding. Jen had always known how she wanted her wedding day to be. Just like how she knew that Dan was the one she wanted to be with for the rest of her life. They met in 2008, from a mutual friend, and it was an instant spark right then and there. They were inseparable ever since! The rose garden made for such a gorgeous venue for such an intimate and memorable event. Thank you to their photographer Ross Costanza for sharing with us Jen and Dan's happily ever after.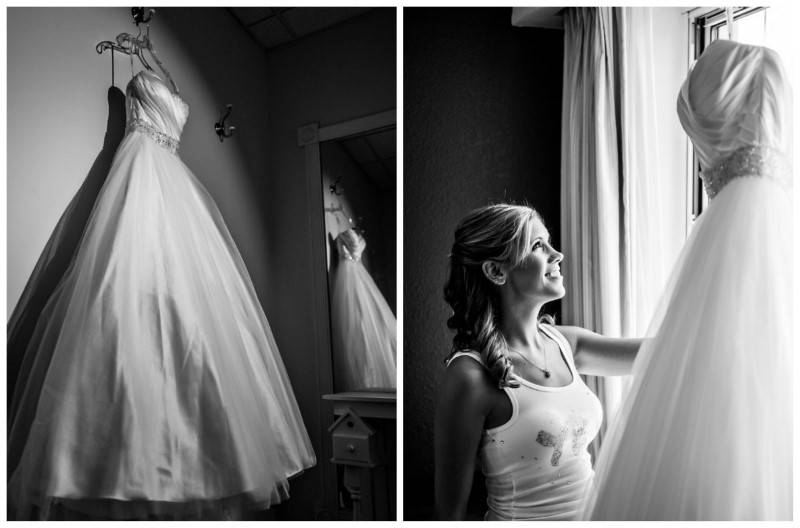 What is your story as a couple, how did you meet and fall in love?
In April 2008, Dan and I met at his house through a mutual work friend, our now Best Man, Mark. It was love at first sight and we have been inseparable ever since.
What was the best advice you received when you were planning your wedding?
You are paying for it. This is your day. Only do what makes you all happy.
What makes the two of you a perfect match?
We complement each other perfectly- I am high-strung and anxious, while Dan is more laid-back and goes with the flow.
What inspired your wedding decor? Why did you choose the things that you did?
I have always known the colors I would want for my wedding- pale yellow, white, silver/gray, and a hint of green. Once we knew our venue was a rose garden, that was instantly our 'theme'. Pinterest gave me some great ideas that our florist/decorator put into play.
Do you have advice for couples still in the planning process?
Don't rush to sign a contract! Referrals from friends are great, too!
What were some challenges you faced planning your wedding & what would you have done differently to avoid them?
Our budget was $20,000, but we unfortunately went over.
Where did you save the most money?
We saved a lot of money on the venue. We had a Sunday wedding, which was a discounted rate, even on the holiday weekend! We also booked the banquet room that was closest to the garden our ceremony would be in, so we got to use the garden free of charge. Lastly, because we used their preferred caterer, they took 20% off of the room rental price.
Can you share some tips or tricks that you learned along the way leading up to the wedding or after?
Research, research, research your vendors! Look for the best reviews, but also the best deals. When we bundled our uplighting, photobooth, and DJ together, it saved us a lot of money. It also saved me time because that made less vendors that I had to contact. Having a day-of-coordinator was also a huuge help! She helped everything run smoothly and was worth the money.
Where did you go on your honeymoon?
Since we didn't want to leave the country without our daughter, we honeymooned in Las Vegas and had a great time!
What are you most excited about for the future?
Experiencing new things and growing old together.
How many guests were invited in your wedding and what was the final guest count?
120 guests were invited, and we had about 95 who showed up.
Was it difficult to narrow down your guest list?
Yes, it was hard to narrow our list! It was kind of sad when we found out at the last minute that some people were not going to be able to make it, it was too late to invite others that we really wanted to share our day with.
What songs did you use during the ceremony?
Brides Entrance- "I Choose You" Sara Bareilles
What would you say, the overall story for this album?
In April 2008, Dan and I met at his house through a mutual work friend, our now Best Man, Mark. It was love at first sight and we have been inseparable ever since. We complement each other perfectly- I am high-strung and anxious, while Dan is more laid-back and goes with the flow. In November 2009, we welcomed our daughter, Lily,into our lives. She was the perfect addition to the start of our family-life. On a Tuesday night in August 2012, Dan proposed at our home before I went to work. It may not have been the most romantic proposal, but since we had been together for so long, I knew that he really meant what he said and wanted to move forward into his forever life with me. I, of course, said, "YES!", and went off to work.. I could not stop showing off my ring and made some good tips that night ; ) I knew that I wanted to be with Dan, but it was my goal to finish college first. In May of 2013, with the help and support of Dan, my family, and friends, I graduated from ODU and finally felt like the wedding was okay to happen, so I really got to planning the wedding of our dreams.Naturally, the first thing I wanted to do was find my dress. I only had to try on a couple before I knew that I had found "the one" at Maya Couture. Next came the venue. After walking through many places, we decided that the Norfolk Botanical Garden would be a beautiful place to get married in. With much time, research, and many meetings and phone calls later, everything seemed to be falling into place. As time grew closer to the wedding, I could feel the stress coming on, so we decided to hire a day-of-coordinator, Hannah, to ease my worries a little.I had the bright idea of getting a hotel room the night before the wedding that our daughter, bridesmaids, and I could stay in, just to make sure Dan wouldn't see me and that my girls would be there when our hair and makeup ladies arrived. It turns out that while I was setting up the hotel room, our daughter ended up falling off a trampoline and breaking her elbow. Our impromptu visit to the ER made for a hectic night and wedding morning!Lily was a trooper and still made it down the aisle, sling and all, before me as our flower girl. Dan and I said our I Do's (I may have cried on mine), and the rest of our incredible night flew by! I feel like I blinked and the party was over. It meant a lot to us that so many of our friends and family were able to make it and share in our lasting memory of such an amazing day.
What inspired the wedding day outfits?
Nothing in particular- they were nice with a casual touch that looked good on : )
What was your favorite part of the day?
I have so many great memories from our wedding! I would have to say that my favorite was before the ceremony had even occurred. I had just gotten my dress on and was waiting in the bridal room at our venue while my bridesmaids ran to the restroom one final time before walking down the aisle. My bridesmaid, Courtney, came in to help calm my nerves and told me she had just spoken to Dan. She told me how happy he was, and that he had no doubt in his mind that he wanted to be forever married to me. Then, she showed me a selfie they took – he was smiling ear to ear! I, of course, started to cry… but quickly remembered I couldn't mess up my make-up!
Was there any Do it Yourself (DIY) projects? If so, can you describe them in detail?
DIY- the flower girl basket, frames for the photobooth, the words on my day-of shoes, water bottles/labels, put together the programs, the restroom baskets and the hotel guest arrival bags.
Was there a theme for the ceremony and reception?
Our theme was just fun, love, and roses. : )
What were the highlights from the ceremony & reception?
The whole day was unforgettable! One stand-out moment was during our ceremony… our daughter, Lily, sadly broke her elbow the night before our wedding, so she was on a regimen of pain-medicine all day, which made her a little loopy. During our ceremony, she would not let go of Dan's leg from behind and was peeking through his legs. She stole the show and had everyone laughing. My favorite part of the reception would have to be the speeches (Christine, Mark, and Erin spoke). They all had me in tears and made Dan and I fell really special while letting some of guests learn new things about us.
Vendors
Photographer:  Ross Costanza Photography
Event Venue: Norfolk Botanical Gardens