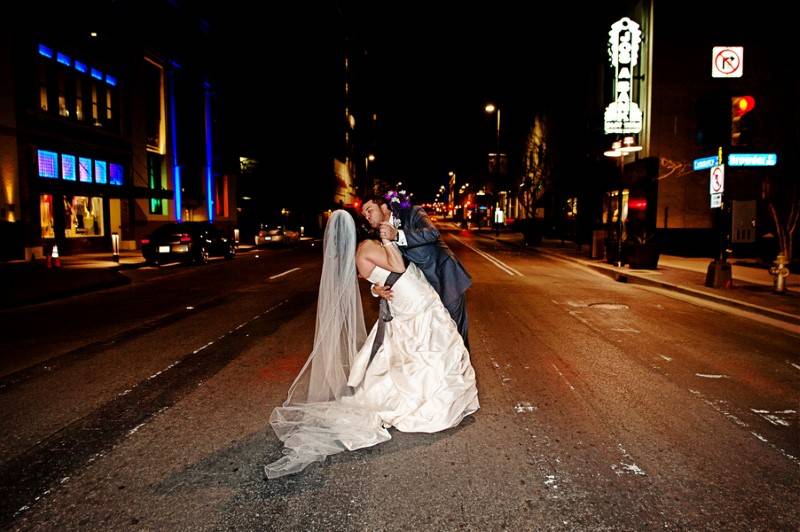 Here is another purple filled occasion that will sure tickle your fancy this very first day of October. Jamye chose to tone down her purple themed wedding by just using it on the small details & leaving the others gray. I think she made a great choice! Gray & purple always make a perfect match combination. It looked simply chic with a bit of purple pop here & there. I also loved how they used black to accentuate certain details of the wedding – it kinda balanced everything together to a very polished look & feel of the entire event. Good job on planning such a beautiful wedding! Congratulations Jamye & Rick – we wish you a wonderful life together!
What is your story as a couple, how did you meet & fall in love?
We met online, had our first date at a wine bar. Our first date lasted much longer than we anticipated. After that, we saw each other often and knew we had something special. We got engaged almost a year later, Rick proposed at the place we had our first date!
What makes the two of you a perfect match?
We are so different that we compliment each other perfectly. We draw on each other's strengths.
What was the best advice you received when you were planning your wedding?
Enjoy the process!
What inspired your wedding decor? Why did you choose the things that you did?
I've always wanted a purple wedding, but without over-doing color. The only color came from the flowers. Everything else was grey, from the bridesmaids dresses and the sash on my gown, to the tuxes. It made the flowers "pop!" We were also able to use a lot of hydrangeas, my favorite flower and a perfect grey "berry" to accent my bouquet and Rick's bouteneirre.
Do you have advice for couples still in the planning process?
Don't get caught up in the small details, everything will be perfect on your special day!
What were some challenges you faced planning your wedding & what would you have done differently to avoid them?
Both of our families live out of town, so all of the decisions fell on us. It was actually nice to not have too many opinions! Also, we chose a short engagement, so many things felt like we had to make quick decisions.
What was the wedding budget?
$25000.
Where did you save the most money?
Choosing the Magnolia as a venue, our guests were able to stay there. We didn't incur costs providing transportation to a venue for our many out of town guests.
Can you share some tips or tricks that you learned along the way leading up to the wedding or after?
There are many small things that you can do on your own if you pace yourself!
Where did you go on your honeymoon?
Spain (Barcelona and Madrid)
What are you most excited about for the future?
Spending the rest of our lives together and welcoming our new baby in January!
How many guests were invited in your wedding and what was the final guest count?
Invited about 160, final guest count was about 125.
What songs did you use during the ceremony?
Processional-Adored by Collective Soul
Bride's entrance-Cannon in D
Recessional-Hard to Concentrate by Red Hot Chili Peppers
What inspired the wedding day outfits?
I loved simplicity with a modern flair. Rick and his best man wore purple plaid bow ties to add a little something extra.
What was your favorite part of the day?
Marrying the man of my dreams and having all of the most important people in our lives there to be a part of it.
What were the highlights from the ceremony & reception?
The whole night was perfect!
Vendors
Photographer:  Shawna Hinkel Photography
Hair Stylist: Amazing Beauty
Event Venue: Magnolia Hotel
Dress Store: Patsy's Bridal
Event Planner: Southern Stems
DJ: SPiN DJ Entertainment
Cake Designer: TART BAKERY