Today's couple, Dustin and Ashley, were born a day apart at the same hospital. Became friends, moved on their separate ways, reconnected, and now married. I mean that could be a novel right there — two childhood friends made their way to being a married couple. I cherish stories like this, I know I am a hopeless romantic, but we are nothing without love. Enough of all this gushy-lovey feeling, better scroll down and view their wedding photos!
Click image to enlarge
2

Like. Click to Vote
>
Our Story:
Dustin and I were born one day apart in the same hospital. We grew up in the same small town and attended school together. Dustin used to sit across from me in 6th grade Math. I would never have thought that I would have married that silly boy that used to try to drive me crazy and distract me in class! We remained good friends in high school and even went to a Valentine's Day Cotillion together. Dustin MAY have had a crush on me, but we never actually dated in high school, because I foolishly wanted an "older" and more "mature" guy! We lost touch (except on our birthdays, where we would text/call each other to say "Happy Birthday") until we reconnected again in 2010. I fell in love, almost instantly, with his easy-going nature and fun-loving personality. I now appreciate that "silly boy" that sat across from me in 6th grade because he always knows how to put a smile on my face. Dustin will never let me forget that "it could have been just like this all along…"
Wedding Day Outfit Inspiration:
I wanted Dustin to be happy with what he was wearing and he liked an orange suit with an orange tie. Somehow, we just decided on the navy dresses for the girls. As for me, I found my dress at Bridal Mart… I knew that I wanted something feminine with lace, but still simple with a tad of rustic/country-chic flair. I knew I didn't want a "Ball-gown."
Favorite Part Of The Day:
My favorite part of the day was when Dustin and I exchanged cards before the ceremony. I was stressed out because it was pouring outside, and I was trying not to bawl my eyes out. I was so happy to be marrying Dustin and celebrate our marriage, but I was NOT happy that the weather did not want to cooperate. Dustin and I had agreed not to spend extra money on gifts for each other, but to give each other a note/card. So I picked out this super sappy love card for my "groom on our wedding day" Dustin, however, had trouble navigating the card aisle and could only find a card that said "On Your Wedding Day" (he went to the wedding section – not the "love" section! )
He crossed out the "Your" and wrote "Our". Immediately, I started to smile! This is exactly my husband – He tries his very best and always has the BEST intentions, even if it's not "perfect". On the inside of the card, he continued to cross out lines and change words like "congratulations" to make the card fit "our" wedding day. By the time I was done reading the card, I was laughing and smiling, and I was truly reminded of WHY I am marrying Dustin. Well, he could hear us laughing and carrying on through the wall, and I heard him yell, "What's so funny, huh??" At that moment, he gave me exactly what I needed: a sweet reminder of why I love him so much, and a reason to LAUGH and SMILE
The Do-It-Yourself (DIY) Projects:
I made lots of small crafts – banners for the favors and gift tables, signs for the margarita bar/ his & hers pies, card basket, a wine bottle stake that was going to go on the ground and line the aisle with baby's breath (though, sadly, we didn't get to use these.)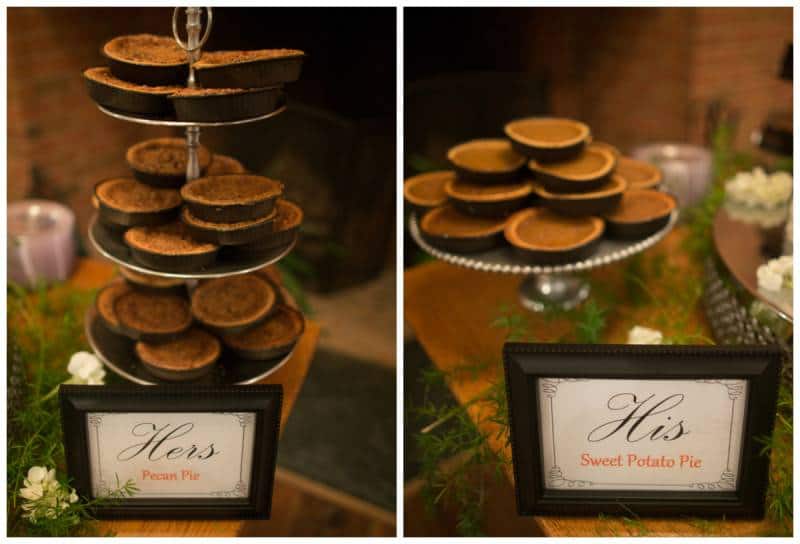 The Highlights From The Ceremony & Reception:
My cousin, Michael Grizzard, sang and played an acoustic version of Andy Grigg's "You Won't Ever Be Lonely" at the ceremony.. this song was perfect! Dustin's cousin, Choe Huskey, sang "Look At Me" by Carrie Underwood. Dustin had no idea that I had secretly asked Choe to sing this for him. I spoke a few words and dedicated the song to Dustin and when she sang it, I don't think I've ever seen Dustin so emotional. This meant a lot to him, and I was so glad that I was able to express t how much he means to me and how much I appreciate him.
The Theme:
I don't think that we really had a theme – we just wanted to make the ceremony and reception fit "us" We had fried chicken, green beans and macaroni and cheese for dinner, had a margarita bar, and his & hers tart pies. Every Thanksgiving, Dustin and I debate about which is better – sweet potato or pecan pie… so we decided to add a personal touch and have them at our wedding. We danced all night and had a BALL with all of our friends and family. That's exactly what we wanted – to celebrate and have the time of our lives, and we certainly did!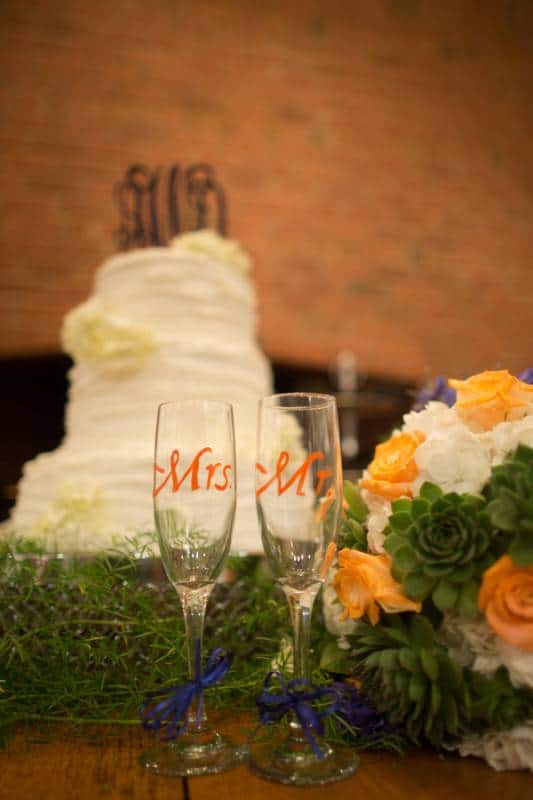 Most Memorable Moment:
Well, one part of the ceremony that was certainly memorable is my maid of honor disremembered Dustin's ring. My cousin's husband ran upstairs and got it and gave it to my mother-in-law who slipped the ring to Dustin. Some people noticed others didn't. I wasn't mad though – It just adds something funny to our story and gives me something to pick on my maid of honor about for a long, long, time! Other than that, I loved the picture of Dustin's dad tugging on Dustin's coat because we "kissed too long"!!!
In Addition:
I would just like to add that our day was NOT perfect by any means, and, of course, if I could have changed the weather, I certainly would have. But we still enjoyed our day to the fullest and made lots of wonderful memories with the people that are most important to us.
 VENDORS
Photographer: Tiffany Lee Photography
Floral Designer: Gavins House Of Flowers
Makeup Artist: Nicole Laughlin Makeup Artist
Caterer: Originals by Randi
Event Venue: Rosemont of Virginia Vineyards & Winery
DJ: Shane Wells
Cake Designer: Terry Oakley with Oakley Catering