Your invitations are an incredibly important part of your wedding. Not only do they deliver the most important information to your guests, but their style and design also show off the tone of event. There's a lot of different printing methods, design styles, paper types and weights, and other options for you to consider, so let's dive into them.
Printing Methods
There are several options to choose from in terms of printing techniques. There isn't one better than another, and it comes down to personal preference, budget, and what is most appropriate for your special occasion.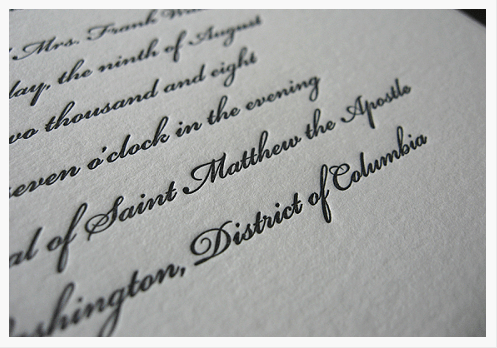 Letterpress Example, from Papered Together

Letterpress
This centuries-old printing technique has been given a modern day makeover with the invention of photopolymer plates, which allow digital art to be used instead of lead or wood type. Because the photopolymer plates have raised positive areas, the trademark identifier of letterpress is the depressed physical impression – the type or image should be lower than the paper surface. Traditionally, the mark of a good printer would be one who left no indentation in the surface of the paper, but nowadays it is highly prized.
Engraving
In this printing process, an image and/or copy is carved into the surface of a metal plate. The plate is then inked and the surface is wiped, leaving behind only the ink that fills the depressed "positive" areas. The paper is pressed into the plate with a high pressure weight to receive the ink, which creates a raised surface in the process. An engraved piece will have a raised surface and will have an indentation visible on the back of the paper.
Thermography
Thermography is a cheaper alternative to engraving. A piece is flat printed and, while the ink is still wet, it is dusted with a resin-based powder that is melted by heat exposure. The heat exposure creates a raised surface where the ink and resin mixed that is slightly shiny. Though it's a cost savings over engraving with similar results, there are differences. There will be no indentation on the back of the paper as in engraving, which can be desirable to some as a sign of the printing process. Additionally, if you were hoping to use a dark paper with a light ink (white ink on navy paper, for example), you may not be able to use thermography as the incorporation of resin makes lighter colors more difficult to achieve – some printers may flat out refuse to do it.
Lithography
Also known as flat or offset printing, this printing style has a much more casual feel and, to some, lacks the elegance of the other techniques because it lacks the tactility and personality of them. These are best used for save the dates, thank yous, or wedding day paper goods including favors, place cards, and programs, when you want to add pieces but save on cost.
Paper Choices
Whatever your printing process, you will always need one common thing out of your paper: it needs to be archival. While most printers will only provide their products on archival paper, if you're buying special stock for them (for example, if you want to print on a color outside of their house papers) or if you're printing them yourself, you need to check with the distributor or paper company to make sure your paper won't be yellow and cracking in twenty years.
In terms of the pulp makeup, many printers will have their opinion on what they believe is the best for their process. For example, tree-free cotton paper like Crane's Lettra has become increasingly popular among letterpress printers for a great impression and for overall performance and presentation. Consult with your printer about your options. While cotton paper has a soft, fabulous texture and is a great option for those who want to use a paper made from more renewable resources, it's harder to source a range of inclusions (petals, micas, and other items in the paper for extra texture, color, and personality) on this type of paper.
Paper weight is another important decision. Your paper options will be measured by gsm, or grams per square meter. For a good, thick invitation stock, you'll probably want a 300gsm paper, or for something a little more substantial, a 600gsm duplex (a paper that is composed to two thinner sheets of paper to get a heavier stock). The 600gsm duplex will usually be pretty stiff and will make an impressive piece for your guests to hold. For other items, 300gsm is appropriate, but you could go slightly lighter.