Amy and Matt got married in the woods, surrounded by their loved ones and the beauty of the fallen leaves. Their wedding theme also had lots of elements inspired by the fall season.  The colors of Amy's bouquet just pop from against the cool and rustic fall colors. Their cake was also autumn-inspired and was propped up on a container with actual fallen leaves inside. I absolutely adore their little flower girl — or maybe "little fall leaves girl" would be more appropriate? Check out the gallery to see why.
Congratulations on such a beautiful, intimate wedding Amy and Matt! Too bad we didn't get to see your lobster, but we hope it continues to watch over your happy relationship!
Click image to enlarge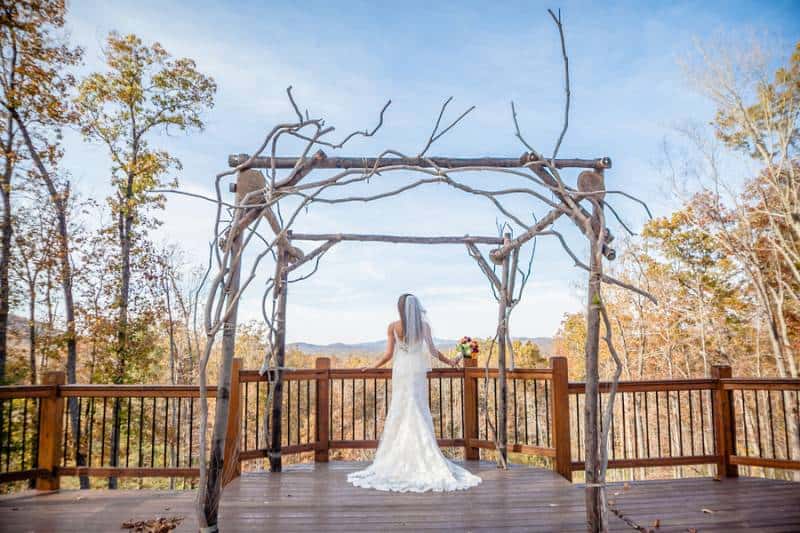 Like. Click to Vote
>
Our Story:
We met through a mutual acquaintance in 2009. I was in a relationship at the time so we were just friends for a year before we started dating. We would bump into each other everywhere throughout that year and Matt would tell his buddies that, "One day that girls gonna be my girlfriend." So after numerous attempts of him asking me out and getting turned down, he deleted my number from his phone. At the end of that year, when I became single again, I thought about Matt and decided to reach out to him. His response was,"Who is this again?" Haha, I knew I probably deserved that for all the neglect I had given him.
Our first date was that night, I asked him out to a new fine dining restaurant called Three Forks. I quickly realized how much we had in common and that he had spent four summers on the lake I grew up on in Alabama which is rare to find when you are living 7 hours away from home. He asked me to go out of town with him that weekend to his family's place in Crystal River and that's where we both fell completely in love! He made me swim with manatees which was a real treat for a small town Alabama girl like me.
That weekend is when we decided we were lobsters, and would be soulmates for life. We even ironically found a wooden sign that says "Lobsters" that is still to this day hanging in our kitchen. I knew he would be my husband one day.
We Are A Perfect Match:
We are like Fire and Water. What one lacks, the other provides. When one of us is out of control, the other one is there to put the flame out. We have an indescribable bond like we have known each other our entire lives.
The Proposal:
He proposed on November 8, 2013. I was about to renew another year's lease on my apartment even though I spent most of my time at his house. I came straight to his house from work that day with a hope that was crushed. I desperately wanted him to propose but I had accepted that it wasn't going to happen. He asked me to come sit on the back porch with him and watch the sunset which we did often. It's one of our favorite spots overlooking Dutton Island. I told him about my day and rambled on as usual. He was pacing around, couldn't sit still which was also usual so I didn't think anything of it.
Then he said," I have a surprise for you little Susie." (It's a nickname, long story.) I responded," Oh please, tell me it's a garage door opener!" The garage door had been broken for quite some time. He found that amusing and went along with it. He said I was right and he was gonna go get the opener to show me. When he came back he told me to close my eyes and he got down on one knee. He told me to open my eyes and simply asked,"I want to watch sunsets with you for the rest of my life. Will you marry me?"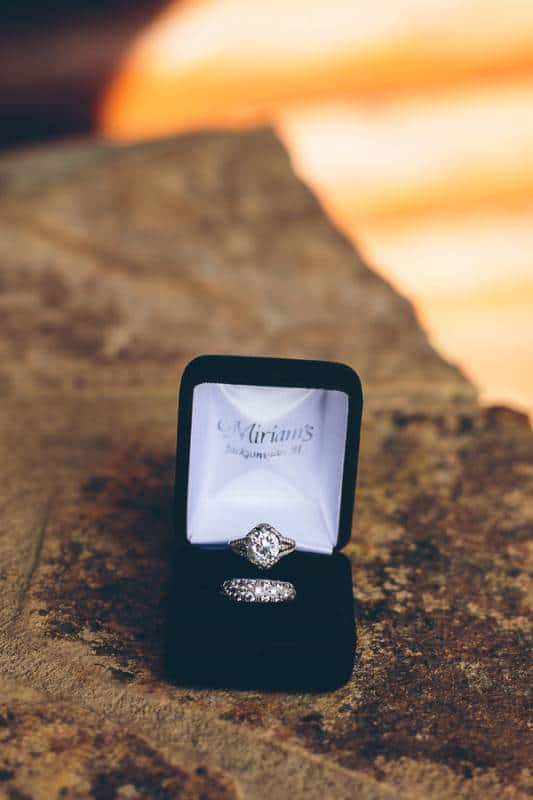 The Planning:
We wanted to be engaged for a while. We knew we weren't going to do a big wedding and even talked about eloping. About four days shy of one year later we decided on a private family wedding. Very small and quant, 17 people including the bride and groom. It was perfect timing.
Best Advice We Received:
Don't focus on anybody else but you and him. It's about the two of you, not your family and friends.
Planning Challenges:
We really didn't have many challenges. Our original florist canceled last minute, so I quickly called the flower garden after my caterer recommended them. The caterer can usually help with more than you expect so reach out for help.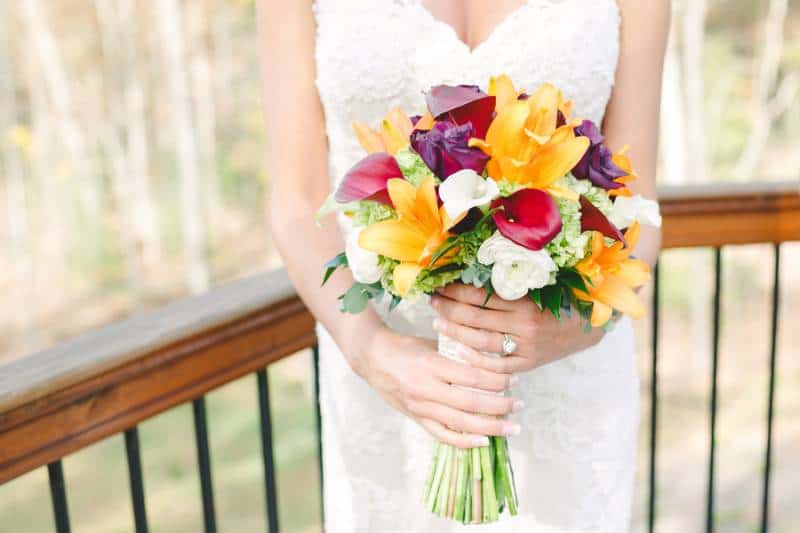 Wedding Décor Inspiration:
My southern upbringing. I grew up with horses in a small town called Chelsea, Alabama. We used a lot of burlap and lace – very simple and southern.
Our Do-It-Yourself (DIY) Projects:
Yes, the gift baskets I made for each couple attending. I spray painted bug spray cans and got custom water bottle labels and labels for the bug spray cans. "Love bites, not bug bites."
Money Matters: 
Our budget was around $5,ooo-$10,000. We were able to save a lot of money because the guest list was small and private family only. Keeping it simple cut down on a lot of costs. The biggest expense was the stay at Five Star Lodge, but it was worth every penny. We will go back!
You Are Cordially Invited:
We had only fifteen guests. We only invited immediate family and "family-like friends".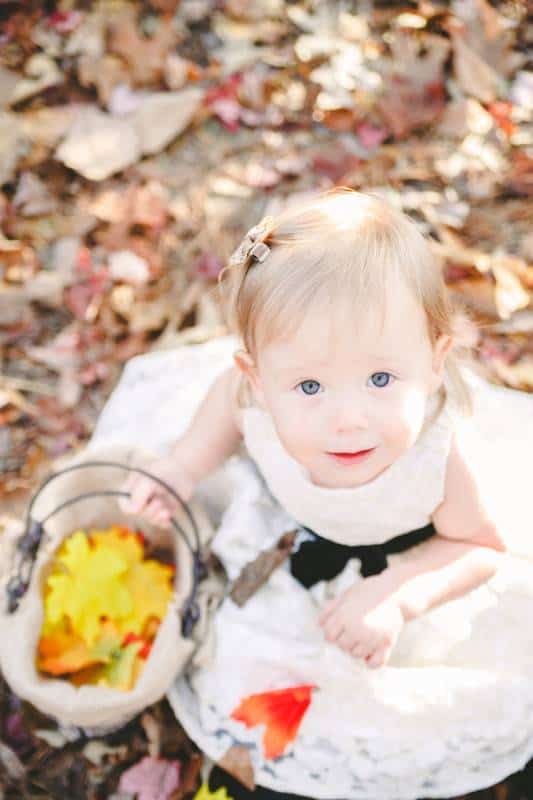 The Songs:
When I walked down aisle it was "Trouble" by Ray Lamontagne. Our first dance and wedding song was, "Burnin' It Down" by Jason Aldean. My daddy/daughter song was "When You Need Me" by Bruce Springsteen.
The Next Step:
We are so excited about our new house! We bought our first house together the same day we got married.
Advice for Other Couples:
Take your time making it exactly you and him. Don't sweat the small stuff because in the end all that matters is the two of you. Keep it simple. In the end, it will just be the memories you make. 
Highlights from the Wedding and the Reception:
Our friend married us. We wrote our own vows which I highly recommend. And the weather was absolutely gorgeous!
Favorite Part of the Day:
The photo shoot with my Lobster. Our photographer was AMAZING! She made our wedding experience everything I had dreamt of.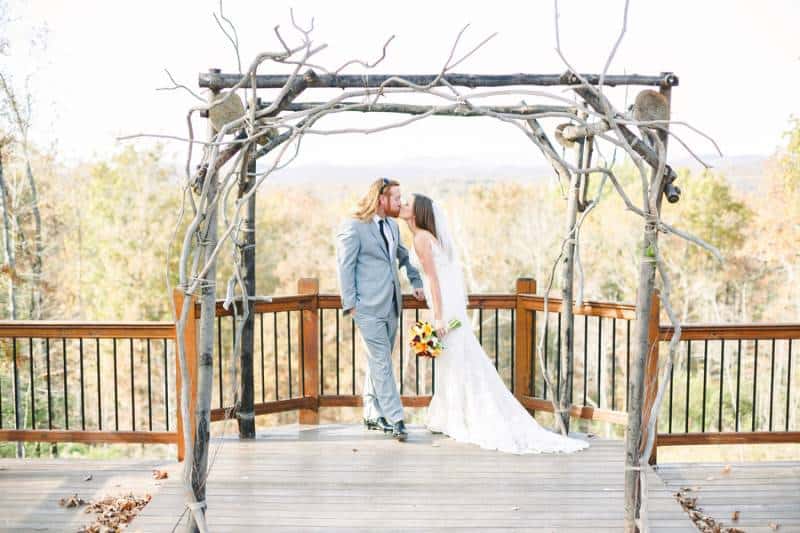 VENDORS:
Photographer: Brandy Angel Photography
Caterer: Catering by Cindy
Event Venue: Five Star Lodge and Stables
Cake Designer: Melissa's Custom Cakes and Goodies
Jewelry: Miriam's Jewelry
Floral Designer: The Flower Garden