I am really thrilled to have the opportunity to share an Inspired Conversations interview with you that features Asako Han of A.Hana Design in San Francisco. I've been in love with her work since the first second her portfolio loaded in my browser so I was so incredibly excited when she agreed to answer a few questions about her background and what inspires her!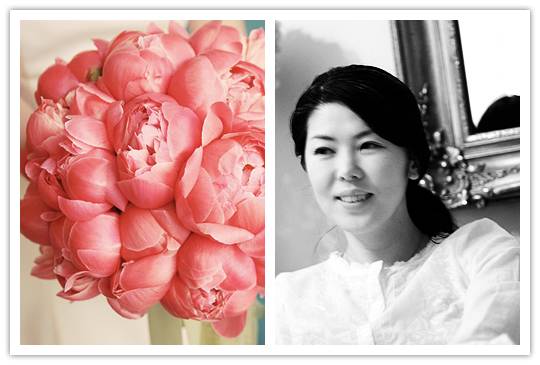 What is your design background?
I started to design when I was 5 years old.  When I was young, my mother used to make many pretty dresses for me and my younger sister. It was fascinating to see the entire process.  She would begin by sketching the designs in her notebook.  Seeing pencil sketches of dresses on a page would excite my imagination and I couldn't wait for the dresses to come alive.  From sketching, to buying fabric, to sewing, and finally wearing, it was a vivid learning experience from beginning to end.  My mother encouraged me to make small dresses for my dolls. I distinctly remember how exciting it was to have the freedom to design and pick fabrics for my own small projects.  At this age, it was the biggest chance for me to develop my creativity and eye for color.
Today, I still start my own designs in a similar manner.  I enjoy sketching ideas and showing brides a taste of endless design possibilities.  I carefully guide each step of the design process until the sketches become real live art.  I was so blessed that my mother included me in her passion for design, it has positively influenced my art forms.

Where did you learn your floral design skill?
The skill set required to create floral designs stems from an artistic skill set I have developed at a young age.  Whether it is fabrics or florals, I use the same basic skills to put together colors and textures to incorporate the mood and personality of the project.
I went to school to learn the formulaic basics of design, which included two years of training. Throughout adulthood in California, I have learned so much from working as a freelance designer in San Francisco. I've had amazing opportunities to work with many local talented designers in the past 10+ years.

How would you best describe your aesthetic?
My aesthetic is natural, warm and soothing.  My motto is, "let the natural beauty come out". I would say that nature's beauty, in its most pure form, is my biggest influence.  I love to see flowers rooted in the ground, growing with only the help of nature. When I design I am trying to restore of the natural beauty of flowers. I also love great fabrics and using different elements like glass, metal, and wood.

What and who are your biggest influences, inside and outside of the wedding industry?
My mother has always been my greatest influence outside the wedding industry. She grows all kinds of beautiful flowers in her garden. I distinctly remember waking up excited in the summertime, to see which flowers were growing the most proud and tall. She grew exceptionally beautiful peonies which is why I love these flowers so dearly.
Inside the wedding industry, I am consistently intrigued by Martha Stewart's attention to the detail and Rachael Ashwell's great sense of contrast. I have been a fan of Rachael Ashwell for a long time and recently had the opportunity to meet her; you can read more about this on the a.Hana Design blog.
Outside of these artists, I find artistic influence everywhere. For example, San Francisco has an inspirational artistic energy about it; the physical landscapes of the city inspire me.

You are originally from the island of Hokkaido in Japan. How has your Japanese roots influenced your aesthetic?
I believe that Mother Nature is the greatest designer. Hokkaido has a pure and pristine character. Nature has always been an important part of local architecture and city design.  I am a stickler for fresh flowers.  I am always mindful of the life cycle of various flowers so that they will be beautiful when they most need to be.  Simple and clean designs really capture my attention. When I see Japanese arts, I feel peaceful and calm.  I feel that there is a genuine sense of craftsmanship in Japan. My Japanese roots have taught me that careful attention to detail is important.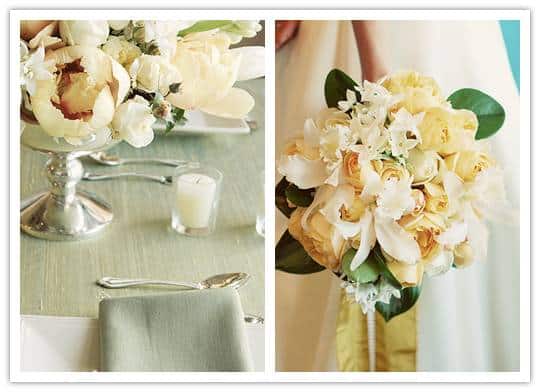 How did a.hana Design start?
I dreamed of starting a.hana Design for a long time.  My husband, Daniel, gave me the encouragement and support to organize my dreams into a full-fledged business.  Daniel is a very optimistic person with the right amount of energy and drive start a small business. He understood my interests and encouraged me to pursue my passion for floral design. His business skills allow me to focus on design.
The culmination of my work has recently been photographed and captured on our website designed by Kelty Lubber from Steep Street. Kelty Lubber is an extremely talented young woman who perfectly captured the look we wanted to convey.  I am so blessed to have the right people surrounding me, and encouraging me to pursue my dreams.

In your portfolio, one of the biggest takeaways is your knack for finding nontraditional flowers and unexpected floral combinations, giving each piece great color and texture. What is your design process?
I have been very fortunate to work with talented people in this industry, and I've been exposed to the use of many unusual and exotic flowers. I sometimes purposely choose to work with designers who have a completely different style than I do – this way I am exposed to wild and dynamic designs.  It's a way for me to see designs from another perspective.  When I marry my style of simple and clean with the use of what's unexpected, the results are the unusual and eye catching designs you see in my portfolio.

What are your favorite flowers or botanicals to work with at the moment?
I sincerely love all flowers but if I had to pick just one, I have a soft spot for light pink peonies. At the moment, I also like using soft peal green cercurant. They are unique and elegant.
Images from A. Hana Design.