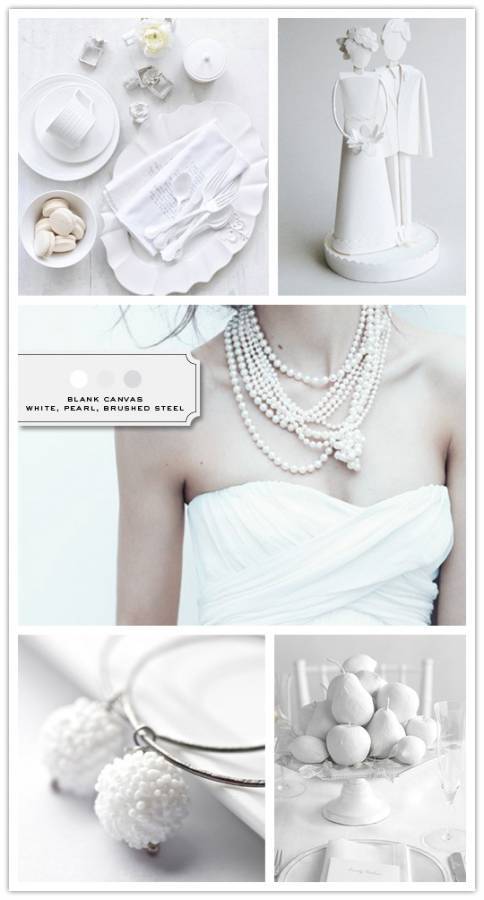 This is an exciting week over at Brancoprata. Next Wednesday we are leaving Portugal to shoot a wedding in New Zealand! Needless to say, we are extremely excited and happy about this. It's our first wedding abroad and we are eager to learn and understand how things happen in a different environment, in another country or another reality that isn't ours! This is why, when i start to work on this week's board, it seemed right to choose white (white as in white canvas). This is what I want us to be in New Zealand so we can learn, experience and enjoy this amazing opportunity! Enjoy!
• • ♥ • •
Color Palette Credits:
Decor, Edward Pond via Lushlee
Cake Topper, Concarta via White Cabana
Bride, J.Crew via The Neotraditionalist
Jewelry, Betsy Jewelry Design
Centerpiece, Martha Stewart Weddings
• • ♥ • •
Sofia Ferreira is the co-founder of Brancoprata, a wedding company specialized in design and photography. After graduating from University, Sofia soon realized that her love for interior design and weddings was too powerful to be ignored. She gave up her career as a Mathematics teacher and since then she devotes her time to make dreams come true… at least for her couples! She is currently looking for a place to live and work in the historical part of downtown Porto, where she was born.