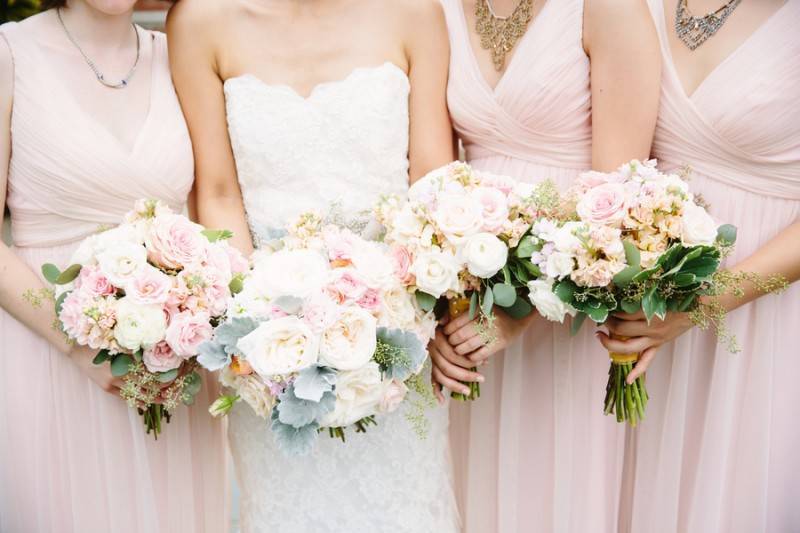 At first glance you'd think that our couple for today's feature are both shy and fancy given by the soft hues of their wedding's color palette, but in fact according to their photographer, they're truly clever, playful, and even, colorful. The event was actually filled with laughter and fun and some of the pictures gave justice to that. But aside from this, the lovely hues of pink and white dresses and gown matched by the greens of the beautiful garden setting created some lovely and classy photographs of the bride and her bridesmaids. It felt like it was such a wonderful day to have a wedding.
Congratulations Grace & Dan!
What do you think is the overall story for this album?
Grace and Dan have impeccable style, but what is more than that, is their love and respect for each other. From the moment we met them we knew that theirs would be a beautiful and classy affair full of love and laughter. They did not let us down.
What was your favorite part of the day?
My favorite part of the day was when Grace and Dan "Rick Rolled" their guests with an acoustic Rick Astley song. That is a great example of how clever they are. I was also impressed and in awe with all of the loving words from those that surround them. My funniest memory was when the guys were tying their bow ties and the groom explained that they had to be careful not to make them look perfect as to convey that they were authentic.
Was there any Do it Yourself (DIY) projects? If so, can you describe them in detail?
From the bride: Nothing too big. Made the thank you cards (stamping on pretty paper) for wedding favors (about 2 days and much cheaper than buying them).
What were the highlights from the ceremony & reception?
The ceremony was held it the Rose Garden of Missouri Botanical Garden. The groom's sister played cello within a trio for the ceremony. The ceremony was officiated by a college friend and the ceremony was in Korean as well as English. Their reception was intimate and held in the Spink Pavilion at the garden. Dinner was phenomenal and the cake was gorgeous. Guests danced outside under an awning while a  thunderstorm rolled in. It was a night to remember.
Vendors
Photographer:  Oldani Photography
Bridesmaid Dresses:  BHLDN
Jewelry:  BHLDN
Tuxedo and Mens Attire:  Hugo Boss
Floral Designer:  Les Bouquets
DJ:  Millenium Productions
Invitation Designer:  Minted
Reception Venue:  Missouri Botanical Garden
Hair Stylist:  Salon & Spa at The Chase Park Plaza
Bakery:  The Cakery Bakery, LLC