Wedding invitations say so much about who the bride and groom are and what type of event they are having to celebrate their big day. That is why DIY gold foil wedding invitations are always a top pick!
For me, I wanted an invitation that seemed classy and glamorous, but also wouldn't break the bank. I mean, you don't want the invitation to say 'Backyard BBQ' when you're planning a glitzy reception. Online retailer BasicInvite.com gives you the option to easily customize invitations that your guests will think are high-end luxury items but start as low as a dollar a piece. Here is a list of my top choices!
 #1 The Great Gatsby: The Framed Art Deco Foil Wedding Invitation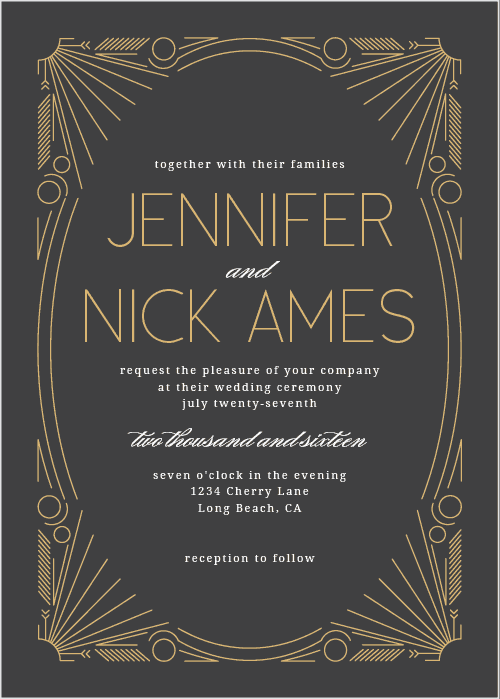 If you're planning on "puttin' on the ritz" with a stylish lawn party, this art deco invitation hearkens back to the Roaring 20s. Send this to your guests, and they'll start picturing strings of pearls and overflowing champagne to toast to you and your groom! Here are more ideas for a Gatsby wedding: The Great Gatsby Wedding.
 #2 For the Demure Bride: Illustrated Rose Foil Wedding Invitation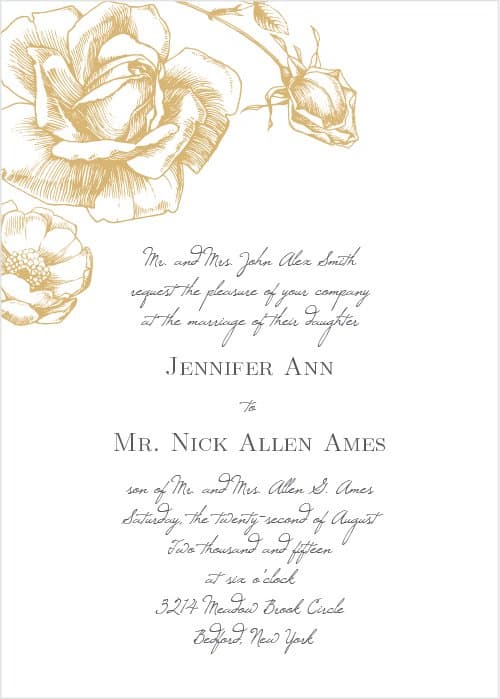 I love that the gold foil detail here is used in the imagery of the rose. This invitation hints at simple, classic elegance. If roses are your choice of flower for your bouquets, boutonnieres, floral arrangements, and centerpieces, why not hint at the motif starting with your invitation?
 #3 Attention to Detail: Gold Scrolls Wedding Invitation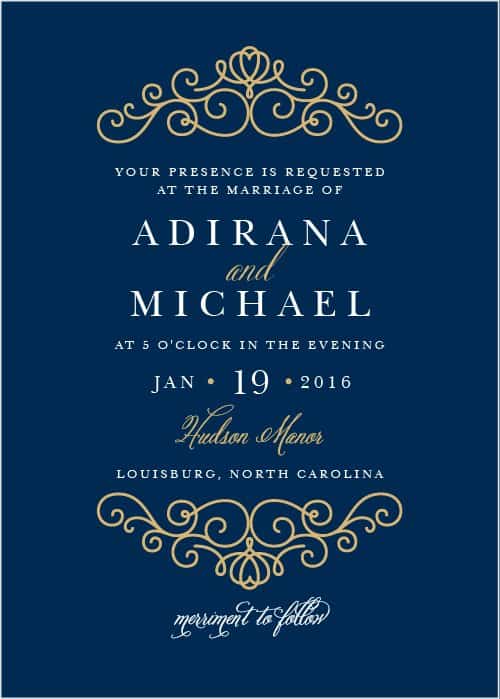 The gold foil in the ornate design for this invitation will let your guests know you're the bride that has thought of every intricate detail and planned a spectacular day to remember.
 #4 Parisian Bistro Romance: String Lights Foil Wedding Invitation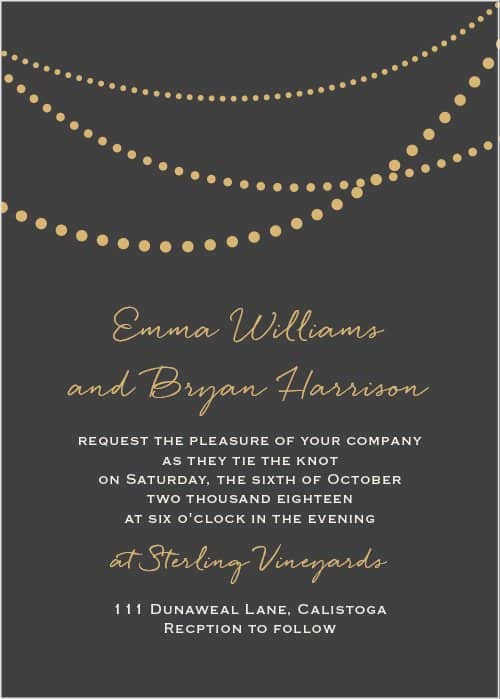 This invitation can cover a range of wedding themes. Bistro lights are getting more and more popular to incorporate at wedding receptions–whether the reception is on a country club lawn, in a rustic barn, or at a chic cocktail lounge. Using the gold foil as the lights speaks to a trendy and snazzy event! Here are some more ideas on how to incorporate bistro lights to go with this invitation: Bistro Lights.
 #5 Regal Flare: Elegant DIY Gold Foil Wedding Invitations in Stripes
The black and white stripes here showcase a regal and classic theme. This works well for nautical wedding themes, but I really think of the Kate Spade-inspired wedding Pinterest boards that have been popping up: Give Me A Kate Spade Wedding.
 #6 A Marquee Event: Antique Elegance Foil Wedding Invitation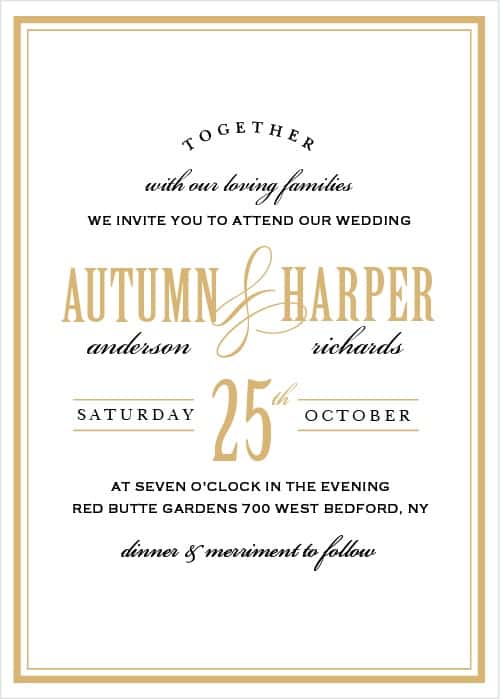 A lot of the DIY gold foil wedding invitations on BasicInvite.com fall into what I would call the "Marquee Event" category. I love how this invitation looks like a formal announcement, an invitation to the ball, and a proclamation of the greatest love story!
There are many layouts, cuts, fonts, and colors to choose from at BasicInvite.com, and you can customize each invitation to perfectly match your personality, style, and taste. There is certainly something for every bride and every wedding. As unique as all of our special days may be, I think we can all agree that this simple detail of gold foil in the wedding invitation is the perfect complement to this special moment. It's a touch of royalty, and after all, shouldn't we all feel like princesses?
I hope you enjoyed this gold foil wedding invitations list and found it helpful! Please comment below to share your thoughts!
** This post is sponsored by Basic Invite **